PV has a scorer under the Hood
Pleasant Valley's Gracie Hood goes for 30 as the Lady Raiders get past JCA in girls County Tournament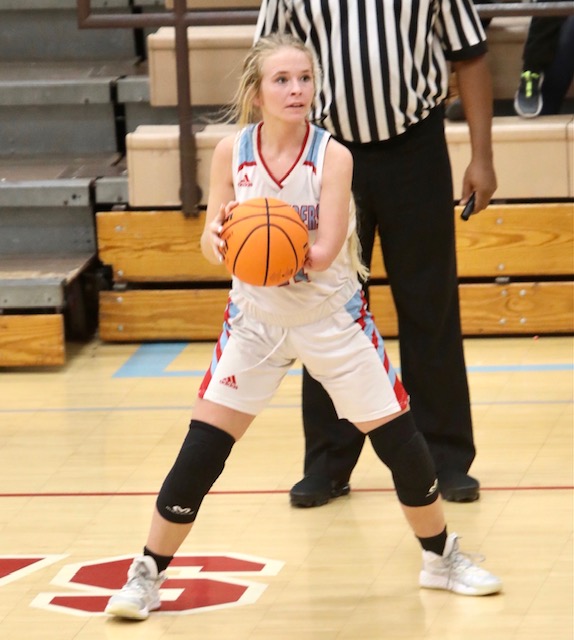 CALHOUN COUNTY GIRLS TOURNAMENT
Saturday's results
(at Saks)
No. 11 Faith Christian 44, No. 14 Wellborn 12
No. 12 Pleasant Valley 65, No. 13 Jacksonville Christian 55
Monday's games'
(at Jacksonville State)
No. 8 White Plains vs. No. 9 Saks, 10 a.m.
No. 5 Piedmont vs. Pleasant Valley, 2 p.m.
No. 6 Alexandria vs. Faith Christian, 6 p.m.

By Al Muskewitz
East Alabama Sports Today
Gracie Hood might consider someday taking up winter residency in Florida. She was making a living as a snowbird Saturday.

The bubbly Pleasant Valley junior scored a career-high 30 points in leading the Lady Raiders to a 66-55 victory over Jacksonville Christian in the opening round of the Calhoun County Girls Basketball Tournament at Saks.

And most of her points, particularly in the second half, came on transition points with Hood all alone – or getting there – on the other end of the floor as her teammates were clearing the boards.
"That's what my daddy taught me to do," she said, referring to her dad, current Raiders boys coach and longtime PV girls coach Brad Hood. "Me and my sister (Emma) both.

"Really, that's all I did last year – that, and stand in the corner (for the 3-pointer). That was the role that my dad had set for me last year and I told (coach Colton) Morris, I'm the one who runs the floor, I'm the cross country girl, I ain't going to be too hot in other areas, but I sure will run that floor for you."

The Lady Raiders trailed 27-23 at halftime as JCA stifled them early with a triangle-and-two. But they came out for the second half with a different approach.

Hood scored 15 points in the third quarter, mostly as the snowbird. She had eight in a row to give the Lady Raiders the lead and then another six in a row to push that lead to 14 before JCA's Rebekah Carter hit a 3 at the buzzer.
She scored PV's last four points of the game on a pair of one-and-ones after the Lady Thunder cut the margin to six with 1:19 to play.

"They were face-guarding me and the other shooting guard the first half," Hood said. "I was like I can't just stand up here, coach, I've got to get in there and do something for my team, because we were just really stagnant at that point."

The approach of turning Hood loose may seem to put the Lady Raiders disadvantage on the defensive end, essentially having them play 4-on-5. But Morris, who saw it work in his years as Hood's assistant, said the benefits outweigh the risk.

"You may give up a few more offensive rebounds, but the gain is greater than the loss," Morris said. "It fits her better to slip out. It takes a kid with a lot of heart to run the floor every single possession and that's what she's got, ain't no doubt about it."

There were hints of the breakout game as recently as Friday night when she hit four 3s in the first quarter of the Lady Raiders' rout of Victory Christian. Saturday's game raised her scoring average 1.5 points. It jumped nearly two points since Thursday.

"I felt it coming," she said. "I've been on a dry spell with my shooting these past three weeks, just not able to hit anything. I just knew it was going to come for me. Coach has been saying the rain's coming, we're in a drought, but the rain's going to come. And the rain did come tonight."

The Lady Raiders now play fifth-seeded Piedmont, an area rival, Monday at 2 p.m. when the tournament moves to Jacksonville State.

FAITH CHRISTIAN 44, WELLBORN 12: Individually, Ari Arevalo and Babatunmise Aremu are formidable forces inside for the Lady Lions. Together, they're just about unstoppable.

The Lady Lions' two posts combined for 16 points, 27 rebounds and three blocked shots to help their team easily advance. Arevalo had 12 points, 13 rebounds and two blocks, while Aremu had four points, 14 rebounds and three steals. Throw in newcomer Joelle Tillery's second straight game in double figures (11 points) and Faith had the Lady Panthers surrounded.

"I can trust Ari to have my back so we don't have to say anything to each other we just know immediately that I've got you," Aremu said. "We've played since I was in seventh grade together, so it's just been a thing that keeps going."

It was the second day in a row the Lady Lions played Wellborn. They beat the Lady Panthers Friday 38-17 and turned around less than 18 hours later to play them again in a game set up in mid-December. Tillery had 12 points and Aremu 10 in that game.

They took control of this one with 14 straight points to break away from a 2-2 tie and led 33-6 at halftime.

The game was Faith coach Schuessler Ware's first in the County Tournament since he retired after 19 seasons at Anniston in 2016. He also coaches the Lions' boys team and if it beats JCA Monday at 8 p.m. he'll face his former team, the No. 1 boys seed in the tournament.

"It's always good to get that win," he said of Saturday's return.

The Lady Lions now play sixth-seeded Alexandria Monday at 6 p.m.
Pleasant Valley 65, Jacksonville Christian 55
JACKSONVILLE CHRISTIAN – Rebekah Carter 5 0-0 13, Erin Prater 1 0-0 3, Kara Grace 0 0-0 0, Kristen Walker 1 0-0 3, Mia Morales 5 2-3 12, Karli Barnwell 6 0-0 15, Abbie Stovall 3 0-0 7, Hannah Clayton 1 0-0 2. Totals 22 2-3 49.
PLEASANT VALLEY – Lily Henry 2 0-0 4, Rylee Haynes 6 4-10 17, Marlie Wright 1 0-0 3, Kianna Hester 1 0-0 2, Gracie Hood 12 4-5 30, Macey Roper 4 1-4 9, Anna Worthy 0 0-0 0. Totals 26 9-19 65.
Jacksonville Christian    12   15    8  20    –   55
Pleasant Valley                  10   13  23  19    –   65
3-point goals: JCA 9 (Carter 3, Prater, Walker, Barnwell 3, Stovall); Pleasant Valley 4 (Haynes, Wright, Hood 2). Rebounds: JCA 47 (Grace 18, Barnwell 8)Total fouls: JCA 16, Pleasant Valley 12. Officials: Kendall, McKinney, Fair.

Faith Christian 44, Wellborn 12
WELLBORN – Brooklynn Singleton 0 0-0 0, Mikayla Williams 1 1-2 3, Taniya Traylor 0 0-0 0, Cloie Adkison 3 1-2 7, Calla Hayes 1 0-0 2, Anna Odom 0 0-0 0, Annelies Boot 0 0-0 0, Layla Amerson 0 0-0 0. Totals 5 2-4 12.
FAITH CHRISTIAN – Ona Marple 0 0-0 0, Ariana Arevalo 6 0-2 12, Anna Strautman 2 2-2 7, Serenity Pate 0 0-0 0, Alligrace Emerson 4 0-0 8, Joelle Tillery 4 1-1 11, Erin McVeigh 0 0-0 0, Meagan Ford 1 0-0 2, Babatunmise Aremu 2 0-2 4. Totals 19 3-7 44.
Wellborn               4      2    4   2     –  12
Faith Christian   16   17    5   6    –   44
3-point goals: Faith Christian 3 (Strautman, Tillery 2). Total fouls: Wellborn 10, Faith Christian 6. Officials: Brown, Larkins, Duke.