Ike-caramba
Fyffe quarterback accounts for four touchdowns as top-ranked Red Devils stop No. 2 Ohatchee in Class 3A quarterfinals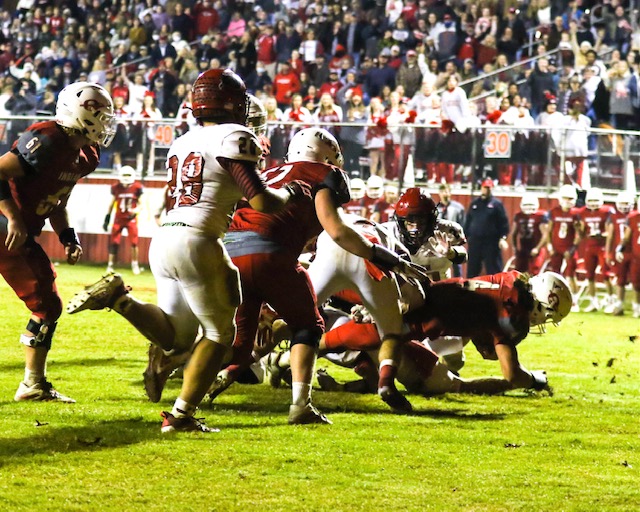 CLASS 3A QUARTERFINALS
Montgomery Academy 42, Trinity Presbyterian 21
Montgomery Catholic 24, Thomasville 15
Fyffe 26, Ohatchee 7
Piedmont 38, Saks 20

By Jimmy Creed
For East Alabama Sports Today

OHATCHEE – In a game where 4s were wild for both teams, the Fyffe Red Devils and their No. 4, quarterback Ike Rowell, trumped No. 4 Eli Ennis and the Ohatchee Indians 26-7 to win a grudge match between the state's top two teams in Class 3A.
Rowell accounted for four touchdowns – three rushing and one passing – as the top-ranked Red Devils improved to 13-0 on the season and won their 43rd consecutive game, moving one step closer to the state record of 55 straight wins posted by Danny Horn's Clay County High School Panthers from 1994 to 1997.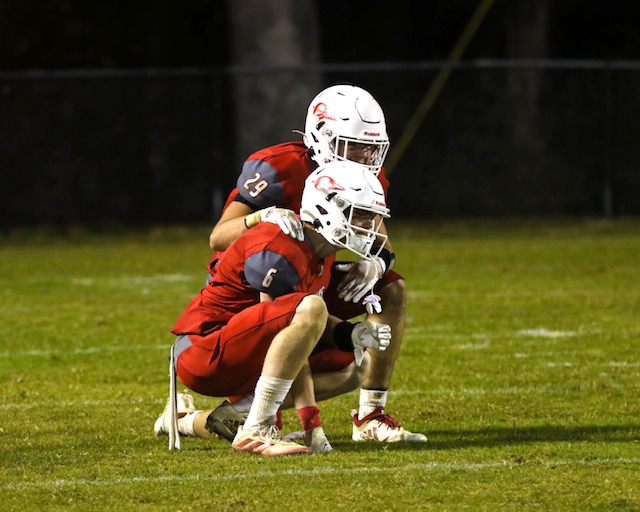 The win also set up a matchup with Piedmont, which downed Saks 38-20 to advance at least as far as the state semifinals for the sixth straight year. The Bulldogs will be Fyffe's third straight playoff game against a Calhoun County opponent.
The senior Rowell scored on a pair of 2-yard runs, a dazzling 84-yarder and threw an 8-yard pass to Justin Stiefel as Fyffe defeated Ohatchee for the fifth time in as many meetings between the two schools. Their last meeting came in this round of the 2018 playoffs. Rowell finished the night with 179 yards on 25 carries.
"He's phenomenal," Ohatchee head coach Scott Martin said. "When you've got a guy that has the talent he had, and he's running behind the beef he's running behind, they're hard to stop. Their big hogs up front controlled the line of scrimmage tonight."
Fyffe's hole card was indeed a decided size advantage on both sides of the line, but nowhere was it more evident than when the Red Devils were on defense. There, defensive linemen Brody Dalton (6-4, 239), Caleb Lyles (6-3, 305) and Levi Carroll (6-1, 241) wreaked havoc all night.
The result was that an Indian offense that came in averaging 38.6 points per game was held to by far its lost output of the season and one of the lowest in Martin's seven-year tenure on the Creek Bank.

You had to go back 43 games to find the last time the Indians were held to a single digit – a 42-6 loss to Randolph County in Week 3 of the 2017 season – and it was only the sixth time total that Indians had been held below double digits under Martin.
"We were definitely outmanned at the point of attack size-wise, but our guys battled to the very end," Martin said. "You could tell both teams were tired at the end. It was a physical, physical football game, but we expected that."
Fyffe's strong defense limited the Ohatchee offense to 190 total yards, much of which was accounted for by Ennis, who totaled 73 yards on 24 carries, had 11 yards passing and caught one ball for nine yards. He also scored the Indians' lone touchdown on a 2-yard burst up the middle with 39 seconds left in the third quarter that kept alive a glimmer of hope at 19-7.
"Eli and Noah (Fuller) and all of them blocked hard and ran hard tonight," Martin said. "We were just playing a superior team in this one."
Ohatchee's defense turned in a strong effort overall, limiting the Red Devils to only 234 total yards themselves. But it had no answers for Rowell, who displayed his toughness all night and his speed on the 84-yarder in the second quarter that, for all intents, put the game away.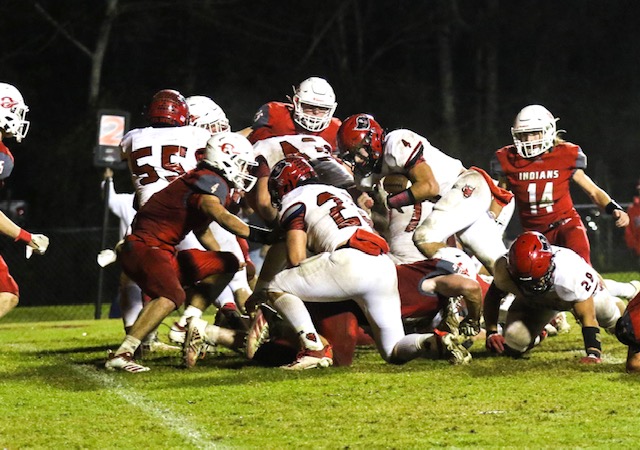 Rowell burst through a big hole in the middle of the line, cut to his left and streaked down the Ohatchee sideline to the end zone and a 12-0 Fyffe lead with 4:09 left in the first half.
Rowell was one of nine senior starters on offense for the Red Devils, who also had 10 senior starters on defense. It's the kind of experience that dynasties are built on, and Fyffe certainly qualifies, having won state championships now in 2014, 2016, 2018 and 2019 under head coach Paul Benefield.
Martin believes he's laying the same type of foundation at Ohatchee, which bid farewell to 12 seniors that have helped the Indians go 32-4 over the last three seasons. The Indians finished the year 11-2 and have now gone 10-1, 11-1, 8-3 and 12-2 over the last five seasons.
"When you look back where we started seven years ago and think that in the last four years we've been to a semi-final and two quarterfinals that says a lot about our kids and them buying into what we are doing," Martin said. "It's a shame to lose a hard-fought game like that, but I am just really proud of our guys to put ourselves in a position to play in this type of game.
"I knew it would be a monumental task to come out of here with a win, but what I was really proud of my kids for was that we battled our tails off the whole game. There's no shame in losing a football game when your kids leave everything out on the field and you just get beat."

Fyffe 26, Ohatchee 7
Fyffe ​​ 0 12 7 7 – 26
Ohatchee 0 0 7 0 – 7
F – Ike Rowell 4 run (kick failed), 9:01 2Q
F – Ike Rowell 84 run (run failed), 4:09 2Q
F – Justin Stiefel 8 pass from Ike Rowell (Brody Dalton kick), 8:35 3Q
O – Eli Ennis 2 run (Brenton Honaker kick), 0:39 3Q
F – Ike Rowell 2 run (Brody Dalton kick), 6:56 4Q

| | | |
| --- | --- | --- |
| Fyf (13-0) | | Ohat (11-2) |
| 10 | 1st Downs | 9 |
| 31-198 | Rushes-yds | 46-170 |
| 2-3-0 | C-A-I | 2-7-0 |
| 20 | Passing yds | 36 |
| 0-0 | Fum-lost | 1-0 |
| 4-42.0 | Punts-avg | 5-33.8 |
| 1-22 | Pen-yds | 3-14 |