Piedmont rallies
Bulldogs score 3 TDs in eight-minute stretch of second half to rush past region rival Saks for a spot in the 3A semifinals against No. 1 Fyffe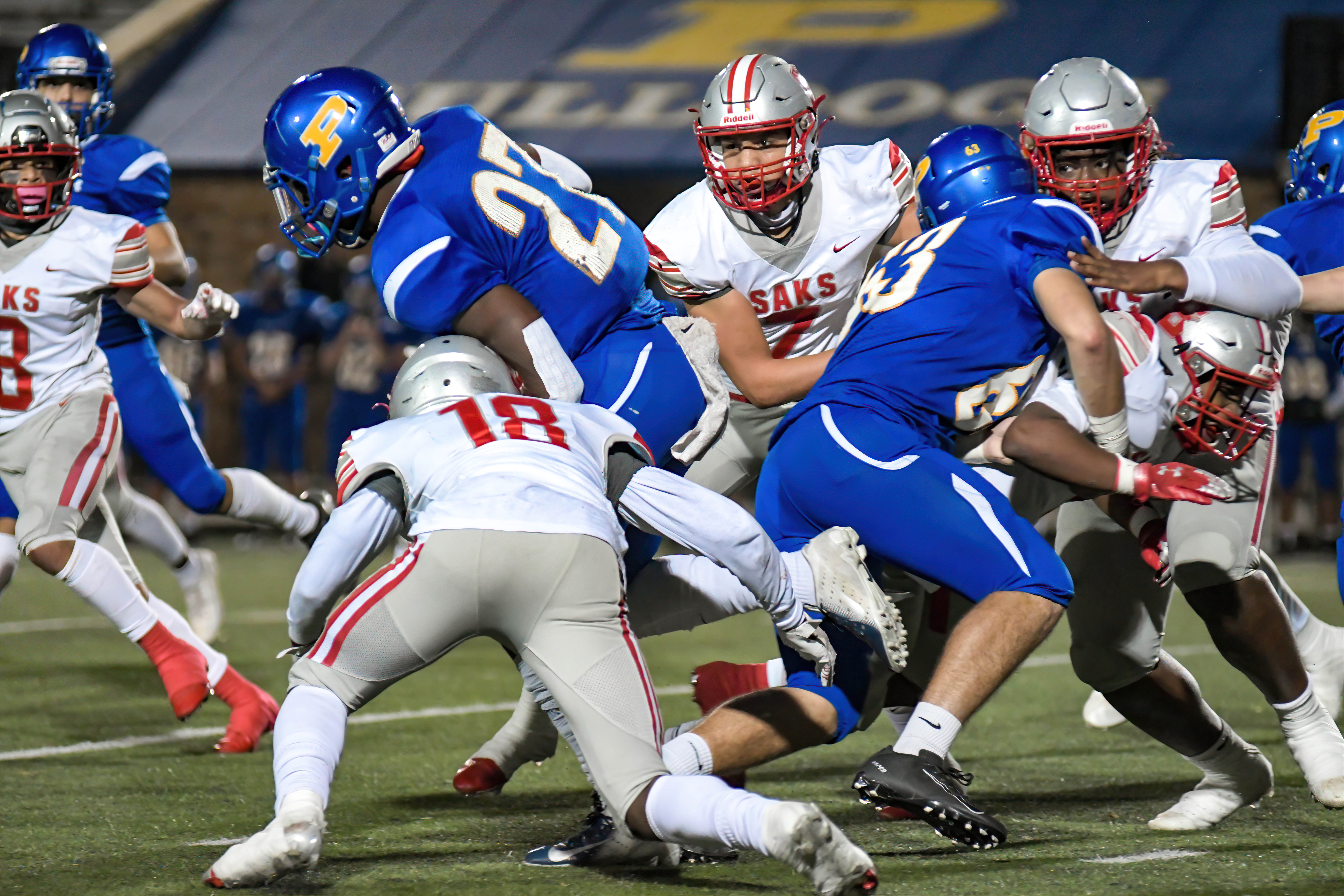 CLASS 3A QUARTERFINALS
Montgomery Academy 42, Trinity Presbyterian 21
Montgomery Catholic 24, Thomasville 15
Fyffe 26, Ohatchee 7
Piedmont 38, Saks 20

By Roy Mitchell
Special to East Alabama Sports Today
PIEDMONT – Piedmont's game plan wasn't pretty, and it sure wasn't entertaining.
But it worked.
Piedmont's asphyxiating dose of between-the-tackle rushes powered the Bulldogs to a 38-20 win over region rival Saks in Class 3A quarterfinals Friday night. The win sets up a highly anticipated semifinal match of two reigning state champions – Piedmont and Fyffe – at Fyffe.
The Bulldogs (12-1) dominated the first quarter of play, but second-quarter turnovers gave Saks momentum and a 14-10 halftime lead.

But the Bulldogs regrouped during the break and when they returned scored three touchdowns in less than eight minutes to put the game away.
"We had some adversity … but I'm very proud of our guys for being resilient and coming out here and pulling together as a team," Piedmont coach Steve Smith said. "The game kind of got away from us there for about a five-minute stretch in the first half where everything that could go wrong did … but I'm proud of our guys for being able to go in at halftime and regroup and come back out and do what we had to do to win this game.

"Like I told them, the big thing about right now is winning and advancing. Nobody's going to come back at the end and say how ugly it was. We're glad that we're still playing."

Piedmont got on the board first after Saks (9-4) opened the game with a three-and-out. Jaden Calhoun corralled a Jack Hayes pass for a 20-yard touchdown in the left corner of the end zone. Sloan Smith's extra point put the Bulldogs up 7-0 with 7:48 left in the first quarter.
Hayes was 7 for 13 passing for 144 yards, two touchdowns and one interception.
When the Wildcats failed to advance, Piedmont ground out the rest of the quarter with a 16-play drive that ended in a 26-yard field goal by Smith for a 10-0 lead at the quarter break.

The second quarter started as the first one had – with a Saks punt – but Piedmont turnovers completely flipped the game's momentum and led to the Wildcats' halftime lead.
Linebacker Dinero Goode pounced on a Piedmont fumble at midfield. The corresponding Saks drive and punt pinned the Bulldogs deep in their own territory. Two plays later Hayes tossed a would-be receiver screen, but Saks defender Jalen McCants read the play, picked off the pass, and pranced into the end zone for an easy score with 5:16 left in the first half.
"That changed the momentum of the game," Saks coach Jonathan Miller said. "We just needed a play to spark our kids. McCants made that play for us."
Gavin Doss then recovered a Piedmont fumble on the ensuing kickoff, and Saks took over deep in Piedmont territory. Two plays later Jaylon Cunningham improvised on a failed halfback pass and dashed 18 yards around left end for the go-ahead score. After quarterback Sean Parnell's two-point conversion, Saks led 14-10 with 4:46 left in the first half.
"The game kind of got away from us there for about five minutes in the first half," Smith said. "We got discombobulated. We hit that spurt of bad football in that five-minute stretch."
Piedmont looked to respond, driving for what appeared to be a go-ahead Hayes touchdown scamper. A penalty nullified the score. Piedmont tried to recover and make a push for the end zone, but Hayes was tackled three yards shy of the goal line as the half expired. Despite being outgained 202 yards to 38, Saks led 14-10 as teams retreated to their locker rooms.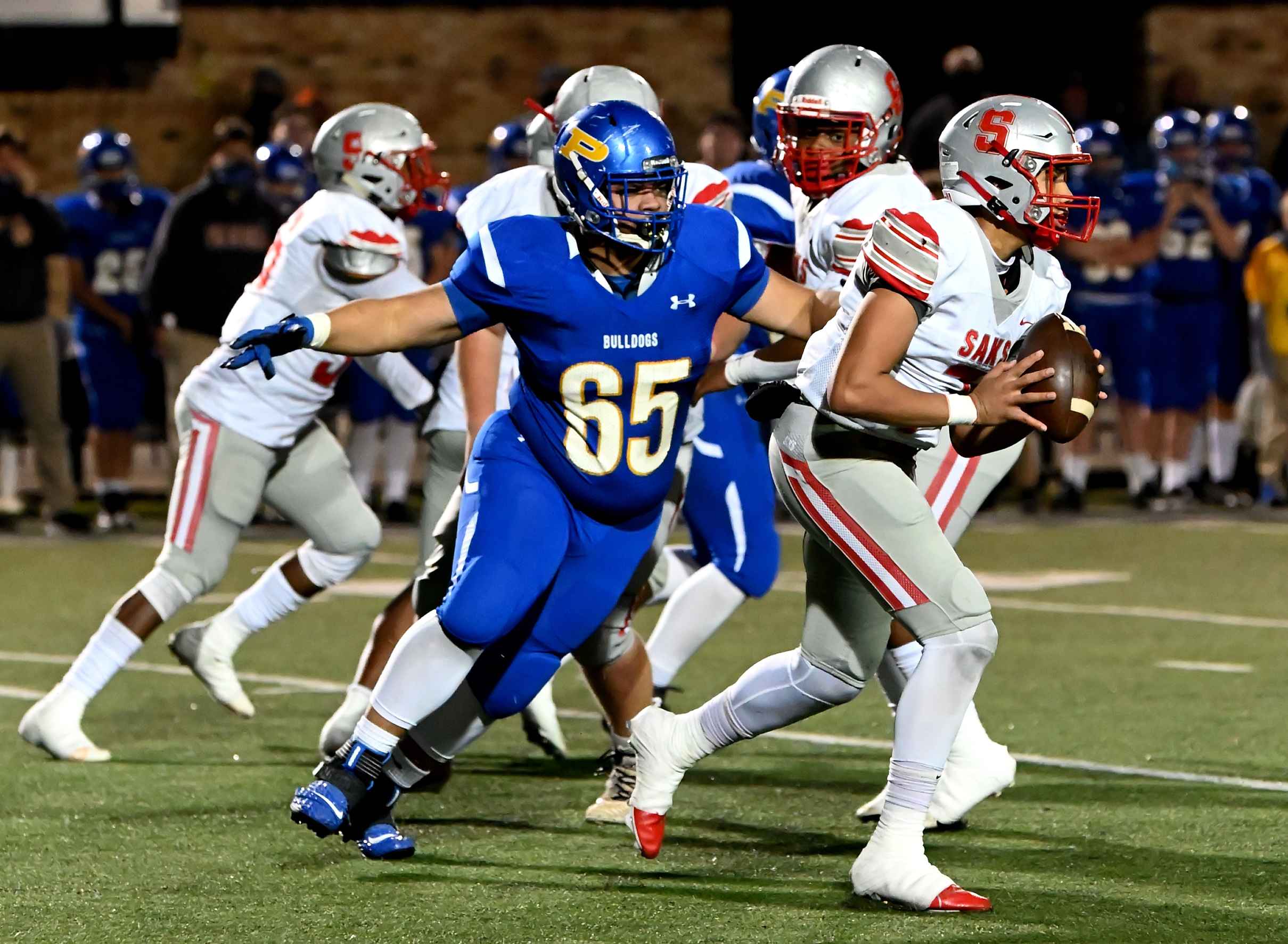 In the second half, Piedmont put three scores on the board in less than eight minutes to put the game away.
A nice Cody Holloway punt return gave Piedmont the ball at the Saks 41. Three plays later Hayes shook off defenders on a 25-yard scoring scamper. After a Smith PAT the Bulldogs led 17-14 with 6:10 left in the third quarter.
Hayes had 14 rushes for 80 yards and a score.
Two plays into the next Wildcats drive Jakari Foster intercepted a Parnell pass and returned it 15 yards for the touchdown. Another Smith PAT stretched the lead to 24-14 with 5:30 left in the third.
Saks mustered a first down on its next possession, but was forced to punt. Piedmont then put the game away with its next drive. After four Elijah Johnson carries and a Hayes rush, a Foster 57-yard reception and Smith PAT made it 31-14 with 10:46 to play.
"I told Jakari that big players make big plays in big games," Steve Smith said. "He made two big plays – that touchdown catch and the interception return. I was proud of how he responded to that challenge."

"We had a couple issues there in the third quarter that the game got away from us a little bit, but they've (Piedmont) got a good football team," Miller said. "I think we've made our way towards the end of the season where we're one of the better teams in the state, too; they're just a little bit better than us tonight."
Though each team would add a fourth-quarter score, the game's outcome had already been decided.
Parnell hit McCants for a 27-yard touchdown at the left pylon with 8:42 left in the game to cut Piedmont's lead to 31-20.
Parnell was 9 for 14 with 125 yards passing while McCants had five receptions for 66 yards.
While Piedmont was forced to punt, a line-drive kick clipped a Saks interior player. Sean Smith recovered near midfield, and Piedmont kept possession. Six plays later Johnson found the end zone from four yards out for the final score of the night.
Johnson led all rushers with 156 yards on 28 carries.

Bo Hudgins contributed to this report. To see more photos from this game go to www.bjfranklin.smugmug.com or Saks Sports Photography on Facebook