Something had to give
Oxford's top-rated offense has enough to get around 6A's top defense, Jackets advance to quarterfinals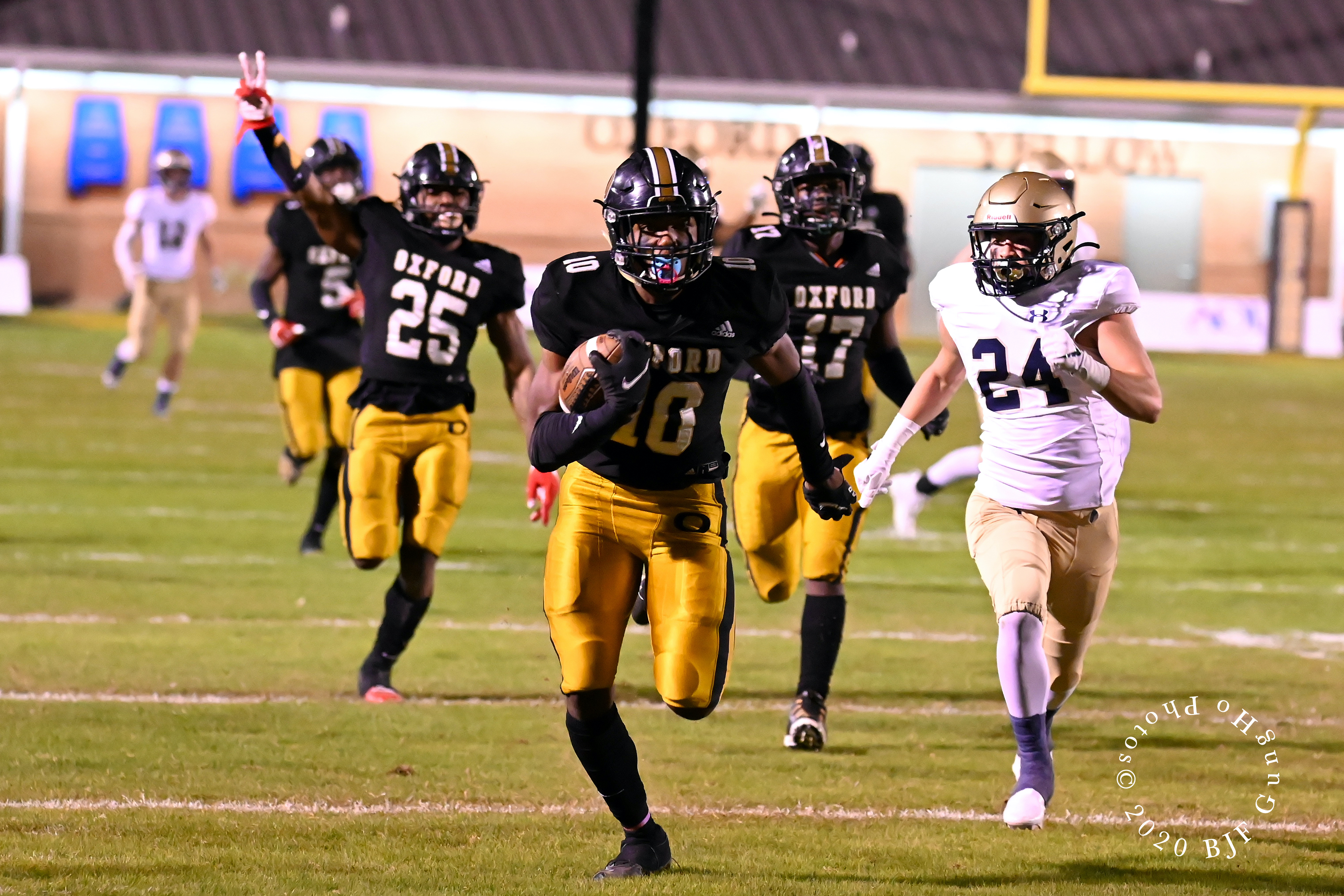 By Brant Locklier
For East Alabama Sports Today

OXFORD – Folks were wondering how the No. 1 defense in Class 6A would do against the No. 1 offense. Well, it wasn't Oxford's top-rated offense that flinched.

The Yellow Jackets didn't quite hit their season average (44.5 ppg), but they scored more than enough to take down Briarwood Christian 35-14 in the second round of the 6A playoffs at Lamar Field. The Lions had been giving up an average of 10.6 points a game.
The Jackets pounded out 493 yards of offense while holding the Lions to only 166 yards. They ended the game on the Briarwood 1 as quarterback Trey Higgins took a knee.
Higgins, who signed a baseball scholarship with Mississippi State earlier in the week, was brilliant running the Oxford offense. He threw for 235 yards and two touchdowns on 11-of-16 passing and he ran 23 times for 98 yards.

He has now passed for 3,500 yards and 40 touchdowns while rushing for more than 600 yards and 16 touchdowns this season, making him a viable candidate for Alabama Mr. Football.

"They were a very good team," Higgins said. "It was not as pretty as we have been winning, but the goal is to do what we have to do to advance. They did a good job of covering our receivers and I had to run it a little more than usual. We have a big-play offense and we got our plays tonight."
Briarwood struck first moving 67 yards on just five plays on the opening drive of the game. Quarterback Chris Vizzina ran it in from 17 yards out and the Lions had a 7-0 lead. The Lions would gain only 98 yards and five first downs the rest of the way.
"They caught us by surprise on that drive as they did some things that we had not seen on film," defensive back Miguel Mitchell said. "However, Coach (Chad) Cochran made some adjustments and we did all right from then on."
Oxford came back with a 72-yard drive in three plays to tie it. Higgins found Warren Britt over the middle for 49 yards and hit Roc Taylor for 14 yards and Keeshon Siaosi carried several Lions defenders into the end zone on a 9-yard run.
The Jacket defense took over early in the second quarter as they knocked a ball loose and Mitchell picked it up and returned it to the Lions 10. Siaosi got his second score of the night two plays later with another 9-yard touchdown run.
"I read a screen pass and got there in time to strip the ball out and then I picked it up and took off," Mitchell said of his takeaway. "I was surprised when I was caught from behind; that guy was really fast."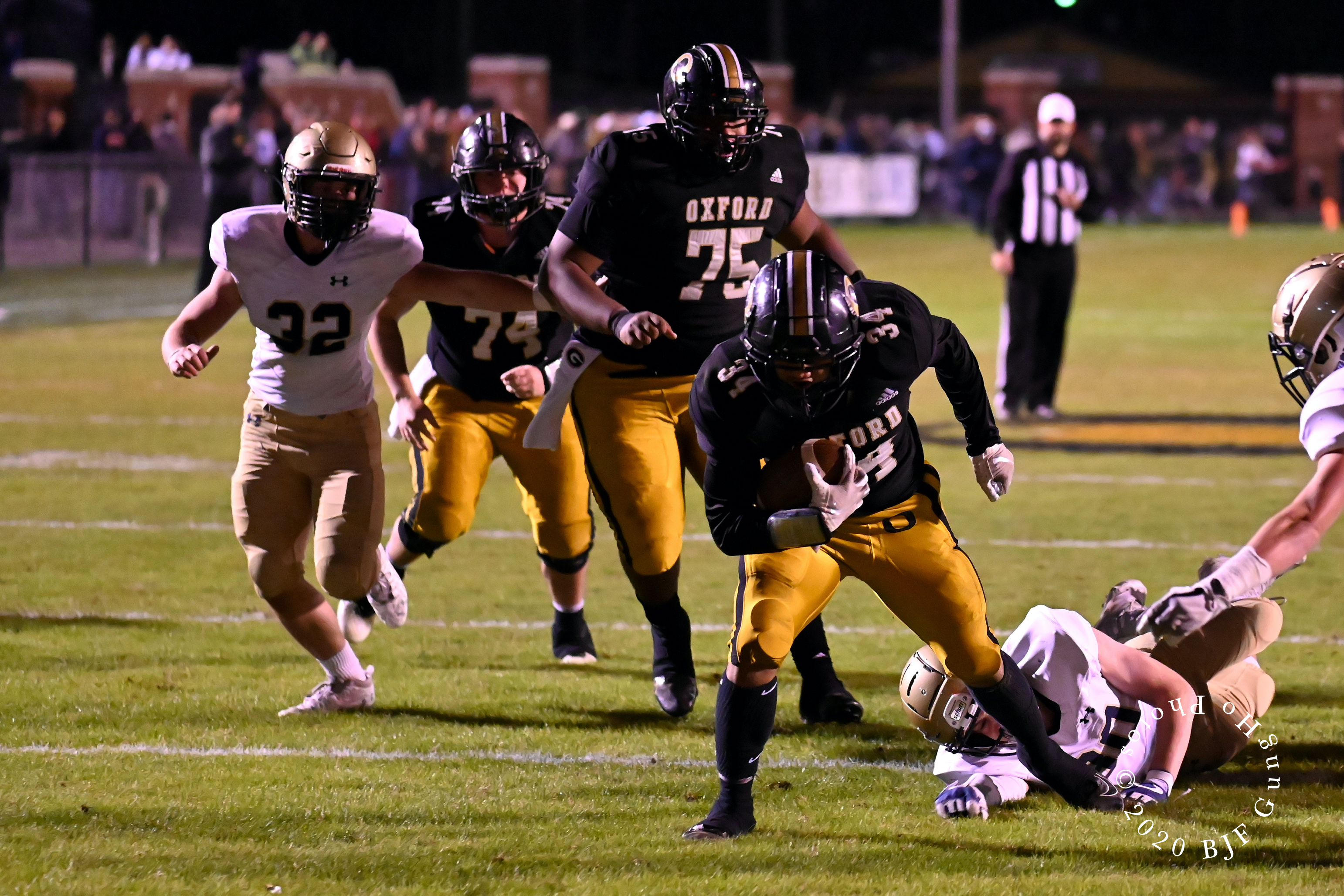 An interception by Mitchell led to Oxford's second score. The Jackets took the lead on a 49-yard bomb to a streaking Taylor over the middle. The Jackets led 21-7 at halftime.
Oxford took the second-half kickoff and drove it 68 yards for a score when Higgins through a bullet over the middle that Taylor caught for a 14-yard touchdown. Earlier, on fourth-and-2 at his own 35, Jackets coach Keith Etheredge went for it and made it to keep the drive alive.

"We believe in our offense and sometimes you have to trust the guys you have," Etheredge said. "We have guys that can make plays and they did that tonight. We just believe in ourselves."
That score opened up a 28-7 lead and ate up seven minutes on the third-quarter clock. The Jackets forced another punt and found themselves pinned down inside the 10. Higgins fired a pass that was picked off and returned 15 yards for a touchdown by Briarwood's Parker Hutson.

"He just came from out of nowhere," said Higgins." I just did not see him."

That made it a little closer, so it was time for the Jackets to call Trequon Fegans into the backfield. Fegans, an all-state defensive back last year and should be this year, ripped off a 67-yard run to set up the last touchdown run by Higgins.
Fegans carried three times for 78 yards and returned two punts for 51 yards. Siosi rushed for 67 yards on 11 carries.
The Yellow Jackets travel to Pinson Valley next week to begin on a road they have been down before. Last year on their road to the state championship they won their last three games over Pinson Valley, Clay-Chalkville and Spanish Fort. Those same three teams line up if they win and Oxford keeps winning.

Oxford 35, Briarwood 14
Briarwood       7   0    7  0   –   14
Oxford             7   14  7   7   –   35
B – Chris Vizzani 17 run (Jacob Brover kick), 10:08 1Q
O – Keeshon Siaosi 9 run (Nicolas Gutierrez kick), 5:16 1Q
O – Keeshon Siaosi 9 run (Nicolas Gutierrez kick), 9:14 2Q
O – Roc Taylor 49 pass from Trey Higgins (Nicolas Gutierrez kick), 8:52 2Q
O – Roc Taylor 14 pass from Trey Higgins (Nicolas Gutierrez kick), 6:52 3Q
B – Parker Hutson 15 interception return (Jacob Brover kick), 4:02 3Q
O – Trey Higgins 1 run (Nicolas Gutierrez kick), 7:59 4Q

| | | |
| --- | --- | --- |
| Bri (8-4) | | Oxf (11-1) |
| 8 | 1st Downs | 20 |
| 27-66 | Rushes-yds | 41-258 |
| 6-16-1 | C-A-I | 11-17-1 |
| 100 | Passing yds | 235 |
| 1-0 | Fum-lost | 0-0 |
| 7-37.6 | Punts-avg | 3-37.3 |
| 2-20 | Pen-yds | 8-66 |