Anniston out by inches
Bulldogs' Cinderella run ends in Round 2 when field goal attempt in final five seconds misses left upright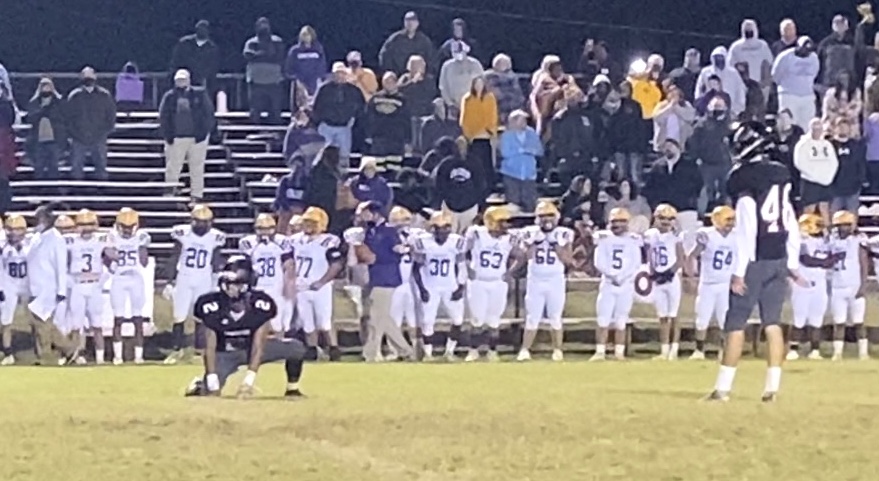 By Al Muskewitz
East Alabama Sports Today

Rico White tried and tried and just couldn't find the words to explain what he just saw and the way it made him feel.

In a matter of seconds Friday night, the Anniston football coach and his players went from feeling the exilheration of a last-second playoff victory to a heartbreaking season-ending loss. The emotional swing was that fast.

The Bulldogs were eliminated by Bibb County in the Class 4A playoffs 29-28 when Kevin Escareno's 31-yard field goal attempt with 5.2 seconds left that everyone on the Anniston side of Lott-Mosby Stadium thought was good was ruled wide left.

Instead of celebrating a huge victory in the 1,000thfootball game in Anniston's history and preparing for a quarterfinal game against region rival Handley that was forfeited for precautionary health reasons during the regular season, the Bulldogs were left stunned.

"From my view it went in," White said. "Then we came over and look at our camera on the side, it went straight through there. I don't know. Man, that hurt. The kids played their hearts out.

"I've never been thought anything like this. I can't even express how I feel right now. I just hate it for the kids, the seniors. That's the hardest part. The kids played their hearts out. That's all you can ask for."

Actually it was a series of misfortunes that conspired to keep the Bulldogs (4-7) from becoming the last team with a losing record still alive in the playoffs.

The Choctaws (10-2) took the lead 29-28 with 3:19 to play when UCLA commitment Deshun Murrell scored on a 3-yard touchdown run and blasted in with the two-point conversion. The Bulldogs had broken a 21-21 tie on Brandon Roberts' 1-yard run and Escareno's extra point with 8:30 left in the game.

Kamron Sandlin brought the Bulldogs right back down after Murrell's score and appeared to have gotten the game-winning touchdown on a 4-yard swing pass to Kevontae Davis on third down with 17.1 seconds left, but the play negated by an ineligible receiver on the opposite side of the field. Earlier in the drive Sandlin broke off a 35-yard run but stepped out at the 1 just before extending his body to break the plane of the goal line.

A delay penalty pushed the Bulldogs back another five yards and when they finally did get a play off, Murrell broke up a 14-yard pass to Antonio Kite in the end zone to set the stage for Escareno to produce a second walk-off victory with his foot. It was his last-second field goal at the same end of the field that beat Munford to put the Bulldogs in position to clinch a playoff berth.

Actually, Escareno had two attempts at the potential winning kick. The first one, with 8.4 seconds left, was interrupted when the Choctaws called time right before the snap; Escareno continued with his motion and the kick never had a chance. His second attempt got off without a hitch, but was ruled wide left.

"There's no question about it, he made the field goal," Sandlin said. 

Video taken by East Alabama Sports Today appears to show the ball sailing past the left upright, leaving a shadow on the outside of the post. It was that close.

"He almost made it," said Murrell, who was on the field for the attempt. "I'm just so glad he didn't."

Escareno said he never lifted his head after the kick so he didn't see if it went through or not. He said it felt like a solid kick.

"When I kick I don't look up, so I don't know," he said. "People said I made it. I don't really know. It was heartbreaking because I'm a senior and all the seniors in there and that was our last game."

Sandlin, a sophomore quarterback who joined the Bulldogs this year, was in tears as he tried to talk about the ending.
"It just hurts," he said. "It's just real crazy, that's all I can say. We put in a lot of effort. They just took it away from us."
The game was chock full of strong individual performances. Murrell rushed for 263 yards and three touchdowns on 40 carries. Roberts rushed for 87 yards and three touchdowns on 22 carries. And Sandlin rushed for 155 yards on 18 carries and threw for 182 yards on 18-of-18 passing.
Anniston's Antonio Kite also showed his football chops. The all-state basketball star caught a 52-yard pass on third-and-29 that led to the Bulldogs' first touchdown and he made several big plays on defense, including help stop Choctaws quarterback Cole McCarty short of the goal line on the final play of the second quarter to preserve the Bulldogs' 14-13 halftime lead.
NOTES: The Bulldogs and Shades Valley were the last remaining teams in the playoffs with a losing record and they both lost … Anniston joined Oxford as the only teams in Calhoun County to play 1,000 football games in the history of their schools.
Bibb County 29, Anniston 28
Bibb County 7 6 0 16 – 29
Anniston 0 14 7 7 – 28
B – Cole McCarty 38 run (Baylor Hughey kick), 9:18 1Q
A – Brandon Roberts 2 run (Kevin Escareno kick), 10:30 2Q
B – Deshun Murrell 1 run (run failed), 8:06 2Q
A – Kamron Sandlin 4 run (Kevin Escareno kick), 1:43 2Q
A – Brandon Roberts 1 run (Kevin Escareno kick), 1:04 3Q
B – Deshun Murrell 2 run (Letrelll Morrison run), 11:18 4Q
A – Brandon Roberts 1 run (Kevin Escareno kick), 8:30 4Q
B – Deshun Murrell 3 run (Deshun Murrell run), 3:19 4Q

| | | |
| --- | --- | --- |
| BC (10-2) | | Ann (4-7) |
| 21 | 1st Downs | 20 |
| 52-383 | Rushes-yds | 42-268 |
| 2-9-2 | C-A-I | 12-19-0 |
| 24 | Passing | 182 |
| 0-0 | Fum-lost | 1-1 |
| 1-27.0 | Punts-avg | 2-35.0 |
| 10-76 | Pen-yds | 9-68 |