Winner-take-second
Second-half surge lifts Jacksonville past Cherokee County for second spot in Class 4A Region 4, saving them from a trip to Mobile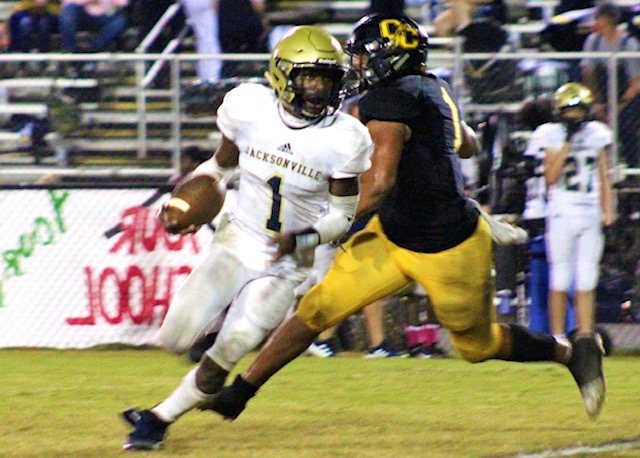 By Shannon Fagan
Special to East Alabama Sports Today

CENTRE – Jacksonville football coach Clint Smith says he loves a good defensive struggle. That's certainly what his seventh-ranked Golden Eagles got Friday night in the first half at Cherokee County.

Both teams went scoreless in the first half, but the Golden Eagles finally got the big break they needed in the third quarter, and it opened the flood gates.

Senior linebacker Jaylon Prater blocked a Daniel Mejia punt deep in Warriors territory and the ball squirted through the end zone for a safety to give Jacksonville the lead. The play sparked the Golden Eagles to a 30-8 victory, which clinched the runner-up spot in Class 4A, Region 4.

There was a lot to play in the game. The winner was going to get the No. 2 spot in the region and a coveted home game in the first round. The loser would be the region's No. 3 and head far south for the playoffs.

Jacksonville (6-3, 5-1) will host a first-round playoff game against Jackson Nov. 6. Cherokee County (7-3, 4-2) – the northern most team in the state's South region – will travel to Mobile Christian, a 690-mile round trip.

"All four teams in our region have their work cut out for them in the first round of the playoffs," Smith said. "We're tickled to be at Golden Eagle Stadium. It's just great to be able to be at home."

The Golden Eagles missed a couple of chances in the first half to take the lead. Senior linebacker Omarion Adams intercepted Warrior sophomore quarterback Cade Hopper deep in Cherokee County territory with just over two minutes to go in the first quarter. The Warrior defense held, forcing a 28-yard field goal attempt from sophomore kicker Mason Terrell. The kick missed the mark, keeping things scoreless.

The Warriors then drove deep into Golden Eagles territory, but Jacksonville's defense stuffed Warriors junior back Damien Ramsey on a fourth-and-2 at Jacksonville's 25 with 9:39 remaining in the first half. Cherokee County's defense then halted another Golden Eagles drive on a fourth-and-3 at the Warrior 12. Jacksonville forced a punt on the Warriors' next drive to head into the locker room scoreless.

Then came the big break of the game.

The Warriors received the ball to open the third quarter, but again couldn't get things going offensively. Mejia dropped back to punt, which Adams got his hands on to force a safety.

"It's definitely what changed the game," Cherokee County head coach Jacob Kelley said. "It was a simple mistake up front. They weren't going on punt block. We just had one of our guys up front not block his guy. His guy ran free and Daniel could do nothing. It definitely hurt our momentum in the second half."

"I felt like when we went in at halftime, I felt like we were really amped up, maybe a little too juiced up the first half," Smith said. "We were trying to do a few things and just play above what we needed to. I think we settled down at halftime. It was almost like you were waiting to see who got that first break. That definitely helped set the tone."

On the ensuing free kick, Golden Eagle junior running back Taj Morris scored on a 7-yard run to help put Jacksonville in front 9-0. Hopper was intercepted again by Adams, which led to Morris' 41-yard scoring run up the middle with 4:19 to go in the third to make it 16-0.

Jacksonville put the dagger in the Warriors' chances of a comeback early in the fourth quarter. The Golden Eagles forced another Warriors punt, which Morris fielded at the 24-yard line. He flipped the ball on a reverse run to Adams, who scampered 76 yards for another Jacksonville touchdown.

Morris, who ran for 133 yards on 26 carries, scored his third touchdown of the night on a 6-yard run with 5:15 to go in the fourth.

The Warriors got their lone score against Jacksonville reserves on a 77-yard touchdown run by senior running back Caleb Malone with a minute remaining. Whit Johnson ran in for the 2-point conversion for the final.

Jacksonville freshman quarterback Jim Ogle completed 10-of-17 pass attempts for 68 yards.

The Golden Eagle defense held Hopper to just 17 yards passing on five completions with two interceptions. Ramsey led the Warriors with 100 yards on 30 carries.

Shannon Fagan is sports director of WEIS radio.

JACKSONVILLE 30, CHEROKEE COUNTY 8
Jacksonville 0 0 16 14 – 30
Cherokee Co. 0 0 0 8 – 8
J – Safety, punt blocked out of end zone, 8:50 3Q
J – JaeTaj Morris 7 run (Mason Terrell kick), 6:20 3Q
J – JaeTaj Morris 41 run (Mason Terrell kick), 4:19 3Q
J – Omarion Adams 80 punt return (Mason Terrell kick), 10:47 4Q
J – JaeTaj Morris 4 run (Mason Terrell kick), 5:15 4Q
J – Caleb Malone 77 run (Whit Johnson run), 1:00 4Q

Anniston 28, Cleburne County 0
Kamron Sandlin rushed for 167 and scored three first-half touchdowns as Anniston clinched the fourth playoff spot from Class 4A Region 4.

Sandlin scored on runs of 5, 32 and 65 yards. He also passed for 167 yards.

The Bulldogs started the season 0-5 – against five teams that are headed to the playoffs — but earned their third straight playoff berth on the final day of the region season by winning three of their last four region games, the only loss an illness-induced forfeit to region champion Handley.

They will travel Region 1 champion Williamson for their first-round playoff game – a round trip of more than 560 miles.

Handley 52, White Plains 0
The Tigers (7-0) clinched the region title with its highest scoring game of the year and second shutout.
It was the first time the Wildcats (3-6) had been shutout in Chandler Tyree's two-year run as head coach and the first time they'd been blanked since Oct. 12, 2018 (7-0 vs. Anniston).
Jamarrius Haynes led Handley's 345-yard rushing attack with 128 yards on nine carries. Haynes, Tae Meadows, Jamerqui Lewis and Jake Cottle all rushed for touchdowns. Evan Cofield passed for 169 yards and touchdowns to Amajah Williams and Dylan Brooks.
The game marked the return to White Plains for Handley coaches Larry Strain and Chris White. They both were White Plains head coaches from 2014 to 2018.