Saks slides in
Determined Wildcats take down Hokes Bluff in must-win game to clinch region's fourth playoff spot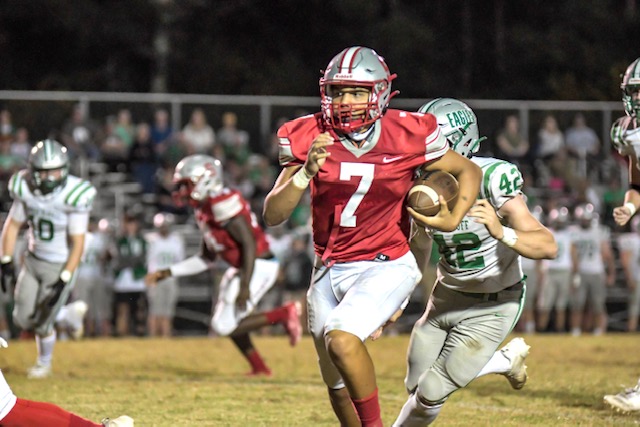 By Bo Hudgins
Special to East Alabama Sports Today

The Saks players all knew what was at stake and they played like there was no tomorrow. Had they not won Friday night there really wouldn't have been in terms of the football season.

For the Wildcats – and their opponent, Hokes Bluff – it really was win or go home time. The winner was guaranteed the fourth spot from Region 5 in the Class 3A playoffs. The loser was out and done.

Quarterback Sean Parnell rushed for 156 yards and two touchdowns and Jaylon Cunningham and Will Mixson each scored one as the Wildcats won 28-7 to keep their season going.

Saks (7-3, 4-3) missed the playoffs last year for the first time in coach Jonathan Miller's tenure and a rough stretch against the three best teams in the region made it a challenge to get back this year. But the Wildcats won their last five games and clinched the league's final playoff spot in their final game of the regular season.

Talk about cutting it close. After an open date next week, the Wildcats will travel to East Limestone for their first-round playoff game. Hokes Bluff, meanwhile, will think about what might have been after dropping from 4A into one of the most challenging regions in the state. 

"I was proud of our kids, they came to win the game tonight; I saw that look in their eye," Miller said. "I knew my seniors were going to come out and play hard because this could be their last game.

"They been doing a good job all year, but I finally saw that look out of my juniors. Not that they weren't going to play hard, but they just had that determination and will to win and that's what we've been looking for all year out of them. I think those guys grew up a little bit tonight."

Parnell and Cunningham each scored in the first half as the Wildcats opened a 14-0 lead. Hokes Bluff cut it to 14-7 after three quarters. A fumble gave the Eagles the ball in the red zone, but Saks dodged the threat with an interception.

They pulled away in the fourth on a 28-yard touchdown run by Parnell and a 44-yarder from Mixson a little more than three minutes apart.

The Wildcats were able to keep their drives alive by converting long third down situations. They were 5-of-13 on the critical down in the game.

"I was telling them they've got to give it their all," Parnell said. "Third and fourth down are important downs, especially when you've got it long, and coach gave us good play calls all game long to get those down."

Cunningham and Mixson each rushed for 61 yards for Saks. Tucker Griffin moved it for the Eagles (4-5, 3-4), rushing for 132 yards on 18 carries.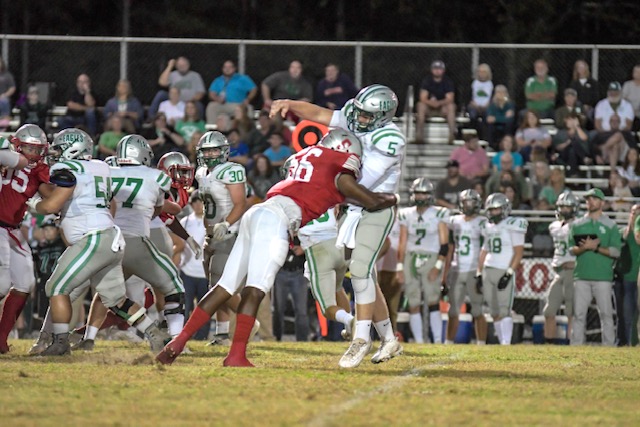 SAKS 28, HOKES BLUFF 7
Hokes Bluff 0 0 7 0 – 7
Saks 6 8 0 14 – 28
S – Sean Parnell 11 run (run failed), 6:47 1Q
S – Jaylon Cunningham 6 run (Patrick Williams pass from Sean Parnell), 3:17 2Q
H – Connor Faulkner 1 run (Jaden Burns kick), 4:27 3Q
S – Sean Parnell 28 run (run failed), 6:46 4Q
S – Will Mixson 44 run (Rickey Garrett run), 3:29 4Q
| | | |
| --- | --- | --- |
| HB (4-5, 3-4) | | Saks (7-3, 4-3) |
| 12 | 1st Downs | 16 |
| 37-161 | Rushes-yds | 40-324 |
| 3-13-2 | C-A-I | 3-8-0 |
| 46 | Passing yds | 38 |
| 1-1 | Fum-lost | 1-1 |
| 3-42.3 | Punts-avg. | 2-30.0 |
| 3-15 | Pen-yds | 12-85 |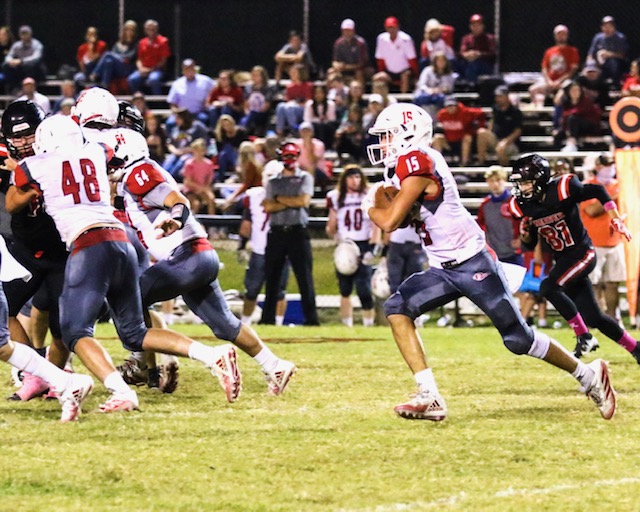 Ohatchee 56, Weaver 6
WEAVER – Ohatchee grabbed a piece of the region title for the third year in a row and will be the third seed out of Region 5 with the win.

Noah Fuller scored two touchdowns and Konner Baswell accounted for two power the Indians. Fuller opened the scoring with a punt return for a touchdown and less than two minutes later Eli Ennis broke off a 74-yard run for a score.

The Indians finished in a three-way tie for first place with Piedmont and Wellborn, but they'll be third in the tiebreaker due to their overtime loss to Wellborn. They will travel to Lauderdale County for their playoff opener.

"We're excited to get a share of the region title three years in a row," Indians coach Scott Martin said. "Coming into 3A we knew we were coming back into a really tough region. To get any part of it is exciting for our kids, our program, our community, everybody involved."

It was a bittersweet victory, however. The Indians lost Devin Howell for the rest of the season to a broken collarbone. Howell scored Ohatchee's third touchdown on a 2-yard run before a freak accident sent him off the field.

Baswell accounted for the next two touchdowns, a pass to Troy Galloway and a 2-yard run, and the others were registered by Brock England and Jesse Baswell (the first of his varsity career).

Pleasant Valley 8, Glencoe 0
JACKSONVILLE – Andruw Sanders returned the second half kickoff 58 yards for the game's only touchdown and Hunter Sallee added the two-point conversion.
Sanders, Calab Ramsey and Justin Winningham all had 11 tackles for PV (3-6, 2-5). Damon Parr preserved the shutout by recovering a fumble late in the game.