That was close
Oxford wins county boys cross country title in a tiebreaker over White Plains, No. 6 Robinson makes the difference; WP's Moore wins the races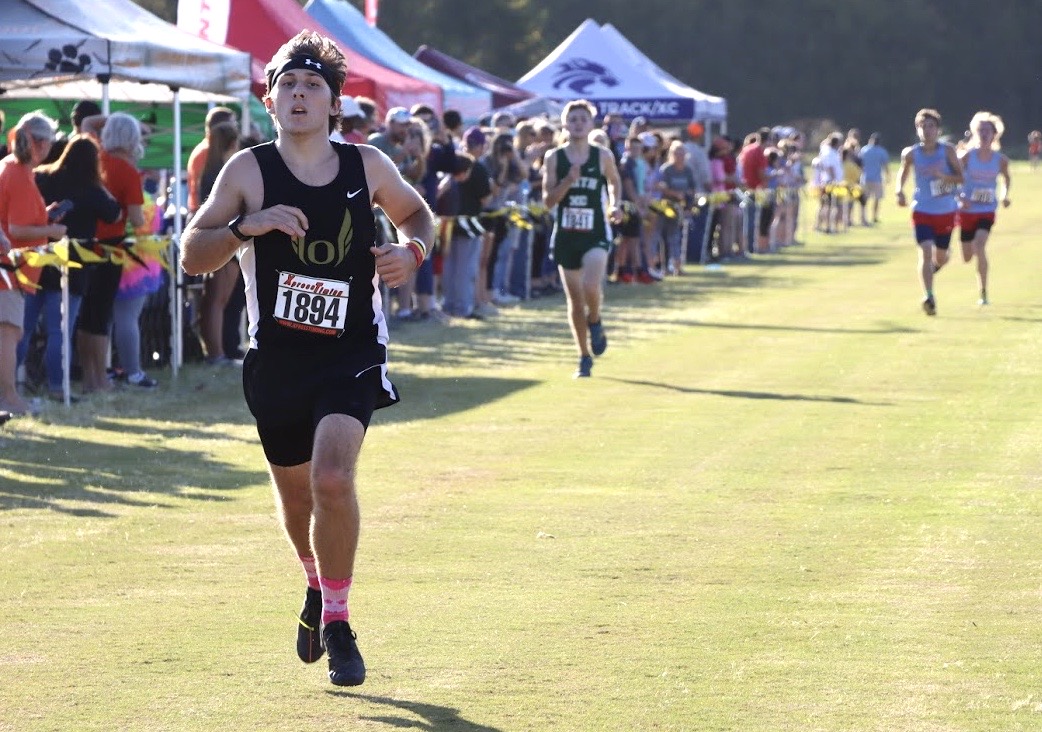 By Al Muskewitz
East Alabama Sports Today

OXFORD — Just when you thought the Calhoun County Cross Country Championship couldn't get any tighter 2020 shows up.

The county boys race was decided by one point last year and nobody thought it could get much closer. Here, hold my coke.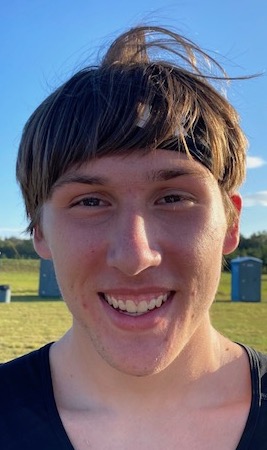 Thursday at Choccolocco Park the boys race was decided in the most 2020 kind of way. Of course, it was a tiebreaker. You really can't get any closer than that.

Oxford and White Plains both had 50 points when their five counting runners crossed the line. But the Yellow Jackets were declared the winner when their sixth placer, junior Wesley Robinson, finished 12 spots ahead of White Plains' No. 6, Landon Senciboy.

In a space of about 15 minutes the Yellow Jackets' fortunes went from another tough loss to a tie to a win.

"They actually chased me down (to inform him) right before the girls race," Oxford coach Landon Delozier said. "The starter told me congratulations and I said for what, this is our fourth time losing by one point this year.

"He said you won in a tiebreaker. I said, man, that's not funny, don't joke like that. He said, no really, coach, you won by a tiebreaker. He showed me the report. I was just floored. I really didn't expect that to be true. (White Plains coach) John Moore and I were talking and he said last year everybody said it cannot get closer, and then he said I guess we proved them wrong."

"We had to look at our phones to figure it out," Jackets' third-place finisher Noah George said.

It was Oxford's first county title since 2013, the last year of a run that saw the Yellow Jackets dominate the race for years.

Delozier, who ran for Oxford's 2012 county champions, thought his team could be in the mix – and the Jackets were the virtual race favorites – but it was just getting back on track after having several runners out under COVID-19 quarantine.  And they still had one of their top runners out for medical reasons Thursday, and that opened the door for Robinson to be a difference-maker.

There was some initial confusion over the scoring immediately after the race, with White Plains actually winning 51-52, but the initial report of the finish counted all Jacksonville runners the same and didn't pull out an all-county runner from JCA, which did not have enough entrants for a full team, from the team tally.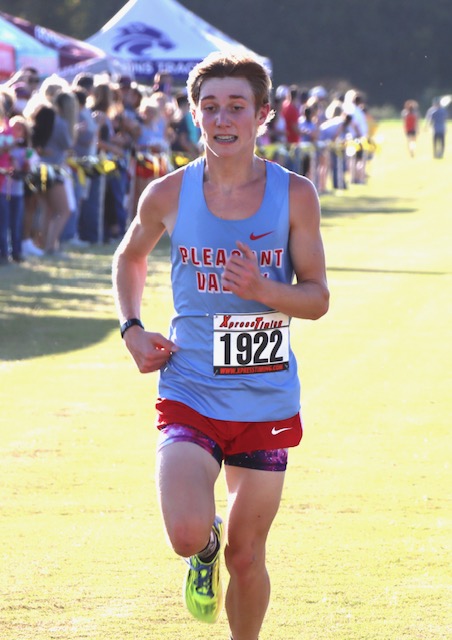 When the adjustment was made Oxford and White Plains both had 50 points. Both teams had three runners in the top 10. White Plains' fourth runner finished two team spots ahead of Oxford's No. 4, but the Yellow Jackets' fifth scorer, Justin Dempsey, was eight team spots ahead of the Wildcats' No. 5.

So then it went to the 6s, where Oxford's Robinson was 21st among counters at 19:45.32, 19 seconds ahead of White Plains' Senciboy. In describing his tiebreaker, Delozier said, "Wesley always just kind of assumes he's the sixth or seventh guy and today he really proved that sixth guy matters."

"I'm extremely happy," Robinson said. "I did not expect that. I got real upset when they said we got second, we had a few deals for the coach, then we got tied and then we won. It's amazing.

"I was trying to see if I could catch up with the White Plains group and because I didn't see anybody I didn't feel good and to hear that (they won it) sounds good."

"Whenever you're up against elite teams like we ran against today and you win in a tiebreaker that shows how great the competitors are, that shows how hard the kids have worked – all the kids on all the teams," Delozier said. "Like I said, the cards just kind of fell right for us today and we were able to come out on top."

As much as it stung to lose in a tiebreaker for the second race in a row, White Plains' John Moore was genuinely happy for Delozier. And he hopes his team will accept the lesson that every point matters.

"I'm super out-of-the-world happy for Landon Delozier," Moore said. "You don't find a nicer guy, a greater kid. I told him today, 'knuckles, pass the torch.' I love the fact he did that. What he's accomplished this year is just hands-down remarkable.

"I gave him a hug the first time when I thought I won and said, 'Man, I love you. Next year it's yours.' And then when I found out he actually won it all, I gave him a hug and said, 'I guess the Lord just had it in His mind that you were going to win today.' 

"I told him the best man won but both teams pushed hard and that's all you want out of a championship. It should come down to that. It should not come down to somebody blowing somebody away. It should come down to one point like last year or no points like this year. I didn't think we could get any closer than last year."
White Plains' Jake Moore won the race in 17:08.32. He was hoping to run in the 15s and beat his personal best on the flat and normally fast course, but the heat, high grass and a head wind at the start and finish all conspired against him. Still, he led wire-to-wire and won by 15 seconds over top-seeded Cayden Nelson of Pleasant Valley, but wasn't happy with his time.

"I ran faster (on his course last week) than I did here," Moore said. "That's why I wanted to break 16 here because I knew our course is at least 30 seconds faster than this one, but it was also a lot cooler at our course than it was here today. Hopefully by state I'm under 16. I want to at least beat my PR from last year (15:58)."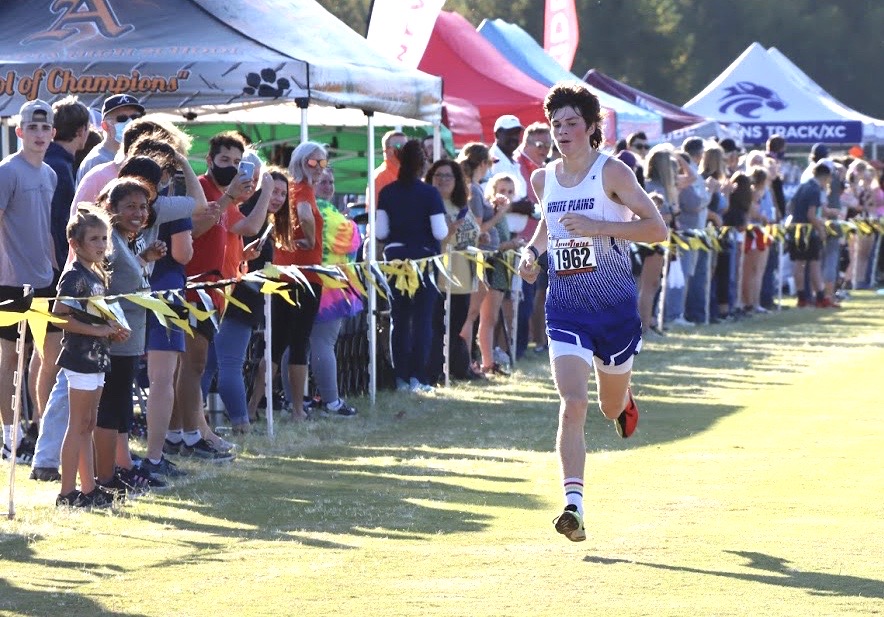 Calhoun County XC Championship
BOYS TEAM SCORES: x-Oxford 50, White Plains 50, Pleasant Valley 62, Alexandria 112, Jacksonville 124, Faith Christian 152, Ohatchee 183, Donoho 205, Saks 235. x-won tiebreaker with better No. 6 finisher.
| | |
| --- | --- |
| Boys All-County (Top 15) | |
| Jake Moore, White Plains | 17:08.32 |
| Cayden Nelson, Pleasant Valley | 17:23.42 |
| Noah George, Oxford | 17:39.94 |
| Kayd Hightower, White Plains | 17:56.10 |
| Josue Alvarez, Oxford | 18:01.08 |
| Carson Limbaugh, White Plains | 18:01.59 |
| Luke Fair, Ohatchee | 18:12.41 |
| Evan Garner, Jacksonville | 18:26.60 |
| Chad Turner, Oxford | 18:37.35 |
| Ben Wade, Alexandria | 18:42.56 |
| Holt Bentley, Pleasant Valley | 18:54.94 |
| Landon Garner, Jacksonville | 19:06.25 |
| Caden Johnson, White Plains | 19:07.28 |
| Nik Baggett, Pleasant Valley | 19:09.04 |
| Tyler Doggrell, JCA | 19:10.55 |