Roberts returns, WP repeats
PV's Roberts returns to top of the county, White Plains wins team title for second year in a row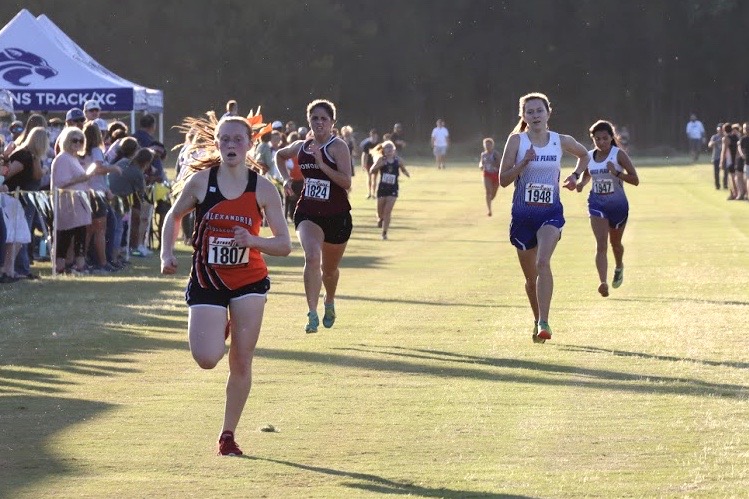 By Al Muskewitz
East Alabama Sports Today
OXFORD –The White Plains girls cross country team was cutting up in a lighter moment at practice the other day and made their intentions for the Calhoun County Meet quite clear to coach John Moore.

"They told me, 'We're going to win, coach," Moore recalled the conversation going. "I said I hope so and they said there's no hoping, we got it. I said, well, good, go out and do it."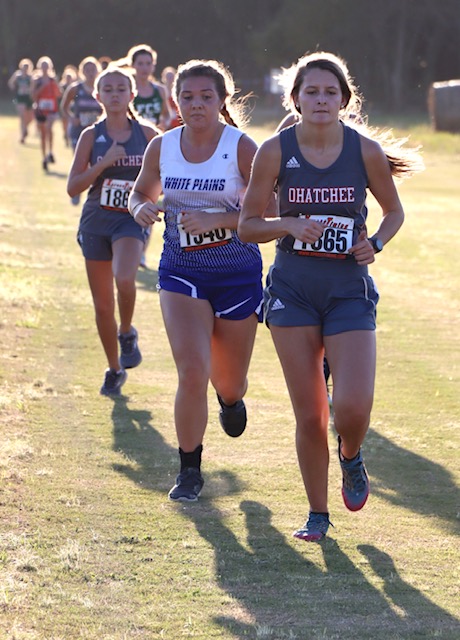 True to their word, they did it.

White Plains repeated as the county girls champion Thursday, winning by six points over rival Pleasant Valley at Choccolocco Park.

The Lady Wildcats put four runners in the top 10 and all five of their scorers among the top 11 counters to score 35 points. It was their same margin of victory over the Lady Raiders as last year.Juniors Anna Strickland and Adriana Sotelo led the effort, finishing fourth and fifth, respectively

"Last year it was like coming in the underdog and this year it was like they've got a target on their back," Moore said. "They're already talking three-peat next year."

Pleasant Valley senior Trinity Roberts won the race, returning to the winner's circle in the county for the first time since her freshman year. She ran 21:09.03 and won by more than a minute over runner-up Michaela Moore of Alexandria. Donoho's Taylor Simmons was third.

Roberts won the county in 2016 and 2017 and was second in 2018, but she slumped to ninth last year – ending four straight top five finishes in this race – while fighting through an iron deficiency that wasn't diagnosed until midway through the season. But she is "more determined" this year and has returned to peak form.

"This really means a lot," Roberts said. "It really got me down last year since it was like an off-season and I didn't do too good, so it means a lot that I can get back out here and do what I used to do. It feels great (to be on top again). Thank God."
PV coach Brad Hood projected the running world would see a different Trinity Roberts this season and his top runner hasn't disappointed. It started with a second-place finish in the season-opening Wildcat Twilight Invite and she's had Top 5s in the Fairview Invitational and both PV races.
"All those years she had to race against (Jacksonville's) Rebecca Hearn and then she had to race against Abby (Nunnelly of Alexandria) and even last year Jayda (Fair of Ohatchee) was on a tear, so it was nice to see here," Hood said. "Trinity knew she had a shot here knowing it was flat. I didn't realize she was going to do that. That was impressive.
"She's had her best year and it's nice to see because a lot of times seniors are either going to progress up or they're going on a downward slope. To see her kind of go through a rough spot the last couple years and come back out of it was nice."

On the cover: Pleasant Valley's Trinity Roberts wins the Calhoun County girls cross country title for the third time in her career. (Photo by Dana George)
Calhoun County XC Championship
GIRLS TEAM SCORES: White Plains 35, Pleasant Valley 41, Alexandria 77, Jacksonville 104, Ohatchee 113.
| | |
| --- | --- |
| Girls All-County (Top 15) |  |
| Trinity Roberts, Pleasant Valley | 21:09.03 |
| Michaela Moore, Alexandria | 22:15.47 |
| Taylor Simmons, Donoho | 22:18.00 |
| Anna Strickland, White Plains | 22:20.19 |
| Adriana Sotelo, White Plains | 22:24.94 |
| Eva Bryant, Pleasant Valley | 22:41.19 |
| Sarah Sloughfy, Jacksonville | 22:44.87 |
| Michaela Watts, Alexandria | 22:53.99 |
| Camden Wilson, White Plains | 23:14.14 |
| Baylie Webb, White Plains | 23:16.02 |
| Macey Roper, Pleasant Valley | 23:17.78 |
| Emerson Maniscalco, Oxford | 23:23.61 |
| Maddyn Conn, White Plains | 23:46.36 |
| Bailey Brown, Pleasant Valley | 23:54.32 |
| Elizabeth Hall, Pleasant Valley | 23:55.12 |