New kid in town
High school senior Jenkins joins three County Tour veterans in Match Play semifinals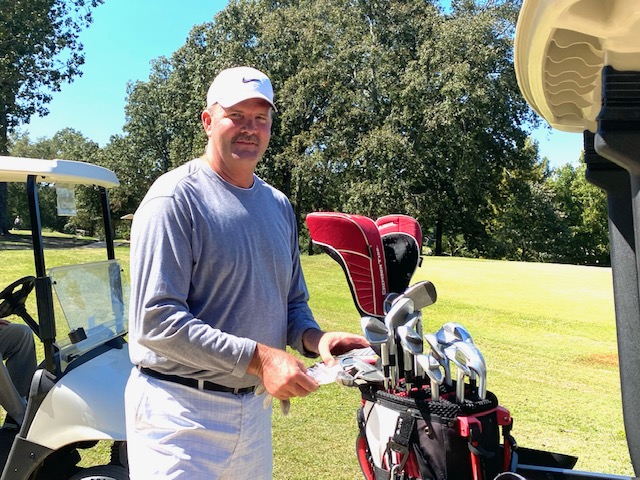 By Al Muskewitz
East Alabama Sports Today
Wesley Jenkins approached the 16th green of his match with Jeremy McGatha with a rather bold comment, then after the words washed over the scene he thought he might have written a check his mouth couldn't cash.
Something to the effect of, "I think it's time to go home.'"
Then he stepped in and calmly sank the birdie putt to close out the defending champion.

Oh, the luxury of being short on age and long in confidence.

Jenkins, a 17-year-old senior at White Plains, had his coming out party Saturday in terms of the county men's golf scene. He beat McGatha 3&2 and will join County Tour veterans Gary Wigington, Andrew Brooks and Brennan Clay — guys 2 and 3 times his age — in the County Match Play semifinals Sunday at Anniston Municipal.
"It feels good," Jenkins said of his new standing in the game. "I hope I can get to the top and stay there for a minute, but Twig's really … locking it down, that's for sure."
Wigington, the county Player of the Year and No. 1 tournament seed, knocked out Randy Lipscomb with more of what he'd been doing all season. Meanwhile, Brooks ousted 2017 champion and three-time finalist Chad Calvert, and Clay eliminated Clay Calkins.
All four quarterfinal matches were 3&2.
Sunday's semis will find Wigington facing Brooks at 8 a.m. (in a rematch of the 2014 finals won by Brooks) and Clay meeting the upstart at 8:15. The championship match will follow when the two finalists are comfortable going out.

"I've been there," Clay said. "I've been his age and playing against everybody good in the county,. I know he'll be hungry for sure to beat me, so I've got to count on my experience to try to take care of him."

Until this golf season Jenkins might have been more known on the course for the length of his hair flowing underneath his cap. He has been a big part of the White Plains golf team's recent success, but this was the first year he took his game to the adults.

In four starts on the Calhoun County Golf Tour this season he was T-22 at Silver Lakes after a disastrous opening round on the greens (five 3-putts), solo 11 at Cider Ridge after an even worse final round, T5 at his home course Pine Hill and T-8 in the County. He was 11thon the Tour in stroke average and was eighth on the Tour in birdies with 31 in seven rounds, including six in the second round at Silver Lakes and seven in the opening round at Pine Hill.
"That's great for Wesley," McGatha said. "He's an up-and-comer at White Plains High School trying to play golf and do this and want to go to college. Hell, he took out the defending champ. He played good. I wish him well."

Before taking on McGatha, Jenkins put away Gage Miller 3&2 in one of the more intriguing matchups of the opening round. He was 3 up after three holes in both matches. He maintained that lead against Miller, his White Plains teammate, but McGatha got their match all square at the turn. Jenkins went back up 2-up through 12, but McGatha rallied again and squared the match on 14.
Jenkins went back up on top with a 20-footer on 15 and closed out the match with the birdie putt he called walking from the cart to the 16thgreen.
"After I said that I'm like, 'I cannot leave it short now,'" he said. "I hit the back of the hole and thought I missed it for a second. I'm playing good right now and last week I probably wouldn't have broken 80. (Friday) night on the range something just clicked with my driver and I'm hitting it pretty good. I'm glad people are gonna realize that I'm actually kind of decent."
NOTES: Clay made three birdies and an eagle in his match against Calkins, but knows he'll need much more against Jenkins. "If I make three birdies in a round tomorrow I'm out, I guarantee that," he said … Wigington's two wins were just a continuation of monster season. He had 10 birdies in the two matches (25 holes). "I had one bad swing and hit one out on 8, but other than that I can't play any better; he's just tough to beat," Lipscomb said. "His putting is incredible, it really is. That's what separates him from most people out here. That's what separates the guys on Sunday" … Brooks knows his task is an uphill battle as it is, but he suspects Wigington will have a little extra in his bag for their breakfast match. Brooks made a short eagle putt on 18 to beat Twig 1-up in the 2014 final at Cane Creek. "I'm sure he's looking to get some revenge on me," Brooks said. "He probably doesn't even remember six years ago, to be honest."
CALHOUN COUNTY MATCH PLAY CHAMPIONSHIP
At Anniston Municipal GC
Buddy Moore Bracket
No. 1 Gary Wigington (1) def. No. 16 Shawn Ledbetter (22), 7&6
No. 8 Randy Lipscomb (11) def. No. 9 Chip Howell (12), 4&3
No. 12 Andrew Brooks (17) def. No. 5 Landon Straub (24), 3&2
No. 4 Chad Calvert (5) def. No. 13 Caleb Bowen (18), 1 up
Chris Banister Bracket
No. 6 Clay Calkins (8) def. No. 11 Adrian Geeting (16), walkover
No. 3 Brennan Clay (4) def. No. 14 Jonathan Pate (19), 3&1
No. 7 Wesley Jenkins (9) def. No. 10 Gage Miller (15), 3&2
No. 2 Jeremy McGatha (2) def. No. 15 Matt Rogers (20), 5&4
Round of 8
Gary Wigington def. Randy Lipscomb, 3&2
Andrew Brooks def. Chad Calvert, 3&2
Brennan Clay def. Clay Calkins, 3&2
Wesley Jenkins def. Jeremy McGatha, 3&2
Sunday's semifinals
Gary Wigington vs. Andrew Brooks, 8 a.m.
Brennan Clay vs. Wesley Jenkins, 8:15 a.m.