Title match rerun
Alexandria, Jacksonville – the top two seeds – to meet in County Tournament finals 6 p.m. Monday at JSU, a rematch of last year's final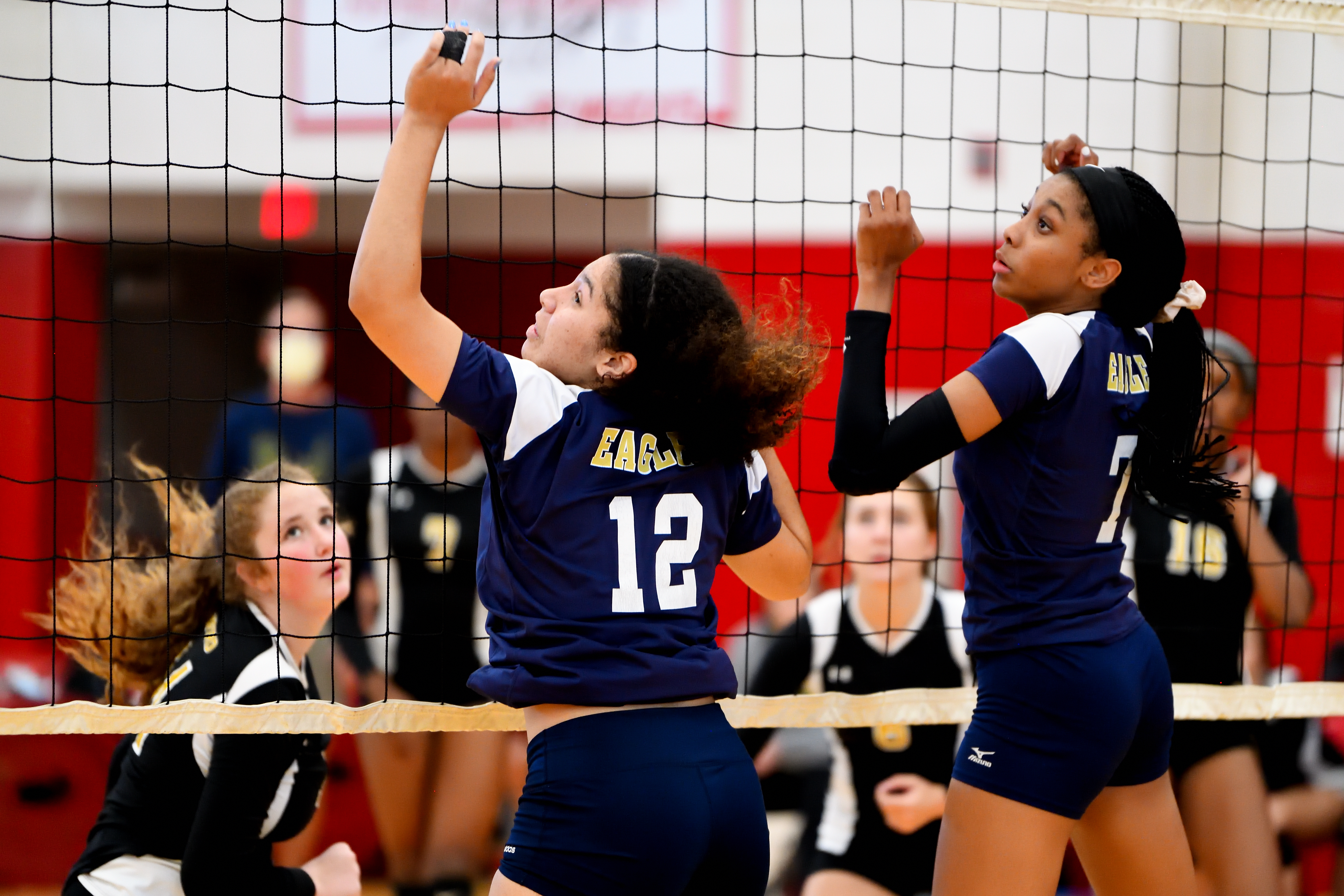 By Al Muskewitz
East Alabama Sports Today

For all the things the seniors on this year's Jacksonville volleyball team have accomplished during their time in the program, there's one glaring omission they have a chance to rectify Monday night.

Amazingly, for all the times they've played for it, these senior Jacksonville volleyball players have yet to win a Calhoun County Tournament championship.

They'll get their final chance Monday night at Jacksonville State when they take on two-time defending champion Alexandria for this year's crown.

The second-seeded Lady Golden Eagles punched their ticket through a 3-1 semifinal victory over No. 6 Oxford at Saks High School (22-25, 25-17, 25-9, 25-23). Alexandria, the No. 1 seed, turned back fifth-seeded Pleasant Valley in their semifinal, 3-1 (25-20, 24-26, 25-23, 25-16).

It's a rematch of last year's final at JSU, won by the pink-clad Lady Cubs 3-1 in a match that ended on a controversial clinching point.

It will be Jacksonville's second straight trip to the tournament finals and 12th all-time. The Lady Golden Eagles last won it in 2016, their ninth county title since 2005. Alexandria has been in the finals the last four years in a row and 19 times all-time.

"This group, these seniors especially, kind of were left with a bad taste last year, they didn't really get done what we wanted to," Jacksonville coach David Clark said. "We started think about it today: Let's put ourselves in a position to do it again and hopefully get a different outcome.

"I think these five seniors want to win a County. They've done just about everything else. It's the one thing they hadn't been able to do. I think they'd like to get it. It's going to be fun. If you have any pressure in the County it's this part, it's the getting there. I feel like once you're there, it's all about fun."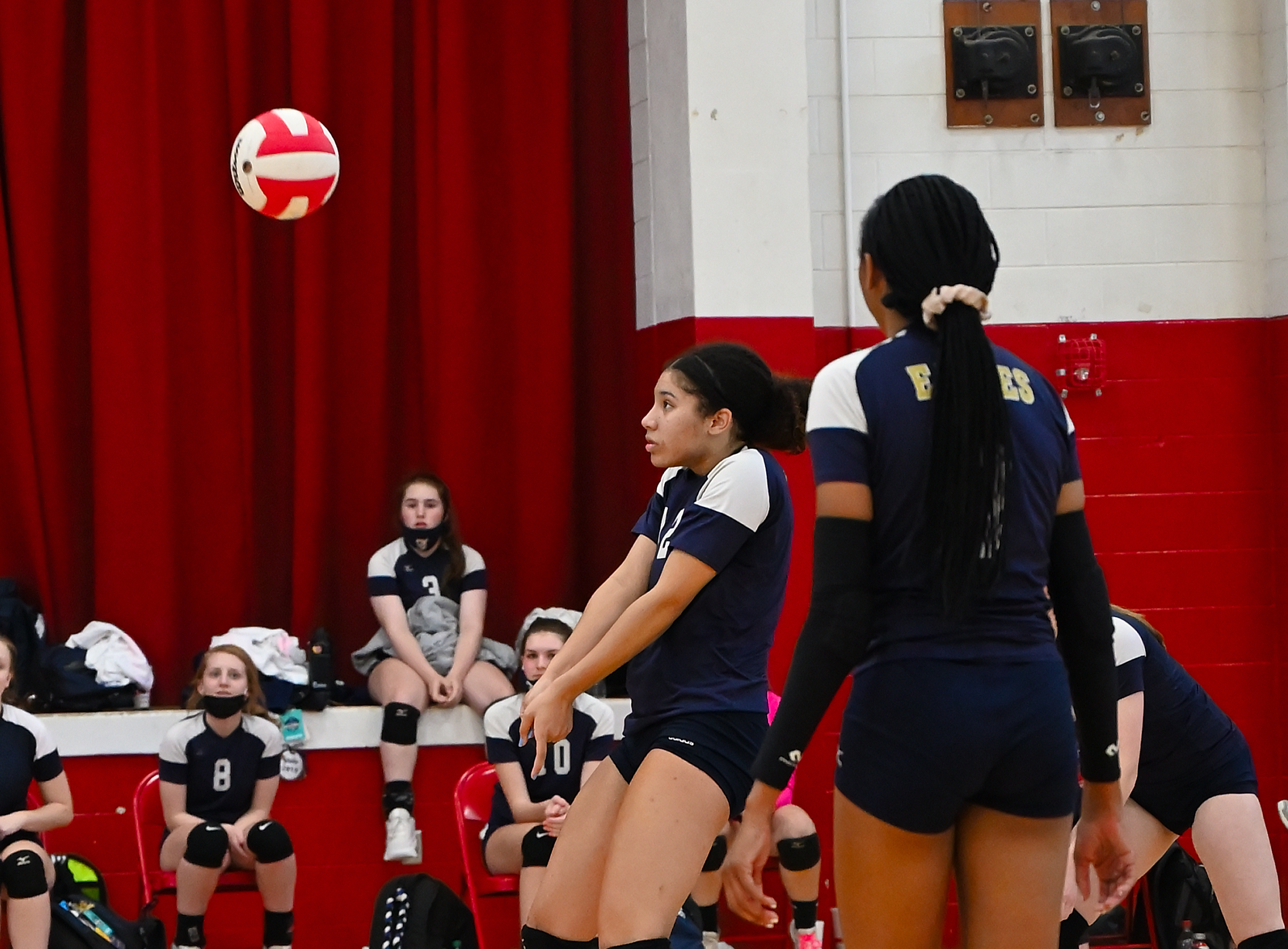 The Lady Golden Eagles (30-7) earned their trip by beating White Plains in the quarterfinals in Jacksonville and then rallying to beat Oxford. The Lady Jackets were strong blocking and digging in the first set and won it 25-22. The Lady Jackets rode that wave to an early lead in the second set, but Jacksonville recovered and evened the match 25-17 and then totally dominated the third set 25-9.

Jacksonville clinched the match in the fourth set 25-23, with junior hitter Aly Harris nailing the final two points after Oxford came from 23-20 down to tie it at 23.

With 12 kills and five blocks, Harris gave the Lady Golden Eagles a strong third option with standouts Brenna Stone and Kayla Broom. Stone had 32 kills in the match, including seven in a row as her side pulled away from a 17-16 deficit.

"She toted us at times today," Clark said of Harris. "I just told them other people have to. We can't be so two-dimensional everybody knows what we're doing. If we're going to take another step on being a really, really good team, other people have to contribute.

" I thought Aly did a great job today. I thought Molly (Wilson) had a really good day (10 kills, 45 assists). I thought Caitlin (Clark) at our place played great. I just feel like Aly's kind of that third factor that nobody pays attention to and if they have to pay attention to her we're going to be in pretty good shape. With Kayla and Brenna, you don't notice her in volley, but she's been huge for us and she was real big for us today."

The idea of winning a County Tournament during their tenure is something that really sits well with the seniors.
"It's a big goal for us," Broom said. "It's our last time so we have to make it happen."
"We feel like if we win this it shows that we've been playing as hard as possible and we have reached a goal we have every year," Stone said.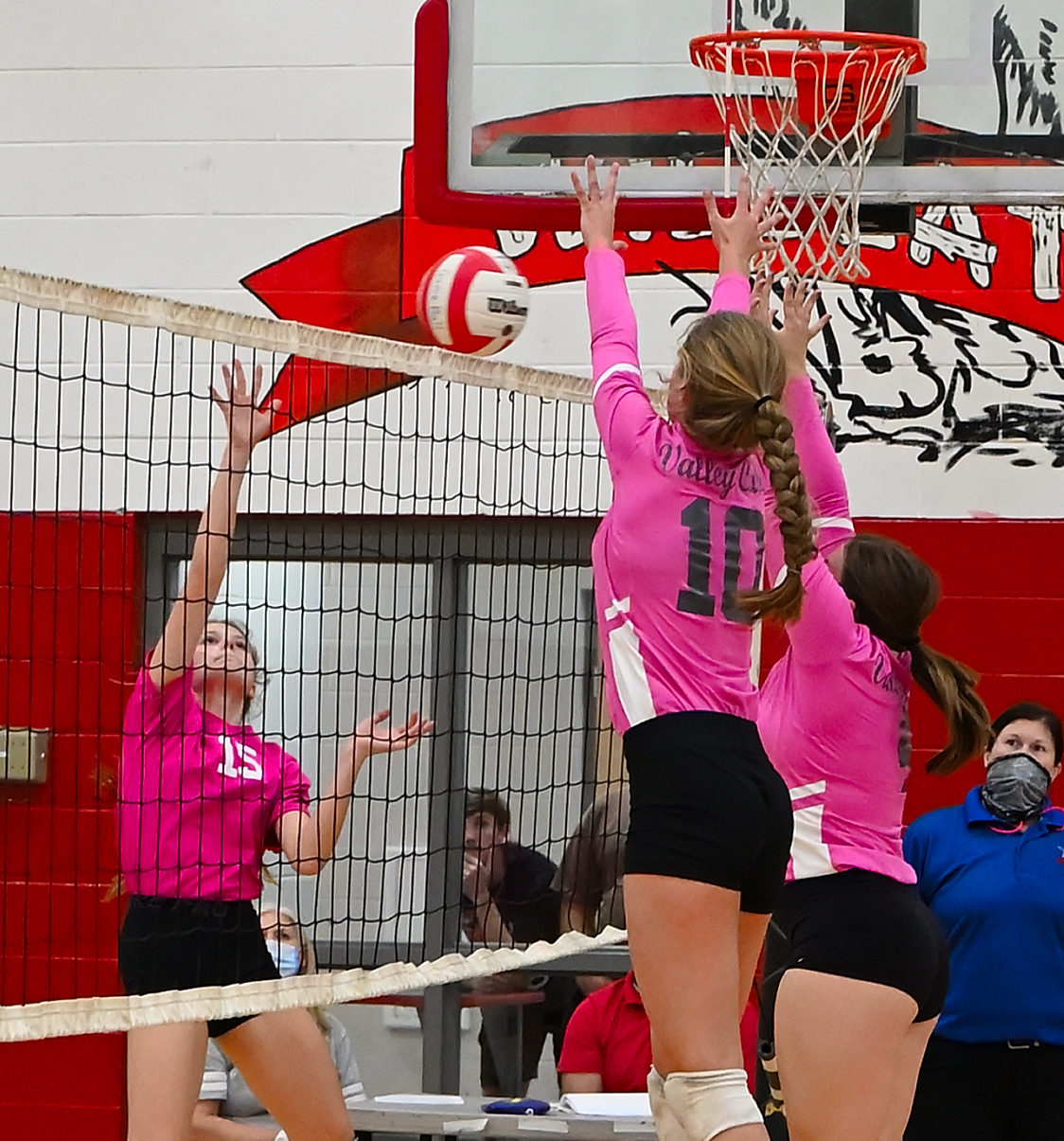 Pleasant Valley gave top-seeded Alexandria all it could handle in the second semifinal.

Wearing the same pink uniforms they did in last year's final – but won't Monday night – the Lady Cubs (28-11) pulled away from a 8-8 tie in the first set with seven straight points. The next two sets they hardly had room to breathe.

PV jumped out front in the second set 14-8 and 17-11, but Alexandria used an 11-3 run to take a 22-20 lead. PV scored the next four to serve set point, but the Lady Cubs tied it a 24 before PV scored the final two points to even the match.

The third set was even tighter. It was tied six times through 12-12. From there each time Alexandria would push ahead PV would push right back to get within one. The Lady Raiders took a 23-22 lead, then Jordan Beason scored the next three kills to give the Lady Cubs the set.

Beason had 22 kills and 16 digs. Lexi Weber had 23 kills and Anna Johnson dealt 47 assists. PV was led by Leah Patterson's 13 kills and 11 digs, Allie Bryant's 39 digs and Rylee Haynes' 27 assists.

The fourth set was tight early as well, but Alexandria pulled away from a 10-8 deficit with six straight points and never trailed again. The Lady Cubs put it away with a 6-0 run late in the set.

For all the positive numbers the Lady Cubs put on the tote sheet, coach Whitney Welch lamented an extraordinary number of hitting errors.
"I thought they (PV) played hard, I think they played good defense, I think they really want to beat us and I think we have to start embracing those things and learning to be more consistent," Lady Cubs coach Whitney Welch said. "We're still trying to find consistency. I feel like that's kind of happening all over.

"This is our fourth straight (finals) to play in and you can't get complacent about it. It's not just going to happen for you. You've got to really want it and that's just a mentality thing. You can't give it to them as a coach. I know they want to win, they work super hard, so right now it's just a mentality thing every day."

Part of the Lady Cubs' inconsistency Saturday could be tied to the distractions of a long Homecoming Week. Six of their players were in the Homecoming Court.

Jacksonville and Alexandria have met three times already this season and all three matches have gone three sets. It would be quite the stunner if the County Tournament final goes three sets. It's a best-of-five.
"I'm exciting and I think they are too," Welch said. "We've faced a lot of adversity this year in many different ways and I think that's good for them. I think today having to dig through this is good for us. I'm proud of them and I think they'll be ready."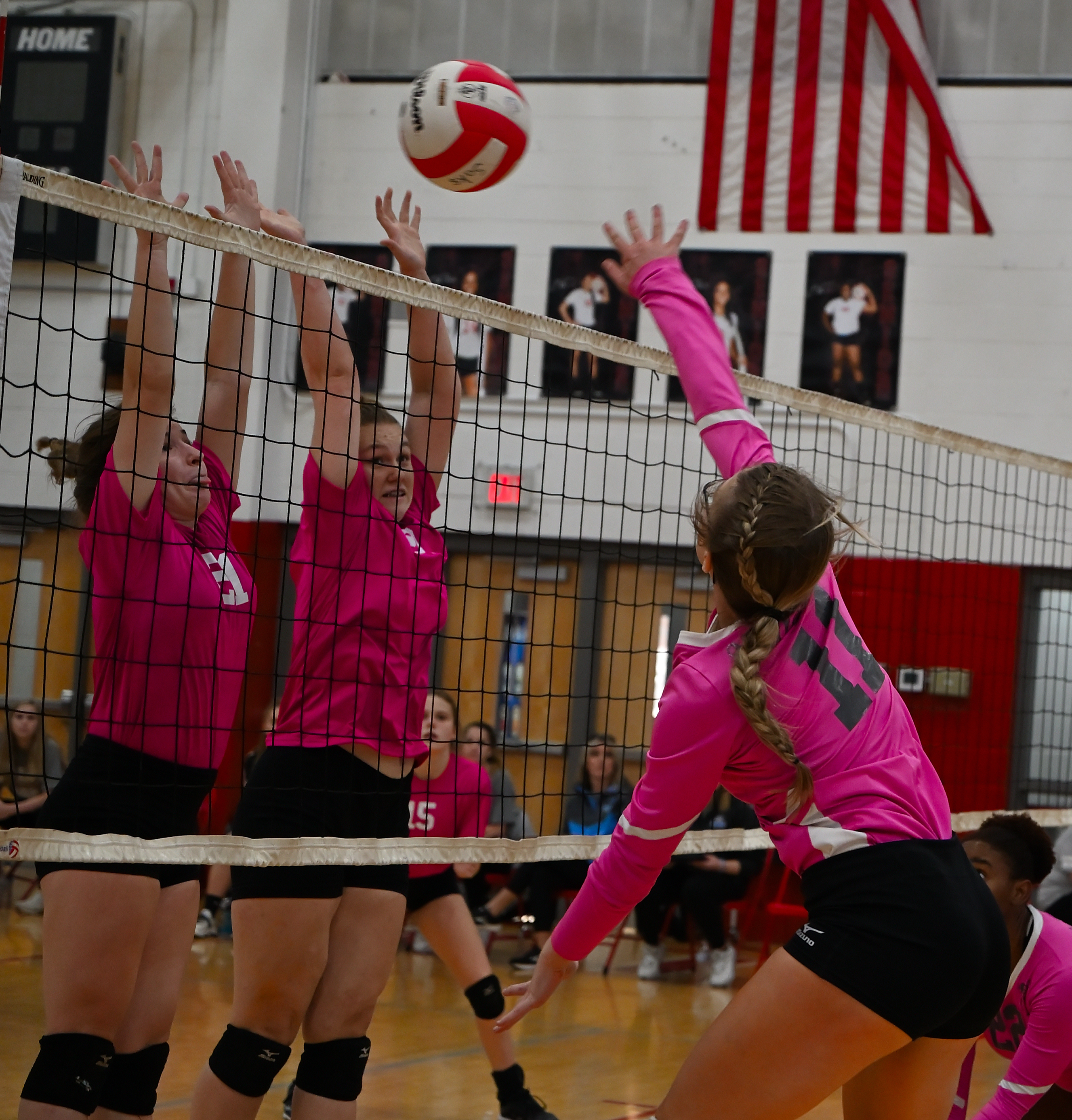 CALHOUN COUNTY TOURNAMENT SEMIFINALS
Jacksonville 3, Oxford 1
(22-25, 25-17, 25-9, 25-23)
KILLS – Jacksonville: Molly Wilson 10, Kayla Broom 11, Brenna Stone 32, Caitlin Clark 3, Aly Harris 12; Oxford: Channing Gallahar 4, Lakijah Brown 9, Adrionna Foster 1, Lisa Montgomery 6, Abbie Mitchell 3, Javanti Moore 3.
ASSISTS – Jacksonville: Molly Wilson 45, Caitlin Clark 2, Aly Harris 1, Lexie Callahan 3, Bailee Pritchett 1; Oxford: Ari Curry 2, Lakijah Brown 1, Adrionna Foster 24.
ACES – Jacksonville: Molly Wilson 2, Lexie Callahan 1, Bailee Pritchett 1; Oxford: Lakijah Brown 2, Ashley Paulson 1.
DIGS – Jacksonville: Kayla Broom 9, Brenna Stone 5, Caitlin Clark 9, Lexie Callahan 8, Bailee Pritchett 6, Natalie Patterson 1, Allie Thompson; Oxford: Ari Curry 10, Lakijah Brown 10, Adrionna Foster 5, Lisa Montgomery 3, Abbie Mitchell 3, Aametria Wilson 12, Ashley Paulson 6.
BLOCKS – Jacksonville: Molly Wilson 1, Kayla Broom 2, Brenna Stone 1, Aly Harris 5; Oxford: Lisa Montgomery 3.

Alexandria 3, Pleasant Valley 1
(25-20, 24-26, 25-23, 25-16)
KILLS – Alexandria: Jordan Beason 22, Anna Johnson 4, Lexi Weber 23, TyShica Woodgett 3, Kandyn Blankenship 5, Kaylee Smith 1, Rylee Gattis 1; Pleasant Valley: Leah Patterson 13, Madison Borders 5, Tori Turner 4, Lily Henry 10, Maddie Schwabe 2, Rylee Haynes 3, Allie Bryant 1.
ASSISTS – Alexandria: Anna Johnson 47, Sarah Pelham 3; Pleasant Valley: Rylee Haynes 27, Allie Bryant 1.
ACES – Alexandria: Jordan Beason 1, Lexi Weber 3, Kandyn Blankenship 1; Pleasant Valley: Leah Patterson 1, Lily Henry 2, Allie Bryant 3.
DIGS – Alexandria: Jordan Beason 16, Anna Johnson 13, Sarah Pelham 15, Lexi Weber 5, Kandyn Blankenship 18, Kaylee Smith 13, Rylee Gattis 4; Pleasant Valley: Leah Patterson 11, Madison Borders 2, Tori Turner 1, Lily Henry 7, Maddie Schwabe 12, Rylee Haynes 11, Allie Bryant 39.
BLOCKS – Alexandria: Anna Johnson 1, Lexi Weber 3; Pleasant Valley: Leah Patterson 4, Tori Turner 6, Maddie Schwabe 3.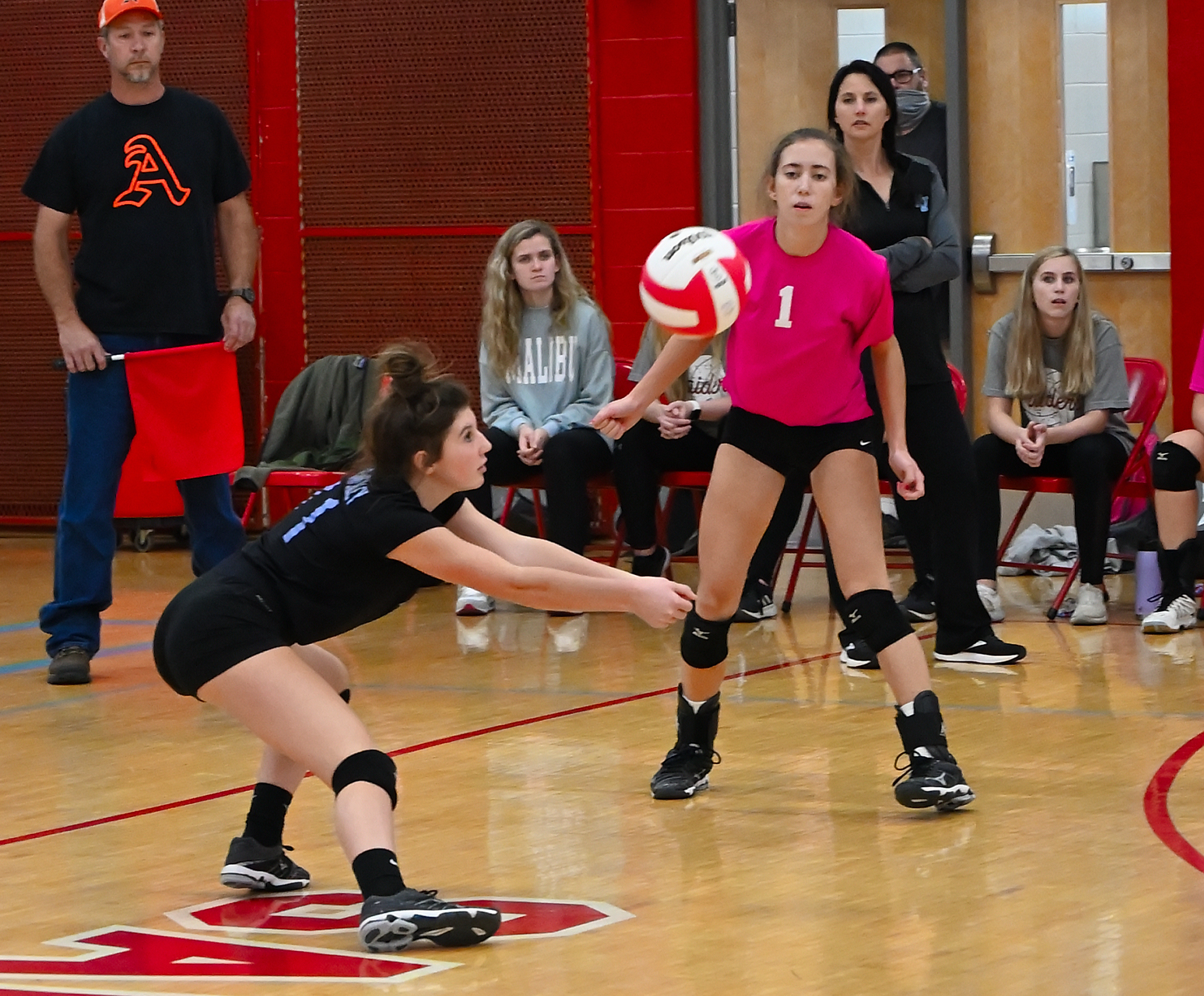 To see more photos from the semifinal matches, click these links: www.bjfranklin.smugmug.com or www.camerainnandbikes.com