Weaver to forfeit next 2 football games
Principal confirms varsity football team down for two weeks after having 'some players who were exposed to a positive (COVID-19) test'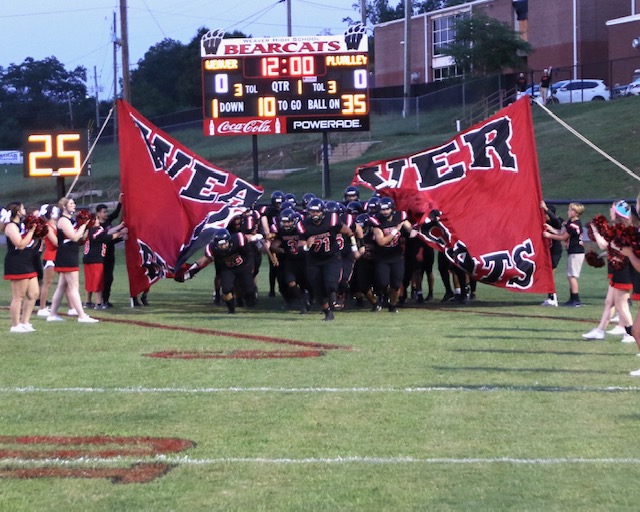 Related: Saks, PV volleyball teams sent into COVID-19 quarantine

By Al Muskewitz
East Alabama Sports Today

WEAVER – The administration at Weaver High School has requested forfeits for the Bearcats next two varsity football games after confirming "some players who were exposed to a positive (COVID-19) test."

Weaver principal Andy Keith confirmed the decision to East Alabama Sports Today after spending the day "looking into something that has been reported to us" involving the varsity football program.

He said the school was in contact with the Alabama High School Athletics Association and other health and administrative officials and had been waiting on details and guidance before making any decision.

The Bearcats, currently 0-3 and caught in a school-record 14-game losing streak, were scheduled to play Piedmont Friday night and Armuchee, Ga., Sept. 26, a game moved to Saturday because the Rome team is just coming off quarantine.

Friday's game was supposed to be Piedmont's Homecoming and the first chance for Bulldogs coach Steve Smith to get his 250th career coaching victory. The Bulldogs are actively seeking a replacement opponent.

Keith said rescheduling the games was something "we'll look at in the future," but hadn't been discussed immediately. The focus, he said, is making sure the program is ready for its next scheduled game, Oct. 2 against Hokes Bluff. He said there were no fines associated with the forfeitures.

"The AHSAA is gracious is being able to waive those fines due to things that are uncontrollable," Keith said.
The Bearcats are the first football team in Calhoun County to quarantine because of COVID-19. Donoho canceled its Aug. 28 opener against White Plains because of the virus in its Class 1A school.

Last week there were 20 high school football games around the state listed either as a forfeit or cancelation and two others that were replacement non-counter games for teams whose schedule was disrupted. The AHSAA reports about 92 percent of games are played each week with most of the forfeits coming from a group of schools in west central Alabama.
"When you come to school on Monday morning and you get a report, it takes a little while to look into it," Keith said. "There are multiple facets that go into something like this. You have to look at the school part and the athletics part and it takes a while because you have to look at a lot of documentation that you're required to look at through the ADPH and the CDC. We are looking into it."

The quarantine affects just the varsity football program, Keith said. He did not disclose any other details.

Weaver head coach Justin Taylor had no additional information through the lunch hour. "We're getting ready for a junior high game against Pleasant Valley (today)," he said.
There is precedent for Weaver to suspend play. The school's volleyball team has been on two-week COVID quarantine and will resume play for the first time tonight at Wellborn in matches against Oxford and Wellborn, but Keith said the school was on top of the protocols even before that situation arose.
"It was on our radar before the volleyball just because we want to make sure we do our due diligence here at school all the way around, 360 degrees from athletics to academics, that we provide the safest and cleanest environment for our students," he said. "It wasn't just volleyball putting it on our radar. It's been on our radar ever since before school started and way before school started when we were planning students coming back and we were trying to figure out how we were going to provide the cleanest and safest environment for our kids, our staff, our parents when they come and, most important, our parents send their kids to an environment they feel safe in.
"We do our due diligence. Our PE department is constantly cleaning. Our teachers are constantly cleaning. Our custodial staff is constantly cleaning. Our coaches are constantly cleaning. I'm so proud of our staff and our teachers and our coaches for the due diligence they do. They just kind of go overkill in what they do every day, so I'm really proud of our school as a whole from all areas of the job that they've done and are doing every day and will continue to do every day, providing an environment that is very safe for anyone who comes to Weaver High School."