Playoff winners
Straub, Johnson stage a Sunday comeback, win Buddy Moore Tournament title in playoff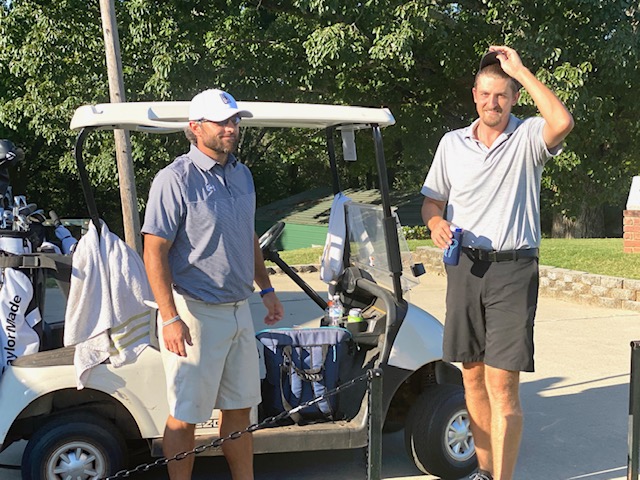 By Al Muskewitz
East Alabama Sports Today

Landon Straub didn't know what the playoff he and partner Jason Johnson were about to enter in the Buddy Moore Tournament was about to hold, but he did know he didn't want it to get to No. 2.

The uphill par-3 at Anniston Municipal is easily the most challenging one-shotter in the county, where anything from a 1 to an "other" can happen — and did this weekend. The playoff not only reached there, it ended there.

And much to the delight of the guys who didn't want it to get there in the first place, they were the ones who walked off it the winners.

Straub and Johnson nearly made ace there the first time around Sunday and then they made a par there as the second hole of sudden death to defeat defending champions Caleb Bowen and Cory Etter for the Buddy Moore crown.
"Honestly, I told Jason I didn't want to let this tournament get to No. 2; I wanted to win it on 1," said Straub, a 27-year-old quality engineer for General Dynamics Land Systems. "It was kind of ironic we won it on No. 2.

"It's just the difficulty of the hole. I knew it was a difficult hole and someone had to hit a clutch shot there. I hit a 5-iron first time through and it was long. I knew I was pumped up so I hit a 6 and it landed perfectly in the middle of the green. I love my 6-iron, I know that. Put that thing in a case."

The winners came from five shots behind Bowen and Etter to start the day. They shot 13-under-par 57 in the round and held a two-shot lead at 25-under 115 when they finished.

They got off to a great start – 8-under through 8 – to get in the conversation and as the leaders struggled to make something happen on the back took the lead with a birdie on 17. They birdied five of their last six holes in regulation, including the last four in a row.
"We were just going to go out and play the best we could play and see what happened," said Johnson, a 41-year-old materials team leader at General Dynamics. "We got off to a really good start and then in the back of our minds we were saying, hey, if we keep going we've got a shot."
"I never thought I would be in this position," said Straub. "I just started getting serious about golf after I graduated from high school (Alexandria), a late start for some people, taking lessons, grinding. This is such a prestigious event around here … so to win this one, I can't put it into words."

It's such a prestigious and beloved event on the county golf calendar Johnson was missing his son Carter playing in the championship game of a 14U travel-ball baseball tournament in Hoover to play.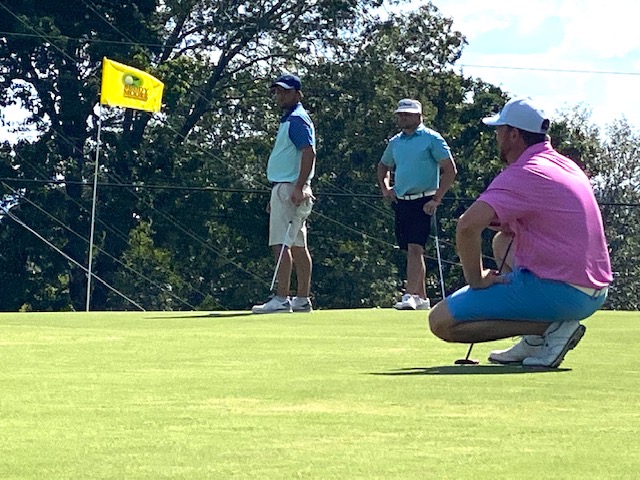 Bowen and Etter were hoping to put a 15-under behind the 17 they shot the day before, but it was a struggle. They only turned in 5-under.

It got a little harder when they three-putted No. 11 – No. 2 on the front nine – for bogey, and they had to grind on 13, 14 and 15. It really hurt when Bowen's six-foot birdie putt on 17 did a complete 360 around the hole that Bowen called a "game changer." 
It was a dramatic finish to regulation. Both teams in the final pairing needed eagle to extend the round. Bowen went through the tree guarding the green on his approach from 157 yards out (with a 7-iron) and hit the flagstick. He just missed his 15-foot eagle attempt, but Etter had his partner's back to salvage a disappointing back nine and extend the round.

"We knew we had to make a 3; it was the only way to continue playing no matter how bad we had been playing," Bowen said. "We had to go at it somehow and there just happened to be a big tree in the way.

"It was cool to get that clutch putt when we needed it just to get in a playoff, but it's demoralizing when you're sitting there, for the second time in three years, with that big of a lead and you just can't seem to hit it close and nothing goes in."

Andrew Brooks and Brennan Clay also had an eagle putt in the group, from just about the same spot they made it two years ago to win the tournament, but walked off the green with a birdie. They finished third.
"Me and Jay were talking and we always expect them to make it," Straub said, "especially with all the shots they had to tie. We expected at least one of them to make it, but we knew we just did play them pretty good down the stretch, so we were confident we could get it done in the playoff if we had to."

They had the advantage on the first playoff hole when Johnson hit a stinger second shot pin-high just off the green, but both teams ended up making birdie. When they got to No. 2, Bowen and Etter both missed the green left. Johnson missed left, too, but Straub hit a 6-iron into the middle tier.

Johnson putted to the upper level to tap-in range and they tapped it in. Bowen chipped onto the green to 10 feet, but both players missed their par putts. Johnson and Straub tapped in and claimed the crown.
"I was wanting to finish it out on No. 1," Johnson said. "I don't have a very good track record on No. 2, but I hit that shot (in regulation) to six inches. That's the first time I think I've hit the green in 10 years and you saw my shot in the playoff. He hit a great shot in the playoff. I went numb. Thankfully, Landon hit that tee shot on 1 and 2."
That's the way it was for them the whole weekend. The champions aren't related, but they brother-in-lawed, Straub said, "the perfect amount" to win the event. Both days Straub didn't play well on the front but Johnson was there to get them through and then it was Straub's turn to be the engine on the back.

"If you want to go to the dictionary on brother-in-lawing for golf, we set the bar there, for sure," Johnson said.

Etter said the playoff "kind of went along with the day," but he tipped his cap to the winners.

"They played great and earned it," he said. "We did good to get what we did today, that's how bad we played, but those two played great. They earned it."

The playoff was followed by an armada of E-Z-Gos and finished in front of the party porch, making a great atmosphere for the finish.

And to think the champions didn't want it to get there.
NOTES: The other flight winners were Clay Calkins-Chris Hubbard (Mary Ann Flight), Charles Carden-Johnny Barnes (Scott Flight) and George Salmon-Lee Waldron (Angie Flight). Calkins and Hubbard were the 2017 champions … Morning specialty prizes went to Trey Sawyer (long drive), Adam Johnson (CTP 2/11), John Roe (CTP No. 4), Scott Moore (CTP 7/16) and Wayne Tillman (longest putt). Afternoon specialty prizes went to Bowen (long drive), Johnson (CTP 2/11), Brooks (CTP No. 4), John Sears (CTP 7/16) and Chris Reaves (longest putt).
12th BUDDY MOORE TOURNAMENT
Buddy Flight
x-Landon Straub-Jason Johnson 58-57—115
Cory Etter-Caleb Bowen 53-62—115
Brennan Clay-Andrew Brooks 57-59—116
Matt Rogers-Jeremy McGatha 57-61—118
Marcus Harrell-Peyton Bradley 61-58—119
Chip Howell-Jonathan Pate 60-60—120
Layton Bussey-Byron Preston 58-63—121
Will Brown-Tyler Dopson 61-64—125
Jake Goggans-Grant Jackson 61-64—125
Ashley Bussey-John Sears 58-68—126
x-won on second hole of playoff

Mary Ann Flight
Clay Calkins-Chris Hubbard 62-58—120
Tony Hicks-Nick Hubbard 63-61—124
Frank Brady-Landon Winfrey 64-61—125
Chris Reaves-Tim Dennison 63-63—126
Danny Whittaker-Gary Thomas 64-63—127
Jimbo Phillips-Mike Hughston 63-64—127
Lamar Carter-Billy Thompson 63-64—127
Steve Akers-Rodney Grubbs 64-63—127
David Ramey-James Ramey 64-67—131
Mike Herndon-Tony Strickland 64-71—135
Scott Flight
Charles Carden-Johnny Barnes 65-63—128
Andrew Tyson-Trey Sawyer 66-68—134
Lenn Coffey-Adam Johnson 65-69—134
Chris Randall-Wayne Tillman 68-66—134
Mark Gaines-Andy Jenkins 67-68—135
Scott Moore-Will Prickett 65-69—135
Ted Heim-Garrett Heim 66-69—135
David Hill-David Fitzgerald 66-70—136
Kelly Rogers-T.J. McGatha 65-72—137
Jimmy Jackson-Gordon Stewart 66-74—140

Angie Flight
George Salmon-Lee Waldron 69-66—135
Tim Mullendore-Mike Braxton 68-73—141
Jay Jenkins-Matthew Wright 73-69—142
Grady Sapp-Eddie Reese 69-73—142
Jim Ramey-Morgan Ramey 71-76—147
Donnie McGinnis-Ron Dulaney 73-75—148
Keith Gann-Steve Rogers 72-77—149
Derek Webb-John Roe 76-73—149
Steve Mullendore-Will Mullendore 75-77—152
Ken Renfroe-Konner Renfroe 82-79—161