Piedmont pops Saks
Top-ranked Bulldogs win their region opener behind Hayes' 4 TD passes
Piedmont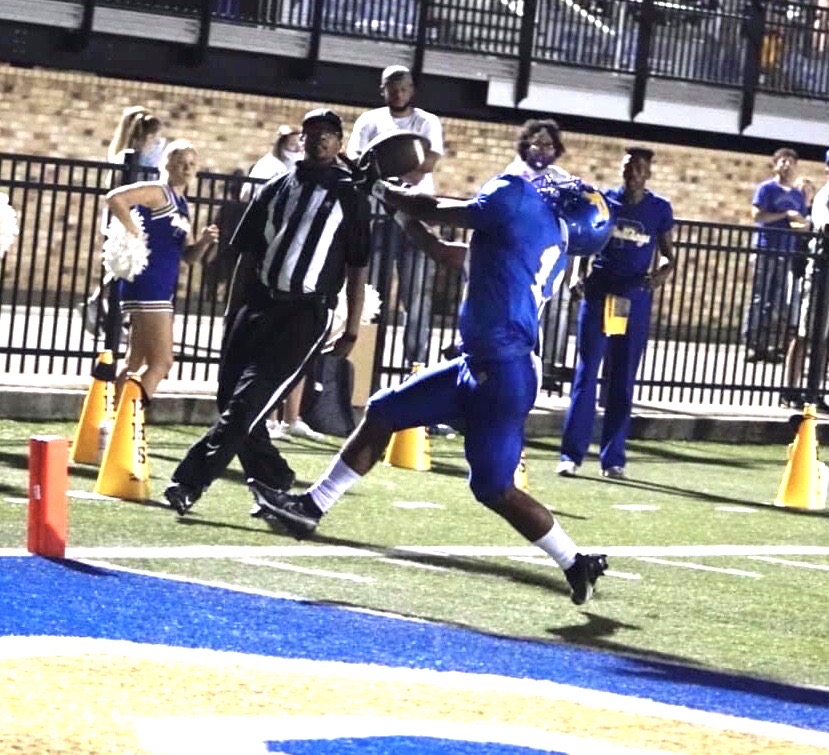 By Jeremy Wortham
For East Alabama Sports Today
PIEDMONT – Normalcy. That's something that high school football coaches across the state are currently trying to find some level of during these times of uncertainty.
For some coaches, normalcy may come sooner than later. For Piedmont, normalcy never left.
"Friday nights are just like it's supposed to be, except for me having to keep this mask on," Piedmont coach Steve Smith said.
This particular Friday night was just as folks who follow Piedmont expect it should be – go out there and just win, which the top-ranked Bulldogs did convincingly 35-6 against Saks.
"The competitive juices, the adrenaline, it still flows like it always has," Smith said.

Sophomore quarterback Jack Hayes led the offense comfortably and successfully, as he finished the night completing 10 for 12 and 163 yards. He found the end zone four times, to three teammates – Jadon Calhoun (24 and 29 yards), Austin Estes (19) and Coleman Reid (17).
"He did a lot of little things tonight that made a big difference, like putting some passes out there where it was us or no one," Smith said of Hayes. "Jack's growing up and starting to understand more and more.
"Our receivers are really, really talented. I don't know if we've had a receiving core as deep as what we are this year."
Apart from taking its opening drive and going 58 yards while eating up all but 53 seconds of the first quarter before fumbling in the red zone, Saks simply didn't have an answer on neither side of the ball. Sean Parnell helped his team avoid being shutout with a late score.
The win moves Piedmont to 2-0 overall, 1-0 in region play. The Bulldogs will travel to Glencoe next week.

Saks is 2-1 overall, 0-1 in region play. The Wildcats will travel to Wellborn next week.

PIEDMONT 35, SAKS 6
Saks 0 0 0 6 – 6
Piedmont 0 21 14 0 – 35
P – Jadon Calhoun 24 pass from Jack Hayes (Sloan Smith kick), 10:17 2Q
P – Austin Estes 19 pass from Jack Hayes (Sloan Smith kick), 6:07 2Q
P – Elijah Johnson 39 run (Sloan Smith kick), 3:25 2Q
P – Jadon Calhoun 29 pass from Jack Hayes (PAT failed), 10:15 3Q
P – Coleman Reid 17 pass from Jack Hayes (Jakari Foster pass from Jack Hayes), 5:10 3Q
S – Sean Parnell 7 run (PAT failed), 5:27 4Q
| | | |
| --- | --- | --- |
| Saks (6) | | Pied (35) |
| 11 | 1D | 13 |
| 109 | Rush | 98 |
| 79 | Pass | 163 |
| 10-90 | Pens | 4-30 |