No let up or letdown
Higgins has another big night as Oxford romps past Scottsboro in its home opener, 42-14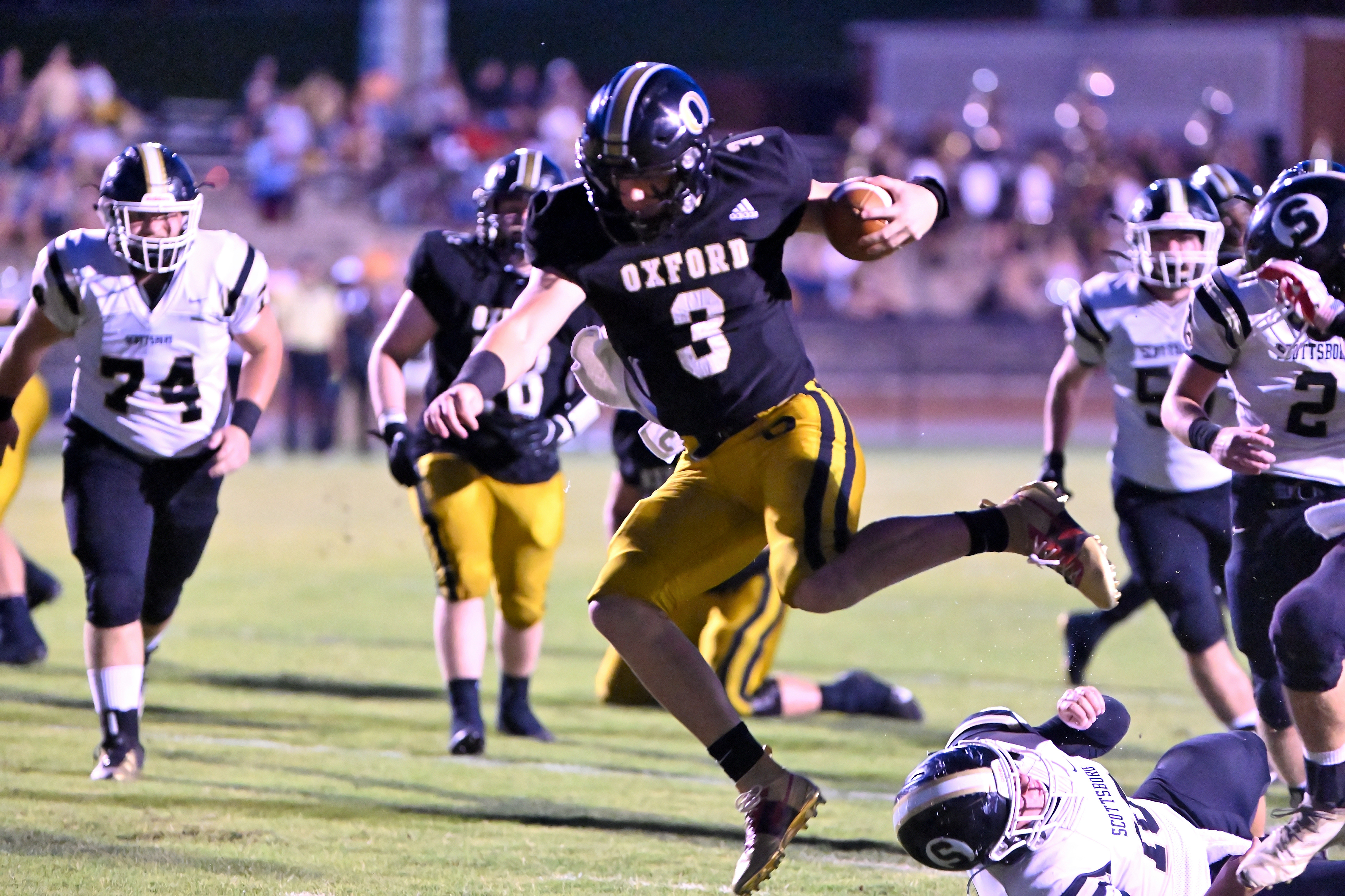 By Brant Locklier
For East Alabama Sports Today

OXFORD – If you were wondering if there was going to be some kind of a letdown this week for the second-ranked Oxford against a rather pedestrian opponent after opening the season with two of last year's state finalists, you found the answer pretty quickly Friday night.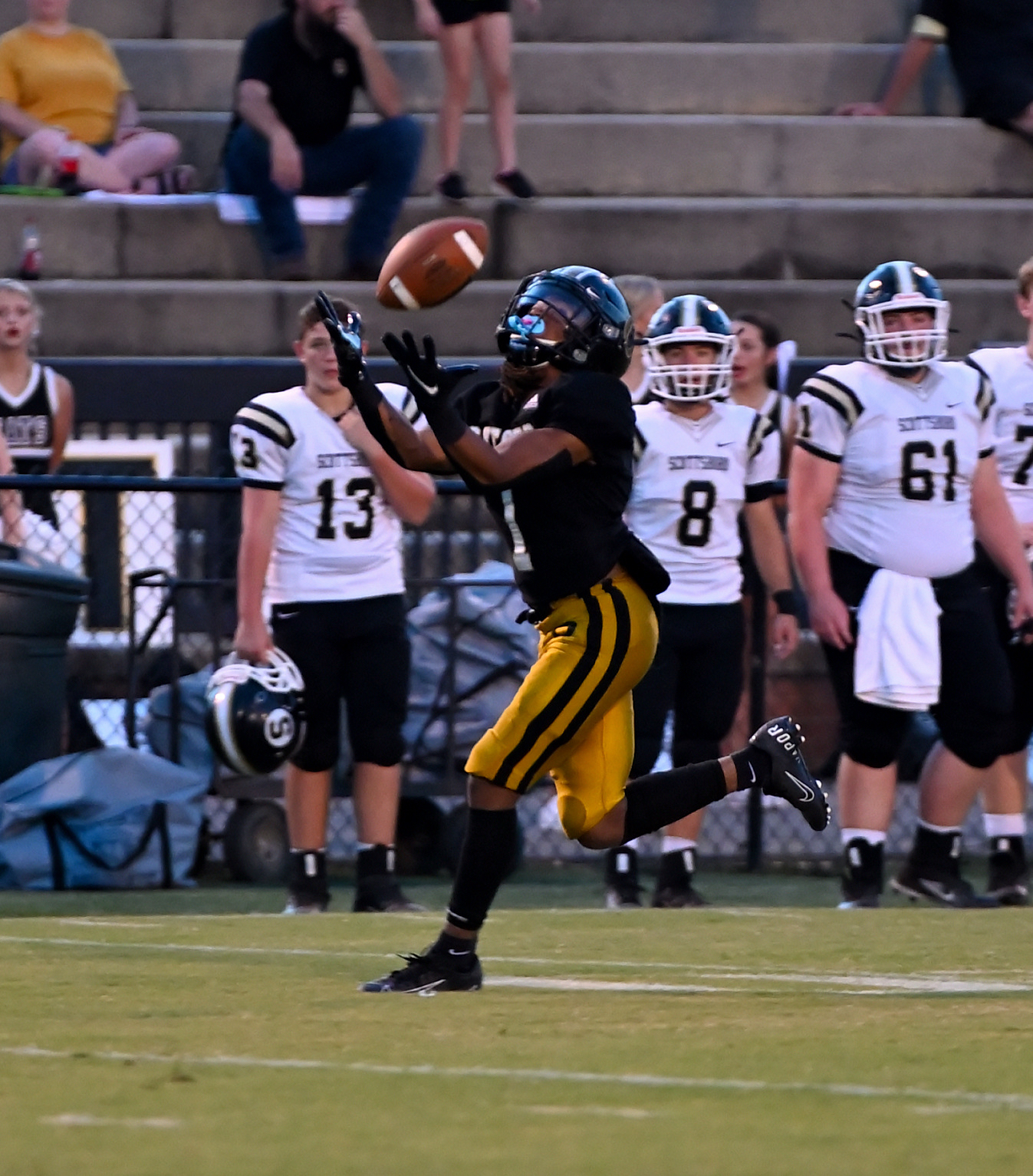 The Yellow Jackets scored on three of their first four plays and had another called back on the way to a 42-14 rout of Scottsboro at Lamar Field.

The scoring came in waves. Quarterback Trey Higgins had a hand in all four of their first-quarter touchdowns and five of the six they scored in the first half.

He heaved an 80-yard touchdown pass that Warren Britt ran under for the first score. Trequon Fegans returned a punt for 75 yards and a score, but a penalty moved it back to the 40. Higgins then hit Roc Taylor in stride in the end zone for a 14-0 lead and on the next possession he connected with Bakari Dailey for 21 yards and 32 yards to Rod Elston out of the backfield before romping in from 8 yards out.

Just 10 plays into the game the Jackets were up 21-0. Before the quarter was over Higgins found Taylor behind the Wildcats defense for a 67-yard scoring pass.
Higgins was 9-of-10 for 324 yards and four touchdowns passing in the game and he ran for another score. He has 10 touchdown passes this season.

"Our guys came out and played with great intensity," Oxford coach Keith Etheredge said. "Trey was his usual self and did a great job of finding the open guy and spreading the ball around. He is such a great kid and leader on this football team."

In the second quarter Higgins found Britt for 48 yards to set up the next scoring run by Shannon Morris. He spread it around some more with a 58-yard touchdown pass to tight in Camden Etheredge for a 42-0 halftime lead.
"The receivers did a great job of getting open and making plays on the ball," said Higgins. "They went one-on-one against Britt and he just beat them to the corner. The receivers just made me look good tonight."

Delvon Fegans picked off a pass on defense for the Jackets as the half ended. Oxford had 399 yards of offense in the first half while the Wildcats only mustered up 89 yards.

"Coach told me not to go to sleep," Fegans said of his interception. "They were eventually going to pass. Be prepared. We were in a cover-two and the ball got tipped and I almost did not get it as my helmet was all fogged up."

The Wildcats were a playoff team a year ago and had a returning quarterback, Jacob Manning, who rushed for 1,500 yards and 22 touchdowns. The Jackets pulled their starters late in the second quarter and were able to get some rest.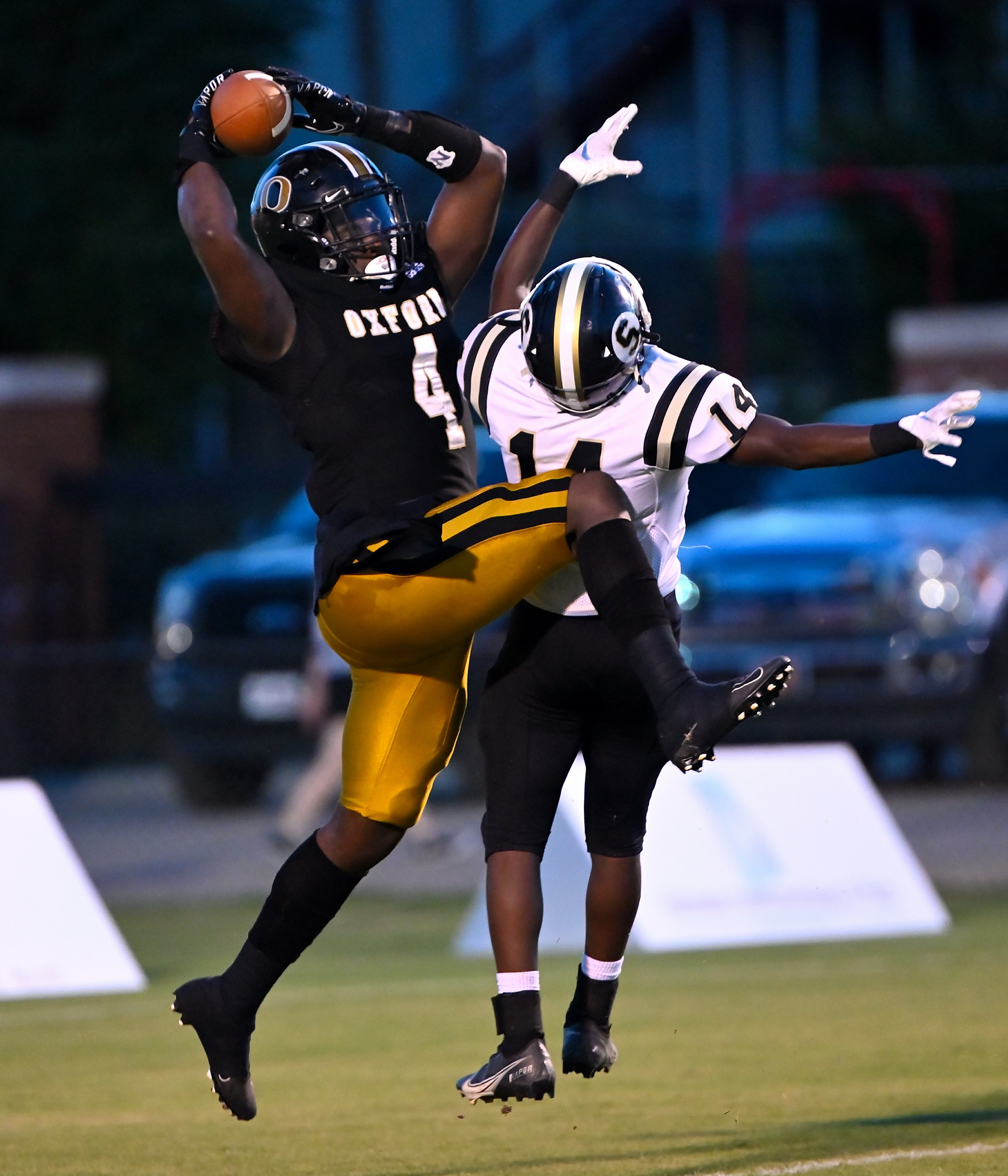 "We were a banged up football team tonight," Etheredge said." Our two starting interior linebackers were out, our defensive end was out and our starting running back was out tonight.

"The first two games were very physical as we got some guys banged up, so this allowed to get some people well and get some others some very valuable playing time and that is going to help us down the road."
Roc Taylor was one of those banged up, but he still caught two balls for 108 yards.

"I am going to be fine," he said. "Tonight was really easy after what we have seen the first two weeks where I was double and triple-teamed (by 7A champion Thompson and 5A runnerup Pleasant Grove). They did not do that tonight and we were able to get over top them pretty easily. We had great intensity out there today and did not let up. We want to play like that every week."

The Jackets will be at Southside (3-0) next week in another region game.

To see a gallery of photos from this game, click on this link: www.bjfranklin.smugmug.com

OXFORD 42, SCOTTSBORO 14
Scottsboro 0 0 7 7 – 14
Oxford 28 14 0 0 – 42
O – Warren Britt 80 pass from Trey Higgins (Nicolas Gutierrez kick), 9:18 1Q
O – Roc Taylor 40 pass from Trey Higgins (Nicolas Gutierrez kick), 6:37 1Q
O – Trey Higgins 8 run (Nicolas Gutierrez kick), 2:41 1Q
O – Roc Taylor 67 pass from Trey Higgins (Nicolas Gutierrez kick), 0:57 1Q
O – Shannon Morris 2 run (Nicolas Gutierrez kick), 5:01 2Q
O – Camden Etheredge 58 pass from Trey Higgins (Nicolas Gutierrez kick), 1:42 2Q
S – Jacob Manning 29 run (Jake Hughes kick), 3:58 3Q
S – Jacob Manning 2 run (Jake Hughes kick), 4:55 4Q
| | | |
| --- | --- | --- |
| Scott (14) | | Oxf (42) |
| 12 | 1D | 10 |
| 45-252 | Rush | 27-153 |
| 3-9-1 | C-A-I | 10-13-0 |
| 34 | Pass | 331 |
| 0-0 | F-L | 1-0 |
| 6-35.2 | Punt | 5-25.8 |
| 4-25 | Pen | 7-65 |