He's all-win
Wigington starts fast Sunday, wins seventh Calhoun County Championship title to become major's all-time wins leader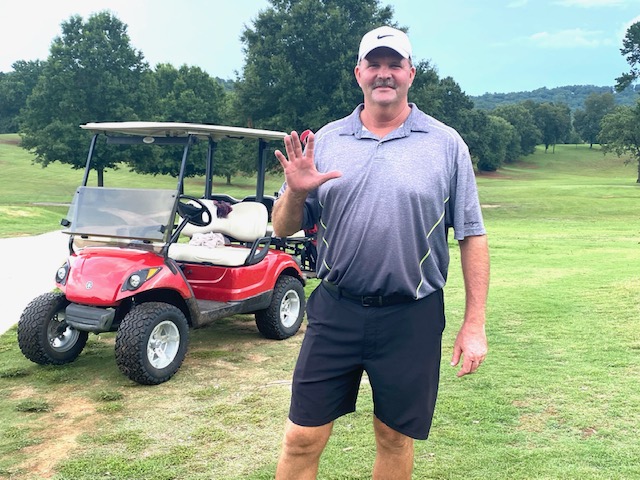 By Al Muskewitz
East Alabama Sports Today
Gary Wigington isn't just all-in on the golf course. He's all-win.

He should be "Gary Winnington" for all the tournaments he's won around Calhoun County over the years. After Sunday, he's running out of things to be the winningest in.

Wigington became the all-time wins leader in the Calhoun County Championship Sunday when he shot a bogey-free 64 at Anniston Municipal to win his seventh County crown. His two-day total of 13-under 127 was three shots better than runner-up Brennan Clay, the first-round leader.

With the victory, he broke away from a tie with Chris Banister and Eric Hamilton on the all-time County Championship wins list. It now goes alongside being the all-time wins leader on the County Tour (21) and the all-time wins leader in the Sunny King Charity Classic (eight).

"I don't think about that; every tournament I step up to I just try to win that one," Wigington said after coming off the 18thgreen. "It feels good, obviously, and I'm proud of it and all that, but I don't think about anything like that when we get up here."

It's a good bet everybody else in the field does.

Wigington clinched his fourth County Tour Player of the Year award – he's tied for the most of those – even before he teed it up this weekend, but won for the record-tying fifth time on this year, sweeping the points standings like his Sunny King partner Ty Cole did last year by winning all five of his qualifying finishes. He was second in each of the other Tour events – and felt like he could've won both of those – making it the most dominant season in Tour history.

"This year was incredible," Clay said. "Five wins this year and two seconds, that's pretty good. As a kid playing Indian Oaks I looked up to him then – I didn't really know him then – but as a high school player I started to get to know him a little bit and it was always like, 'There's Twig, he's really good.' It's cool to compete with him now, but the year he had this year is just phenomenal. It's hard to beat that."

It was as satisfying a season as it was dominant, considering the 51-year-old underwent elbow surgery in the fall after the pain forced him to withdraw from this very event during the first round last year. He was one of the best players in the area even while playing hurt, but now back healthy and free of pain he was ready to dominate.
In addition to the wins, he led the Tour with a 68.19 stroke average. If there was a shortcoming it was averaging only 8.36 fairways a round, but when you hit it a mile, average almost 13 greens in regulation and get up-and-down 72 percent of the time you do miss one – all of which he did this season – do you really worry about it? He also averaged 27.93 putts per round and collected 81 birdies in 16 Tour rounds.

"It was a good solid year, especially after the last couple years," he said. "It's been real satisfying because there were a couple years with not playing good, hurting, not being as competitive as I've had in the past; it was a getting old. So, it was definitely very satisfying this year to get back in the winner's circle and do it multiple times and be really in the thick of it all seven tournaments.
"The last couple years of not being competitive and winning one tournament here, one every now and then, it just crawled on me. This year meant a lot because I was tired of not being very competitive, so I worked harder after I got my arm fixed and I was free of pain pretty much. It was one of those things when you're a competitor you want to do your best and I just felt the last couple years of not being very competitive I just wanted to do it again and get that feeling again – and it felt good."

Wigington started Championship Sunday one shot off the lead and got off to a fast start. He birdied each of his first four holes, including a "great" 2 at the three-tiered par-3 second, perhaps the most demanding par-3 in the county. He made six birdies in the round and got up and down for par on all six greens he missed.

When he barely missed a 15-foot putt on 5 for another birdie, playing partner Chip Howell commented walking off the green, "Are you going to shoot your age today?" a reference to exactly what the 65-year-old Howell did the day before in his own 64.

While Wigington was on his early birdie barrage, Clay "put myself quickly behind the eight-ball" with a double bogey on 2 that put him in catch-up mode the rest of the day. After another two-shot swing on 4, Wigington had a four-shot lead. The margin was never closer than three after that. It was his 11thround in the 60s on the Tour this season.
"Getting off to a good start was huge today," the champion said. "I knew I had to shoot a good score today because I really thought felt like Brennan was due. He had had a couple tournaments where he shot good one day and not so good the next and I really thought he was due to put two together, so I felt like I needed to really shoot a good number today to win."
Jeremy McGatha scored a hole-in-one on 16 as part of a birdie-birdie-eagle run. He aced the 93-yard hole with a sand wedge. It was his ninth hole-in-one all-time and fourth in tournament competition. It was the second ace on the Tour this year.

"Ones are rare, it's pretty cool, and to make it in the County, too," he said. "It was straight at it and the way it released I thought it was short, but the guys in my group said nope. Billy (Thompson) and Chad (Calvert) were like 'it's in.' Me and Billy go around and there's only one ball short and we knew it was Chad's and I'm like that's in the hole and Billy said it's in the hole. He said let me go look and I said I ain't going. He went up there and it was in the hole. Pretty cool."
NOTES: Wigington also won County titles in 1999, 2004, 2010-12 and 2014. Banister won in 1955, 1961, 1969-71 and 1973. Hamilton won 1981-84, 1994 and 1996 … The top 16 qualifiers for the County Match Play Championship were determined Sunday and the pairings are listed below … McGatha's ace obviously won one of the day's closest-to-the-pin prizes. The others went to Cal Lambert and Caleb Bowen (No. 4), Kenny Fulmer and Wigington (No. 2/11) and Daniel Black (No. 16). Long drive winners were Mark McCaig and Andrew Brooks … Jake Goggans won a putt-off with Kenny Wright between the morning and afternoon waves. The challenge was closest to the pin on a putt across the 9/18 green. Wright went first and hit his putt inside 12 feet. Goggans followed and hit his to about five feet. 
See the complete scores and the unofficial County Match Play Championship bracket below.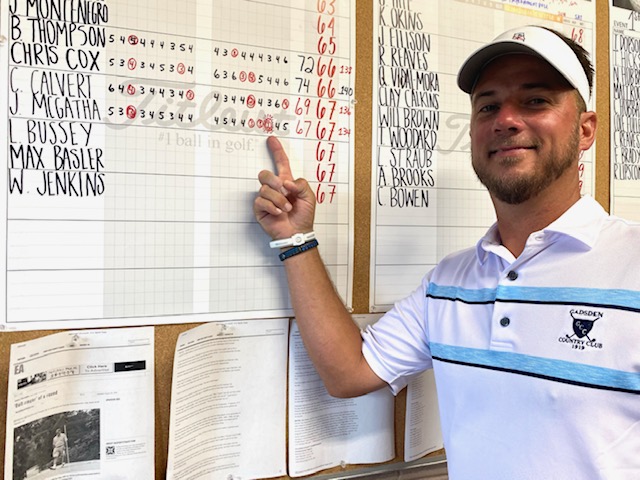 CALHOUN COUNTY CHAMPIONSHIP
Championship Flight A
Gary Wigington 63-64—127
Brennan Clay 62-68—130
Jesus Montenegro 65-68—133
Jeremy McGatha 67-67—134
Max Basler 67-69—136
Chad Calvert 67-69—136
Chip Howell 64-74—138
Wesley Jenkins 67-71—138
Billy Thompson 66-72—138
Chris Cox 66-74—140
Layton Bussey 67-73—140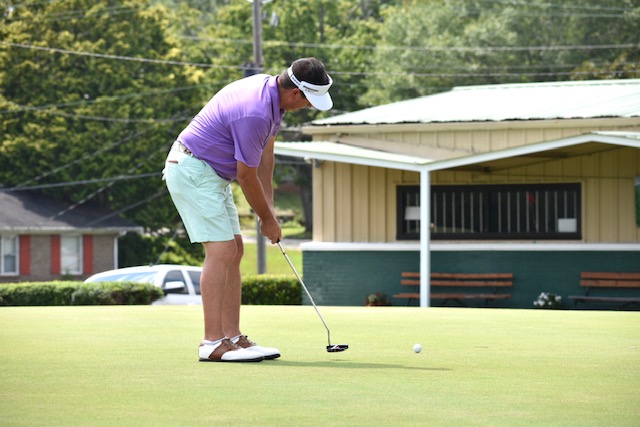 Championship Flight B
Jaylon Ellison 68-67—135
Johnathan Pate 68-70—138
Quim Vidal-Mora 68-71—139
Randy Reaves 68-71—139
Timmy Woodard 69-71—140
Clay Calkins 68-72—140
Caleb Bowen 69-73—142
Landon Straub 69-73—142
Andrew Brooks 69-74—143
Will Brown 68-76—144
Kenny Okins 68-78—146
First flight
Chris Hubbard 72-70—142
Matt Rogers 71-72—143
Chris Reaves 72-75—147
Cole Fuller 71-76—147
Randy Lipscomb 73-75—148
Tyler Dopson 70-78—148
Nick Hubbard 71-79—150
Tony Hicks 71-84—155
Frank Brady 73-82—155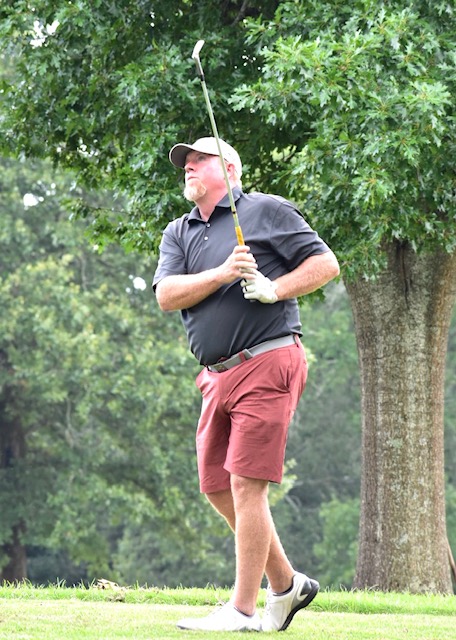 Second flight
Tim Turner 73-71—144
Jake Goggans 73-73—146
Benji Turley 74-73—147
Cameron McCareeth 73-76—149
Johnny Barnes 73-78—151
Ted Towns 74-79—153
Landon Winfrey 74-79—153
Tim Dennison 73-88—161
Rodney Grubbs 73-WD
Third flight
Daniel Black 74-70—144
Peyton Bradley 75-74—149
Danny Whittaker 75-74—149
Ted Heim 75-74—149
Mark Guyther 74-75—149
Chris Randall 74-76—150
Gage Miller 74-78—152
Lamar Carter 75-77—152
Tim Steward 74-79—153
Rick Okins 75-79—154
Steve Davis 74-81—155
Cal Lambert 75-84—159
Fourth flight
Mike Hughston 76-73—149
Cain Hollingsworth 76-76—152
Kenny Fulmer 76-76—152
Chad Mullinax 76-77—153
Andy Jenkins 76-77—153
Robin Wood 76-77—153
Mark Gaines 76-82—158
Chase Hollingsworth 76-WD

Fifth flight
Mark McCaig 77-73—150
Dennis Austin 79-73—152
Kenny Wright 78-75—153
Kenneth Patterson 77-78—155
Zach Mangum 77-79—156
Jeff Noah 78-78—156
Ron McClellan 78-79—157
Bruce Collins 77-83—160
George Salmon 78-84—162

Sixth flight
Byron Preston 80-73—153
Lenn Coffey 80-79—159
Don Hill 81-80—161
Nick Pollard 81-81—162
Dru Snow 80-84—164
Kelly Rogers 82-90—172
Mark West 80-WD
Seventh flight
(One-Day Score)
Randy Watson 34-40—74
Ron Fleming 39-45—84
David Gattis 45-43—88
Jeff Barnwell 44-44—88
Lamar Ward 50-43—93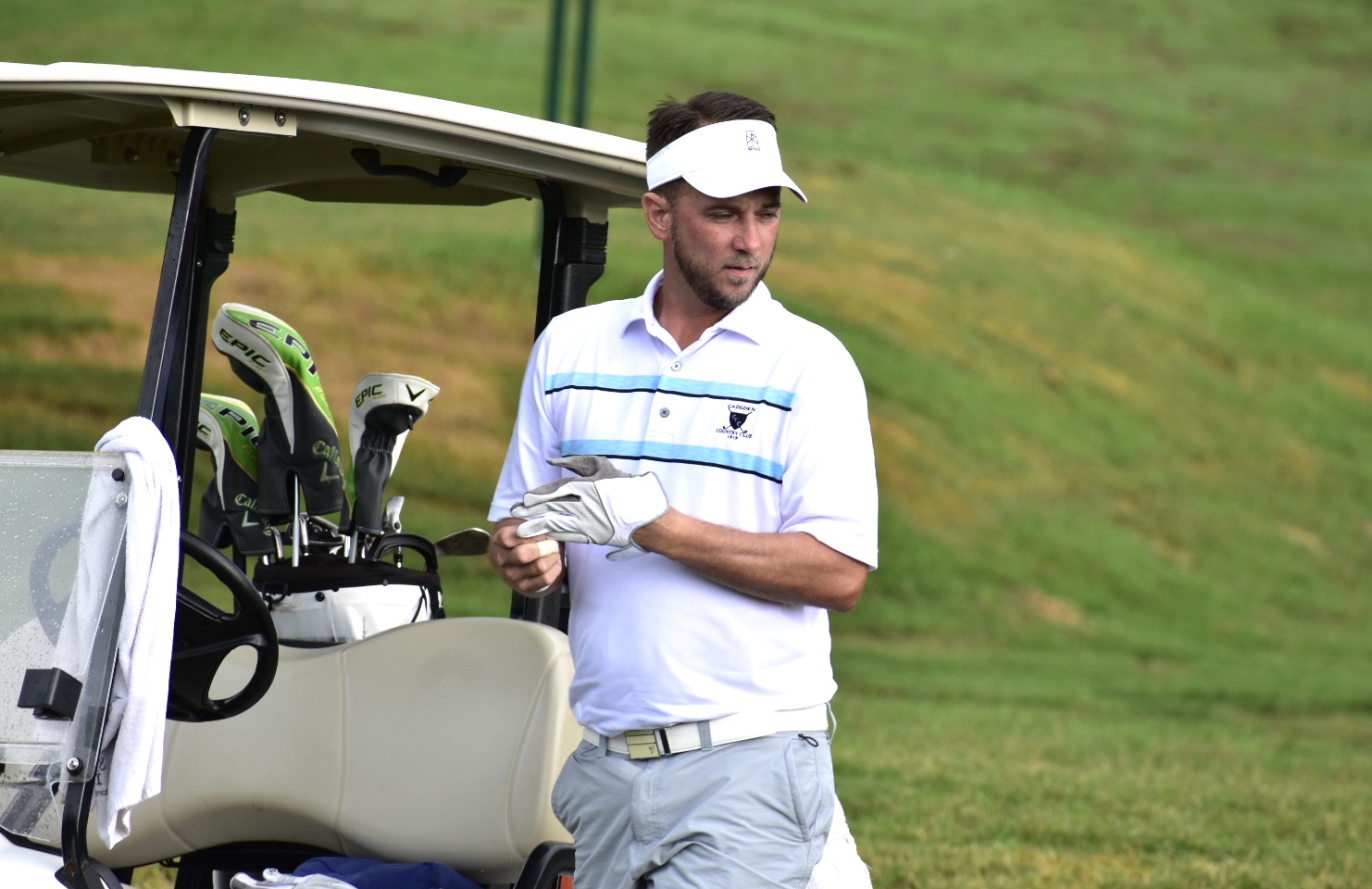 COUNTY TOUR TOP 20
Here is the unofficial Top 20 in the Calhoun County Golf Tour standings (based on a player's five best finishes during the season). The top 16 qualify for the County Match Play Championship.

1 Gary Wigington 1650
2 Jeremy McGatha 1197.5
3 Ty Cole 1087.5
4 Brennan Clay 1074.3
5 Chad Calvert 983.75
6 Frank Brady 755
7 Jake Goggans 743.75
8 Clay Calkins 721.25
9 Wesley Jenkins 698.75
10 Chris Cox 686.25
11 Randy Lipscomb 682.75
12 Chip Howell 583.75
13 Charlie Smith 537.5
14 Harrison Hughston 532.5
15 Gage Miller 520
16 Adrian Geeting 515
(Match Play alternates)
Andrew Brooks 488.95
Caleb Bowen 455
Johnathan Pate 451.25
Matt Rogers 431.25
CALHOUN COUNTY MATCH PLAY
Buddy Moore Bracket
No. 1 Gary Wigington vs. No. 16 Adrian Geeting
No. 8 Clay Calkins vs. No. 9 Wesley Jenkins
No. 5 Chad Calvert vs. No. 12 Chip Howell
No. 4 Brennan Clay vs. No. 13 Charlie Smith
Chris Banister Bracket
No. 3 Ty Cole vs. No. 14 Harrison Hughston
No. 6 Frank Brady vs. No. 11 Randy Lipscomb
No. 7 Jake Goggans vs. No. 10 Chris Cox
No. 2 Jeremy McGatha vs. No. 15 Gage Miller