Cubs paddle J'ville
Alexandria uses its speed to open big early lead, retains The Paddle, the new symbol of supremacy in the series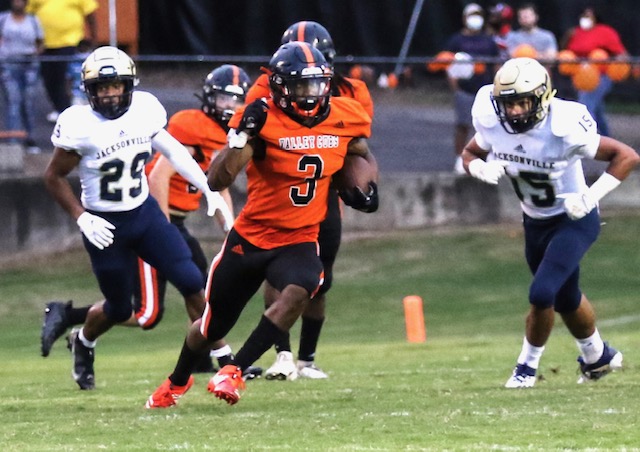 By Al Muskewitz
East Alabama Sports Today

The Paddle, the new symbol of superiority in the Alexandria-Jacksonville rivalry, got a pretty hefty workout Friday night, much to the delight of the Valley Cubs and the detriment of the Golden Eagles' tail feathers.
With an impressive display of speed from three young runners who all rushed for more than 120 yards (and 415 yards combined) the Valley Cubs put the paddle to their neighbors up the road 52-21 at Lou Scales Stadium.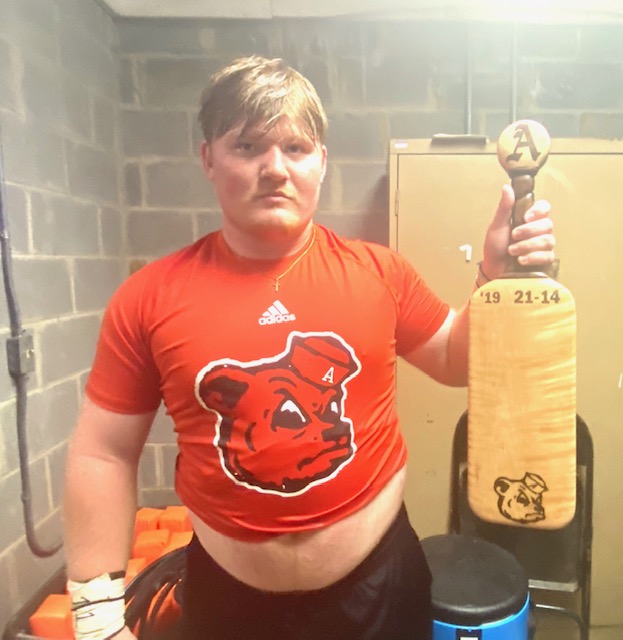 They should take great delight in burning that score into their side of the paddle, a trophy that grew out of a story Valley Cubs coach Todd Ginn often heard and a comment the Jacksonville coaches made after hearing that story sometime before last year's game.
Legend has it back when legendary Lou Scales was coaching at Alexandria and future legend Larry Ginn was just a mere lad, Weaver was just a junior high school that fed either Alexandria or Jacksonville.

The story goes – and there's some debate as whether it actually happened or was an embellishment for effect – the Alexandria coaches would go into the school to paddle the boys to see who was tough enough to play. Those who cried, they said, went to Jacksonville and those who didn't went to Alexandria.

"I don't know if Coach Scales really ever said it or it was just made up by someone to get a rise out of Jacksonville," current Valley Cubs coach Todd Ginn said. "It made for a good rivalry statement either way."

Larry and his brothers Jack and Mike all went to Alexandria and the rest, as they say, is history. Scales was 14-6-2 against Jacksonville from 1948 to the year of Weaver's first varsity team (1969), including 10-2-2 in the last 14 games.
The Jacksonville coaches got hold of the story and one of them called the Alexandria coaches the week of last year's game to say they were the ones who'd be supplying the paddling this time around. Jacksonville actually made the paddle, with Van Woodruff doing the fine leather detailing, but it's been in the Valley Cubs' possession since its came out of the workshop.
"They think they can whup us, but we've got this paddle and you can see their side is plain, they don't have any (scores) on their side, it's all on this side," Valley Cubs senior offensive tackle Drew Brown said. "One of their coaches made it and when we beat them last year they gave it to us. We're not planning on giving it back."
It was the first time either team had put 50 on the other in the 83-game history of the series. (Alexandria did score 49 in 2007 and 2008). A 43-yard field by Luis Torres in the closing seconds got the Valley Cubs over the number.

The paddling began early. The Valley Cubs scored on their first five possessions and added a sixth touchdown on defense to open a 42-0 lead with 5:13 left in the first half.

The winning formula was as easy as 1-2-3. At that point in the game, junior Javais McGhee – No. 1 on the roster – had 133 yards rushing, two touchdowns, an "assist" on another one, and his own fumble recovery scoop and score. Freshman Ronnie Royal – No. 2 – had 95 yards and a score and sophomore Antonio Ross – No. 3 – had 87 yards and a score when he fell on McGhee's fumble in the end zone late in the first quarter.
"I wasn't expecting it, it was big plays," said McGhee, who had 105 yards and two touchdowns the first two times he touched the ball. "We took the game as the underdog, finished strong. Our offense stepped up. Everybody in the county had us losing by three. We started strong. Forty-two points in the first half, that's unbelievable."
At one point in the first quarter, the Valley Cubs had four plays from scrimmage that were longer individually than the Golden Eagles had total yards – 27, 32, 73, 57 – and 11 of their first 16 snaps went for 10 yards or more.They had more points in the first half than they had in all but seven of their games the last two years, certainly the most against a team that was the previous year's state runner-up.
"The start was really, really good," Ginn said. "We saw some things that we could exploit early and took advantage of it. We've got a little more speed than we've had in the past. We saw early we could run the ball, so we kept running it.
"The past two years it's been more line up (and get) three or four (yards); that was our whole goal. That was our goal this year, let's get three or four yards a play. But those guys got speed. We've got some speed and to have that speed gives you some opportunities where three and four turns into 40 or 50."
McGhee finished the game with 142 yards rushing. Ross went for 152 in what he called "probably the biggest game I've ever played" and Royal went for 121 despite the Golden Eagles' evident focus on stopping him. The Valley Cubs rushed for 443 yards as a team, 367 in the first half.
"They were very physical tonight," Jacksonville coach Clint Smith said. "Our guys I thought came out a little big-eyed. We've got some of these guys starting for the first time and it's a big game, first probably big game they've been in, but that's no excuse. Alexandria came out and played really well tonight. They just took it to us. They got on us so fast we had no rhythm and then you're playing catch-up and when you're playing catch-up, you kind of have to go away from your game plan to catch up. They were too much for us tonight, no doubt."
"All it is is speed – speed kills," Royal said. "When you've got three fast running backs, it kills. That's all we need, for real. It's really fun."
JACKSONVILLE 52, ALEXANDRIA 21
Jacksonville 0 7 14 0 — 21
Alexandria 21 21 0 10 — 52
A – Javais McGhee 32 run (Cleat Forrest kick), 9:55 1Q
A – Javais McGhee 73 run (Cleat Forrest kick), 6:33 1Q
A – Antonio Ross fumble recovery in end zone (Cleat Forrest kick), 2:51 1Q
A – Ronnie Royal 3 run (Cleat Forrest kick), 10:00 2Q
A – Wesley Wright 1 run (Cleat Forrest kick), 6:00 2Q
A – Javais McGhee 23 fumble return (Cleat Forrest kick), 5:13 2Q
J – Omarion Adams 12 pass from Jim Ogle (Mason Terrell kick), 3:45 2Q
J – Taj Morris 1 run (Mason Terrell kick), 5:49 3Q
J – Omarion Adams 40 interception return (Mason Terrell kick), 2:50 3Q
A – Ronnie Royal 4 run (Cleat Forrest kick), 10:34 4Q
A – Luis Torres 43 FG, 0:01 4Q
Jax Alex
15 1D 15
25-72 Rush 43-443
17-32-2 C-A-I 0-3-1
191 Pass 0
2-1 F-L 2-0
4-31.5 Punt 3-33.7
3-25 Pen 4-45