Taking down friends old and new
Ohatchee, Piedmont, Randolph County all pick up wins, Ohatchee against a new opponent, Piedmont and Randolph County against old rivals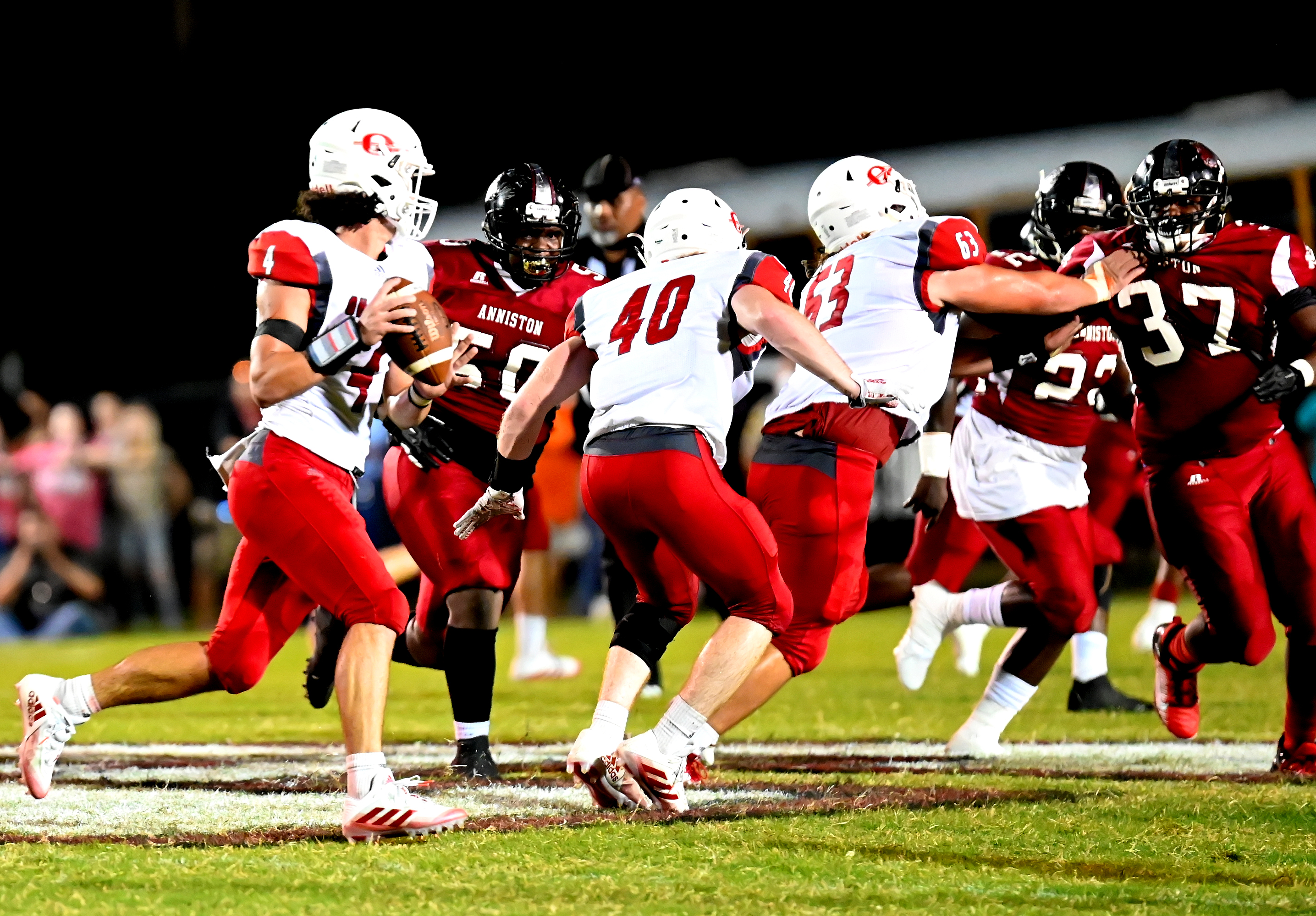 CALHOUN COUNTY SCORES
Alexandria 52, Jacksonville 21
Ohatchee 52, Anniston 14
Oxford 29, Pleasant Grove 28
Piedmont 39, Cherokee County 7
West End 38, Pleasant Valley 22
By East Alabama Sports Today

Anniston and Ohatchee first met on the football field in 1953. The Indians have waited that long to get even.

In the first meeting between the teams since the 1953 Turkey Bowl, Ohatchee got big games from quarterback Eli Ennis and running backs Noah Fuller and Wyatt Hamilton and ran over the Bulldogs 52-14.
The Indians will play six Calhoun County teams this season. Of course, five of them are in their Class 3A region. They have now played everyone in the county but Oxford, Jacksonville, JCA and Donoho during coach Scott Martin's tenure and they play Saks for the first time since 1963 in three weeks. They are 14-10 against county teams since Martin took over in 2014, but 13-3 since 2016.
"I like playing in our county, I like playing the county teams because I think there's interest in there," Martin said. "Anniston and Ohatchee haven't played since 1953; it's been forever. Our kids don't know anything about them, they don't know anything about us. I knew it was going to be a rough and tumble football game regardless of score. It was a physical football game. We played a team last week (Cleburne County) that I thought had some physicality and I thought Anniston played hard to the very end, too.
"I'm proud of our guys tonight because we stepped up in class for the second week in a row and played another big school and we were able to hold our own, but next week they count for real. Wellborn's got to come to us. We hadn't played in a few years. This is a really important game in the region standings. The winner assumes at least a tie for the top spot for a while, but the loser will be in a tie for last four a while and fighting out of the cellar."
Noah Fuller opened the scoring with a 7-yard touchdown run and with 2:35 left in the first quarter Anniston held a 7-6 lead. But after that, the scoring belonged to the Indians.
Ennis went in from the 4 on the first play of the second quarter and the Indians never trailed again. Before the half ended, Ennis threw a 6-yard touchdown pass to Troy Galloway and had a 60-yard touchdown run.
Konnor Baswell took the team on the first drive of the second half and scored on a 2-yard run.
"We had a bunch of drives of 10-12 plays," Martin said. "They were pretty big and physical. I know the score didn't show the physicality of the game, but I'll tell you what, our kids were in a war. People will say you won those first two big. They were physical football games. We've got a couple kids who'll wake up tomorrow and be a little bit sore."
Hamilton provided the Indians' next two touchdowns on runs of 1 and 3 yards. It was 46-14 with less than a minute to go and the Indians were running a play to run out the clock, but you can't tell the backups not to score. Hamilton fumbled on what was likely going to be the last play of the game, but senior David Read picked it up and raced to the end zone with 28 seconds to play.
"We were pretty good tonight," Martin said. "We had a couple fumbles that kind of upset me, but nothing that isn't correctable. Guys were playing hard. I thought our kids executed pretty good and, of course, Eli and Fuller had great games running the football."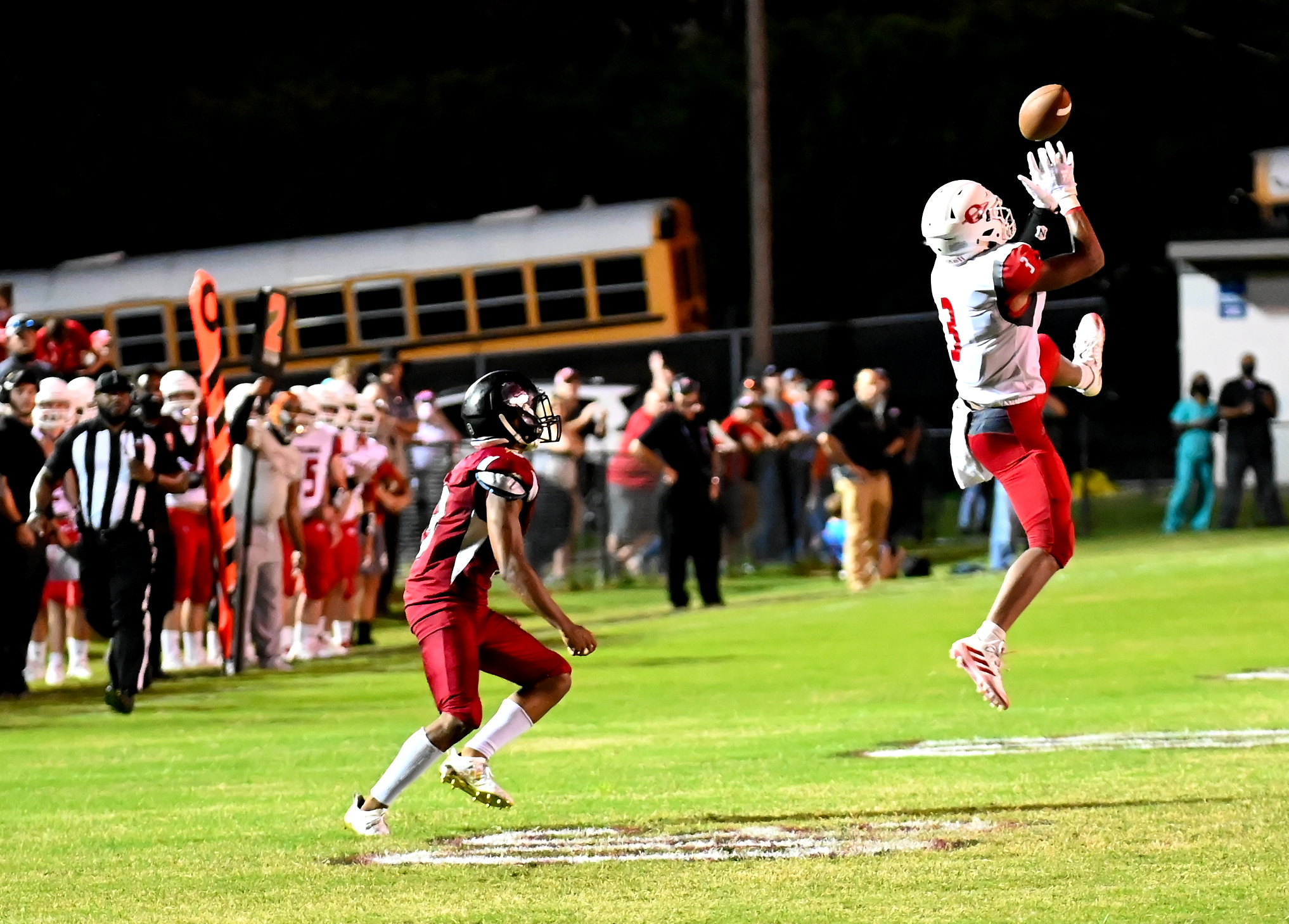 Pair power Piedmont past Warriors
CENTRE – Top-ranked Piedmont opened the defense of its 2019 state championship with the renewal of a long-time rivalry and drawing even in that series for the first time in 46 years with a 39-7 victory over Cherokee County.
The win was the Bulldogs' ninth straight in the series, which broke off in 2018, and it got them back even in the rivalry (37-37-3) for the first time since 1974 (21-21-3).
Quarterback Jack Hayes completed 11 of 14 passes for 208 yards and two touchdowns, ran for another score, and Elijah Johnson rushed for a pair of scores to the lead the Bulldogs. Hayes threw touchdown passes of 49 and 3 yards to Austin Estes and Sean Smith, and had a 4-yarrd touchdown run late in the second quarter to give the Bulldogs a 20-7 halftime lead. Johnson scored on runs of 4 and 17 yards. Jakari Foster scored Piedmont's first touchdown of the season.
The Bulldogs will attempt to even another series next week when they host Saks in their home and region opener. The Wildcats lead that series 15-14-1.
PIEDMONT 39, CHEROKEE COUNTY 7
Piedmont 7 13 19 0 — 39
Cherokee Co. 0 7 0 0 — 7
P – Jakari Foster 2 run (Sloan Smith kick), 5:24 1Q
P – Elijah Johnson 4 run (Sloan Smith kick), 9:50 2Q
C – 16 pass from Slade Alexander (kick good), 3:22 2Q
P – Jack Hayes 4 run (kick failed), 0:10 2Q
P – Austin Estes 49 pass from Jack Hayes (pass failed), 9:08 3Q
P – Elijah Johnson 17 run (kick failed), 6:48 3Q
P – Sean Smith 3 pass from Jack Hayes (Sloan Smith kick), 1:57 3Q

Pied Cher
20 1D 9
184 Rush 68
11-14-0 C-A-I 5-13-3
208 Pass 59
0 FL 1
0-0 Punt 3-39.0
6-65 Pen 2-19
Tigers rally past county rival
WEDOWEE – It's not how you start but how you finish.
Those are words that virtually every athlete has heard during a halftime speech at some point in their career. For Randolph County, it was more than words after an unsettled first half. It was a plan set into motion that would lead the Tigers to a 28-6 victory over county rival Woodland.

The Tigers made big strides in the third quarter by posting three unanswered scores. J.D. Till scored twice on runs of 55 and 57 yards. A blocked punt by the defense followed shortly after to set up the offense in Bobcats territory and Hagen Bailey scored the final touchdown from 35 yards out.

Tuck had 177 yards rushing on 15 carries.
Woodland had its share of opportunities to keep things close throughout the game but a blocked punt, lost onside kick, and fumbling just inches from scoring doomed the Bobcats.
The victory extended the Tigers' winning streak in the annual Grocery Bowl rivalry to seven games.

Woodland has an open date Friday before starting region play. Randolph County was set to host LaFayette but with the Bulldogs dropping their season two weeks ago the Tigers may find themselves in a bye week, too. – Jeremy Wortham
RANDOLPH COUNTY 28, WOODLAND 6
Randolph Co. 7 0 21 0 — 28
Woodland 0 6 0 0 — 6
RC – Avion Willis 18 run (Gavine Caldwell kick), 8:56 1Q
W – Brock Edwards 54 run (PAT failed), 11:50 2Q
RC – J.D. Till 55 run (Gavine Caldwell kick), 11:13 3Q
RC – J.D. Till 57 run (Gavine Caldwell kick), 9:04 3Q
RC – Hagen Bailey 35 run (Gavine Caldwell kick), 2:57 3Q
RC Wood
13 1D 7
398 Rush 218
1-5-1 C-A-I 1-3-0
7 Pass 9
2 FL 2
4-24 Punt 1-19
11-60 Pen 5-25
Pearce powers Patriots past PV
WALNUT GROVE – Quarterback Eli Pearce accounted for six touchdowns as West End spoiled Pleasant Valley's season-opener, 38-22.

Pearce ran for four touchdowns (13, 9, 32, 32 yards) and threw for two others (9, 19 yards). The win left the Patriots 2-0 for the first time since 2008.

The Raiders put 61 and 68 on the Patriots in the last two meetings and had won the last three. They took an 8-6 lead early in the second quarter on a long screen pass and grabbed a 16-14 halftime lead with a touchdown in the final minute of the quarter.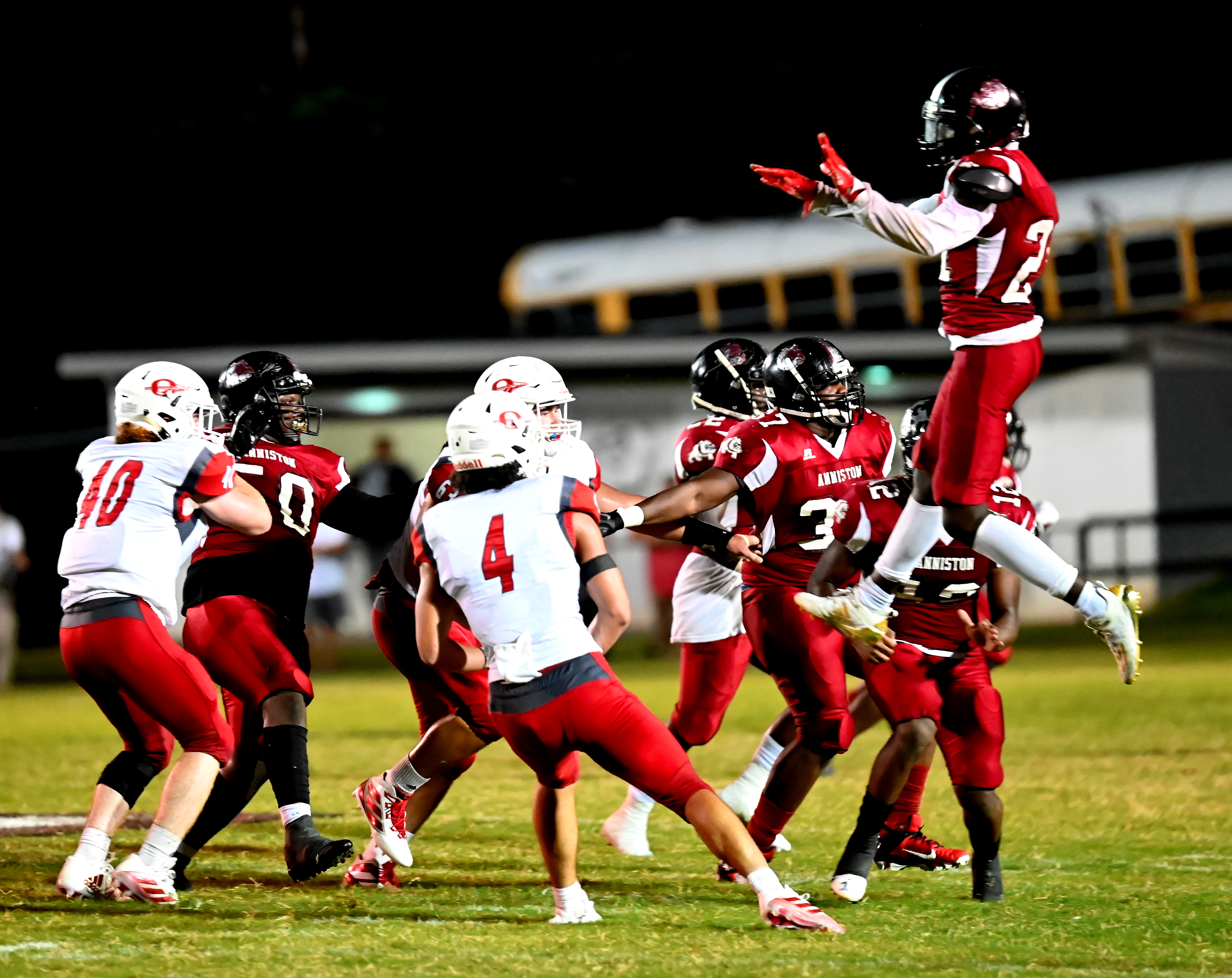 To see more pictures from the Ohatchee-Anniston game, visit www.bjfranklin.smugmug.com