Dub Ellis Invitational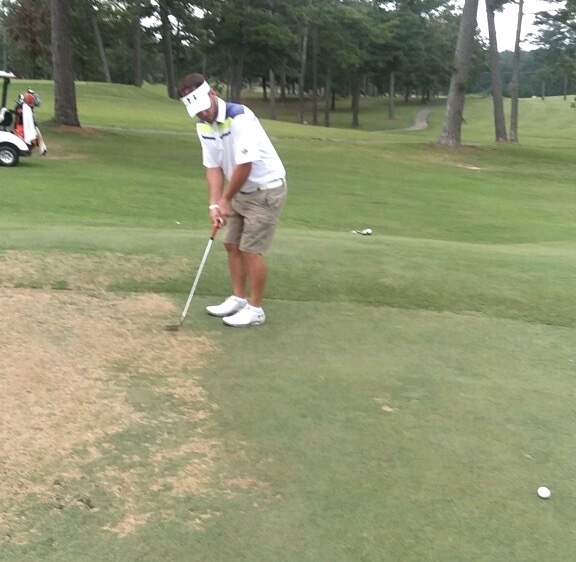 Calvert makes nine birdies, leads by 2 going into Championship Sunday
By East Alabama Sports Today
CENTRE – Chad Calvert birdied the first two holes, gave them back with a double bogey and then played his last 15 holes in 6-under par to grab the first-round lead in the Dub Ellis Invitational at Cherokee County Country Club.
His 6-under-par 65 is two shots better than Ty Cole. Jeremy McGatha and Chad Hare are tied for third at 70.
Cole birdied his first three holes and was 5-under after eagling No. 6, but he bogeyed 8 and 9 to turn in 3-under and even with Calvert. He birdied 10, 13 and 16, but bogeyed both par-3s on the back (12 and 17).
Hare had four birdies and three bogeys. McGatha had three birdies and two bogeys.  
DUB ELLIS INVITATIONAL
At Cherokee County CC, Centre
Championship flight
Chad Calvert 65
Ty Cole 67
Jeremy McGatha 70
Chad Hare 70
Shonn Weldon 72
Robin Wood 72
Matt Rogers 73  
First flight
Brian Johnson 75
David Garrett 75
Sid Garrett 76
Heath Hammond 77
Billy McCroskey 77
Chris Cox 77
Tim Hill 77
Mike Granato 77
Alex Russell 78
Paul Wynn 78
Scott McFry 79  
Second flight
Daily Thomas 80
Scott Hays 80
Shane Porter 80
Kurt Duryea 81
Greg Hare 83
Christian Stinson 84
Steve Baker 85
Phillip Hicks 88
Carson Garrett 88
Jeremy Brazier 92
Vann Homesley 94
Thomas Russell 99  
Sunday pairings
9 a.m. – Thomas Russell, Van Homesley, Jeremy Brazier
9:10 – Carson Garrett, Phillips Hicks, Steve Baker
9:20 – Christian Stinson, Greg Hare, Kurt Duryea
9:30 – Shane Porter, Scott Hays, Dailey Thomas
9:50 – Scott McFry, Paul Wynn, Alex Russell
10:00 – Mike Granato, Tim Hill, Chris Cox, Billy McCroskey
10:10 – Heath Hammond, Sid Garrett, David Garrett, Brian Johnson
10:50 – Matt Rogers, Robin Wood, Shonn Weldon
11:00 – Chad Hare, Jeremy McGatha, Ty Cole, Chad Calvert