Top dog
Undefeated Piedmont edges Oxford for No. 1 seed in upcoming Calhoun County baseball tournament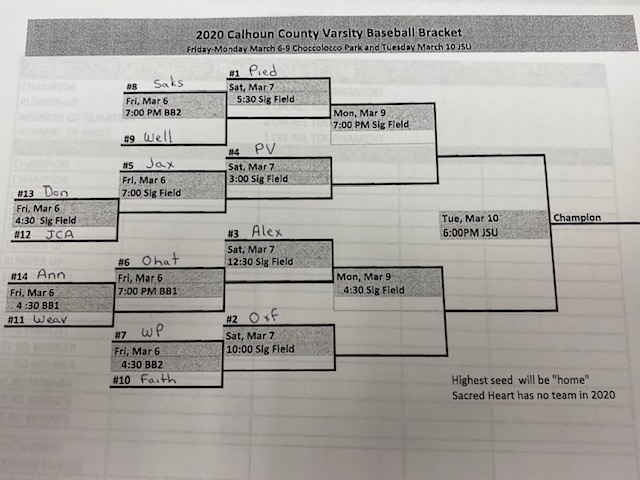 By Al Muskewitz
East Alabama Sports Today
 
JACKSONVILLE — Piedmont baseball coach Matt Deerman said he wasn't going to lobby for the No. 1 seed in the county baseball tournament. 
 
He didn't have to. The coaches gave it to him anyway.
 
In a close 8-6 vote, the undefeated Bulldogs were installed as the top seed for the county tournament that is supposed to start Friday at Choccolocco Park.
 
Oxford, which garnered top seed consideration despite a 3-8 record, is the 2, followed by Alexandria and Pleasant Valley. The Yellow Jackets have won the tournament four years in a row.
 
The remaining order of seeds are as follows: Jacksonville, Ohatchee, White Plains, Saks, Wellborn, Faith Christian, Weaver, JCA, Donoho (which has yet to play a game) and Anniston.
 
"I knew Oxford would definitely get consideration for it because they've won for it how many years, but I think the fact we've beaten a 4A (and) 5A school in the county and we beat a 6A school that was a playoff team last year and saw their No. 1 I thought we deserved consideration for it," Deerman said. "You saw how close the vote was. It was about how I thought it would turn out, either us or Oxford."
 
It is the Bulldogs' first No. 1 seed in the 10 years Deerman has been associated with Piedmont baseball. He recalls being the No. 1 seed as a sophomore infielder at Weaver — and losing their first game to Anniston.
 
The Bulldogs had a lot going for them to get the top seed. They are the only county team ranked in the PBR Power 25 (and that's when they were just 3-0; the new poll is released Monday). They have outscored their opponent 95-28. Among their victims are 5A Alexandria, 4A Jacksonville and 6A Pell City.
 
"As far as offense, 1 through 9 this is the strongest lineup we've had that I can remember," Deerman said. "Not necessarily just power guys, we've got some pop in the middle of the lineup, but it's the fastest team we've had. We put pressure on folks just because of the team speed. I think 1 through 9 there's not necessarily a weak spot. Then on defense positions 1 through 9 we're pretty solid and we've got some depth.
 
"Overall, there's nothing that's gonna just wow you about our team, it's just it's a solid 1 through 9 team. It's not a team that's got one or two superstars it's just a lot of guys who believe in each other and they've played together for a long time and been successful with each other in other sports and I think that's played a huge role in it.
 
"There's nothing I can do as a baseball coach to breed the competitiveness when they've gotten it in the two sports in front of them. When they expect to win and they expect to do well and they know they have to give their best game every time they come out because a lot of times you've got a target on your back, I think they enjoy that challenge."
 
It took all of about 10 minutes to decide the bracket.
 
The moment host coach Chris Youngman opened the floor to nominate seeds Alexandria coach Andy Shaw made his traditional pitch for Oxford as No. 1. He cited the Yellow Jackets' strength of schedule against a gauntlet of top teams in the state, the wins they do have and their tradition of dominance in the tournament.
 
"At this time of year we've always said based on what you did last year and what you're doing," Shaw said. "Strength of schedule was (a big thing). Piedmont is a great team; they should be seeded ahead of us. But I thought Oxford, they've won the thing probably 17 years in a row, we shouldn't knock them down until they get knocked down."
 
There is precedent for putting an Oxford team with a losing record as the top seed. Coach Wes Brooks reminded that in 2012, the year the Jackets won the state championship, they came into the county seed meeting 3-7 and were installed as the No. 1.
 
"It's just a ranking; it's who's won it at the end that matters," Brooks said. "We can obviously use (getting the 2 seed) as a little bit of motivation for our guys. We have played a pretty tough schedule up to this point."

Longer discussion was given to how the tournament would handle the week's impending weather, which threatens to disrupt all-important area schedules and therefore the county tournament schedule. According to state rules, area games that are impacted by weather must be played the next available day. Last summer the county principals rescinded the prohibition of playing during the county tournament 
 
Contingencies are being discussed for the county tournament and are likely to be finalized by Wednesday. Organizers say the tournament will conclude at Jacksonville State as planned. 
 
Whether that's March 10 or 11, semifinals and/or just finals, is up to a higher authority.
 
Fans should be aware when they approach the Choccolocco Park facility for the games they will be required to pay a $5 daily parking fee before getting to the gate. 

 
CALHOUN COUNTY TOURNAMENT
(Overall record, county record)
 
March 6
(At Choccolocco Park)
No. 13 Donoho (0-0, 0-0) vs. No. 12 Jacksonville Christian (0-1, 0-0), 4:30 p.m. (Sig)
No. 14 Anniston (1-2, 0-2) vs. No. 11 Weaver (0-3, 0-3), 4:30 p.m. (BB1)
No. 7 White Plains (3-3, 2-1) vs. No. 10 Faith Christian (5-2, 1-0), 4:30 p.m. (BB2)
No. 5 Jacksonville (2-2, 1-2) vs. Donoho-JCA winner, 7 p.m. (Sig)
No. 6 Ohatchee (4-3, 3-2) vs. Anniston-Weaver winner, 7 p.m. (BB1)
No. 9 Wellborn (1-3, 0-0) vs. No. 8 Saks (3-1, 1-1), 7 p.m. (BB2)
 
March 7
(Signature Field)
No. 2 Oxford (3-8, 0-0) vs. White Plains-Faith winner, 10 a.m.
No. 3 Alexandria (5-3, 0-1) vs. Anniston/Weaver/Ohatchee, 12:30 p.m.
No. 4 Pleasant Valley (4-2, 2-0) vs. Donoho/JCA/Jacksonville, 3 p.m.
No. 1 Piedmont (7-0, 2-0) vs. Saks-Wellborn winner, 5:30 p.m.
 
March 9
(Signature Field)
Semifinal game, 4 p.m.
Semifinal game, 7 p.m.
 
March 10
(At Jacksonville State)
Championship game, 6 p.m.