Garden parties
Seventh heaven: Spring Garden bounces back from a slow start, rallies past St. Luke's to win its seventh girls state championship

By Shannon Fagan
Special to East Alabama Sports Today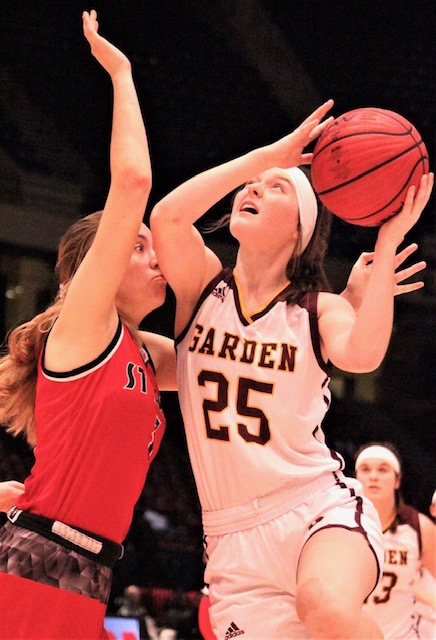 BIRMINGHAM – For a team that only had two seniors and so much youth at many positions, it would have been easy for this season's Spring Garden girls basketball team to use that as an excuse for not living up to their championship legacy.

But that's simply not in the Lady Panthers' DNA.

Things might not have looked good for the top-ranked Lady Panthers early, but they ended absolutely fabulous. They rallied from a 12-point first-quarter deficit in Thursday night's Class 1A girls title game against No. 3 St. Luke's to capture a 53-45 victory, earning the program its seventh state championship and third in five seasons.
 
Interestingly, all of last three have come in even-numbered years.
 
Neely Welch, one of four Spring Garden players scoring in double figures, was the Final Four MVP, but seventh grade point guard Ace Austin led the Lady Panthers (35-2) in the title game. She had a team-high 14 points – 10 in the second half – grabbed five rebounds and had two assists and a steal.
 
"The first half, I wasn't hitting much," Austin said. "At halftime, when I came back out, my mom (Spring Garden assistant coach Dana Austin) was like 'Keep shooting it. It will fall eventually.' It started third quarter. It finally started falling and it kept falling."

Her biggest shot came with 7:05 remaining in the fourth quarter. With the game tied at 38, the young point guard sank her second trey of the game to give the Lady Panthers a lead they wouldn't relinquish.

"To me, it was a big shot," she said. "Our tempo got higher. After that, Macy (Reedy) hit a few threes, then Neely and Kayley (Kirk). That's what really helped us win this game."

Reedy popped a trey from the corner with 5:22 remaining, giving Spring Garden a 46-39 edge. Then, two buckets by Lexie Adkison made it 50-43 with 2:36 to go. Welsh sealed the game with three free throws in the final 22 seconds.

Welsh, who had a 30-point, 11-rebound explosion in Monday's state semifinals against Elba, found scoring to be tougher against the Lady Wildcats (22-5). She only had 12 points and six boards on Thursday, but several of those points and rebounds came at crucial moments.

"I had all my teammates coming up to me, telling me to keep my head up,' Welsh said. "They kept pushing me to be better and it just calmed me down and I started playing my game again."
 
While Welsh struggled to find her game early, freshman guard Kirk kept the Lady Panthers afloat with a pair of first-quarter treys.
 
The Lady Panthers were only 3-of-11 from the field in the field quarter. St. Luke's, meanwhile, hit seven of its first 10 shots, wound up 8-of-13 in the quarter and led 17-8.
 
Spring Garden wound up hitting 8-of-19 from 3-point range. The Lady Panthers also scored 24 points off the 14 turnovers they created once they plugged in the press. After closing the gap to two at halftime, they outscored the Lady Wildcats 27-17 in the second half.
 
"We had to put more pressure on them toward the end to stop their drives they were doing at the end of the game," Reedy said. "The press really affected them at the end."

"We were worried about their size and their length, and it did give us trouble early," Spring Garden coach Ricky Austin said. "They come out and hit us in the mouth in the first half. They just took it to us in the paint and hit us. They were bigger and a little stronger than I thought. 
 
"We didn't have a choice. If they were going to beat us half court, we just decided as coaches we've got to make them beat us 90 feet. I think that changed the game. We got some turnovers, and it brought us a little energy when we made some turnovers there."

It also helped bring their latest title and a special place in school history.
 
"If this group of girls came out of here at 34-3 today, we're just another Spring Garden girls team," Ricky Austin said. "A lot of teams I know would love to be 34-3, but if we would have finished 34-3, it's just another team. There would be no celebrations at school tomorrow. There wouldn't have been a lot said. 

"To go 35-2, to win that last one, that's the pressure. Now they're part of legacy. We're blessed to be where we are. That one game means so much. For it to come down to this one and to put your name in the record book, that's something we talked about last night at our team meeting. It's something we talked again about at halftime. This game is going to tell who you are the rest of your lives."
 
Shannon Fagan is sports editor of the Cherokee County Herald.
 
CLASS 1A GIRLS
Championship game
Spring Garden 53, St. Luke's 45
ST. LUKE'S (22-5) – Chloe Gilmore 3-6 3-6 10, Elizabeth Roebuck 3-10 0-0 7, Abigail Lowry 0-0 0-0 0, Haley Patterson 4-6 0-0 8, Chloe Watts 0-0 0-0 0, Bridget Chaltain 0-0 0-0 0, Whitney Novak 4-9 0-0 8, Iamunique Bowie 5-7 1-2 12. Totals 19-38 4-8 45.
SPRING GARDEN (35-2) – Ace Austin 6-13 0-0 14, Macy Reedy 3-8 2-2 10, Bri Boles 0-0 0-0 0, Kayley Kirk 4-8 0-3 11, Sarah Kate McKay 0-0 0-0 0, Alexis Adkison 2-9 0-0 4, Neely Welsh 4-12 3-4 12, Abbey Steward 0-0 0-0 0, Breanna Rogers 1-3 0-3 2. Totals 20-53 5-12 53.
 
St. Luke's               17  11  8    9    –  45
Spring Garden     10  16  12  15  –  53
3-point goals: St. Luke's 3-9 (Gilmore 1-3, Roebuck 1-2, Novak 0-3, Bowie 1-1); Spring Garden 8-19 (Austin 2-4, Reedy 2-6, Kirk 3-6, Adkison 0-1, Welsh 1-2). Rebounds: St. Luke's 30 (Roebuck 6, Novak 6); Spring Garden 25 (Austin 5, Adkison 5). Total fouls: St. Luke's 14, Spring Garden 7. All-tournament team: Neely Welsh, Spring Garden (MVP); Macy Reedy, Spring Garden; Ace Austin, Spring Garden; Iamunique Bowie, St. Luke's; Elizaabeth Roebuck, St. Luke's.