PV perseveres
Updated roundup: Raiders, Ohatchee pick up in-county baseball victories, Saks remains undefeated with another big day at the plate; includes Faith's historic soccer win, softball, golf results
 
Thursday baseball scores
Ohatchee 4, White Plains 2
Piedmont 7, Pell City 3
Pleasant Valley 6, Jacksonville 3
Ragland 14, Faith Christian 3
Saks 11, Anniston 1
Vestavia Hills 6, Oxford 4
Westbrook Christian 8, Alexandria 7
 
By East Alabama Sports Today
 
Pleasant Valley and Ohatchee both picked up in-county victories Thursday that are expected to have an impact on Sunday's county tournament seeding meeting.
 
PV used a big seventh inning to get past Jacksonville 6-3 and Ohatchee edged White Plains 4-2. Three games Friday are expected to have a similar impact on the seedings – Piedmont at Jacksonville, Ohatchee at Saks and White Plains at Weaver. Additionally, Ohatchee plays Weaver Saturday.
 
Pleasant Valley 6, Jacksonville 3: Jackson Almaroad pitched 3 2/3 innings of two-hit shutout relief and the Raiders made him a winning pitcher by scoring four runs in the top of the seventh. Almaroad capped the big inning with an RBI double.
 
The Raiders trailed 3-2 going into the seventh. They tied the game on a fielder's choice and went ahead with runs scoring on a passed ball and wild pitch before Almaroad's insurance double.
 
Jacksonville threatened in the bottom of the inning putting runners at first and second with two outs in the bottom of the inning and Almaroad got out of it with a game-ending infield out.
 
"Any time you get a win it's good," PV coach Chris Youngman said. "Our guys battled and found a way to win. Perseverance is always a good thing to have."
 
Jae-Taj Morris had three hits for Jacksonville. Tito Canales had two hits, including a game-tying double in the first. 
 
Pleasant Valley   100 010 4 – 6 4 2
Jacksonville        102 000 0 – 3 8 2
WP: Jackson Almaroad. LP: Christian Royster.
 
Ohatchee 4, White Plains 2: The Indians broke a 2-2 tie with two runs in the sixth and Blake Ogle made it stand by closing out an 83-pitch complete game. The Indians scored the go-ahead run on an error and got an insurance run on Brancen Champion's sacrifice fly. Konnor Baswell had two hits for Ohatchee. Ben Rouse had two hits for White Plains.
 
Ohatchee              101 002 0 – 4 5 6
White Plains        010 100 0 – 2 6 5
WP: Blake Ogle. LP: Tyler Daniel.
 
Saks 11, Anniston 1:  Mason Jairrels hit a two-run inside-the-park home run and threw a five-inning three-hitter with six strikeouts as the Wildcats improved to 3-0. Jairrels had two hits and three RBIs, Rickey Garrett had two hits and two RBIs, and Taylor Fields had two hits. The Wildcats have scored 44 runs in three five-inning home games and are batting .493 as a team. They've allowed two runs and 10 hits over 15 innings.
 
Anniston               010 00 – 1 3 0
Saks                        025 4x – 11 7 1

Piedmont 7, Pell City 3: After being held to three hits in the first five innings, the Bulldogs' bats came to life in the sixth and seventh innings.
 
The Bulldogs, a potential No. 1 county seed, tied the game with three runs in the sixth on RBI singles by Jack Hayes, Silas Thompson and Ethan Swinford. Sean Smith's sacrifice fly broke a 3-3 tie and opened the door on their four-run seventh inning. Thompson later had an RBI single and pinch hitter Steven Raney capped it with a two-run single.
 
Cassius Fairs pitched three innings of one-hit relief behind started Brant Deerman to get the win. Bryce Mohon pitched the seventh for the save.
 
Piedmont             000 003 4 – 4 11 2
Pell City                200 100 0 – 3 8 2
WP: Cassius Fairs. LP: Jack Wood.
 
Westbrook Christian 8, Alexandria 7: The Warriors scored four unearned runs in the third inning to erase a 3-0 deficit and four unearned runs in the sixth to snap a 4-4 tie. The Valley Cubs battled back, but their rally came up short in the seventh with the game ending with the tying run in scoring position and the winning run on base.
 
The Valley Cubs scored two in the sixth to make it 8-6. Cade Shaddix' one-out single drove home Mitch Welch in the seventh to make it 8-7 and put runners at first and second. Brett Vice got out of the jam with a fly out and groundout to earn the save.
 
Shaddix, Welch, Jacob McCulley and Layton Ellison all had two hits for Alexandria, which outhit the Warriors 10-5. 
 
Westbrook          004 004 0 – 8 5 2
Alexandria         210 102 1 – 7 10 7
WP: Martin Beall. LP: Dylan DiGangi.
  
Vestavia Hills 6, Oxford 4: The Rebels erased Oxford's early 1-0 lead with two in the first and two in the second. The Yellow Jackets got as close as 5-4 in the fifth, but went down in order in the sixth and seventh innings. Payton Watts and Trey Higgins each drove in two runs for Oxford. Wesley Sparks went 2-for-3.
 
Oxford  101 020 0 – 4 5 1
Vestavia 220 101 x – 6 5 0
WP: Jackson Halla. LP: Nick Hamlin. 
 
Ragland 14, Faith Christian 3: Josh Phillips hit two triples and drove in four runs, Jake Donldson had three RBIs and Owen Schall went 3-for-3 to lead the Purple Devils. Stone Huie had two hits and Colton Pahman had two hits for Faith Christian. Pahman's two-run double gave the Lions a 2-0 lead in the first, but Ragland scored five in the bottom of the inning and pulled away.
 
Faith       201 00 – 3 7 1
Ragland 542 12 – 14 13 0
WP: Briley Phillips. LP: Andrew Folsom.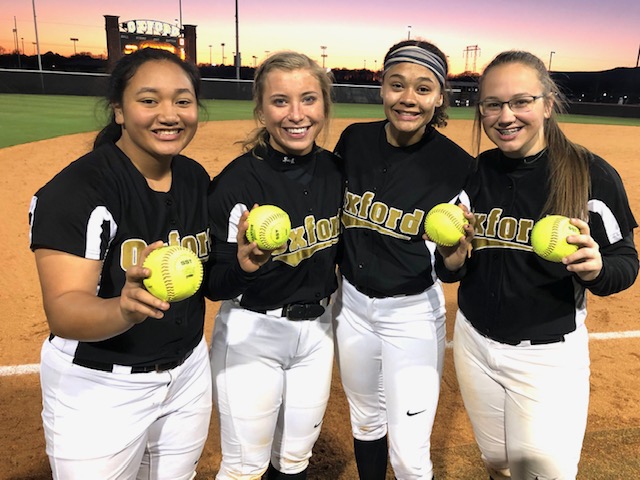 Softball
Thursday's scores
Cleburne County 10, Clay Central 0
Leeds 8, White Plains 7
Oxford 14, Munford 0
Ohatchee def. Jacksonville
Pleasant Valley 11, Ragland 1
Saks 27, Gadsden City 17

OXFORD – Alex Howard pitched a two-hit shutout and was one of four Oxford players hitting home runs as the Lady Jackets routed Munford 14-0 at Choccolocco Park.

The only runners Howard allowed were back-to-back hits in the fourth inning. In addition to her performance in the circle and her homer, Howard also doubled and had three RBIs.

"I had a pretty good day," Howard said. "We are just trying to get better every day. We want to make the state finals this year."

Tia Titi, Sarah Howell and Bailey Clark also homered for the Lady Jackets (5-2). The homers came after a six-run first that saw Oxford pound out seven hits. Howell doubled, Alex Hoard singled, Emily Thrasher tripled, Chloe Derrick doubled and T.K. Garrett, Titi and Wilson had run scoring singles.

Then the big bats came out. Titi started the barrage with a two-run blast in the third. Howard added a solo blast in the fourth, followed later by a two-run shot by Bailey. Howell hit a two-run bomb in the fifth. –Brant Locklier

Oxford 603 32 – 14 16 1
Munford 000 00 – 0 2 4
WP: Alex Howard. LP: Khloe Shears.

Pleasant Valley 8-11, Ragland 4-1: The Lady Raiders opened their season with a sweep. Rylee Haynes, Madyson Cromer and Chandler Dorsett all got their seasons off to a good start. In the two games, Haynes had three hits and two RBIs, Cromer had four hits and Dorsett had three hits and six RBIs. Haynes and Dorsett both had two doubles in the 11-1 game. Leah Patterson won the first game, striking out 10 in five innings. Madison Borders pitched in both games, winning the nightcap, giving up two hits and striking out five in five total innings.

Cleburne County 10, Clay Central 0: The Lady Tigers erupted for six runs in the first inning and Jayci Boozer made it stand with a three-hit shutout. Kaley Harris went 3-for-3, Karley Boyd and Boozer each had two hits and Kaylee Shierling (two doubles), Kendall Houston and Micah Pentecost all drove in a pair of runs. The Lady Tigers had the game in control, then broke it open with a six-run fourth, highlighted by Shierling's two-run double and Pentecost's two-run triple.

Clay Central 000 00 – 0 3 2
Cleburne County 102 61 – 10 12 0
Soccer
Thursday's girls scores
Faith Christian 10, Sacred Heart 2
Lincoln 11, Talladega 0
Sylacauga 5, Munford 0

Thursday's boys scores
Jacksonville 1, Saks 1
Lincoln 2, Talladega 0
Sylacauga 9, Munford 0

Faith Christian girls 10, Sacred Heart 2: The worm has turned in this series.

Sydnee Johnson scored four goals and six others scored at least one as the Lady Lions scored their first win over Sacred Heart in the four years of their program's history. Their other goals were scored by Juliette Arevalo, Emma Bohorquez, Nancy Brock, Avarie Daniel, Hannah Kramer and Anna Strautman.

"We have been playing Sacred Heart since Year One and have gone from being mercy-ruled to pretty close games," Faith coach Julio Arevalo said. "We were not only happy for the historic win but the fact seven of the 14 players on our team got to score at least one goal.

"Our talk at the end of the game was to enjoy the moment, but stay humble and continue to work hard."

The Lady Lions got another reward for the historic win. Arevalo gave them Friday off.

Golf
TUSCALOOSA – Hanna Dyar and Abby Gattis both shot 84 and led the White Plains girls to a third-place finish in Northridge's tournament at Ol' Colony. The Lady Wildcats posted 261 as a team. Hewitt-Trussville won with a 247. Spain Park was second (253). White Plains also counted a 93 Baylie Webb and got a 97 from Caitlin Lewis.

Team scores: Hewitt-Trussville 247, Spain Park 253, White Plains 261, Hartselle 271, Northside 276, Vestavia Hills 287, Hoover 288, Northridge 289, Homewood 291, Holy Spirit 312, Sylacauga 353.

Top individuals: Erika Allen, Northside 70; Molly Davidson, Hewitt-Trussville 71; Ashlee Allen, Northside 76; Taylor Tribble, Spain Park 82; Mary Katherine Lee, Northridge 83; Marilyn Steed, Spain Park 83.