Lady Dawgs heading to finals
Updated: February 25, 2020
Dudley sinks six straight free throws in final two minutes to lift Anniston past Childersburg and into 4A girls final looking for first state title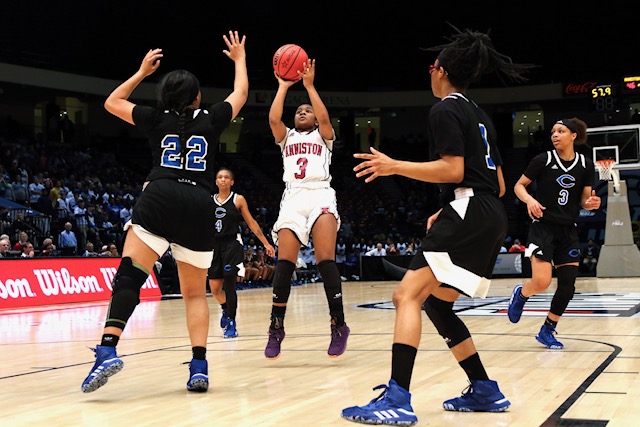 By Al Muskewitz
East Alabama Sports Today
 
BIRMINGHAM – After all the heartache Eddie Bullock and his Anniston girls basketball team has experienced here at the Final Four over the past few years, they deserved something good to happen to them in a close state tournament game.
 
The Lady Dawgs were locked in another tight one in Tuesday's Class 4A semifinals, but this time instead of a sad ending Allasha Dudley hit six straight free throws in the final 1:51 allowing her team to pull away from Childersburg 50-42 for another shot at their first state title.
 
"They're a tough team, man, my hat's off to them," Bullock said. "Coach (Gavin King) made me do everything I could think of in my repertoire. The good Lord found favor in us and I'm just glad we were able to get a win."
 
Anniston has been to the Final Four eight times now under Bullock and he's admitted he's done "everything I know how" in hopes of changing the history. There had been no more bitter heartache than its three nailbiters in 2014, '15 (finals) and '16. The Lady Dawgs lost to Rogers in last year's title game 46-38 and the players vowed not to experience that feeling again. 
 
Tuesday's game appeared to be headed down that down-to-the-wire route, too, until Dudley, the team's best free throw shooter, stepped to the line and drained shots like she had in free throw drills so many times in practice.
 
The Lady Dawgs (28-3) will play Deshler in the state title game Friday at 4 p.m. Even Bullock admitted this is likely their best chance to finish the deal with the team and matchups he's bringing back to the BJCC.
 
"I want to win probably as badly as anyone here," Bullock said. "The ball just bounced our way. 
 
"Coach (King) had already alluded to some things he was going to do and he wasn't bashful about it. A lot of times when people play on this big of a stage you kind of get a little bit of stage freight and I'm always worried about that. We were able to fight through."
 
One of the things King talked about doing was a box-and-one and it bothered the Lady Dawgs. Dudley struggled with her shot early, as did all the Lady Dawgs falling behind 12-7 going 1-for-11 from the field, but the guard was dead-on down the stretch.
 
The Lady Dawgs were only 3-of-19 when they hit their first 3-pointer of the game and four for their first 21. But as much as they struggled early, they rallied to take a 23-21 halftime lead.
 
"I told them we didn't need to come out trying to force it," Bullock said. "A lot of times Allasha will get a box-and-one and we'll just get Allasha-centered. We want to just throw the ball to her and she has to trust her teammates. I kept calling the plays where we were supposed to get the ball down to the block, but I couldn't get (posts Kiana Montgomery and Asia Barclay) to go to the block … We didn't do some of the things we do in practice, but it's partly because Childersburg was putting the pressure on us.
 
"We just didn't get into it, and I think it's because they thought it was going to be a little bit easier than it actually was."
 
Aubrey Foy's jumper with 2:23 to play brought Childersburg to within 44-42. Dudley missed a layup and got knocked down, but she picked herself up and raced all the way back down to pick Keasia McKinney's pocket for a steal that started her closing march to the free throw line.
 
As well as she shoots free throws – Bullock said he's had to call off the free throw drill because she made upwards of 60 in a row – there was no question the Lady Dawgs were going to keep it in her hands down the stretch. And as usual she delivered to give them some breathing room.
 
"My confidence had gone down at first because I wasn't making my free throws in the beginning, but once the first two went in my confidence went back up and I knew I had to make them because they were crucial," Dudley said.
 
Dudley finished with 22 points, seven rebounds and four steals. Montgomery had 19 points, 10 rebounds and five blocks. Barclay came back from early foul trouble and had six points, 12 rebounds and two blocked shots.
 
"I knew I had to play and at first, in all honesty, I was kind of nervous," Montgomery said. "I finally calmed down and got in a rhythm of doing things."
 
Childersburg didn't put a scorer in double figures, but Eunique McKinney had nine points, 11 rebounds and four steals.
 
"Anniston is probably the best team we've seen this year in person, on film, in general," King said. "We had to play so hard to give ourselves a chance to win. We executed our game plan. I hate that more of our shots didn't fall. I mean, they're a great team, we just needed a couple more to fall."

Deshler reached the championship game by defeating Sumter Central 64-52. The Lady Tigers made 11 3-pointers and that will be their weapon of choice against the Lady Dawgs. Hanna Collinsworth and Katie Brooks each hit four treys and finished with 17 and 14 points, respectively. Shamri Thirlkill also scored 17 points.

CLASS 4A GIRLS SEMIFINALS
Anniston 50, Childersburg 42
CHILDERSBURG (31-5) – Aubrey Foy 4-9 0-0 9, Eunique McKinney 4-17 0-2 9, Gabrielle Wilson 2-13 0-0 5, Jakiah Roston 0-2 0-1 0, Keasia McKinney 3-10 1-2 8, Rakiya Spell 0-1 0-0 0, Kayja Swain 0-5 3-4 3, Shakira Young 4-5 0-1 8. Totals 17-62 4-10 42.
ANNISTON (28-3) – Allasha Dudley 7-16 7-12 22, Anna Garrett 1-5 0-0 3, Airriana Colley 0-3 0-0 0, Kiana Montgomery 7-16 5-6 19, Asia Barclay 3-5 0-2 6, Ladajah Williams 0-2 0-0 0, Shiwanna Jackson 0-0 0-0 0, Keyahra Williams 0-1 0-0 0. Totals 18-48 12-20 50.
 
Childersburg      12   9   11  10  –  42
Anniston               7   16  13  14  –  50
3-point goals: Childersburg 4-22 (Foy 1-3, E. McKinney 1-3, Wilson 1-8, K. McKinney 1-5, Spell 0-1, Swain 0-2); Anniston 2-12 (Dudley 1-4, Garrett 1-4, Colley 0-2, L. Williams 0-2). Rebounds: Childersburg 45 (E. McKinney 11); Anniston 38 (Barclay 12, Montgomery 10). Total fouls: Childersburg 19, Anniston 16. Officials: Reginald, Brown, McCareeth.