JCA's road ends
Lanett ends JCA's historic season in Class 1A semifinals, Thunder gave Panthers all they could handle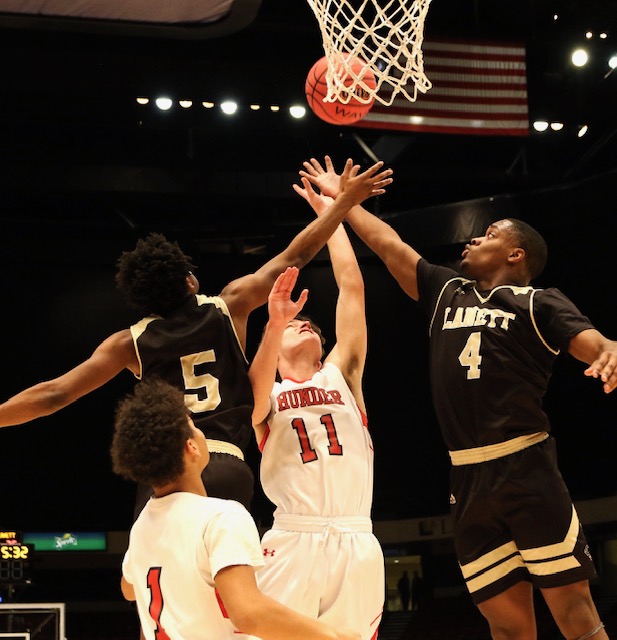 By Al Muskewitz
East Alabama Sports Today

BIRMINGHAM —Jacksonville Christian coach Tommy Miller, a winning basketball coach and devout man of God, genuinely believed the Thunder had one more prayer in them.

He was convinced of it until the final minute when 6-9 Cameron Boozer went over the top of Chase Vinson to rebound 6-8 brother Zameron's missed free throw and drop it in for a six-point lead. If that's the way it was going to go down the stretch, he thought after seeing that, the Thunder was going to be in trouble.

JCA gave Lanett all it could handle, but in the end the Panthers' height and athleticism proved too much and the Thunder fell 70–61 in the BJCC to end its first ever trip to the Class 1A Final Four.

The Thunder (24-7) tried to combat Lanett's height from the outside. They hit 10-of-28 3-pointers in the game, but in the end Lanett's quickness took JCA's legs away impacting its outside shot. Kobe Messer, who Miller called "as good a shooter as there is anywhere around," was 5-of-17 from 3-point range, but was only 2-of-10 in the second half.

The Panthers showed JCA the most height and athleticism since it played Oxford, and Miller said the Thunder played better Monday because of that experience in the county tournament. Still, Cameron had 20 points and 19 rebounds and Zameron had 12 and 10. They had back-to-back dunks midway through the fourth quarter that gave the Panthers a nine-point lead. Kintavious Dozier had 21 points.

"I had to box out one and then there was another one coming right after, so it was tough," Vinson said. "You've just got to play hard. It's tough whenever they got two big dudes like that to get offensive and defensive rebounds, but you've gotta play hard."

The Panthers out-rebounded JCA 51-36. They had 25 offensive rebounds and scored 56 points in the paint. They had 17 offensive rebounds in the first half, one more than all the rebounds JCA had in the game at the time. There was one stretch in the first half they had – and missed – seven straight shots around the basket in one trip down the floor. There were three other possessions with three.
 
"I wasn't sure if we were in the state volleyball finals or basketball finals, it was going back and forth," Miller said. "We were definitely outmanned … but I think we showed a lot of heart today." 

Vinson has 14 points and 10 rebounds for JCA. Kobe Messer had 17 points. 

Miller alluded to some divine intervention after Eli Fair hit a 35-foot shot at the buzzer to beat Spring Garden in the regional final last week and were courting another prayer Monday.

Lanett used a 14-2 run in the second quarter to take control of the game, but JCA missed two 3s and a two down 65-61 with less than a minute to go.
 
"We've had some crazy things happen in this little run we've had," Thunder guard Brady Shaddix said. "When we cut it down to within four with a couple minutes to go I was like 'we're right back in this thing we keep playing hard,' but unfortunately this time I guess we just fell short at the end."
 
Throughout the game the Thunder remained resolute in its approach even when the Panthers threatened to run them out of it. That was part of the reason they stayed in it for so long.
 
"Our kids believed that what we were doing was going to win the ballgame and they never let that slide away or lost sight of it," Miller said.

The Panthers started the year 2-6 against 4A, 6A and 7A schools while it was getting its legs back from football, but has been playing well of late although coach Richard Carter didn't think this was one of his team's better games.

'We had a gauntlet of a schedule at the beginning of the season," Carter said. "But we knew what we had. We knew if we made it to February then somebody would have to pay for all that we've gone through to get to this point."

CLASS 1A BOYS SEMIFINALS
Lanett 70, Jacksonville Christian 61
LANETT (21-11) – Kintavious Dozier 9-21 2-7 21, Seidrion Langston 0-1 0-0 0, Travaunta Abner 2-6 0-0 4, Kristian Story 2-10 0-1 4, Jaquarius Houston 2-3 0-0 5, Larontavious Hurston 1-1 0-0 2, Markavious Atkinson 0-1 0-0 0, Zameron Boozer 4-12 4-6 12, Caden Story 0-1 0-0 0, Alanteo Cheeks 0-1 2-4 2, Cameron Boozer 10-15 0-3 20. Totals 30-73 8-21 70.
JACKSONVILLE CHRISTIAN (24-7) – Tanner Wilson 2-4 0-0 6, Brady Shaddix 1-4 6-8 9, Chaase Vinson 5-13 4-6 14, Tavian Alexander 1-1 0-0 2, Eli Fair 3-6 0-0 7, Nash Messer 2-6 1-2 6, Kobe Messer 6-20 0-0 17, Jonathan Carter 0-0 0-0 0. Totals 20-54 11-16 61.
 
Lanett   20  18  16  16  –  70
JCA         20  10  14  17  –  61
3-point goals: Lanett 2-13 (Dozier 1-7, Abner 0-1, K. Story 0-3, Houston 1-1, Cheeks 0-1); JCA 10-28 (Wilson 2-3, Shaddix 1-2, Fair 1-3, N. Messer 1-3, K. Messer 5-17). Rebounds: Lanett 51 (C. Boozer 19, Z. Boozer 10); JCA 36 (Vinson 10, Fair 7). Total fouls: Lanett 18, JCA 14. Officials: Pinkard, Moss, Campbell.