Close to perfect
Anniston girls' stout, almost perfect, defense carries it to another region title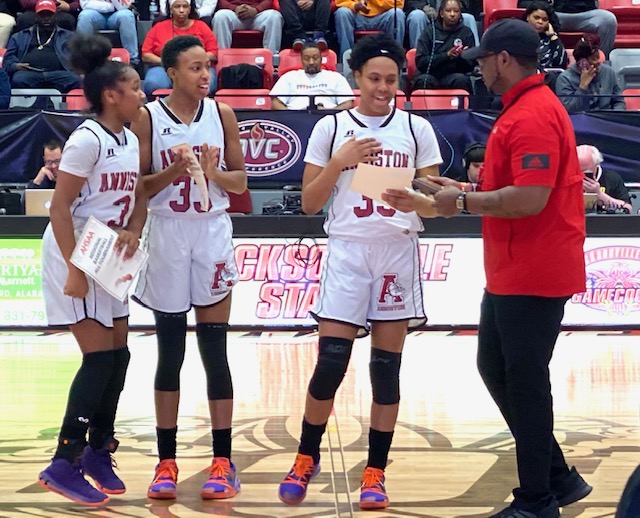 By Al Muskewitz
East Alabama Sports Today
  
JACKSONVILLE –Anniston girls basketball coach Eddie Bullock is all about defense and looking for the perfect defensive game. He just about found it Wednesday.
 
The Lady Dawgs held Oneonta to three total field goals, forced 18 turnovers and cruised to a 46-14 victory for the Class 4A Northeast Region title.
 
They will play Childersburg in the Class 4A semifinals Tuesday 3 p.m. in the Legacy Arena at the BJCC. Childersburg, a Final Four team last year, beat Handley 43-38 in the Southeast Regional final.
 
The Lady Dawgs spent all of Tuesday's 90-minute practice working on nothing but defense and the players bought into it. Bullock agreed his team played "excellent" defense against the Lady Redskins, but was reserving that perfect defensive game for a little bit down the road.
 
"We said defense was going to be our focus and we had to shut 'em down and they bought in to it," Bullock said. "I wouldn't say it was perfect, but we were close. I'm going to wait on that perfect game until we go to Birmingham."
 
Anniston's Asia Barclay was named regional MVP. She had 17 points behind 8-of-10 shooting from the floor, seven rebounds, two blocked shots and four steals in the title game. In two regional games she scored 36 points, grabbed 21 rebounds and blocked six shots.
 
She was joined on the all-tournament team by post partner Kiana Montgomery and Allasha Dudley. Montgomery had seven points, 12 boards and three blocked shots in the finals. Dudley had 11 points and that was acceptable because the bigs were so dominant here.
 
"These girls would be some coach's dream and they're my dream," Bullock said. "I'm going to enjoy it while I can."
 
The good thing about covering Anniston girls basketball is you don't have to spend a lot of time rehashing play-by-play.
 
As the score indicated, this one was over early. Anna Garrett opened the game with a 3-pointer, Montgomery blocked Oneonta's first shot at the other end, and then Garrett raced in to grab an offensive rebound and arch it back up for another bucket to make it 5-0.
 
Oneonta called the first of three timeouts in the opening three and a half minutes, but it did nothing to slow Anniston's roll.
 
The Lady Dawgs led 19-5 at quarter's end and 36-6 at halftime. Oneonta was just 1-of-22 from the floor in the half – a 3-pointer by Baylor Phillips with 4:17 left in the first quarter – and had three two-shot free throw opportunities. Anniston also forced the Lady Redskins into 13 turnovers, off which it scored 12 points.
 
"Overall, I think it was pretty close to perfect," Dudley said of the defensive effort.

Barclay had 12 points and four steals at halftime, while Montgomery had seven points, six rebounds and two blocked shots.
 
Oneonta had one field goal in the third quarter and one in the fourth. With Anniston working to run them off the 3-point line and not get beat on straight-line drives to the basket, the Lady Redskins were officially 3-of-33 from the floor for the game.
 
"We wanted to try to make sure we didn't give them any way to stay in the game with us," Bullock said.
 
"We played bad, we shot the ball poorly, something we haven't done all year, but at the end of the day they had a lot to do with it," Oneonta coach David Elrod said. "They took us out of everything we really wanted to do and tried to do. We tried to make adjustments and we just kept running into that defensive wall."
 
Since there is no fourth-quarter running clock with a 30-point lead in the post-season, Anniston did its own version passing the ball around and forcing Oneonta to foul to stop it.

CLASS 4A GIRLS NORTHEAST REGIONAL
Championship game
Anniston 46, Oneonta 14
ONEONTA (24-8) – Sydney Baker 1-6 0-0 2, Sydney Robertson 0-2 0-0 0, Jordan Smith 0-5 4-6 4, Baylor Phillips 2-10 1-2 6, Teagan Hartman 0-7 2-4 2, Virginia Ritchie 0-0 0-0 0, Britton Pass 0-0 0-0 0, Kayleigh Jennings 0-0 0-0 0. Totals 3-33 7-12 14.
ANNISTON (27-3) – Allasha Dudley 4-15 3-5 11, Anna Garrett 2-6 0-0 5, Airriana Colley 3-7 0-0 6, Kiana Montgomery 3-9 1-2 7, Asia Barclay 8-10 1-3 17, Ladajah Williams 0-1 0-0 0, Charliese Simmons 0-0 0-2 0, Shi Jackson 0-3 0-0 0, Aaliyah Henson 0-0 0-0, Tiauna Thomas 0-0 0-0 0, Keyahra Williams 0-0 0-0 0, Tanaja Winsley 0-0 0-0 0. Totals 20-51 5-12 46.
 
Oneonta          5    1    3    5  –  14
Anniston         19  17  6    4  –  46
3-points: Oneonta 1-5 (Robertson 0-1, Phillips 1-3, Hartman 0-1); Anniston 1-12 (Dudley 0-3, Garrett 1-4, Colley 0-2, Williams 0-1, Jackson 0-2). Rebounds: Oneonta 27 (Robertson 7); Anniston 41 (Montgomery 12, Barclay 7). Total fouls: Oneonta 16, Anniston 15. Officials: Walker, Battles, Williams.
 
All-tournament team: Asia Barclay, Anniston (MVP); Kiana Montgomery, Anniston; Allasha Dudley, Anniston; Baylor Phillips, Oneonta; Kristen Shields, Hokes Bluff; Payton Golden, Fairview.