Played and won
Piedmont, Pleasant Valley girls head to area final after making big plays in the second half of their wins; other games postponed due to weather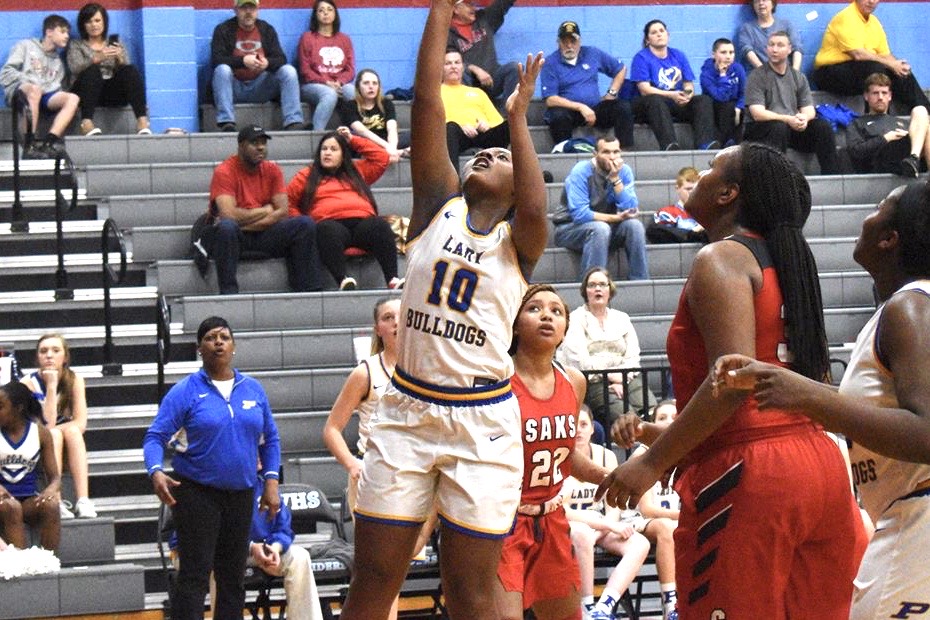 Wednesday's games
3A-11 Girls: Piedmont 40, Saks 34
3A-11 Girls: Pleasant Valley 50, Weaver 27
4A-9 Girls Championship, Talladega at Anniston, ppd. to Friday, 6 p.m.
4A-10 Boys: Hokes Bluff at Jacksonville, ppd. to Thursday, 5 p.m.
4A-10 Boys: White Plains vs. Cherokee County, ppd. to Thursday, 7 p.m.

By Al Muskewitz
East Alabama Sports Today

JACKSONVILLE – LeLe Ridley hits a 3-pointer on average about once every couple weeks. She isn't shy about taking them, it's hitting them that makes it a special occasion.
 
Ridley had hit only six 3-pointers this season entering Wednesday night's Class 3A Area 11 tournament semifinal, but it was her somewhat uncertain 3 late in the fourth quarter that was the shot of the game in Piedmont's 40-34 victory over third-seeded Saks.
 
The second-seeded Lady Bulldogs now play top-seeded Pleasant Valley for the area championship Friday night. Both teams are guaranteed spots in next week's sub-region round, to face either Sylvania or Pisgah.
 
"LeLe probably hasn't hit a 3-pointer since probably the third game of the season, maybe," Piedmont coach Terrace Ridley said. "And LeLe Ridley knew she was going to be trouble – she bailed herself out when she made it – because that shot shouldn't have never went up, but when you're in desperation at the end …
 
"Now I can say LeLe Ridley has the green light to shoot that 3, because she can shoot that 3, she just doesn't get the chance to and when she gets out there sometimes she shies away from it. But if I had to say OK take that last-second shot if Ava Pope or somebody else couldn't get it, I would go to her."
 
The Lady Bulldogs had a 14-point lead late in the third quarter, but suddenly went cold and found themselves trailing 32-31 with 3:03 to play. They managed to wrestle the lead back and were only up two when Ridley hit her shot of the game.
 
She got the ball at the top of the key with about a minute to go, but seemed uncertain what to do next. She looked nervously on either side of her and then let her shot fly. It gave Piedmont a 37-32 lead with 51.2 seconds to play. Saks got a basket to make it a three-point game, then Piedmont closed out what little time remained from the free throw line.
 
Ridley was 6-of-30 from behind the arc coming into the game. The last 3 she hit came on Jan. 10 at Haralson County (Ga.). The one she made against the Lady Wildcats was the only one she took.
 
"I usually shoot them around just to get used to it," the freshman center said. "I don't really shoot them a lot in the game, but I know if I'm wide open and there's a chance I can make it I'll put it up.
 
"On that one, it was a close game, I know we probably did not need (to take) it at the time, but I shot it anyway and I was confident in my shot. I was trying to find an easier way (to score), like a layup, maybe an open layup, or get a foul to get someone fouled out, but I was wide open, I had no other choice."
 
In the early part of the game it looked like Pope would be their main outside threat. The eighth-grader hit three 3s in the first half – the most she's had in the past seven games, since hitting 3 in back-to-back games against Saks and Weaver – then went cold.
 
Pope finished with 13 points and has scored 53 points in three games against the Lady Wildcats, including a career-high 23 with five 3s in the first meeting. Ridley had 17 rebounds to go with her 16 points. Z'hayla Walker had 10 points and 13 boards. 
 
Alayzia Neal led Saks with 14 points, including its first 10 of the second quarter to cut an early 9-1 deficit to 12-11.

PV comes alive in second half
JACKSONVILLE – That must've been some halftime speech.

After struggling through the first two quarters and giving Weaver hope of an upset, Pleasant Valley scored more points in the third quarter than it had the entire rest of the game and pulled away from the Lady Bearcats 50-27 to reach the area finals.

The Lady Raiders trailed by five late in the second quarter and by two at halftime, then outscored Weaver 26-2 in the third to remove any further thought of an upset.

"I told them this: Look ladies, I don't care either way my check's the same," Lady Raiders coach Brad Hood said. "Do you want to come here Friday night and watch two teams play in the area tournament on your floor or would you like to be the ones playing in it? I said it's up to you. Gawd, they came out and looked like a different team."

Freshman guard Macey Roper energized the Lady Raiders in the third quarter. After being pulled for her play in the first half, she came out in the second and immediately forced numerous turnovers, some of which she turned into her own layups, and scored 13 of her 15 points in the quarter.

She scored the first four points of the quarter, Weaver's Kayleigh Hindsman got a bucket to tie the game at 23, then PV scored the next 27 points, a run that carried into the fourth quarter, before Hood It was my nercalled off the press and went basic.

"She was the difference maker," Hood said.

"It was my nerves," Roper said. "I wasn't playing well with the team. I just had to let my nerves come out because I was nervous for this game. I thought it was going to turn into another Hokes Bluff game where I get in my head and just don't play well anymore. I think I played pretty good the second half, but that first half (didn't go so well)."

An 8-0 run late in the first quarter put Weaver up 13-8 before PV closed it to 13-12 at quarter's end. The Lady Bearcats led 21-16 late in the second quarter before PV close it to 21-19 at the break.

"We made them do what we wanted them to do in the first half," Weaver coach Gary Atchley said. "They made us do what they wanted us to do in the second half. It was a totally different thing and that was the difference in the game."

CLASS 3A AREA 11 GIRLS
Piedmont 40, Saks 34
SAKS – DaArian Stewart 1 1-2 3, Deja Almon 0 1-2 1, Teana Edwards 1 2-2 5, Miracle Bass 2 1-4 5, Destini Elston 1 0-0 2, Keilynn Williams 2 0-0 4, Alyssia Gooden 0 0-0 0, Alayzia Neal 6 0-2 14, Takierra Hudson 0 0-0 0. Totals 13 5-12 34.
PIEDMONT – Ava Pope 5 0-1 13, Whitney McFry 0 1-2 1, Jaycee Glover 0 0-1 0, LeLe Ridley 3 9-16 16, Hannah Barabee 0 0-0 0, Armani Perry 0 0-0 0, Gracie Naugher 0 0-0 0, Z'Hayla Walker 4 2-2 10. Totals 12 12-22 40.

Saks 1 11 10 12 – 34
Piedmont 9 12 9 10 – 40
3-point goals: Saks 3 (Teana Edwards, Alayzia Neal 2); Piedmont 4 (Pope 3, Ridley). Fouled out: Neal. Total fouls: Saks 18, Piedmont 11. Officials: Battles, Brown, McElreeth.

Pleasant Valley 50, Weaver 27
WEAVER – Madison Atchley 1 0-0 2, Kiese Hubbard 4 0-0 8, Loralei Brown 0 0-0 0, Marley Tucker 1 0-0 2, Kayleigh Hindsman 1 1-2 3, Haley Homesley 3 0-3 8, Nevaeh Hawkins 1 0-0 2, TiAna Lawrence 0 0-0 0, Taylor Lawrence 1 0-0 2. Totals 12 1-5 27.
PLEASANT VALLEY – Rylee Haynes 3 4-6 10, Marlie Wright 1 0-0 2, Gracie Hood 1 0-3 3, Emma Hood 4 6-8 14, Macey Roper 6 3-4 15, Karmyn Sparks 3 0-0 6. Totals 18 13-21 50.

Weaver 13 8 2 4 – 27
Pleasant Valley 12 7 26 5 – 50
3-point goals: Weaver 2 (Homesley 2); Pleasant Valley 1 (G. Hood). Total fouls: Weaver 15, Pleasant Valley 8. Officials: Battles, Brown, McElreeth.