Recruiting road
College coaches find yellow-brick road on Alabama 21 through Calhoun County as they search for talent; Anniston boasts big class of college-bound players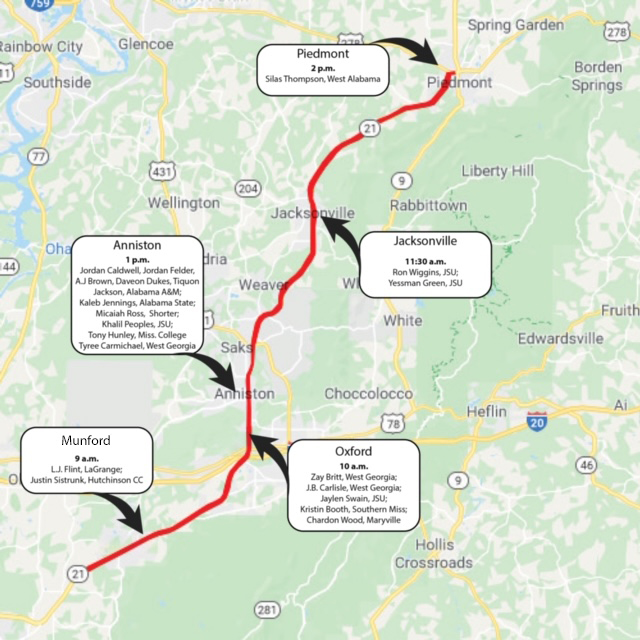 By Al Muskewitz
East Alabama Sports Today

ANNISTON — When Rico White first joined the Anniston varsity football program he had trouble finding people to come to a player's signing ceremony.

Just two years later, he had trouble finding a seat at the table and simply stood at the foot of the stage.

The Bulldogs rolled out what is believed to be their largest signing class since the 1989 state championship season Wednesday when 10 players announced their intentions to continue their athletics and academic careers for the next four years in the school auditorium.

It wasn't just 10 players going to college, these were 10 players the Bulldogs coaches said were getting some degree of a scholarship.

"It just speaks volumes for the kind of brand we're trying to build here at Anniston High," White said. "These kids and the parents are very supportive. They want to do great things.

"Not only does it show we had a great football season (the Bulldogs were 9-5 and Class 4A semifinalists) it showed they're doing what they needed to in the classroom also. It's amazing. It's great number of kids. Next year I expect even more."

And to think two years ago there was only one. There were six last year.

"Coming into this year we knew we had a lot of seniors and I expressed to the coaches we've got to get these kids scholarships," White said. "We want them to finish strong on and off the field. We're just trying to keep building."

The Anniston 10 were among a larger group of more than 20 players from Calhoun and Talladega counties who college recruiters found at the schools along the Alabama 21 corridor.

The run of signing ceremonies up the Recruiting Road started at Munford, moved north to Oxford, then hit Jacksonville, Anniston and, finally, Piedmont.

Weaver and Saks, both just off that route, and, a little farther off the path, White Plains also had football players sign on Wednesday's tradition national signing day.

Five of the Anniston signees are going to one school, Alabama A&M.

Most of the five future A&M Bulldogs – receiver Jordan Caldwell, tight end Jordan Felder, defensive back Tiquon Jackson, running back A.J. Brown and safety Daveon Dukes — said they made a pact after going on their official visits to A&M last weekend. Jackson said he wasn't certain until the last minute before ultimately deciding to join his teammates.

"I knew Dukes, A.J. and Felder were going there," Jackson said. "I didn't know if Caldwell was going. I didn't decide anything. My momma didn't know, nobody knew."

"We all went on a visit last weekend and we always talk about it," Dukes said. "We liked the coaches, it just felt like home to us so we all agreed we've got to go together. Tiquon didn't come on the visit with us. We were just talking about it. He agreed to come with us, so we all could go. They (A&M) are happy to have us and they're ready to work with us."

"We didn't want to go down there and not know people," Brown said. "We all just decided we got the offer from there so we'll go. We can room with each other and be down there with people we know, be comfortable around each other. It's pretty good for us."

The other Bulldogs in the 10 on stage were linebacker Kaleb Jennings (Alabama State), linebacker Micaiah Ross (Shorter), defensive lineman Khalil Peoples (Jacksonville State), athlete Tyree Carmichael (West Georgia) and defensive back Tony Hunley (Mississippi College). Hunley also will play baseball at his school.

"Considering we had 10 seniors sign as a team that's pretty good," Brown said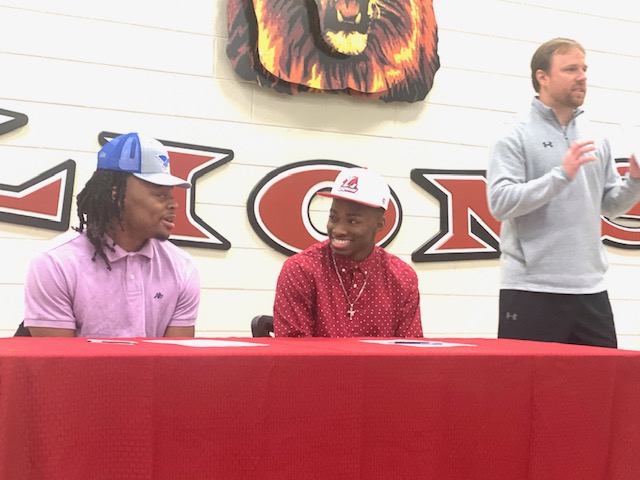 Flint, Sistrunk Easley's first
MUNFORD – L.J. Flint and Justin Sistrunk became Munford coach Michael Easley's first college signees as a head coach when they signed with LaGrange College and Hutchinson (Kan.) CC to start the day's series of signing day ceremonies.

Flint chose the Panthers college over the likes of Lindsey Wilson, Defiance, Sterling and Rochester. Lindsey Wilson came after him hard after he committed to LaGrange, but the receiver never wavered. Easley said the Georgia school is getting an "absolute steal" after others overlooked Flint because of his size.

"I've never seen a measuring tape catch a pass or run a route," Easley said. "Some of the bigger schools were scared off just because of his height, but I told them this kid can flat out play. He's a phenomenal receiver, one of the best I've ever been around. I got to coach (NFLer) Tremon Smith his junior year (at Saks) as a receiver. This kid's a phenomenal receiver, an awesome receiver."

Sistrunk, a projected linebacker, said he felt "more relieved" after settling on his school. Before picking Hutchinson he was considering going to Jacksonville State or Western Kentucky, but he chose the JUCO route for a chance to improve on the field and in the classroom before branching out to a bigger program. Interestingly, there was a time he didn't think he'd be in this position.

"I didn't think I was any good at football," he said.

It was only late in his high school career, after he starting playing regularly, did that opinion change. He's good at football now.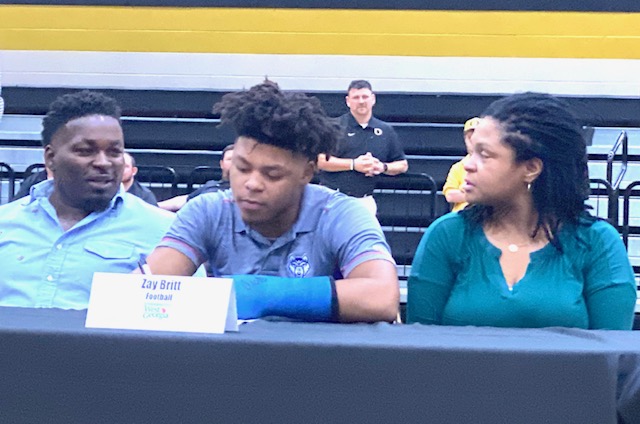 Booth picks Southern Miss
OXFORD – Oxford linebacker Kristin Booth was prepared to "shock the world" with his college choice during Wednesday's signing ceremony in the Sports Arena, but in the end thought better of it to reveal his choice of Southern Miss where he felt comfortable from the minute he stepped on campus.

The alternative was an SEC school whose offer he had not publicly disclosed, but more rational thinking struck when he got to Hattiesburg.

"I was just going off the brand, but this was the best out of all of them," Booth said. "When I stepped on campus I felt like it was right. I'm like, yeah, I'm all in."

Booth was one of five seniors from the Yellow Jackets' Class 6A state championship team making their intentions known Wednesday. A sixth, Antwon Fegans, signed with Arkansas State in an off-campus ceremony in December and is already enrolled.

State championship game MVP Zay Britt and running back J.B. Carlisle are headed to West Georgia, linebacker Jaylen Swain is off to Jacksonville State and lineman Chardon Wood is headed to Maryville.

While not exactly a package deal for two players heading to the same school, Carlisle and Britt both said they were looking forward to continuing the friendship they formed as high school teammates on the college level.

"It just kind of worked out that way," Carlisle said.

"I'm glad it did," Britt said.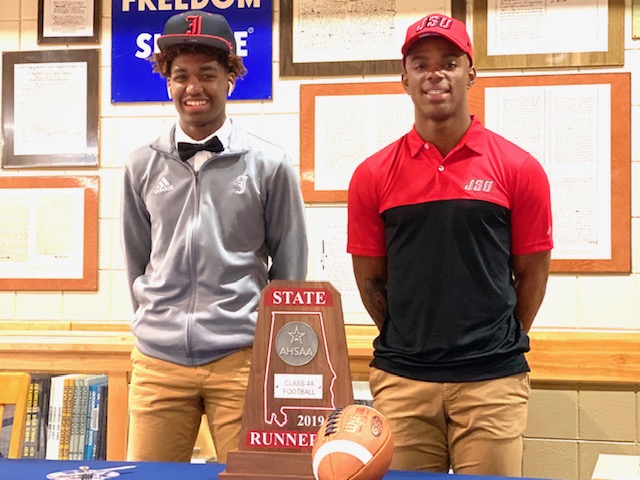 Wiggins, Green heading to JSU
JACKSONVILLE — Before Ron Wiggins burst on the scene as one of the state's most dynamic running backs he never would have dreamed of the possibility of playing college football. But there he was two years later, along with Jacksonville teammate Yessman Green, signing to play for Jacksonville State.

"It still kind of shocks me to this day," the state's Class 4A Back of the Year said. "I didn't know where it would take me, but I'm thankful for where I'm at today."

Green, meanwhile, had this day on his mind for years. His father is a defensive assistant coach on the JSU staff, but his reasons for signing with the Gamecocks go deeper than that.

"Back at Baker me and my quarterback, we were freshmen at the time, we were always talking about playing Division I football together," he said. "I think he's signing right now as we speak, I don't know where, though."

An interested bystander during the festivities was Weaver defensive end Isaiah Woods. In addition to the Jacksonville signing ceremonies, he also attended the Oxford festivities and he would have gone to the Anniston show if his own signing with Tennessee Tech weren't being held at the same time.

"This is a big deal," he said, "because I want to see my friends sign."

For his part, Woods originally committed to Kennesaw State, but changed course after injuring his leg early in the season to consider other non-football options. He said Tennessee Tech told him he was always on its wish list so when he became available they redoubled their pursuit and he ultimately granted their wish.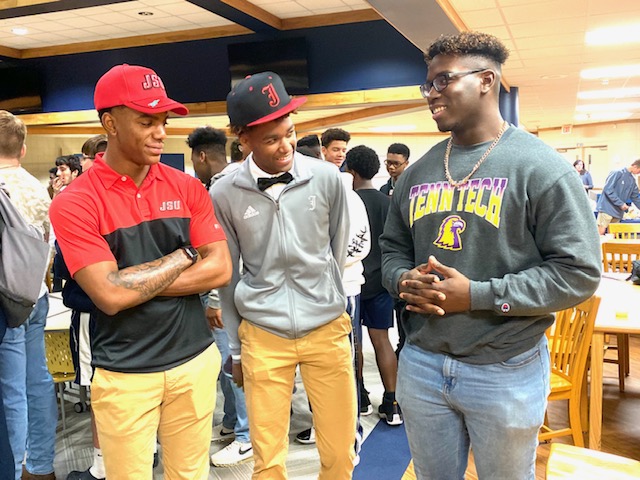 Thompson joins ex-mates at W. Alabama
PIEDMONT — There was a time where playing football never crossed Silas Thompson's mind. He preferred playing basketball and baseball instead.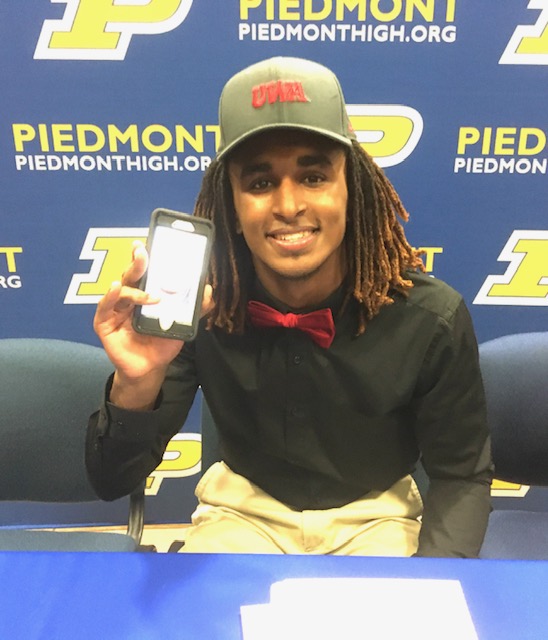 But through the encouragement of his friends, he decided to give football a try his sophomore year at Piedmont and that decision turned out to be a good one.

Thompson turned out to be a pretty good receiver for the Bulldogs and Wednesday he signed with the University of West Alabama, where he'll reunite with former Piedmont players Bayley Blanchard and Mason Langley.

"It's exciting. I'm extremely blessed to play at the next level anywhere," said Thompson, who caught 48 passes for 575 yards and 13 touchdowns this past season as Piedmont won its third state title in five years. "This was my first year of actually getting on the field. To be able to play D-II football at West Alabama, where they've had Super Bowl champions like Malcolm Butler and Tyreek Hill, it's an honor really."

Blanchard joined in with Thompson's signing celebration via a Facetime connection. Piedmont coach Steve Smith said "it will play into Silas' advantage" having Blanchard and Langley as mentors for the incoming receiver.

"We've talked about (playing together)," Thompson said. "West Alabama has some really good receivers. It would be amazing to get the chance to do that, for sure."

Not a bad situation for someone who never dreamed he'd be playing football at the college level.

"You get out there on the football field on Friday nights and make a couple of big plays and it'll change you," Thompson said. "As I got to playing football this year, I was like 'Hopefully somebody will take a chance on me.' I'm blessed West Alabama did." – Shannon Fagan, Cherokee County Herald
Cover photo: Five Anniston players said they were continuing their careers at Alabama A&M in Anniston's largest signing class in maybe 30 years. They were (back row from left) Jordan Caldwell, Daveon Dukes; (front row from left) Jordan Felder, A.J. Brown, Tiquon Jackson.