Lady Dogs grab 2 seed
Girls roundup: Piedmont tops Saks to get second seed in its area tournament; Ohatchee, Anniston, Weaver get wins, and more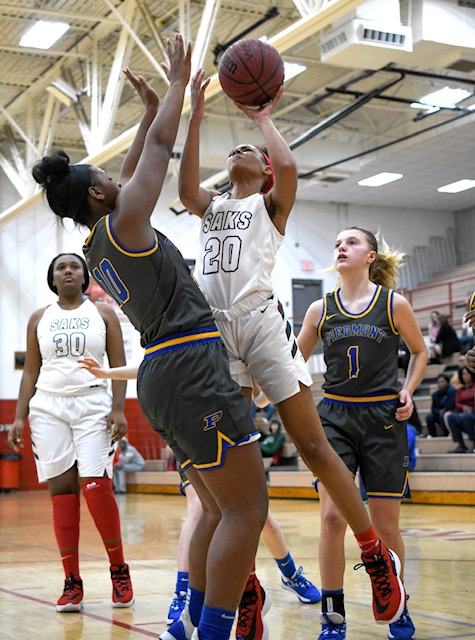 Thursday's girls scores
Alexandria at Fort Payne
Anniston 61, Clay Central 22
Coosa Christian 74, Jacksonville Christian 53
Ohatchee 66, Pleasant Valley 54
Piedmont 40, Saks 27
Ragland 54, Victory Christian 15
Talladega 63, Lincoln 32
Weaver 63, Donoho 52
Winterboro 64, ASD 24

Cherokee County Tournament
At Gadsden State-Centre
Cherokee County 62, Gaylesville 15

Etowah County Tournament
At Southside
Southside 43, Hokes Bluff 39
 
Randolph County Tournament
At Handley HS, Roanoke
Woodland 54, Randolph County 35

By East Alabama Sports Today
 
ANNISTON – Piedmont and Saks were playing basically for jersey colors in the semifinals of the Class 3A Area 11 tournament Thursday night and the Lady Bulldogs earned the right to wear their white jerseys in the battle of 2-3 seeds.
 
The Lady Bulldogs locked up the No. 2 seed in the tournament with a 40-27 victory. The win avenged an earlier loss this season to the Lady Wildcats and combined with Tuesday's victory at Weaver marked the first time this season they have won back-to-back games.
 
"It means a lot to the girls because we're so inexperienced," Piedmont coach Terrace Ridley said. "Everybody knows we're young and I say that over and over because we are, but it means a lot to them to know they can come back and finish as the second seed knowing we still have to play Saks again (as the 3 seed). It makes them feel good about themselves.
 
"They beat us the last time and knowing how much we've come and worked hard every day since that and gotten better and got rewarded for that is a big thing."
 
Eighth-grader Ava Pope led the Lady Bulldogs (6-11) with 17 points. She scored 15 in the second half, 12 in the third quarter as Piedmont doubled its halftime lead. Lele Ridley scored 12 points, grabbed 12 rebounds and blocked three shots. And freshman Whitney McFry drew the first varsity start of her career with Jaycee Glover out sick and responded with a career-high seven points – all in the first half.
 
"We told Ava at halftime you're a scorer, you're our scorer on the team, you're a shooter, you have to shoot the balal," Ridley said. "I think she shot the ball four times the first half and coming back out we told her the difference in the game the other night was you shot the ball and we've got to have you shooting the ball. She hit that first shot in the second half she felt that confidence and just rolled on from there."
 
McFry had never scored more than three points in a game this season and had only 11 total – all in the last seven games. She hit her third 3-pointer of the season late in the second quarter to give the Lady Bulldogs a 19-10 halftime lead.
 
"She has really been like a sixth man for me," Ridley said. "I figured it out that she can sit and watch and knows what to do once I put her in the game. So, for the last four or five games she has really improved and showed me she can be on the court when I need her out there to get me some good minutes.
 
"That was big for her to step up and take that charge for me today. I told her she's got a challenge today: You've been playing good coming off the bench, but we're going to see how you play getting that start, and she responded very well."
 
It's likely she will start again Friday night in the Lady Bulldogs' county tournament opener against Donoho at Jacksonville State.
 
Piedmont 40, Saks 27
PIEDMONT – Ava Pope 7 0-0 17, Emma G. Todd 0 0-0 0, Whitney McFry 3 2-3 7, Lele Ridley 5 2-4 12, Hannah Barbee 0 1-2 1, Armani Perry 0 0-2 0, Jenna Calvert 0 0-0 0, Gracie Naugher 0 0-0 0, Z'Hayla Walker 1 1-4 3. Totals 15 6-15 40.
SAKS –DeAvian Stewart 0 0-0 0, Deja Almon 1 0-0 2, Teana Edwards 3 8-12 14, Jamiracle Bass 1 0-2 2, Destini Elston 2 0-2 4, Alayzia Neal 2 0-0 4, Keilynn Williams 0 1-2 1, Takierra Hudson 0 0-1 0. Totals 9 9-19 27. 
 
Piedmont     6    13  16  5    –  50
Saks               5    5    7    10  –  27
3-point goals; Piedmont 4 (Pope 3, McFry). Total fouls: Piedmont 14, Saks 14. Officials: Harrell, Garrett, Weston.
Ohatchee 66, Pleasant Valley 54
JACKSONVILLE – Tori Vice scored 26 points and Jorda Crook had 21 as the Lady Indians took advantage of some early PV foul trouble to jump ahead early. Vice (9), Crook (7) and Gracie George (6) combined for all of Ohatchee's points in the first quarter and staked it to a 22-13 lead. Vice and Crook combined for 14 in the second to make it a 42-33 game at halftime. Rylee Haynes led PV with 18 points.

Ohatchee 68, Pleasant Valley 56
OHATCHEE – Gracyn Snow 2 0-0 4, Jazmine Adams 1 1-2 4, Lyda Elders 0 0-0 0, Tori Vice 12 0-4 26, Gracie George 6 0-0 12, Millie Rainwater 0 1-2 1, Jorda Crook 8 5-5 21. Totals 29 7-13 68.
PLEASANT VALLEY – Rylee Haynes 6 6-9 18, Marlie Wright 1 0-0 3, Gracie Hood 0 0-0 0, Emma Hood 6 3-7, Macey Roper 5 0-4 10, Kamryn Sparks 5 0-2 10. Totals 23 9-22 56.

Ohatchee 22 20 13 13 – 68
Pleasant Val. 13 20 9 14 – 56
3-point goals: Ohatchee 3 (Adams, Vice 2); PV 1 (Wright). Fouled out: Haynes. Total fouls: Ohatchee 19, PV 16.

Anniston 61, Clay Central 22
LINEVILLE – Kiana Montgomery scored 20 of her 22 points in the first quarter to help the Lady Bulldogs (15-3) off to a fast start. Asia Barclay had 10 points, eight rebounds and five steals, while Allasha Dudley had nine points, eight steals and four assists. The Lady Bulldogs play their final tune-up before the Calhoun County Tournament Friday against Cleburne County.
Coosa Christian 74, JCA 53
GADSDEN – Kaylee Hasley had a triple-double and India Brown had a double-double as the Lady Conquerors locked down the No. 2 seed in Class 1A Area 11. Hasley had 14 points, 13 assists and 12 steals, while Brown had 21 points and 20 rebounds. Bella Millirons was their leading scorer with 30 points.