Magnificent 7
Jacksonville's Wiggins wins Class 4A Back of the Year, Lanett's Story named Alabama Mr. Football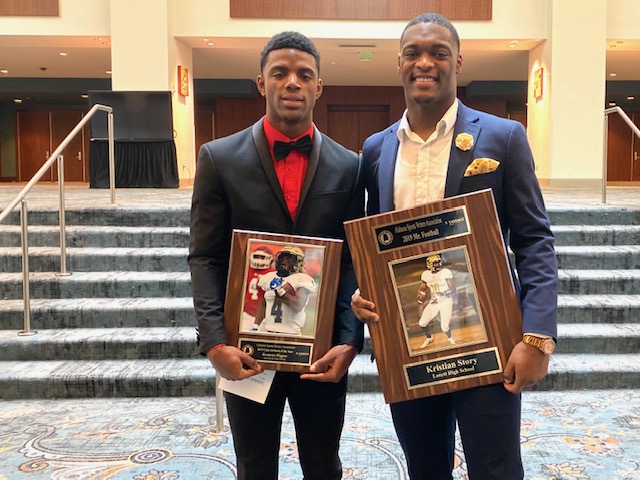 By Al Muskewitz
East Alabama Sports Today

MONTGOMERY — Clint Smith was standing in the lobby of the Renaissance Montgomery Hotel & Spa waiting to get into the Mr. Football Banquet thoroughly enjoying the scene of players and coaches milling around him.

"I like coming to Montgomery," the Jacksonville head coach said. "When we come to Montgomery that usually means something good is happening."

Wednesday was a good day where Calhoun County football was concerned, and Jacksonville in particular.

An abundance of county players were up for major awards, a testament to the unprecedented success the county football teams enjoyed this past fall.

Two state champions and a runner-up begat part of the seven county players up for Mr. Football and the Back and Lineman of the Year awards in their respective classifications.

Jacksonville running back Ron Wiggins was the winner of one statewide media outlet's pre-banquet Mr. Football fan poll, but the actual award went to Alabama signee Kristian Story of Class 1A Lanett.

Wiggins was named the Class 4A Back of the Year. He rushed for a county record 2,835 yards and 47 touchdowns this season, and had 1,132 yards and 20 touchdowns in the Golden Eagles' five-game playoff run to their first ever state championship game.

He was ranked eighth in the state's Super All-State Team, the top 12 players regardless of classification. Oxford quarterback Trey Higgins was No. 11.

"This is a remarkable season; we made history," Wiggins said.

He said seeing the results of the straw poll got him excited for Wednesday's banquet and the possibility of winning the state's big prep football prize. He received 35 percent of the more than 4,900 votes cast in the poll, winning by some 500 votes ahead of Story.

"Especially this morning when I woke up to about 20 notifications on Facebook of people just tagging me telling me congratulations," Wiggins said. "That really just woke me up this morning and made me get ready to come here and see how it was.

"It didn't turn out how I thought it was, but it was still an honor just to be here."

His coach had no doubt about his candidacy, calling him "probably the most productive back I've ever coached."

"As far as 4A Back of the Year, I couldn't think of another back who was better than him, statistically and what he did for his team," Smith said. "Just the season that he had I felt like he had a great shot to win it.

"And I knew he'd be in the running for Mr. Football. I still think he's one of the best backs in all of Alabama."

Wiggins was joined among the county's Magnificent 7 of Player of the Year finalists by 6A Oxford's Higgins and Jaylen Swain, 3A Piedmont's Jack Hayes (a freshman) and Sean Smith, 3A Wellborn's Jett Smith and 2A Ohatchee's Domonique Thomas. It's doubtful the county had so many finalists at one Mr. Football banquet and no one can predict if that will happen again.

Calhoun County has produced two Mr. Football winners in the 38-year history of the award – Oxford running back Roc Thomas (2013) and Alexandria running back Mac Campbell (1997).

"There's always been great athletes and great players, great teams, great coaches in Calhoun County; this year was extra special," Piedmont coach Steve Smith said. "The cool part about it to me is knowing all those guys and knowing most of the players through us either playing against them or prior connections, all those kids were very deserving … the hard work they've put in.

"Three teams that are separated by 20-25 miles from the northern to southern end of the county all playing in the biggest venue for the state championship I think that speaks for itself. You don't have to do a whole of promoting when you put the product on the field that plays in the biggest games. Just very proud of all the teams in Calhoun County and today exceptionally proud of all seven of these young men who were here representing their schools.

"To me, I don't think that's unusual because I know the caliber of players that you find in Calhoun County and there's a lot of good football in our area."

Wiggins' college recruiting is still wide open. He was about to commit to SMU, but the Mustangs told him they weren't taking any more running backs in this class, so he's weighing his option with an eye among his 14 offers towards UAB, Troy and Georgia Southern. He said he has no visits set up right now.

Before he left the banquet Wiggins made sure he had a picture taken with Story, whom he called "my guy."

The 6-foot-1 quarterback, who also was the state's Gatorade Player of the Year, passed for 2,865 yards and 37 touchdowns while rushing for 1,151 yards and 17 touchdowns this season. In his final high school game, he ran for 110 yards and two touchdowns and passed for 249 yards and two more scores in the Class 1A title game.

He finished his career as the AHSAA record-holder in total offense (13,218 yards) and 175 touchdowns accounted for, records held by last year's Mr. Football Bo Nix. He also led the Panthers to the 2A football title in 2017 and three state basketball titles. He is the first Class 1A player to win the award since West Jefferson running back Thomas Banks in 1993.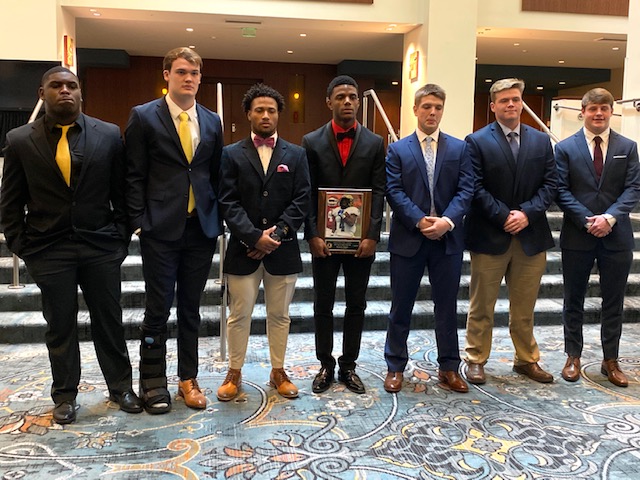 2019 PLAYERS OF THE YEAR
Mr. Football: Kristian Story, Lanett

CLASS 1A
Back: Kristian Story, Lanett
Lineman: Mack McCluskey, Mars Hill Bible

CLASS 2A
Back: Jalen White, Daleville
Lineman: Arian Gregory, Luverne

CLASS 3A
Back: Daquan Johnson, Flomaton
Lineman: Deontae Lawson, Mobile Christian

CLASS 4A
Back: Ron Wiggins, Jacksonville
Lineman: Will Breland, UMS-Wright

CLASS 5A
Back: Zyquez Perryman, Pleasant Grove
Lineman: Trent Howard, Briarwood Christian

CLASS 6A
Back: Kris Abrams-Draine, Spanish Fort
Lineman: Jackson Bratton, Muscle Shoals

CLASS 7A
Back: Sawyer Pate, Thompson
Lineman: Demouy Kennedy, Theodore

AISA
Back: Cephus Cleveland, Macon-East
Lineman: Eli Richey, Southern Academy