Long on time
Sophomore guard gets call from coach when two regulars miss the bus, goes for 22 in Jacksonville's win over Piedmont
 
By Al Muskewitz
East Alabama Sports Today
 
GLENCOE – Q Long was just getting out of the shower to start his day when Jacksonville basketball coach Cordell Hunt buzzed his cell phone.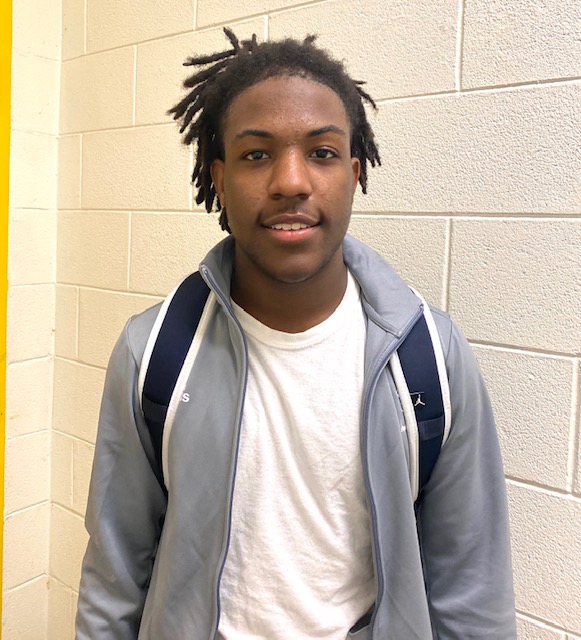 The sophomore guard figured the coach was calling to set his schedule for the JV game he was expecting to play in later in the day.

Hunt was setting Long's schedule, all right, but not the way he thought. The coach was calling to tell him there was a seat on the varsity bus with his name on it and he could have it if he could be in it before the bus pulled out of the lot.

Nobody had to ask him twice. Not only did Long make it to the bus in time, he flourished in his first varsity game. He scored 22 points, made a bunch of big shots in the second half and was the unexpected difference as the Golden Eagles topped Piedmont 70-67 for third place in the Glencoe Holiday Shootout.

Hunt called it a "great quality win" for his program and it's one that could have big implications on the upcoming Calhoun County Tournament seedings. And it all came about because Long was right on time.

Hunt is a stickler for punctuality and two regular varsity guards weren't ready when he was ready to go. It wasn't like Long was the first on Hunt's backup speed dial, he was appealing because lived the closest to the school of any of the Golden Eagles' substitute guard options

"I called Q and said how quickly can you get here," Hunt said. "He said give me three minutes, coach, I'll be there. He was a big lift for us. To get the call, I'll be there in three minutes, that's big. And then he comes out here and puts up 22 points; for a sophomore, that's big.

"He was the shooter that we've been missing. This team has been playing hard (but) our shooting has not been good this year and he provided that. He was the big shooter we've been missing all year."

Long was 7-of-11 from the field, 5-of-8 from behind the arc. He scored 17 points in the second half on the strength of all five 3-pointers and two clutch free throws in the final 20 seconds. His third trey gave the Golden Eagles a 49-45 lead in the third quarter. He hit two on either side of a timeout in the fourth quarter to push that lead to 65-56 with about two minutes left.

But as important as his 3s was the one-and-one he calmly converted with 18.6 seconds left to give Jacksonville a 68-64 lead and virtually sealed the game.

"I was thinking here comes the opportunity," Long said. "I've been working for it."

Now, he might just have earned a more permanent seat on the bus. Hunt indicated the Golden Eagles are "probably going to look brand new first of the year" as he prepares to several from the B-team, including Long.

"We're not going to punt anybody, but we're going to change the dynamic a little bit," he said.

That would be just fine with Long, a cousin of former Jacksonville baseball player and current Seattle Mariners infielder Shed Long.

"That would be pretty cool to be on varsity my tenth-grade year," he admitted.

Even with the call Long didn't think he was going to play much against the Bulldogs, who had their 10-gamae season opening winning streak snapped Friday night. But the Golden Eagles needed something to offset the scoring juggernaut that's Piedmont's Alex Odam and Silas Thompson.

Odam scored a career-high 34 points, hitting 11 of 21 shots from the floor, including six 3-pointers. Thompson scored 24, hitting 10 of 19 from the floor, and grabbed nine rebounds. In the first half, Trey McFarland scored the first basket of the game and Malachi Jackson beat the halftime horn; in between it was all Odam and Thompson.

"There were some times in that game where (Odam) had no room for a shot but he got it up and hit it," Hunt said. "That guy is good enough he's going to get his. You just have to somehow try to contain him … enough to keep him at bay."

If Long follows up on his varsity debut it might not be long before they start saying the same thing about him,

Jacksonville 70, Piedmont 67
JACKSONVILLE – Q Long 7-11 3-4 22, Donavon McCain 5-9 3-5 13, Kyrie Maynor 5-7 0-0 12, Jaden Barksdale 2-8 3-6 8, Ron Wiggins 3-7 1-2 7, Hudson Harvey 2-4 0-0 4, Yessman Green 2-6 0-0 4, Nathan Barnwell 0-0 0-0 0. Totals 26-52 10-17 70.
PIEDMONT – Alex Odam 11-21 6-6 34, Silas Thompson 10-19 2-4 24, Trey McFarland 3-4 0-0 7, Malachi Jackson 1-2 0-0 2, Jakari Foster 0-1 0-2 0, Omarion Foster 0-1 0-0 0, Daniel Bussey 0-2 0-0 0, Aaron Hayes 0-0 0-0 0. Totals 25-50 8-12 67.

Jacksonville 20 10 19 21 – 70
Piedmont 11 19 17 20 – 67
3-point goals: Jacksonville 8-16 (Long 5-8, Maynor 2-3, Barksdale 1-3, Wiggins 0-1, Green 0-1); Piedmont 9-23 (Odam 6-14, Thompson 2-4, McFarland 1-2, Jackson 0-1, Bussey 0-2). Rebounds: Jacksonville 30 (McCain 12); Piedmont 30 (Thompson 9, Odam 6). Total fouls: Jacksonville 11, Piedmont 14. Officials: Childs, Wright, Walker.