Cubs remember Kam
Alexandria basketball team plays with heavy hearts following the passing of their teammate; Sunday would have been Crumley's 17th birthday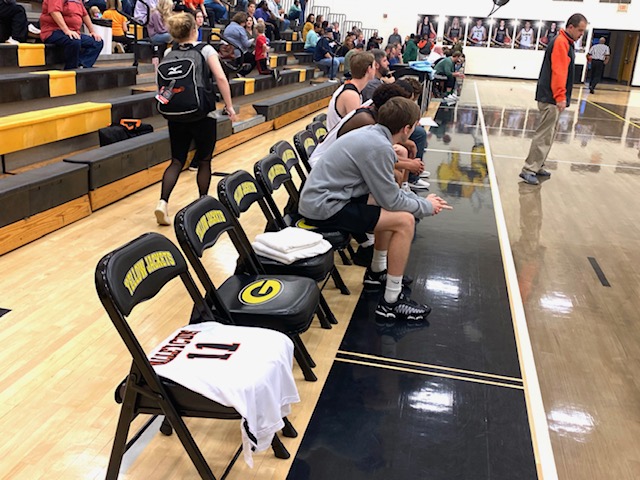 By Al Muskewitz
East Alabama Sports Today
 
GLENCOE – Landan Williams plays hard every time he steps on the basketball court and every game he plays has some meaning, but Saturday there never seemed a more insignificant game in his life.
 
Williams led Alexandria to a 76-46 win over Faith Christian for fifth place in the Glencoe Holiday Shootout, but you could tell his thoughts were someplace else.
 
Earlier in the day his close friend and teammate Kam Crumley had passed away in a Birmingham hospital from injuries sustained in a car accident leaving basketball practice two weeks ago. Doctors were in the process of harvesting his organs so five awaiting recipients may have a chance at life from his cut short.
 
The Valley Cubs quietly took the floor Saturday, but their thoughts certainly were with their teammate. Williams got through it because he knew that's what his friend since second grade would have wanted. As superficial as the stats are on a day like this, the junior post led his team with 16 points, 11 rebounds, a blocked shot and four assists.
 
"It just didn't feel right without him sitting on the bench with us," he said. "But you've got to go through it, you've got to keep going every day."
 
Crumley, a junior guard in his first year on the varsity described by many as a spitfire on the court, had been in the hospital since Dec. 12 receiving care for a serious head injury and several broken bones. The team canceled the game it was scheduled to play the next day and when their teammate's situation took a turn for the worse early Christmas morning the players came together to discuss whether they would even play in this week's tournament.
 
They were either all-in or all-out. They were all-in.
 
"I wanted to play because I just didn't want to sit at home and think about it and stuff," Williams said. "He would want us to play, too."
 
Actually, the games have been a welcomed distraction from the tragedy. Since the accident, the Valley Cubs have gone 6-1 with the only loss coming in the opening round here against eventual champion Lincoln in a game they led by 24 points in the second half. Among the victories was the championship of a pre-Christmas tournament at the nearby Champions Sports Academy.
 
Valley Cubs coach Jason Johnson admitted he was "impressed" with the way his team played over the past two weeks and was "really, really proud" of the maturity Williams has shown during the ordeal.
 
There was nothing that could have made this day easier. Saturday was the day before what would have been Crumley's 17thbirthday.
 
"This was a tough night, trying to get ready to play this one," Johnson said. "It's just been a tough day knowing this was going to be the day the organ harvesting was going to be taking place and I think they knew the finality of all of it was coming."
 
The Valley Cubs honored Crumley's memory Saturday by displaying his No. 11 jersey on a seat on the bench. Johnson said they will continue to honor their friend and teammate during the season but wasn't immediately sure what those plans entailed.
 
"We want to continue to honor him," Johnson said. "One thing Kam did is he always played hard. So wer'e always trying to tell our kids, hey, let's play hard. If you want to honor him play like he played."
 
Crumley's accident didn't just affect the boys basketball program. He was a classmate to many on the girls team, too. In fact, the entire community has thrown its support toward the player and his family in their time of need.
 
"It was a tough day for these girls to play, too," Lady Cubs coach Craig Kiker said after his team edged DAR 48-46 in a consolation game. "Everything that's gone on, I could tell their focus wasn't really on the game, and I can't really blame them.
 
"I know it has affected our team, as it should. They were friends. There was a close group of friends there. We just want to continue to pray for his family and our kids. We just ask people to continue to pray. That's all we can do."
 
That's what both teams did after their game. Terry Kisor, the father of Faith Christian coach Justin Kisor, led both teams in prayer in the center circle moments after the final horn. The Lions also gave a condolence card to Crumley's family, a gesture Johnson called "very classy."
 
"People have been really supportive," said Sherry Johnson, the coach's wife. "They have reached out to Jason and me and his teammates. His absence is most definitely felt."
 
A Celebration of Life service is scheduled for Tuesday, 2 p.m. at Anniston Memorial Funeral Home. The family will receive friends at the funeral home from noon until the service. A balloon release is scheduled for the Valley Cubs' Lou Scales Stadium at 4 p.m.