Back on track
Oxford basketball gets back on track by beating White Plains in its first game in 11 days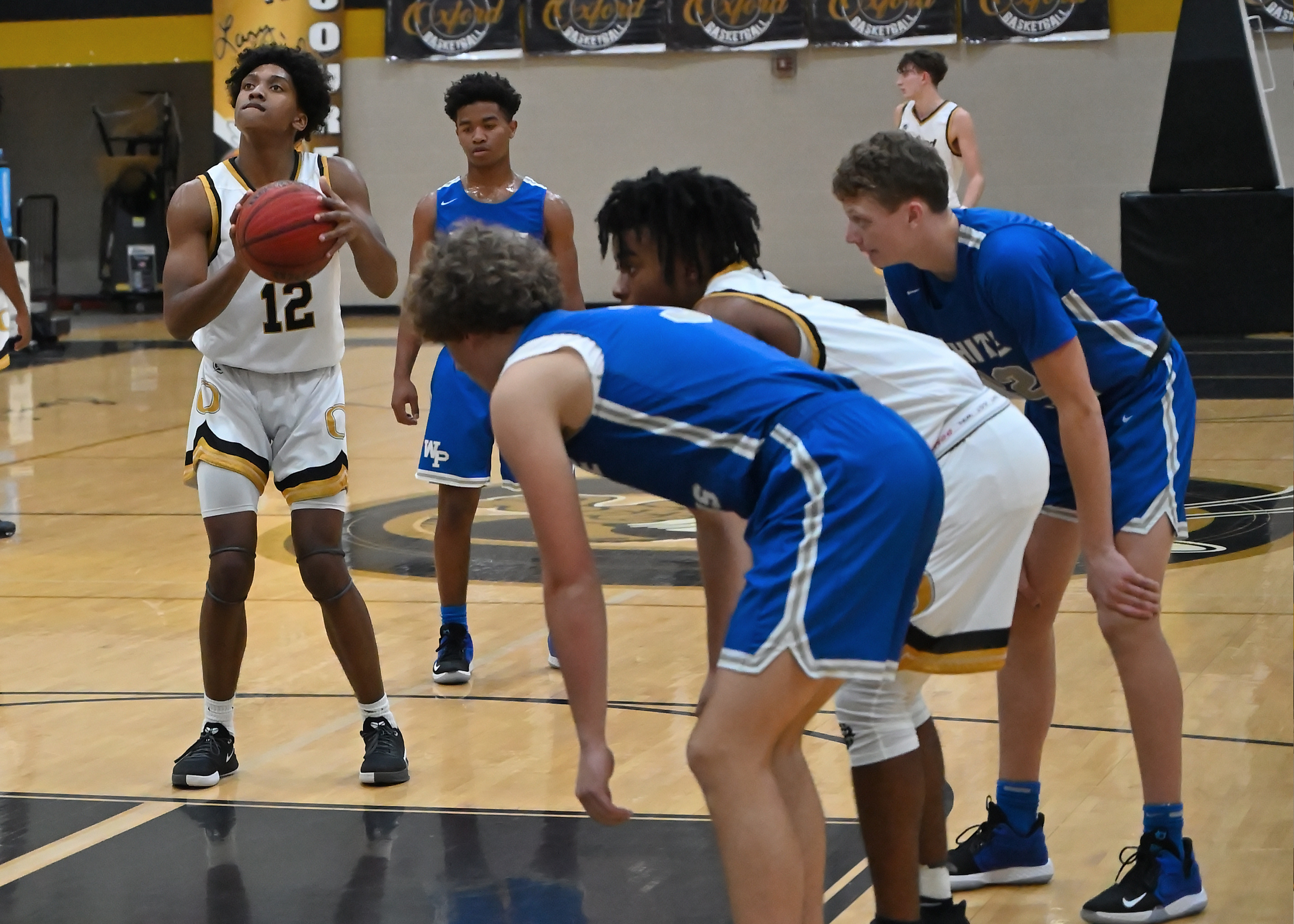 By Al Muskewitz
East Alabama Sports Today
 
OXFORD – It had been 11 days since the Oxford basketball team last played a game. And when they had they suffered their first loss of the season scoring only 26 points.
 
On top of that, they only had eight players available for whatever working out they did. And many of those, like guard Mont McClendon, was right there in the front row cheering on the football team to its first state championship in 26 years Friday night in Auburn.
 
Against that backdrop, if coach Joel VanMeter had any concerns about the Yellow Jackets not being sharp when they returned to the floor Saturday they certainly were justified.
 
So, the Jackets weren't at mid-season form, but they managed to beat White Plains in a version of its own game and got back on the winning track 61-50 at the Sports Arena.
 
"It's just good to play in front of a lot of people and get to the play on a court against another team instead of playing against each other," McClendon said.
 
"I told our guys that will be one of the top three wins we have all year," VanMeter said. "They are a really good basketball team and they do a really good job of making you play the way they want to play, and we've struggled with that in the past. And I thought we struggled with that in the first half, but in the second half we did a much better job of getting what we wanted.
 
"You knew you were going to be rusty, but the way we played had nothing to do with (being) rusted. It had to do with how good they are. I think were rusty, but I don't think that had anything to do with the outcome of the game. I think they were good and we had to come and win a game against a really good competitive team."
 
Oxford could never really shake the Wildcats. The Jackets opened an early 10-2 lead and White Plains rallied to get it tied by quarter's end and took a 13-10 lead on Quin Wilson's 3-pointer early in the second quarter. They went back up 26-17, but the Wildcats cut it back to four at halftime on two free throws by Brody Baker after the clock hit zeroes.
 
The Jackets finally figured them out in the second half. They played to a version of the Xavier "kills" approach where they try to get two consecutive stops coming out of each stoppage of play. They started guarding White Plains' long possessions better and when they got the steal converted it into a layup or dunk and an and-one. It's what fueled their 12-5 run after the Wildcats drew within one with 6:32 left in the third quarter.
 
"They had two runs in the first half and one late in the third that were off their defense," White Plains coach Chris Randall said. "They're touchdowns. They're not picking it and us tackling them; everything when they do that is a dunk. We'd figure and figure to get to four or five and then we'd give up an and-one and it would go back to nine like that (snapping fingers)."
 
"We played their game and were able to win the game," VanMeter said. "Obviously we'd like to maybe play a little bit faster, but we've got to learn to play slower … win games."
 
McClendon "wasn't worried at all" about being rusty because of the work they do in practice. It was obvious the one thing they practiced during their down time was free throws. They were 22 of 26 from the line against the Wildcats. At one point, they had hit 10 in a row and 16 of 17. McClendon was 6-for-6, while Kobe Warren and Justin Moore were both 6-for-8. The other three Jackets who went to the line didn't miss.
 
"We practice foul shots every day," McClendon said. "We shoot foul shots for like five minutes a day. Today, we had to make 20 free throws before we left the gym (in the morning shootaround)." 
 
Actually, it was the previous two days they had to make 20 before leaving.
 
"Here's the thing: Free throw shooting's all in your mind," VanMeter said. "You've got to be confident. If you're confident when you step up there you're going to make them. If you're not confident you're probably going to miss them."
 
Oxford 61, White Plains 50
WHITE PLAINS – Coleman Messer 3 0-0 6, Quin Wilson 3 1-1 7, Jaden Chatman 4 3-4 13, Jacob Wheeler 1 0-0 3, Landon Senciboy 2 1-1 5, Brody Baker 5 3-5 14, Walker O'Steen 0 0-0 0, Kahlil Williams 0 0-0 0, Garrett Wilson 0 0-0 0. Totals 18 8-11 50.
OXFORD – Zondrick Garrett 5 1-1 11, Rylan Houck 3 1-1 7, Mont McClendon 5 6-6 16, Kobe Warren 1 6-8 9, Bakari Dailey 0 0-0 0, Justin Moore 5 6-8 16, Milas Jackson 0 2-2 2, Ethan Page 0 0-0 0. Totals 19 22-26 61.
 
White Plains        10  15 13  12  –  50
Oxford                   10  21 14  16  –  61
3-point goals: White Plains 6 (Q. Wilson 2, Chatman 2, Wheeler, Baker); Oxford 1 (Warren). Fouled out: Chatman, Garrett. Total fouls: White Plains 17, Oxford 17. Officials: Kelley, Howell, Hollingsworth.