Golden Eagles denied
UMS-Wright's defense stifles Jacksonville's dream of winning a state championship; Wiggins breaks county single-season rushing record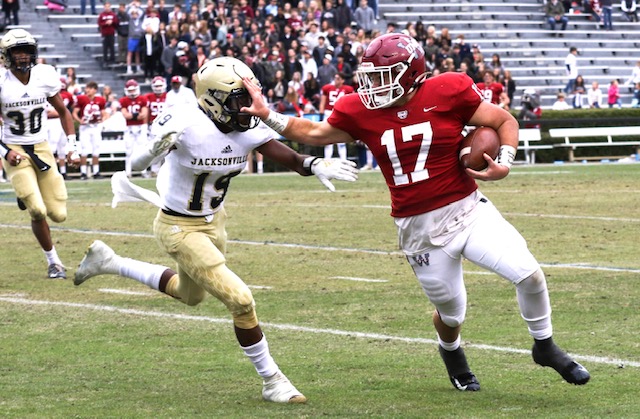 By Al Muskewitz
East Alabama Sports Today

AUBURN – Jacksonville's historic season ended on a gray day at Jordan-Hare Stadium because the team on the other sideline Friday finally figured a way to stop what the Golden Eagles do best.

Ron Wiggins broke off a 79-yard touchdown run in the first two minutes of the Class 4A state championship game, but UMS-Wright held him to 100 yards the rest of the day and went on to beat the Golden Eagles 28-17.

It was the Bulldogs' third straight state title, the eighth for head coach Terry Curtis and extended what Curtis called an "amazing" streak of 33 straight victories. They are expected to be elevated to Class 5A in the next round of reclassification due to the AHSAA's competitive balance rule for private schools.

It was the first time Wiggins had been held to less than 200 yards rushing this playoff season. He did, however, break Calhoun County's single-season rushing record, finishing with 2,835 yards. He had 1,132 yards and 20 touchdowns in five playoff games.

The game started out so well for the Golden Eagles (12-3), who had never made it past the second round in any of their program's previous 10 playoff appearances.

On the fourth play from scrimmage and his second carry of the game, Wiggins got to the outside and raced 79 down the Jacksonville sideline to stun the two-time reigning state champs.

"The feeling was surreal," Wiggins said. "Knowing I broke a big run against a UMS team that a lot of people hadn't put up numbers or points against this whole season was a pretty good feeling. It brought momentum to the team after the score. We had the momentum but they just made more plays than us."

Thanks to the big run, Wiggins had 105 yards in the first quarter, but the Bulldogs (14-0) held him to 74 the rest of the game.

Meanwhile, a Bulldog defense that had been giving up less than seven points a game this season and not more than 14 points in any game kept the Golden Eagles out of the end zone until the fourth quarter. Every time Jacksonville lined up in its bunch set, UMS-Wright would shift its linemen to that side and a linebacker would come out to help.

"I think that first run was probably a little our fault," said Curtis, who tied Hoover's Josh Niblett and Clay Central's Danny Horn for most state titles in the AHSAA. "No, I don't mean that. It wasn't our fault. We just weren't used to that kind of speed. You could just see when he got that corner and turned it on we had guys who had angles and they weren't going to catch him. Any time a guy has 3,000 yards, 50 touchdowns, I don't care what competition he's playing, he's pretty good and he showed it today how good he is."

"I'm pretty sure they knew every time we would run it," Wiggins said. "That's why after that we really couldn't run that sweep anymore."

"We really struggled getting into a rhythm offensively and they had a lot to do with that," Jacksonville coach Clint Smith said.

Bulldogs linebacker Will Brelend, who easily could have been the MVP if it went to a defensive player, was seemingly everywhere. He had 8.5 total tackles, including 2.5 for loss and recovered a fumble.

"Like coach said we can't really imitate his kind of speed in practice and we just had to get used to it," Breland said. "We were watching him on film and we knew he was fast, but film's deceiving and when you get in a ballgame everything changes. Once we got used to his speed and we knew which gaps we had to fill, when and where, and a couple of those plays we had guys in the right spot. On that one play he just found a crease we hadn't got to yet and he hit it and took it to the house, but after that we really settled in and … figured him out."

He added if the Bulldogs could find a way to limit Wiggins they felt comfortable defending whatever passing the Golden Eagles threw at them. Jacksonville quarterback Luke Jackson was 11-of-20 for 132 yards, but he had a 57-yard scoring pass to Jaeden Barksdale with 1:28 to play. The Bulldogs intercepted him twice.

"We knew we had to stop that running game and get our offense the ball and get them to score some points," Breland said.

The Bulldogs took advantage of great field position to threaten the rest of the half and, though Jacksonville's defense put up a fight, took a 14-7 halftime lead on a 4-yard Trey Singleton pass to Jay Lawrence with seven seconds left in the second quarter. The Bulldogs' average starting position in the half was the Jacksonville 45.

"Field position was tough on us," Smith said. "But I felt defensively we kept playing hard, we kept getting stops. They made a big catch at the end, but that's the game. I was proud of how we battled all the way around."

The Golden Eagles were still in the game entering the fourth quarter. They drove it to the 10 looking to tie it, but UMS-Wright held them to a 26-yard Terrell Mason field goal to make it 14-10 with 9:12 to play. The Bulldogs responded with a 4-yard touchdown pass from Singleton to Richard Brinson, who lined up as the left tight end and came all the way across the field to catch the pass wide open.

The drive was extended when Keyshawn Woodyard pulled down a 50-50 ball against Yessman Green to get to the 10. Curtis called both short touchdown passes "two-point plays" he keeps on file for "the right time" in any goal-line situation.

"We knew against their size and all, we've had trouble punching in, running the ball, in goal-line situations all year," Curtis said.

"That's what good teams do," Smith said. "I felt like we got some momentum with that (field goal), but they made some big plays offensively on that next drive and was able to make the big play. Going in at halftime down 14-7 we felt pretty good about where we were the way it went, but they made more plays than we did. They made plays when they needed to. I felt like we played well, we played hard, but they made some plays when they needed to."

UMS-Wright running back Symon Smith was the game's MVP. He rushed for 139 yards on 28 carries and gave the Bulldogs a 28-10 lead with a 12-yard touchdown run with 2:04 to play. The Golden Eagles answered with Jackson's long pass play to Barksdale.

| | | |
| --- | --- | --- |
| Jville (17) | | UMSW (28) |
| 14 | 1D | 14 |
| 35-179 | Run | 44-196 |
| 11-20-2 | CAI | 9-19-0 |
| 132 | Pass | 54 |
| 1-1 | F-L | 1-0 |
| 4-34.2 | Punt | 4-26.5 |
| 7-75 | Pens | 3-26 |
CLASS 4A CHAMPIONSHIP GAME
UMS-Wright 28, Jacksonville 17
Jacksonville 7 0 0 10 – 17
UMS-Wright 7 7 0 14 – 28
Scoring plays
J – Ron Wiggins 79 run (Mason Terrell kick), 10:18 1Q
U – Richard Brinson 24 run (Pfilip Hunt kick), 1:17 1Q
U – Jay Lawrence 4 pass from Trey Singleton (Pfilip Hunt kick), 0:07 2Q
J – Mason Terrell 26 FG, 9:12 4Q
U – Richard Brinson 4 pass from Trey Singleton (Pfilip Hunt kick), 6:06 4Q
U – Symon Smith 12 run (Pfilip Hunt kick), 2:04 4Q
J – Jaeden Barksdale 57 pass from Luke Jackson (Mason Terrell kick), 1:18 4Q
Individual statistics
RUSHING – Jacksonville: Ron Wiggins 24-179, Jae-Taj Morris 4-20, Jaeden Barksdale 1-7, Yessman Green 1-(-6), Luke Jackson 3-(-11). UMS-Wright: Symon Smith 28-139, Richard Branson 3-29, Trey Singleton 6-21, Edwin White 3-9, Clark Turner 1-5, Sutton Snypes 1-(-2), Barton Elliott 2-(-5).

PASSING – Jacksonville: Luke Jackson 11-20-2, 132 yards; UMS-Wright: Trey Singleton 9-19-0, 54 yards.

RECEIVING – Jacksonville: Jaeden Barksdale 4-82, Yessman Green 3-22, Kyre Maynor 2-12, Sam Dingler 1-13, Quintavius Long 1-3. UMS-Wright: Keyshawn Woodyard 3-35, Richard Brinson 2-8, Jay Lawrence 1-4, Ben Price 1-4, Simon Smith 1-2, Kade Beard 1-1.