The wait is over
Oxford overcomes adversity, a wild fourth quarter and scores a last-minute touchdown to win Class 6A state football championship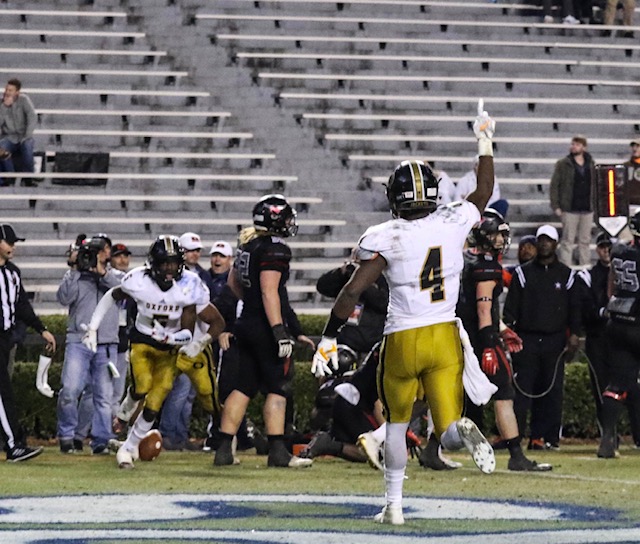 By Al Muskewitz
East Alabama Sports Today

AUBURN – Nothing was going to keep Trey Higgins from taking the snap in the victory formation on the last play of the state championship game.

Just as nothing was going to deter Zay Britt from taking the Oxford offense to the game-winning touchdown. And once he had done that, he gladly deferred as the Yellow Jackets' regular quarterback hobbled back onto the field for the final, glorious snap of the game.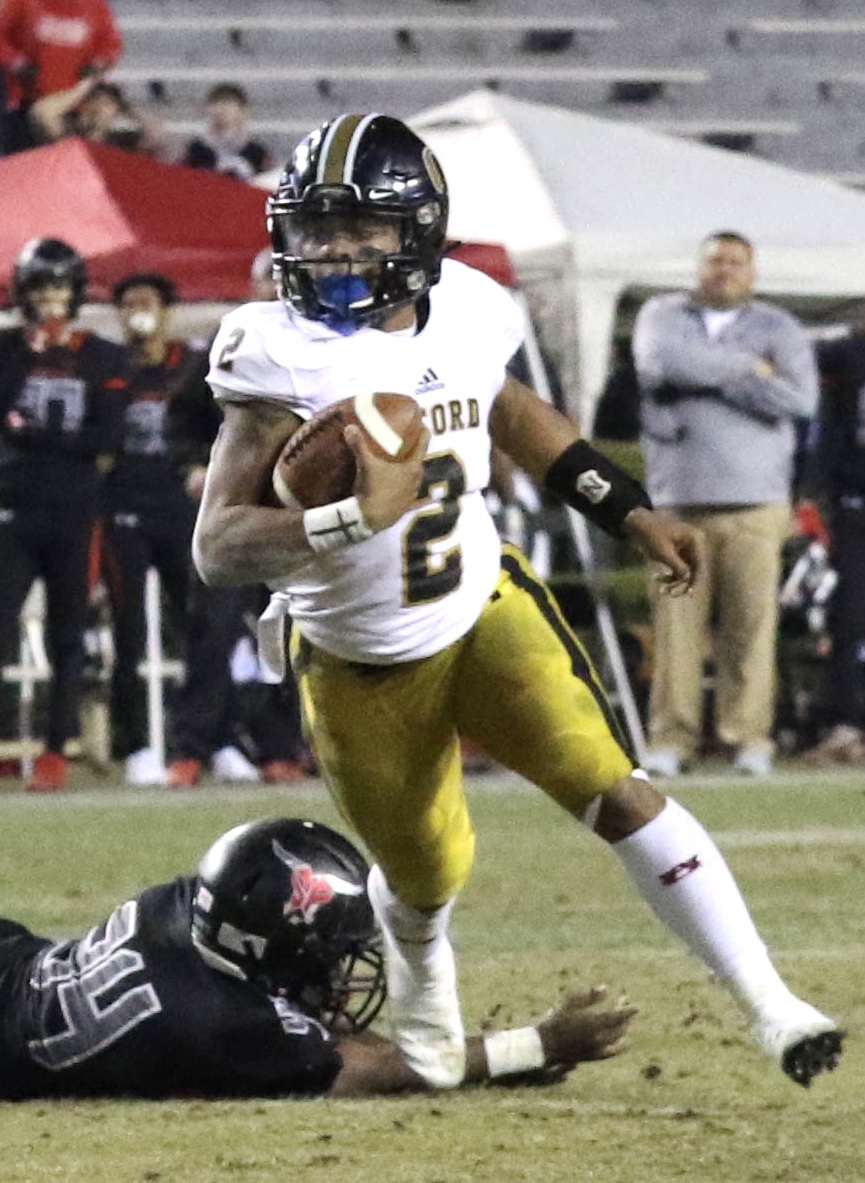 Higgins left the game with a rolled ankle on the Jackets' first possession of the second half, leaving the fortunes of the offense in the biggest game of the year to his understudy.

Britt ran the offense like a veteran in the wild fourth quarter, taking the Jackets 43 yards in four plays – with no time outs – to produce a 14-13 victory over Spanish Fort for the Class 6A state football title at Auburn's Jordan-Hare Stadium.

Trequon Fegans scored the tying touchdown on a 3-yard run with 23 seconds to play and Andrew Warhurst kicked the extra point to give the Jackets (14-1) their first state title since 1993.

"Twenty-six years too long," Higgins said.

Higgins was the quarterback who led the Yellow Jackets into the position they were in Friday, but the ankle injury he sustained on a two-yard run in the third quarter made it too risky to continue. That forced the Jackets to turn to their senior backup.

Britt, who came to Oxford two years ago after his home in Munford burned down, handled the assignment with the poise of a veteran. He threw for 66 yards on 2-of-4 passing, ran for 41 yards on seven carries and for his steadying influence was named the game's MVP.

"I feel on top of the world," Britt said. "I've been through a lot of adversity in my life and I'm not going to lie to you I got so frustrated I had to sit and talk with God for a long time. My dad and mom were telling me just trust the process, your time will come … I trusted the process and it's sure paid off. I can't even describe the emotions coming out of my mind right now."

The Jackets started their championship-winning drive from the Spanish Fort 43 with 1:43 to play. Britt ran the first three snaps 4, 24 and 8 yards, getting the ball to the 7 and forcing the Toros to call time with 35 seconds left.

"In my mind I'm not letting my teammates down; we worked too hard for this," Britt said. "I've been on those stadium steps at Lamar Field running up and down. I couldn't give up on them right now. I was like I've got y'all's back. We've been in this situation before, we've faced a lot of adversity this season, and it paid off in the end.."

Britt floated a pass to Rock Taylor in the left corner of the end zone and got a pass interference call against Toros defender Micah Gaffney. On the next play, Fegans came around his right end and got into the end zone for the tying touchdown.

The Jackets still needed the extra point to win and Andrew Warhurst nailed it to give Oxford its first lead of the second half.

The winning drive capped a wild final eight minutes that included some of the more dramatic plays and decisions of the season.

The sequence began when Spanish Fort's Logan Gainey blocked a 44-yard Warhurst field goal attempt that would've given Oxford a 10-7 lead. Micah Gainey picked it up and returned it 63 yards before being knocked out of bounds at the 2 by a brilliant defensive recovery by Miguel Mitchell.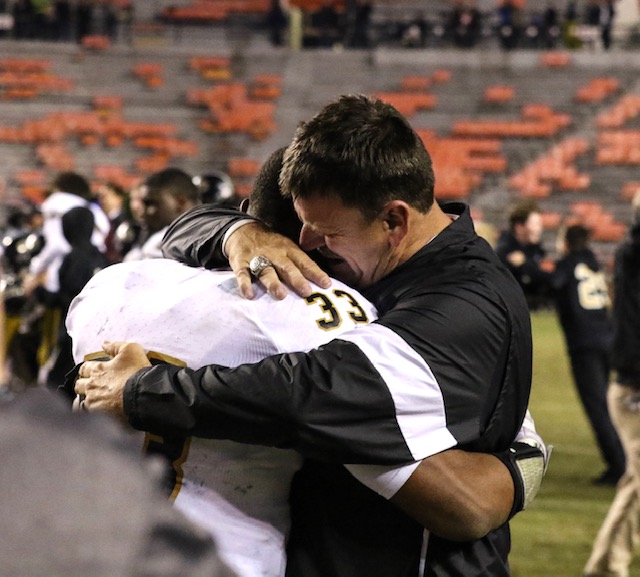 On the series that followed the Toros had a touchdown denied with 6:19 to play when a replay challenge ruled Kris Abrams-Draine, another receiver-turned-quarterback, down before crossing the goal line and reset thé ball at the one-foot line. Then on the next snap, on fourth down, Abrams-Draine tried the left side of the pile, but the ball came loose and Travis McGowan flopped on it in the end zone. Tanner Keesee missed the extra point and kept it 14-13.

There was even more bizarreness after that. The Jackets drove into the red zone, but turned it over on downs inside the 15 when J.B. Carlisle was stopped at the line of scrimmage. The officials replaced the ball at the 13, re-measured and the Jackets still came up short. Tavares Elston and Chanceton Holifield threw the Toros for a big loss on first down, Spanish Fort eventually was forced to punt and the Jackets took over to start the game-winning drive.

"It's a game of inches," said Oxford coach Keith Etheredge, who won the ' hardest fought' of his five overall state titles in his first year with the Jackets. "We almost lost by inches and you end up coming back and winning by inches. These kids came through and made plays when they had to.

"I guarantee you there's some patches of gray in my hair from the last three ballgames, but every one of them have been fights like right there and our guys have willed themselves to wins … To win it like we won it, it ends our season in a perfect way."

There was still time on the clock after the Jackets went ahead, but the Toros mishandled the kickoff and Oxford recovered allowing it to go into Victory Formation to seal the championship. That was something Higgins wasn't going to miss being a part of for the world.

"That was my last snap ever with those seniors," he said after his teammates helped him hobble into the post-game interview room. "It was just honoring this season. I felt like I put the exclamation point on our season. That's the last time I'll ever get to play with them and I wanted to finish it out one last time."

"He came over to me," Etheredge said. "I wasn't going to put him back in because I don't want to risk him getting hurt. He's got a bright future; he's gonna be huge for us. He came over to me and said I want to take this knee. I'm never going to tell a kid no, especially in that situation, with all he's done for this program, this team. I said go take that snap and put it on the knee. Zay backed up; he's always our safety guy in that. It worked out perfect."

And now the Jackets have a memory of a lifetime.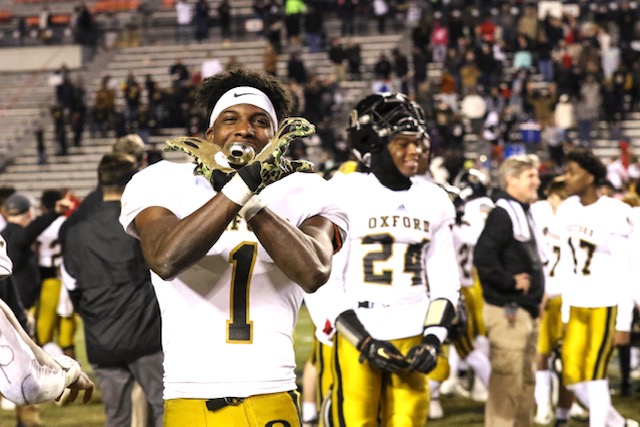 | | | |
| --- | --- | --- |
| Oxf (14) | | SF (13) |
| 20 | 1D | 14 |
| 48-235 | Run | 47-202 |
| 7-15-1 | CAI | 2-6-0 |
| 113 | Pass | 40 |
| 0-0 | F-L | 2-1 |
| 3-39.7 | Punt | 5-28.6 |
| 4-35 | Pens | 6-50 |
CLASS 6A CHAMPIONSHIP GAME
Oxford 14, Spanish Fort 13
Oxford 0 7 0 7 – 14
Spanish Fort 0 0 7 6 – 13
Scoring plays
O – J.B. Carlisle 13 run (Andrew Warhurst kick), 2:05 2Q
SF – Johnny Morris 15 pass from Kris Abrams-Draine (Tanner Keesee kick), 3:00 3Q
SF – Travis McGowan fumble recovery in end zone (kick failed), 6:12 4Q
O – Trequon Fegans 3 run (Andrew Warhurst kick), 0:23 4Q

Individual statistics
RUSHING – Oxford: J.B. Carlisle 18-93, Trey Higgins 17-70, Zay Britt 7-41, Trequon Fegans 4-27, Devion Ball 1-4, Jaylen Swain 0-1. Spanish Fort: Johnny Morris 18-100, Kris Abrams-Draine 18-83, Travis McGowan 4-12, Chico Hixon 6-9, Patrick Brazil 1-(-2).

PASSING – Oxford: Trey Higgins 5-11-1, 47 yards; Zay Britt 2-4-0, 66 yards. Spanish Fort: Kris Abrams-Draine 1-5-0, 15 yards; Christian Burkhalter 1-1-0, 25 yards.

RECEIVING – Oxford: Rock Taylor 4-87, Zay Britt 2-16, Devion Ball 1-10. Spanish Fort: Kris Abrams-Draine 1-25, Johnny Morris 1-15.