Vols go back-to-back
Clay Central stops Pleasant Grove's final play short of the goal line, gives Horn record eighth state title as coach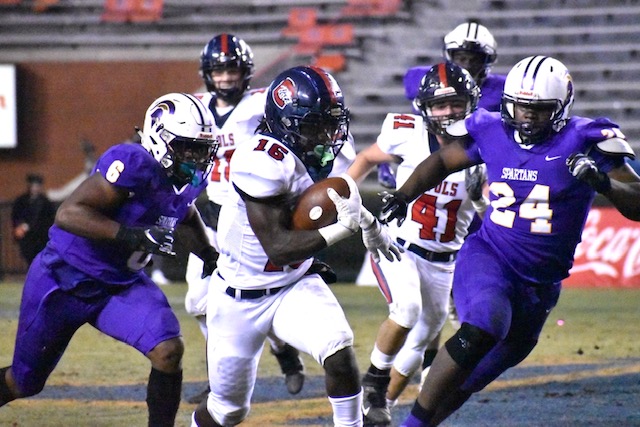 By Jeremy Wortham
For East Alabama Sports Today

AUBURN – Defense was the reason Clay Central got back to the Class 5A state championship game and defense was the reason they won it again and gave coach Danny Horn a milestone victory in his career.

The Vols stopped Pleasant Grove quarterback Zyquez Perryman on the last play of the game one yard short of the end zone as time expired, preserving a 31-27 victory Thursday night at Jordan-Hare Stadium. They won last year's title by scoring a touchdown with 43 seconds left.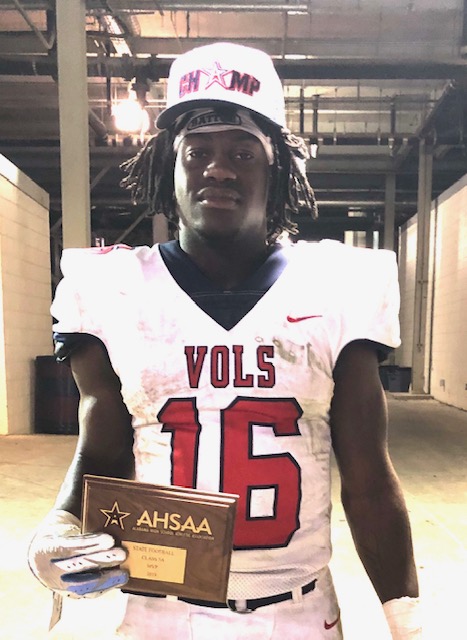 "This group really worked hard," Horn said immediately after the game. "I don't know why every time we play it comes down to the last play, but praise the Lord we made one more play than they did at the end.
 
"We don't have a lot in Clay County, but we do have heart. I'm just so thankful to be a part of that."
 
The win gave Horn his record eighth state title as a head coach in his 400th career game, tying him with Hoover's Josh Niblett for most state championships as a head coach in the AHSAA. He won his first six at Clay County before it merged with Lineville for a consolidated high school eight years ago. He has played for the state title 10 times.
 
"I know I don't deserve it, but the good Lord's been good to me over the years," Horn said.
 
Vols running back Quentin Knight was named most valuable player. He rushed for 181 yards and two touchdowns on 23 carries. He scored on runs of 2 and 18 yards.
 
"I've worked hard in the summer, not getting hurt and just staying healthy," Knight said. "It feels good to see my hard work pay off."
 
Perryman completed 25 of 43 passes for 316 yards and four touchdowns for Pleasant Grove.

On the final play of the game Perryman snapped the ball from the 10 and dropped back to pass. He was flushed from the pocket and took off for the end zone. J.D. McNealey and Javon Wood met him just inside the 2 and stopped his progress just shy of the goal line. The Spartans (13-2) had no time outs left, having lost their final one on a failed spot challenge earlier in the drive.
 
"I saw him running and I thought, I'd rather see him run than pass," Horn said.
 
"I knew I had to get him before he got in there," McNealey said.
 
The Vols (13-2) didn't take their first lead of the game until 10:21 in the third quarter when McNealey found the end zone from 30 yards out. Knight added his second touchdown of the game to widen the gap to a two-score lead. They rushed for 278 yards as a team.
 
"I knew if I didn't run the ball good and we didn't win the line of scrimmage then we weren't going to win the game," Knight said.
 
"I've always said you got to be able to run the ball and stop the run to win state championships," Horn said.
 
The Spartans (13-2) started to find their footing again and battled back with two unanswered scores to regain momentum and a 27-24 lead in the fourth.
 
They then held the Vols deep in their end to force the punt. A high snap went over Clay Yates head and out of the back of the end zone, but the Vols avoided being charged with the safety on account of a false start. With less room to work in the end zone Yates had another poor snap that forced him to rugby kick the ball.
 
The botched punt was recovered after being muffed by the Spartans to put the Volunteers at midfield and gave their offense a second chance at redemption.
 
A check-off play was a pass from Boyd Ogles to Javon Wood that set them up at the 1 for McNealey to punch it in to keep the Vols' hope of a back-to-back state title alive. 
 
"The botched punt was a really big turning point and gave us some momentum," Horn said. "Luck has a lot to do with football.
 
"We had good field position and wanted to eat up some clock. Ogles saw something he didn't like and checked off and threw it over there (to Wood) because (the defender) played way off him."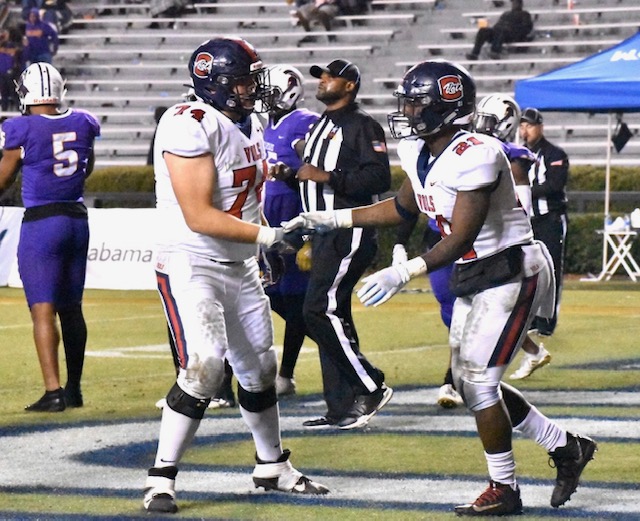 | | | |
| --- | --- | --- |
| CC (31) | | PG (27) |
| 16 | 1D | 25 |
| 41-278 | Run | 28-111 |
| 4-11 | CA | 25-43 |
| 74 | Pass | 316 |
| 1-1 | F-L | 2-1 |
| 3-37.0 | Punt | 3-26.0 |
| 8-75 | Pens | 7-56 |
Clay Central 0 10 14 7 – 31
Pleasant Grove 7 6 7 7 – 27
Scoring plays
P – Xavier Hill 17 pass from Zyquez Perryman (Leon Rodriguez kick), 5:43 1Q
C – Quentin Knight 2 run (Clayton Yates kick), 8:34 2Q
P – Christian Lewis 40 pass from Zyquez Perryman (kick failed), 3:44 2Q
C – Clayton Yates 22 FG, 1:21 2Q
C – JD McNealey 30 run (Clayton Yates kick), 10:21 3Q
C – Quentin Knight 18 run (Clayton Yates kick), 4:34 3Q
P – Christian Lewis 14 pass from Zyquez Perryman (Leon Rodriguez kick), 1:10 3Q
P – Xavier Hill 23 pass from Zyquez Perryman (Leon Rodriguez kick), 11:15 4Q
C – JD McNealey 1 run (Clayton Yates kick), 7:25 4Q