Incredible finish
Oxford scores two touchdowns in final 1:12 and holds off Pinson Valley to reach Class 6A finals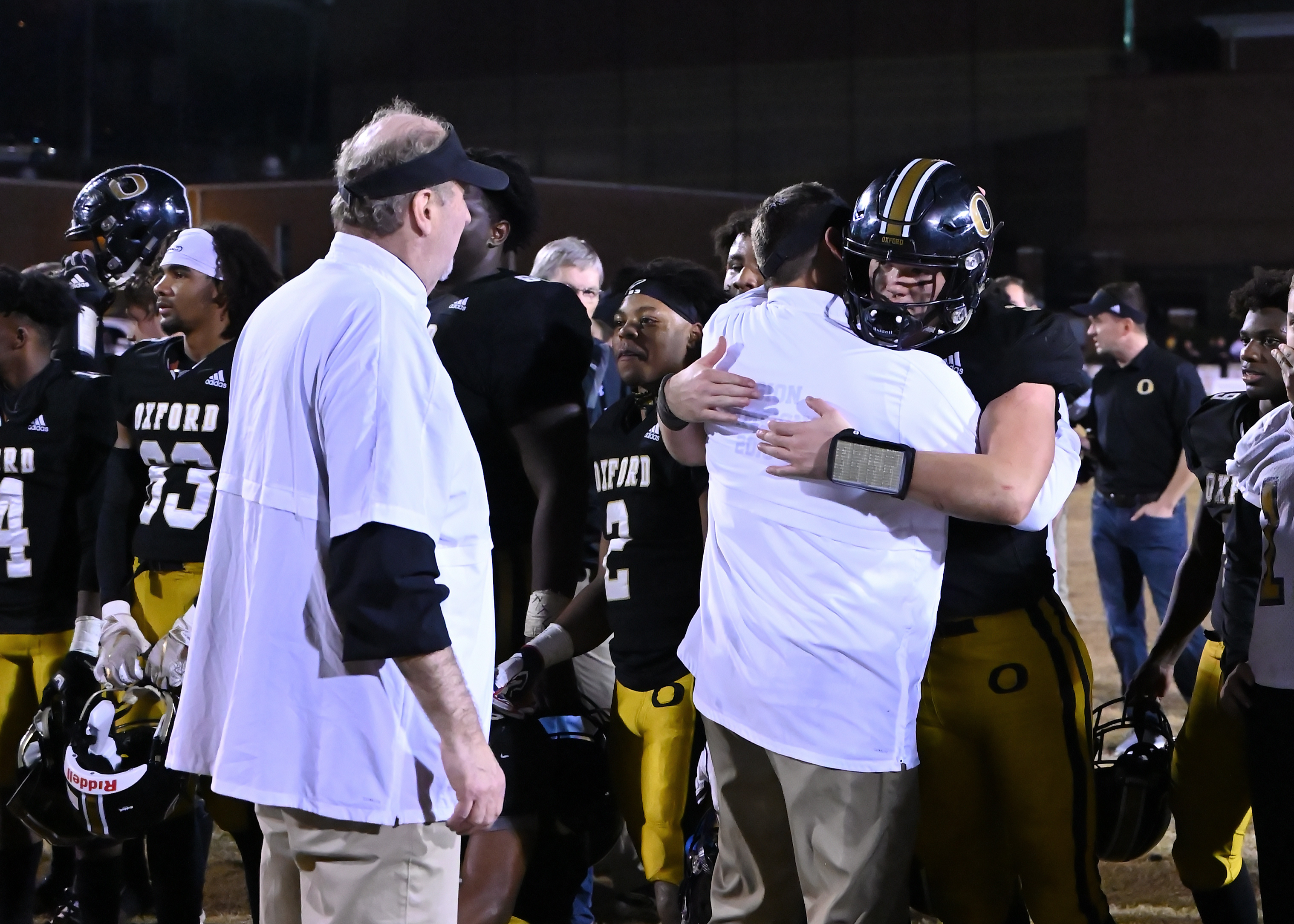 By Brant Locklier
For East Alabama Sports Today

OXFORD –– Rock Taylor made a leaping fourth-down catch in the corner of the end zone on a pass from Trey Higgins with 1:12 left in the game to give Oxford the lead for good as the Yellow Jackets stunned two-time defending state champion Pinson Valley 31-28 in a wild Class 6A semifinal playoff game Friday night at Lamar Field.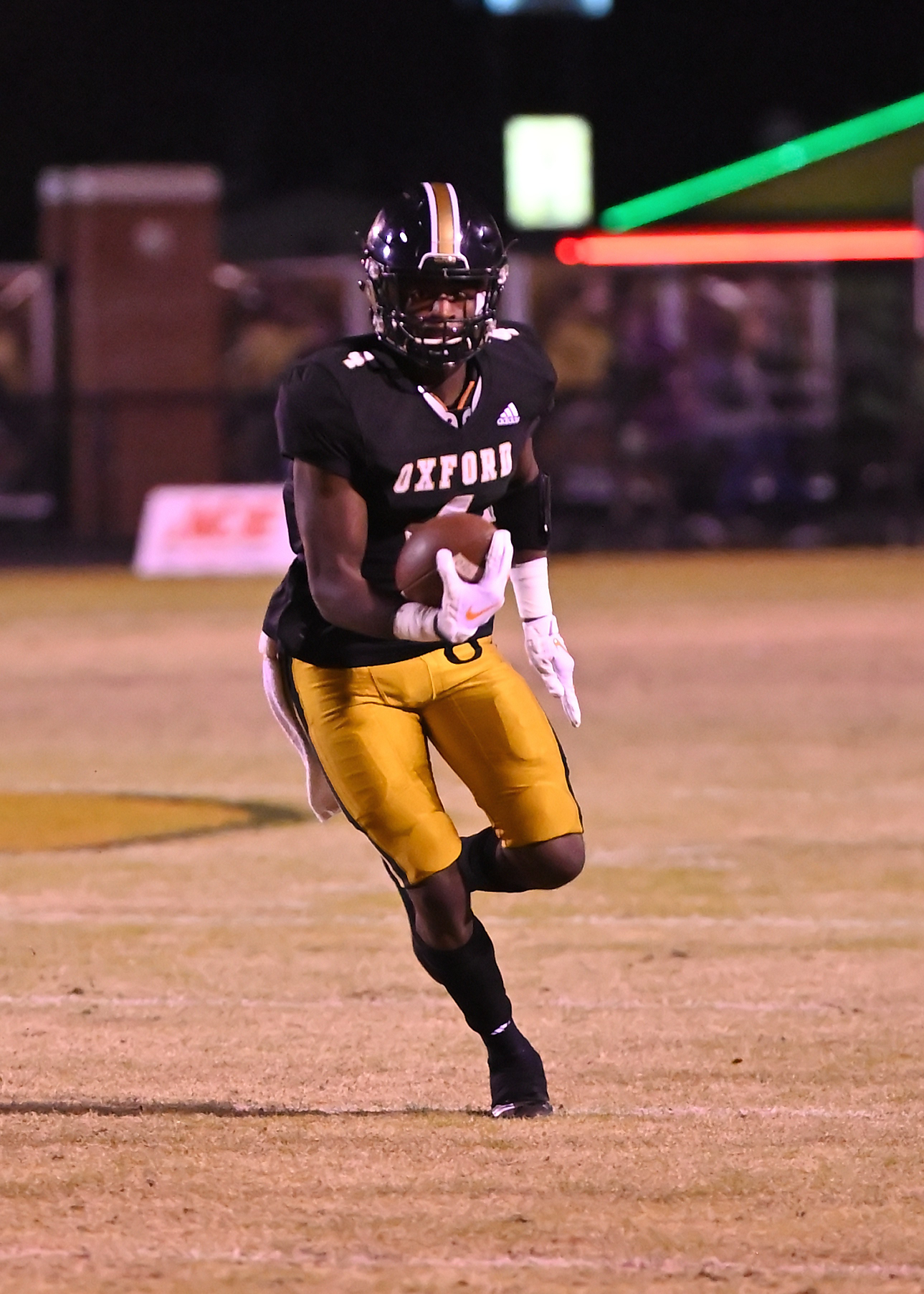 The win sends the Jackets (13-1) to the state championship game for the first time in 26 years. They will play Spanish Fort (9-4) Friday at 7 p.m. in Auburn's Jordan-Hare Stadium.

"Coach said, 'Rock we are going to run this play for you. We have saved it for just this moment,'" Taylor recalled. "I was to try and make him go inside and I was to break for the outside and I just got up there and got it.

"I was not going to drop that ball. Everything was on the line. It means so much for us. It was a great pass and we get to play for the state championship next week."

It was on Oxford team (13-1) that just kept coming and coming at the Indians (11-3). The Jackets were plagued by two fumbles, two interceptions, were stopped on downs twice and missed a field goal in the red zone.

But they made the play when it counted most.

"These kids have the heart of a champion, they just willed themselves down the field on that last drive," said Oxford coach Keith Etheredge, who will be coaching in the state title game for the sixth time in his career. "Rock, Trey (Higgins), Zay (Britt), J.B. (Carlisle) all made great plays and the defense kept getting the ball back.

"I am so proud of this team, our coaches and this community. They deserved this win."

The Taylor catch gave Oxford a 24-21 lead with just over a minute left in the game. Sophomore Trequon Fegans then stepped in front of a pass by Indians quarterback Barry White and returned it 37 yards for another Oxford touchdown right in front of the delirious band and Oxford was up 31-21.

The Indians were not done, though, and covered 75 yards in three plays as White hooked up with a 60-yard pass to Keyonteze Johnson and a 15-yard scoring strike to Johnson. The Oxford lead was just 31-28 with 32 seconds left.

Oxford covered the ensuing onsides kick and ran out the clock to seal its first trip to the state championship game as a 6A school.

It was a war from the start as the two teams picked right up where they left off from in Oxford's thrilling 34-33 win earlier in the season.

The Jackets rolled down the field 61 yards in five plays. Higgins had a 13-yard run, Taylor bolted 25 yards on a pass from Higgins and Carlisle, who was hurt early in the regular-season meeting with the Indians, got the touchdown on a 15-yard run.
 
Pinson Valley went to work as White struck paydirt on a 79-yard pass to Ga'quincy Mckinstry to tie the game.
 
The Jackets stormed back and got a 35-yard field goal from Andrew Warhurst. But then White connected with Kennedy Thomas and the Indians took a 14-10 halftime lead.

The Indians stormed out of the halftime with a quick 65-yard drive ending on a 5-yard pass to Mckinstry and led 21-10. The 20-3 scoring run by the Indians was very similar to the way they jumped out 19-0 in the first meeting between the teams.
 
Once again Oxford made some adjustments with the defense and would shut the Indians down to nothing until the last 45 seconds of the game.

Higgins hit Taylor on a 62-yard scoring pass to narrow the margin to 21-17 and set the stage for the late Oxford scoring drive to put them ahead.

Taylor caught five passes for 123 yards and two touchdowns. Britt had three catches for 56 yards. Carlisle carried 13 times for 75 yards and Higgins rushed 26 times for 132 yards.
 
In the two games between the teams this year Oxford scored 65 points while Pinson Valley scored 61 points. The Jackets had a combined 726 total yards, while the Indians had 708 yards and both times Oxford won on a leaping catch at the goal line.
 
Both teams committed only eight penalties combined in the two games and Oxford had 34 combined first downs to 31 for Pinson Valley.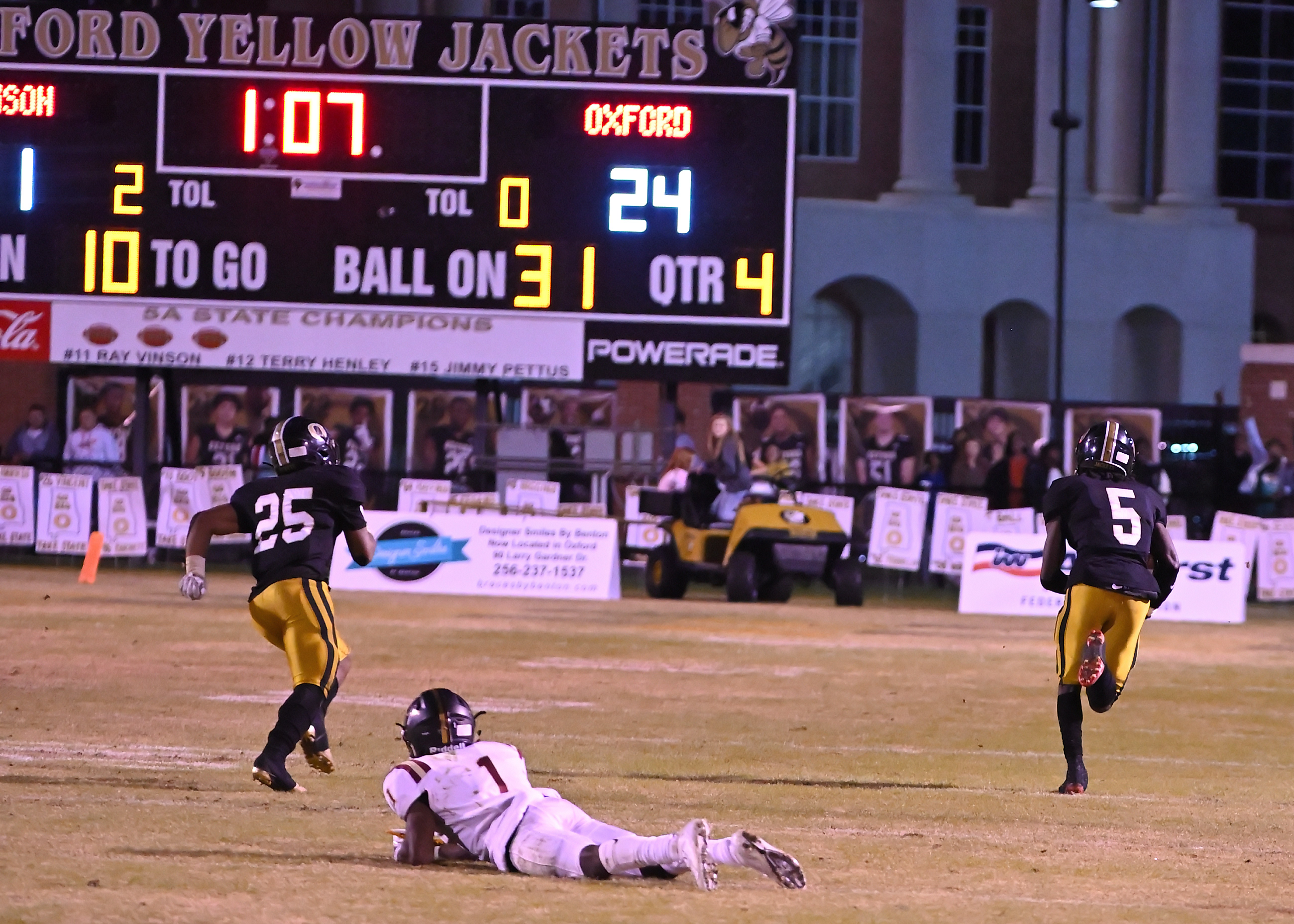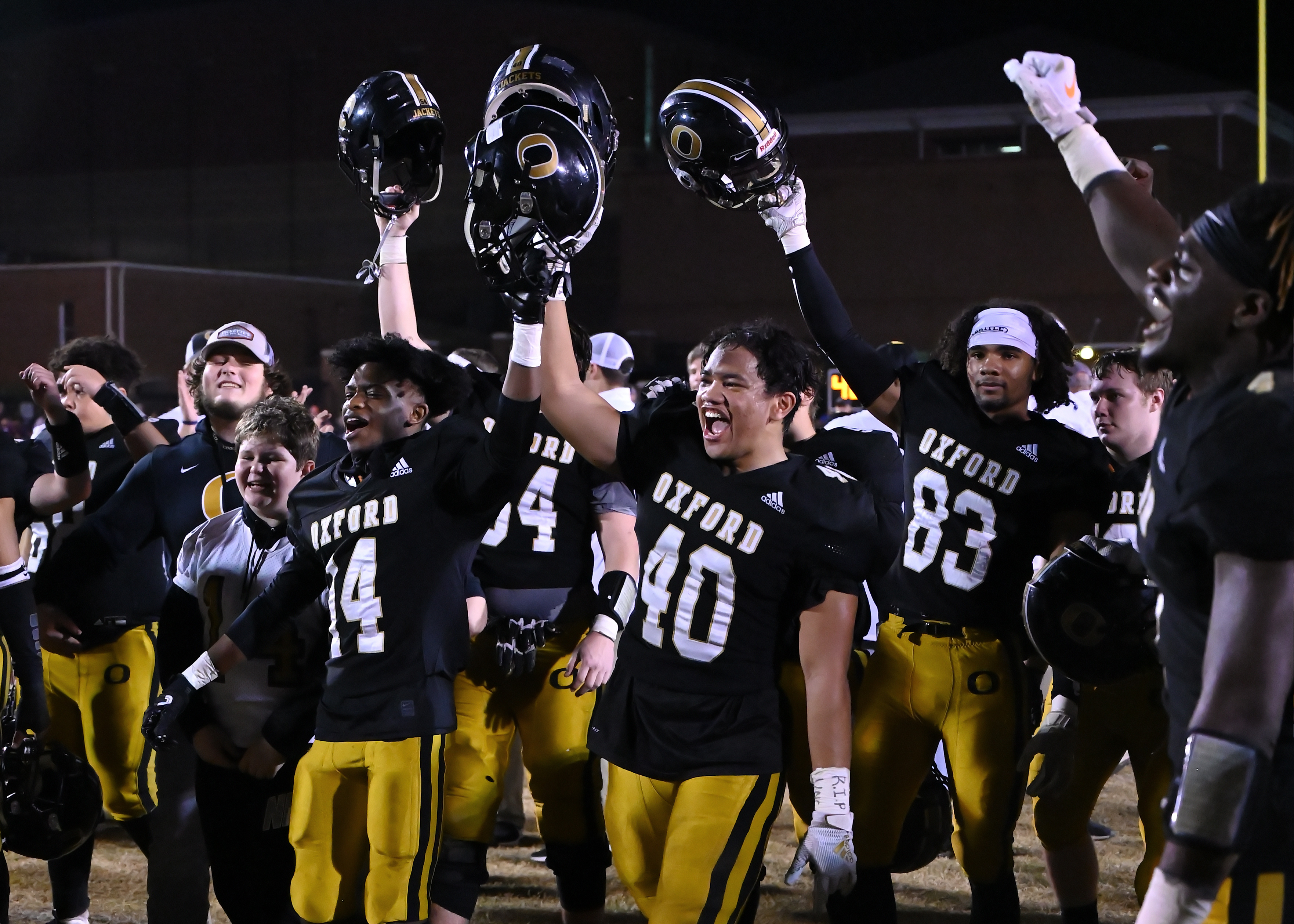 | | | |
| --- | --- | --- |
| PV (28) | | Oxf (31) |
| 14 | 1D | 22 |
| 21-40 | Run | 39-173 |
| 11-22-1 | CAI | 11-19-2 |
| 283 | Pass | 186 |
| 1-1 | F-L | 2-2 |
| 4-34.2 | Punt | 2-31.0 |
| 5-50 | Pens | 3-20 |

Pinson Valley 7 7 7 7 – 28
Oxford 10 0 7 14 – 31
Scoring Plays
O – J.B Carlisle 15 run (Andrew Warhurst kick), 10:00 1Q
PV – Ga'quincy McKinstry 79 pass from Barry White (Jay Jackson kick), 8:03 1Q
O – Andrew Warhurst 35 FG, 2:11 1Q
PV – Kennedy Thomas 12 pass from Barry White (Jay Jackson kick), 7:35 2Q
PV – Ga'quincy McKinstry 5 pass from Barry White (Jay Jackson kick), 9:58 3Q
O – Rock Taylor 62 pass from Trey Higgins (Andrew Warhurst kick), 6:02 3Q
O – Rock Taylor 13 pass from Trey Higgins (Andrew Warhurst kick), 1:16 4Q
O – Trequon Fegans 37 interception return (Andrew Warhurst kick), 0:56 4Q
PV – Keyonteze Johnson 5 pass from Barry White (Jay Jackson kick), 0:32 4Q

Oxford has played in the state championship game in 1993, 1989, 1988, 1982. The Jackets have won their last appearances in the championship game.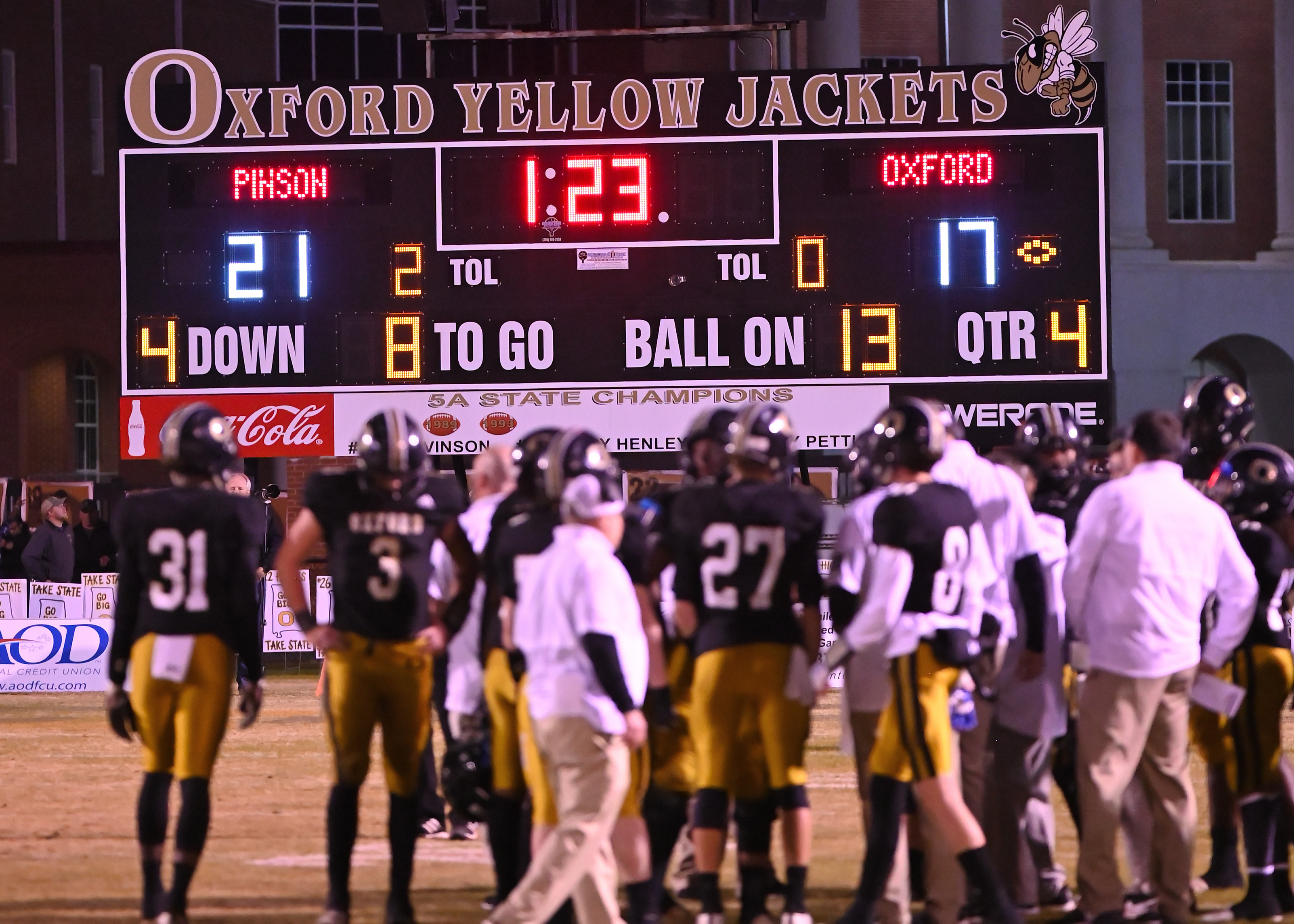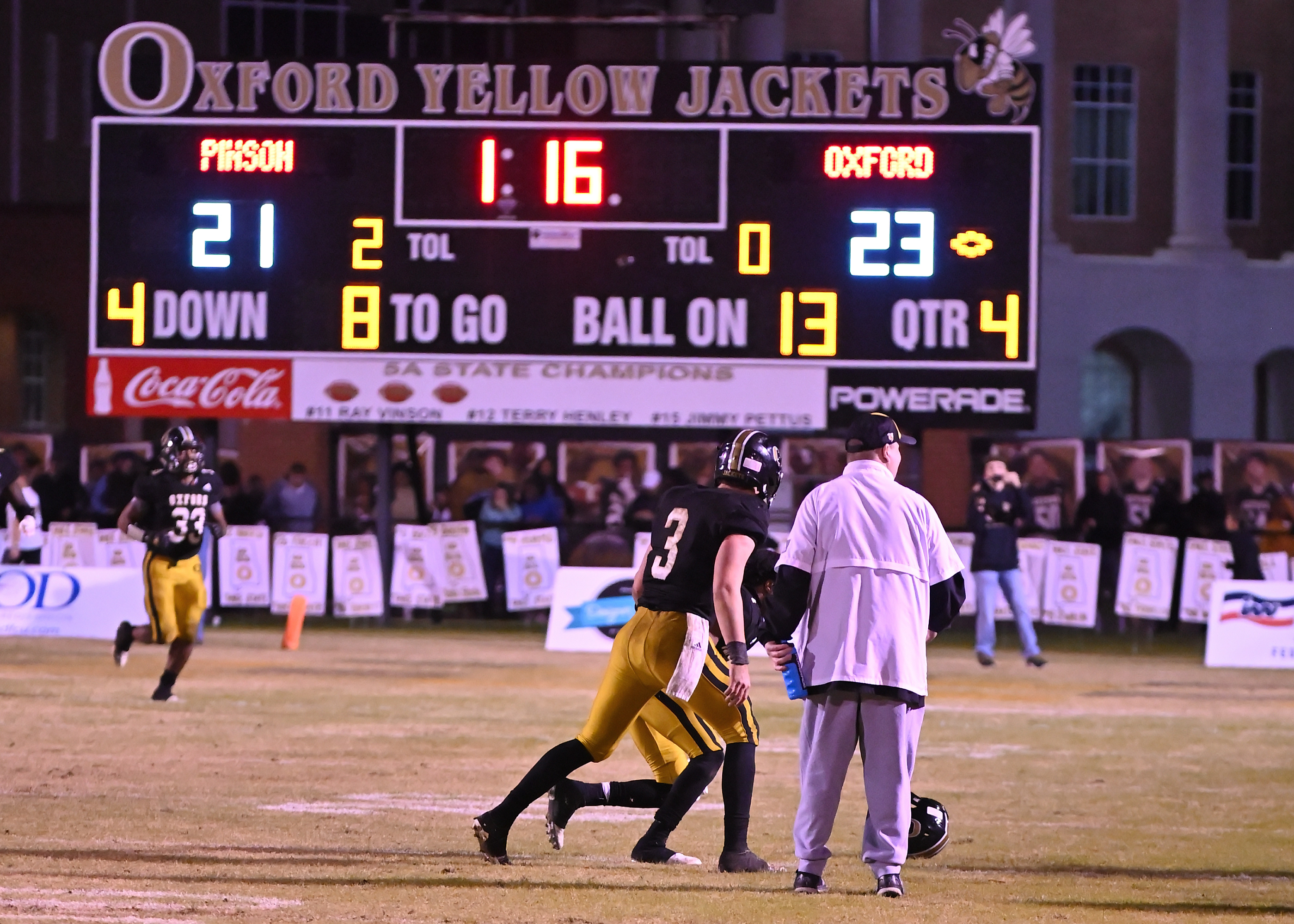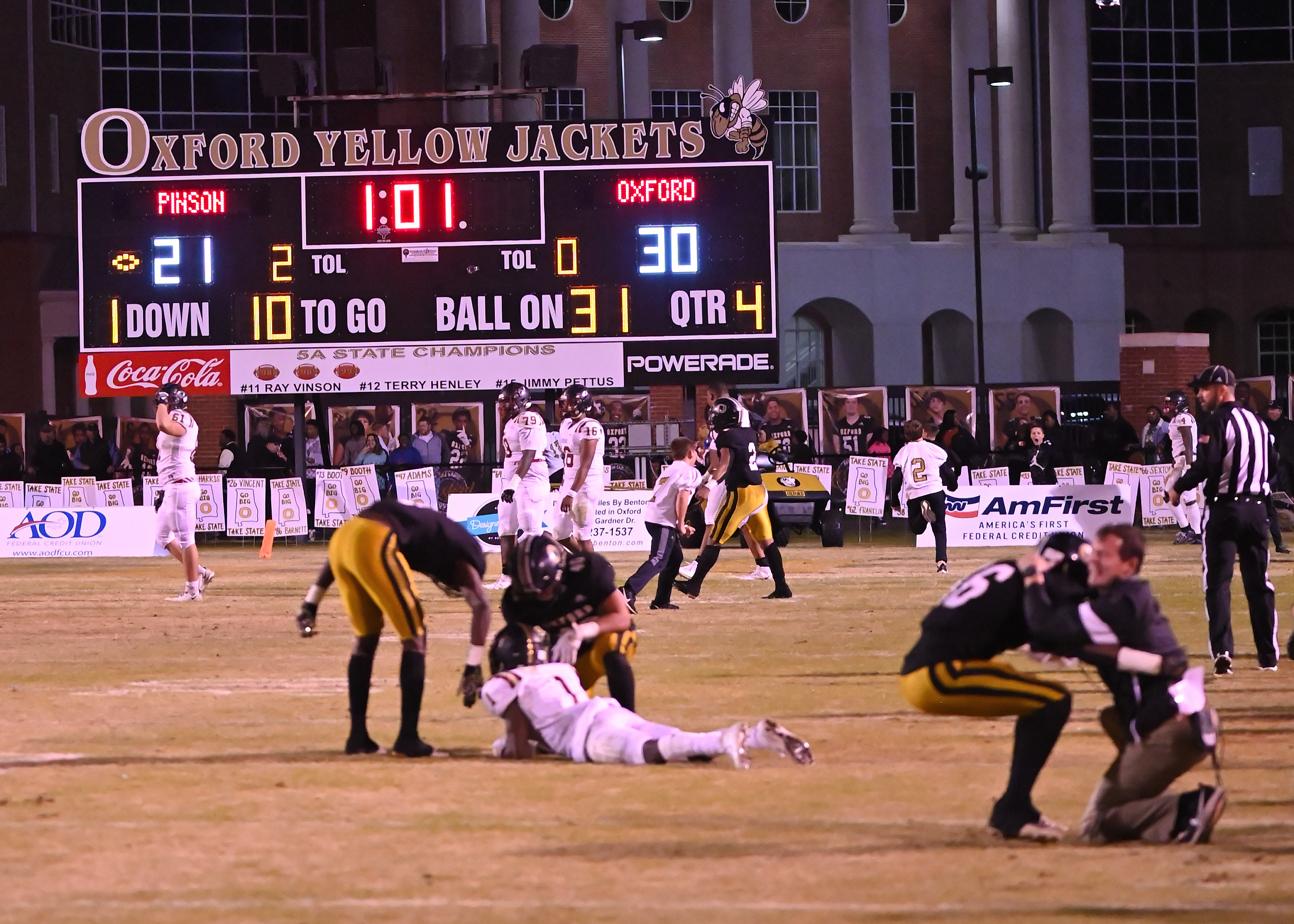 On the cover, the Oxford sideline erupts when the Yellow Jackets appear to have clinched their 31-28 win over Pinson Valley. (Photo by B.J. Franklin)