Tight race
White Plains, Pleasant Valley favored in Thursday's county cross country championship, but say it'll be a lot closer than projections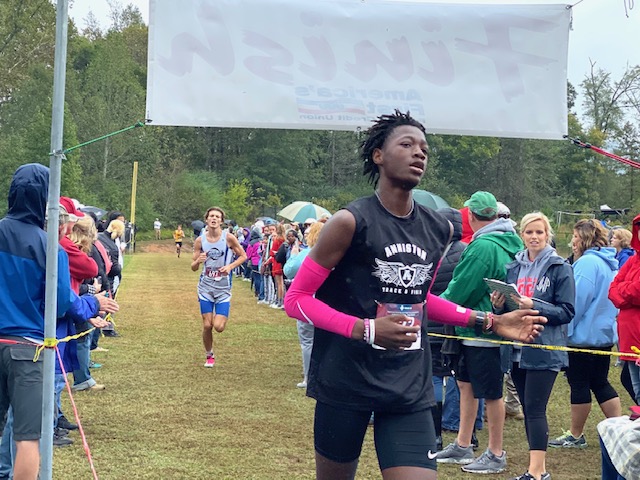 By Al Muskewitz
East Alabama Sports Today

JACKSONVILLE – The two top contenders for Thursday's Calhoun County Cross Country Championship Meet are expected one of tightest races in years. Forget the virtual meet. Think more like the twilight run on the championship course course a couple weeks ago.

White Plains and Pleasant Valley are the favorites in the race on PV's new course. The virtual meet, the one that projects results based on every runners' best time this season, has White Plains' boys winning over Pleasant Valley by a sizable margin and the White Plains girls winning by single digits over Alexandria and Pleasant Valley.

The contenders aren't buying it.

"Probably two to four points will separate Pleasant Valley and White Plains," Wildcats coach John Moore said. "If everybody's healthy and doing their very best the virtual meet is pretty close (to projections). It doesn't take into account the severity or difficulty of the course. This course is a neutralizer.

"That's not a PR (personal record) course. You can throw out all the virtual meets. It's who all is a billy goat, who can climb hills, and his (Hood's) team is a bunch of billy goats."

The PV course, opened this year, is a true cross-country course, a trail winding through woodlands and open spaces and features elevation changes unlike the flat, traditional venues at Oxford Lake and Choccolocco Park. The Raiders run it several times a week and that gives them an edge.

"If it was a flat course I don't think we could give them a challenge," Hood said. "They've run a bunch of flat courses and we haven't, but when we race head-to-head it shows what we're capable of doing. We've not raced head-to-head except a few races and in all those races but one I was missing two of my top five. The twilight race was the only race I raced them with all my five."

And in that one White Plains edged PV by four points.

St. James' Presley Miles ran a girls-winning 18:48.98 in the course-opening Pleasant Valley Invitational in September and Hood recalls her saying it's "the toughest" race she's ever won and "by far the toughest (course) in the state."

"It's not a slow course," Hood said. "If you want to run a fast time it's going to hurt."

Every other year the race has been a nailbiter and this year falls into the pattern. The last two boys races run in even-numbered years were decided by 21 and 25 points; the last two odd-numbered races by 3 and 8. The last three girls races in even-numbered years were decided by 18, 16 and 15 points, while the margin in the last two odd-numbered girls races was 9 and 3.

Pleasant Valley has won the last three girls titles and three of the last four boys titles. The Raiders have been either first or second in both races each of the last five years.

Anniston's Christian Myles and White Plains' Jake Moore are the two favorites in the boys race, with White Plains runners posting four of the six fastest times among county boys this year. Myles (17:21.44) beat Moore to the line by four seconds in the recent twilight race, while White Plains' James Middlebrooks won the course's inaugural race in September.

The key to team victory Thursday likely will be the performance the contenders' No. 5 runner.

"My guys are pretty confident they're gonna take it, but they're more confident than I am," Moore said.

Ohatchee's Jayda Fair and Jacksonville's Olivia King have the two fastest times among county girls and went 1-2 in last weekend's White Plains Fall Invite, but Donoho newcomer Taylor Simmons has burst on the scene and Alexandria's Michaelas – Moore and Watts – are formidable. Pleasant Valley's top girls time doesn't show up until No. 11, but they run in a pack that can choke off other runners.

"I told my girls if you want it, it's there, but you've got to beat the girls around you," Moore said. "You're going to have to line up and commit to doing it. Don't be wishy-washy about it."

The Calhoun County Cross Country Championship is Thursday, 4 p.m., at Pleasant Valley.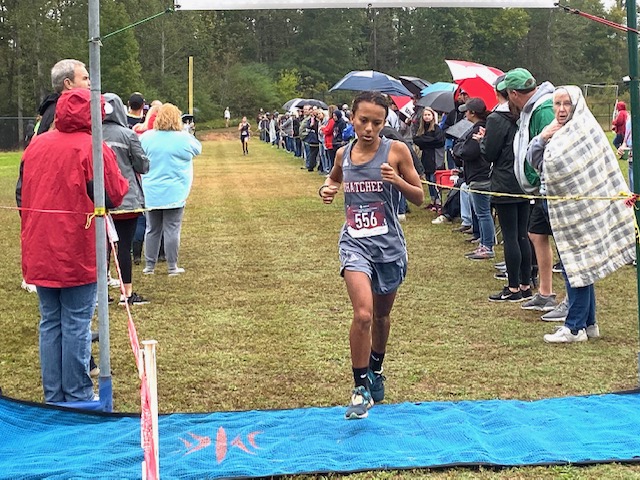 CALHOUN COUNTY CHAMPIONSHIP
(Since 2014)
Year – Boys 1-2-margin, Girls 1-2-margin
2018 – Pleasant Valley-Ohatchee 21, Pleasant Valley-Alexandria 18
2017 – Anniston-Pleasant Valley 3, Pleasant Valley-Alexandria 9
2016 – Pleasant Valley-Oxford 25, Pleasant Valley-Alexandria 16
2015 – Pleasant Valley-Oxford 8, Alexandria-Pleasant Valley 3
2014 – Ohatchee-Pleasant Valley 5, Pleasant Valley-Oxford 15

VIRTUAL MEET
BOYS
Team scores: White Plains 32, Pleasant Valley 61, Oxford 86, Alexandria 120, Ohatchee 126, Anniston 191, Jacksonville 199, JCA 256, Donoho 258, Faith Christian 260, Saks 283, Sacred Heart 312.

Individual top 10
Christian Myles, Anniston 16:41.25
Jake Moore, White Plains 16:42.77
Kayd Hightower, White Plains 17:13.93
Cayden Nelson, Pleasant Valley 17:15.87
Luke Larson, White Plains 17:15.94
James Middlebrooks, White Plains 17:17.90
Noah George, Oxford 17:46.74
Jonah Medders, Alexandria 17:47.90
Luke Fair, Ohatchee 17:53.75
Coleman Haynes, Pleasant Valley 17:56.09

GIRLS
Team scores: White Plains 71, Alexandria 80, Pleasant Valley 82, Ohatchee 93, Jacksonville 99, Oxford 117, Donoho 182, Faith Christian 212, Saks 256.

Individual top 10
Jayda Fair, Ohatchee 20:18.45
Olivia King, Jacksonville 21:09.29
Michaela Moore, Alexandria 21:39.65
Katie Keur, Oxford 21:40.61
Taylor Simmons, Donoho 21:45.95
Mia Munoz, Oxford 21:53.51
Savannah Yates, White Plains 21:56.53
Michaela Watts, Alexandria 21:59.90
Sarah Sloughfy, Jacksonville 22:10.55
Camden Wilson, White Plains 22:18.89