Tribe does more
Ohatchee wins 2A Area 11 championship, Oxford advances to Class 6A regional as Area 13 runner-up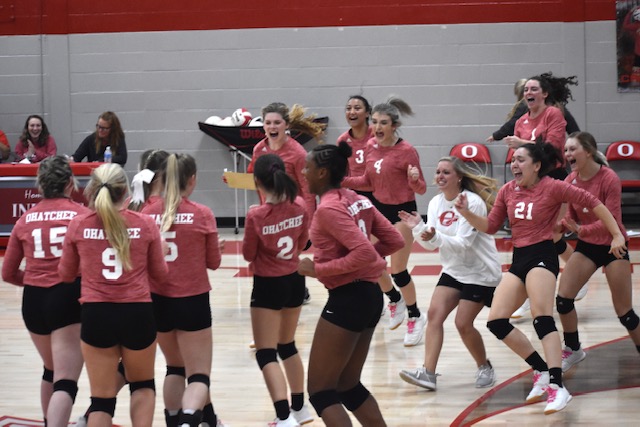 TUESDAY'S MATCHES
CLASS 2A AREA 11
At Ohatchee
Westbrook Christian 3, Gaston 0 (25-11, 25-19, 25-6)
Ohatchee 3, Westbrook 0 (25-13, 25-23, 26-24)
Regional opener
Ohatchee vs. Sand Rock, Friday, 10:15 a.m.
Westbrook Christian vs. Cedar Bluff, Friday, 9 a.m.
  
CLASS 6A AREA 13
At Albertville
Oxford 3, Fort Payne 1 (25-16, 20-25, 25-18, 25-15)
Albertville 3, Oxford 0 (25-14, 25-15, 25-10)
Regional opener
Albertville vs. Pell City, Friday, 10:15 a.m.
Oxford vs. Clay-Chalkville, Friday, 11:30 a.m.

REGIONAL OPENERS
CLASS 1A NORTH
Donoho vs. Oakwood, Thursday, 11:30 a.m.
Sacred Heart vs. Lindsay Lane, Thursday 10:15 a.m.
 
CLASS 3A SOUTH
Saks vs. St. Michael Catholic, Thursday, 12:45 p.m.
Wellborn vs. St. Luke's Episcopal, Thursday, 11:30 a.m.
 
CLASS 3A NORTH
Pleasant Valley vs. New Hope, Thursday, 12:45 p.m.
Glencoe vs. Westminster Christian, Thursday, 11:30 a.m.
 
CLASS 4A NORTH
Jacksonville vs. Elkmont, Thursday, 2 p.m.
Hokes Bluff vs. Brooks, Thursday, 2 p.m.
 
CLASS 5A NORTH
Southside vs. Sardis, Thursday, 9 a.m.
Alexandria vs. Crossville, Thursday, 9 a.m.

By Al Muskewitz
East Alabama Sports Today

OHATCHEE — All of the Ohatchee volleyball players knew they were going to the regionals even before they stepped on the floor Tuesday night, but they wanted more.

They got more. The Lady Indians won their first area volleyball tournament title in recent memory when they swept Westbrook Christian 3-0 to win the Class 2A Area 11 Tournament. The game scores were 25-13, 25-23, 26-24.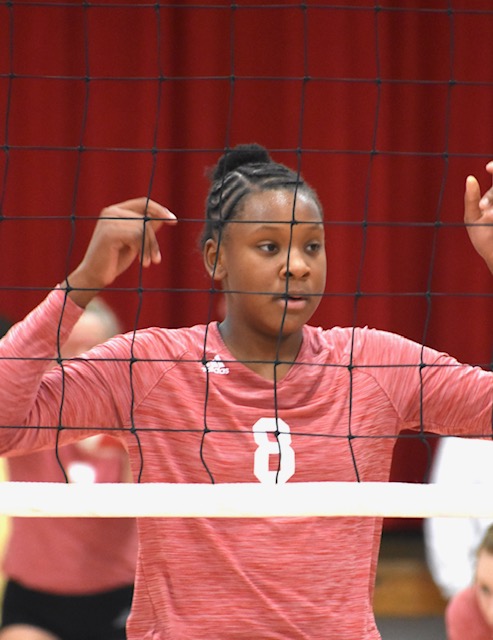 The Lady Indians (31-8) will play Area 14 runner-up Sand Rock in their Class 2A North regional opener Friday at 10:15 a.m. Westbrook Christian will play Area 14 champion Cedar Bluff at 9. The regionals are at Huntsville's VonBraun Center.
 
"We weren't settling for just going," Ohatchee coach Rebecca Hughes said. "We took practice yesterday like we weren't going to regionals. We knew coming in we were not settling with just oh, we already made it and we'll settle for second place. We knew last year they took it from us and we wanted more. We wanted that winner's spot we hadn't had in a long time."

Ohatchee's Jorda Crook was named tournament MVP, but the entire team played like it wanted more.
 
Crook was her usual force at the net even in a game she thought she could've been better, scoring a team-high 15 kills. She was joined on the all-tournament team by teammates Abby Hester, Bailey Carden and Gracee Haynes. Hester had 30 assists, three kills and 10 digs. Carden had three kills and 10 digs. Haynes had 17 digs, seven kills and four aces. Although there weren't enough spots to put everyone on the all-tournament team, Tori Vice and Gracie George played some of their best volleyball of the season, both scoring four kills and doing a lot of the little things necessary for a team to win.
 
"It was fun," Crook said. "We all just played to the best of our ability and got the job done."
 
"I always try to play the best that I can," Haynes said. "Today I just tried to do the best I could possibly do. I don't ever want to let my team down."
 
The Lady Indians used a pair of 6-0 runs to take control of the first set and put it away with a Bailey Carden kill. They climbed back into the second set with another 6-0 that featured three kills by Crook and an ace, stared down double set point and won it with a block by Vice for a point and a dink at the net by Haynes.
 
They rallied from a 23-18 deficit in the third set and faced set point when a point reversal gave Westbrook a 24-23 lead, but they scored the next three points to win, getting the clincher on a Carden serve the Lady Warriors couldn't return.
 
"They came out that first game on fire, every one of them," Hughes said. "I had players who stepped up for me in that situation. We just played as a unit. That's what we talked about a lot yesterday, moving as a unit, playing as a unit, communicating as one. (Several players) played the best game they played all year and I think they all knew they had to at this point."
 
The service game was a key element in the win. They had seven aces and had only six service errors for a .917 serving percentage. Haynes had 25 serves with no errors.
 
"We have been working on that," Hughes said. "The two times we've played Westbrook we've kind of given up easy serves. We weren't making them work for anything; we're serving timid. The last week or so we've been working on those aggressive serves, moving them to different places and things like that."
 
Hughes said she was "really looking forward" to playing Sand Rock again. The Lady Indians "didn't play our game" when they lost to it in the Champions Tournament after holding leads late in sets.
 
Ohatchee 3, Westbrook Christian 0
(Ohatchee statistics)
KILLS – Abby Hester 3, Bailey Carden 3, Jorda Crook 15, Gracee Haynes 7, Tori Vice 4, Gracie George 4
ASSISTS – Abby Hester 30.
ACES – Gracee Haynes 4, Jorda Crook 1, Bailey Carden 1, Tori Vice 1.
DIGS – Abby Hester 10, Bailey Carden 10, Rachel Dunaway 13, Haley Feemster 4, Jorda Crook 9, Gracee Haynes 17, Tori Vice 1, Gracie George 8
BLOCKS – Jorda Crook 1, Tori Vice 1.

CLASS 2A AREA 11
ALL-TOURNAMENT TEAM
Ohatchee — Abby Hester, Bailey Carden, Gracie Haynes.
Westbrook Christian — Brielle Wood, Macie Beecham, Katelyn Morrow.
Gaston — Makiyah Underwood, Alyssa Gargus.
MVP — Jorda Crook, Ohatchee.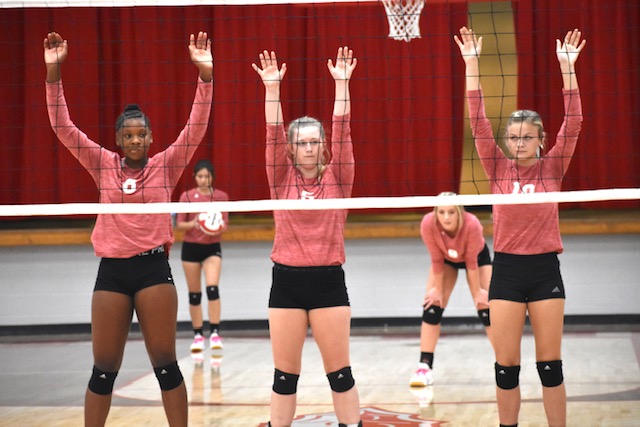 Class 6A, Area 13
ALBERTVILLE – Oxford earned a return trip to the Class 6A regionals with a 3-1 win over Fort Payne and will be going as the Area 13 runner-up after falling to Albertville 3-0 in the tournament championship game.

The Lady Jackets beat Fort Payne 25-16, 20-25, 25-18, 25-15, then fell to Albertville 25-14, 25-15, 25-10. They will play Area 12 champion Clay-Chalkville in their regional opener in the VonBraun Center Friday at 11:30 a.m.

Lakijah Brown, Kiersten Woods and Aumaria Lindsey made the all-tournament team from Oxford (24-18). Brown had 13 kills and six digs, and Woods had 12 kills. Tanyia McDonald had 13 kills and 12 digs. Cadie Burn recorded 46 assists.

Oxford statistics
KILLS – Tanyia McDonald 13, Lakijah Brown 13, Kiersten Woods 12, Shania McDonald 8,
ASSISTS – Cadie Burn 46.
DIGS – Brittany Davis 14, Arianna Curry 16, Tanyia McDonald 12, Lakijah Brown 6, Shania McDonald 18, Aametria Wilson 18, Cadie Burn 9.This story will be updated.