What a start
Cleburne County wins big in Burns' head coaching debut; Groce goes for 190 yards, 4 TDs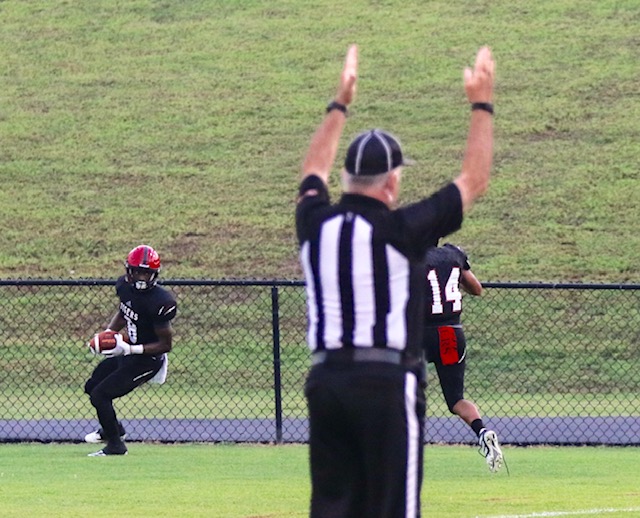 By Al Muskewitz
East Alabama Sports Today
 
HEFLIN — The Joby Burns Era of Cleburne County football couldn't have gotten off to a better start Friday night.
 
The bottom line was the Tigers overwhelmed Weaver 60-13 at L.E. Bell Field, but it was the way it started that got everyone on the Cleburne County side at least excited.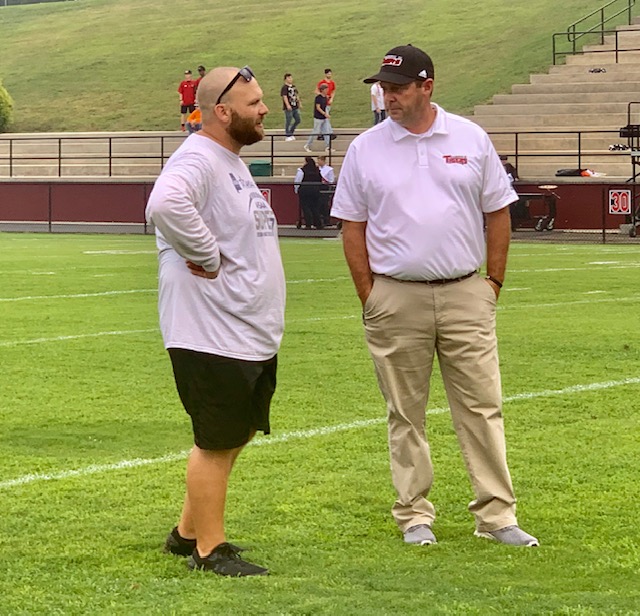 The Tigers held the Bearcats to a three-and-out in the opening drive of the season and then, on their first play from scrimmage, senior tailback Sam Groce ran 35 yards to the rainbow at the south end of the field.
 
"That's awesome," Burns said. "But the biggest thing was we kept doing it. We didn't get complacent, we didn't get satisfied. That's the biggest thing."
 
Indeed. The Tigers scored touchdowns on nine of their first 11 possessions and rolled up 496 total yards. The 60 points are the most they've scored in a game since putting a school-record 70 on Locust Fork in 2011. They hadn't won a season opener since 2013. The two touchdowns they gave up were both on big plays – a 65-yard pass on the final play of the first quarter and a 97-yard kickoff return.
 
"I thought the kids played hard and executed well," Burns said. "I knew we've had a good sumer. I knew they've worked hard. I knew these guys deserved something good to happen to them with the way they worked and how hard they worked. I certainly was surprised how many points we scored, but I felt like we would score some points."
 
Groce was surprised when the first carry of his career as the full-time tailback went for a touchdown. But he admitted in what he said was the first interview of his career he felt it set the tone for the rest of the night.
 
"I never would've thought it," he said. "I just took the football and ran as hard as I could and I ended up in the end zone. When I was in the end zone I was surprised. I was shocked. I was like, 'Did I just score the first play from scrimmage in the game?'"
 
Groce collected all of his 190 yards rushing and four touchdowns in the first half. He also had a 23-yard reception in the second quarter. Ten of his 14 carries produced either a first down or a touchdown.
 
"To win this game I think is a really good tone-setter," he said. "I said when we win this game this would be a great way to start our season because last year we lost our first game and I really think that set the tone for the rest of the season. From tonight's performance, I can't wait to see what the future holds."
 
Burns, the former head basketball coach and football assistant at Clay Central, was following long-time Tigers coach Michael Shortt, who retired at the end of last season after 21 seasons due of health reasons. Shortt watched the game from a spot near the field house.
 
But Burns wasn't the only first-year head coach in the game. It also marked the head coaching debut of Weaver's Justin Taylor, a Cleburne County alum. Interestingly, he was coaching his first game as a head coach in the same stadium he played his last game as a high school player. He was taking over the Weaver program following the retirement of Daryl Hamby.
 
After the game Taylor embraced former Cleburne County teammate Lucas Prothro. Before the game he told the bus driver how to get to the stadium and played the same music on his iPad they played in his stadium during his final two seasons there. It was good to be back, all except the outcome.
 
"Of course it's not what we want," Taylor said. "You want to compete to the very end in everything you do. We've got to learn that. We've got to learn how to compete and strike on every single play and do the things that we know how to do. We're going to get there. Mark that down. I don't know when it's going to be, but this group of seniors and all these guys are going to buy in, this coaching staff, and we're going to get there. You can print that."
| | | |
| --- | --- | --- |
| Weaver | | Cleburne Co. |
| 4 | First downs | 25 |
| 28-63 | Rushes-yds | 44-406 |
| 3-10-1 | Passes | 4-11-0 |
| 83 | Passing yds | 90 |
| 0-0 | Fumbles-lost | 3-1 |
| 7-29.3 | Punts-avg | 2-27.5 |
| 7-43 | Penalties-yds | 9-66 |

Cleburne County 60, Weaver 13
Weaver  6  0 0  7  –  13
Cleburne Co. 21 19 13 7  –  60
C – Sam Groce 35 run ( kick failed), 10:42 1Q
C – Rustin Roberts 2 run (Reese Morrison run), 5:29 1Q
C – Sam Groce 5 run (Ian McGowan kick), 1:08 1Q
W – Davontae Hilliard 65 pass from Taylor Thompson (kick failed), 0:00 1Q
C – Sam Groce 8 run (kick failed), 8:46 2Q
C – Sam Groce 1 run (kick failed), 6:25 2Q 
C – Reese Morrison 10 run (Ian McGowan kick), 18.3 1Q
C – Rustin Roberts 14 run (Ian McGowan kick), 10:05 3Q
C – Jaylan Groce 3 run (kick failed), 1:10 3Q
C – Tay Cantrell 10 run (Ian McGowan kick), 6:22 4Q
W – Marcello Dambrosia 97 kickoff return (Miguel Canchucaja kick), 6:06 4Q