Starting something
Oxford opens Keith Etheredge Era by overwhelming Munford in battle of new coaches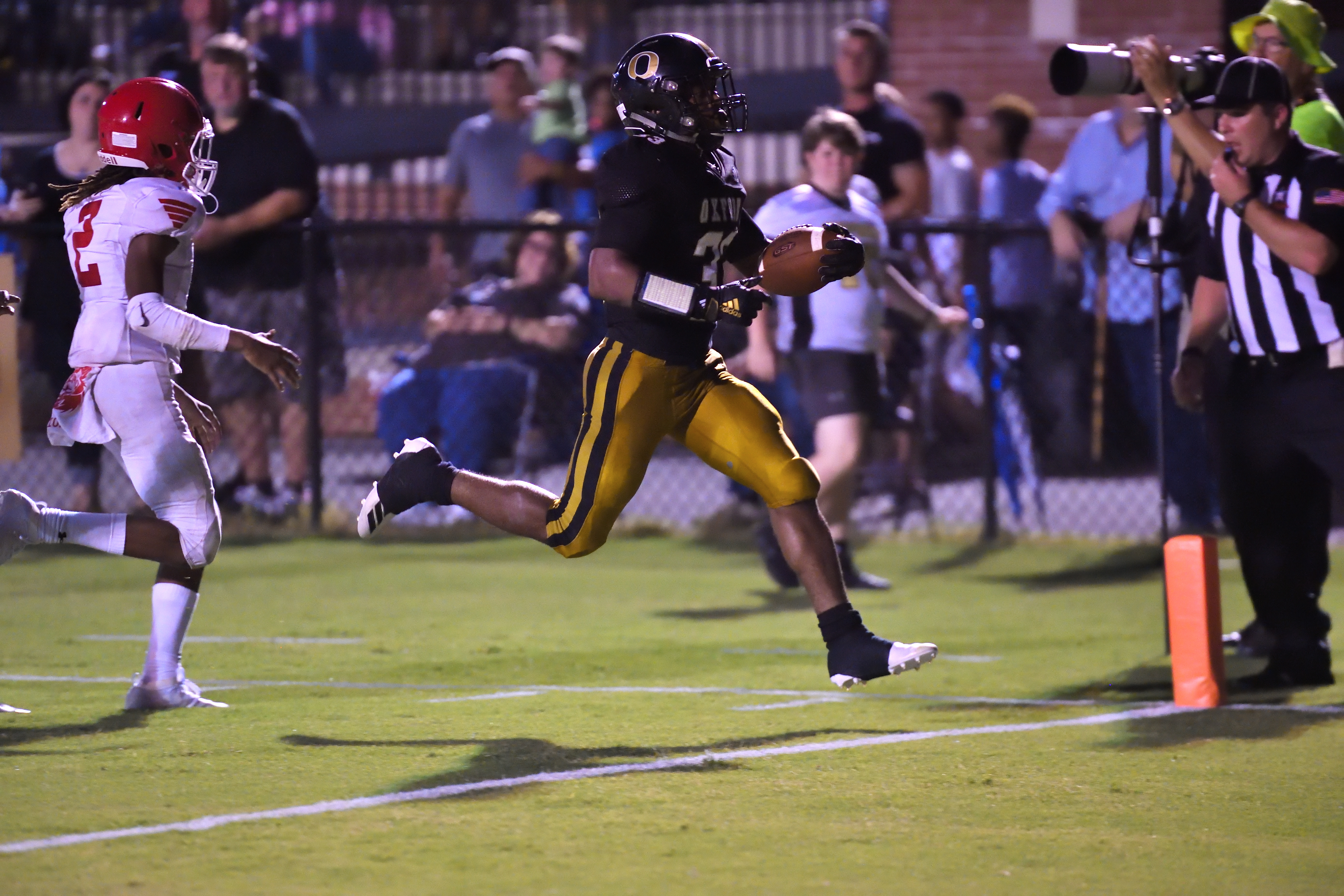 By Brant Locklier
For East Alabama Sports Today

OXFORD – The Keith Etheredge era of Oxford football began with a bang Friday night.

The Yellow Jackets used a balanced offense and a swarming defense to dominate Munford 48-6.

"The atmosphere was great; we had a big crowd here," Etheredge said. "I thought the kids played well, and I knew we were going to make some mistakes. We didn't play a spring game, and we didn't play a jamboree game, so this was basically their first time to play together, as far as under what we're doing.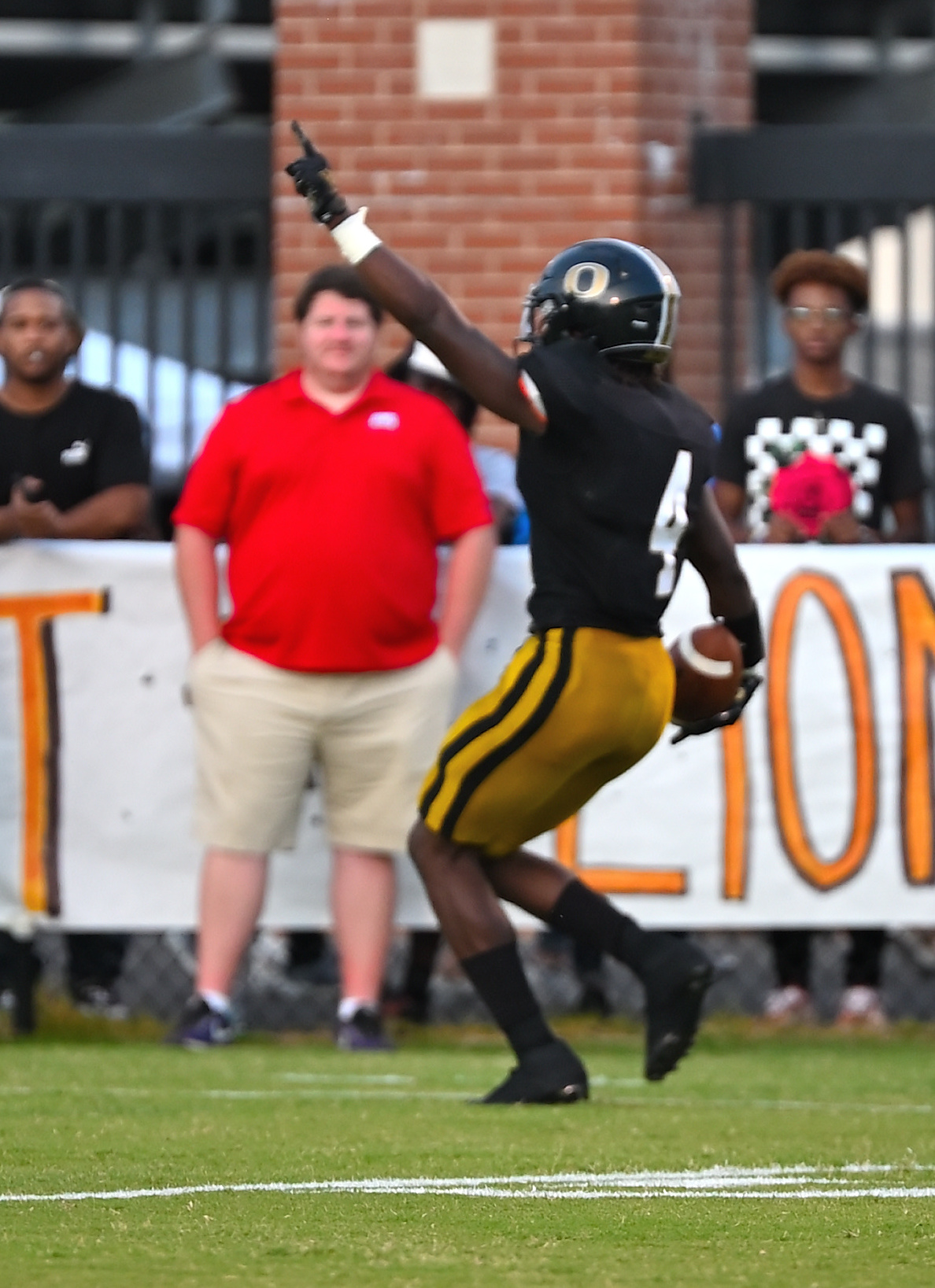 "We've got some things to work on, some good coaching points to go over Sunday, but I'm excited. The kids played hard, never let up."

Etheredge became the Jackets' sixth head coach of the millennium when he was hired after Ryan Herring left to take a head coaching job in South Georgia.

It's his charge to get the Jackets to the next level of the playoffs and beyond. He won four state titles and played for a fifth at Leeds, his alma mater, and spent the past three seasons at Pell City and T.R. Miller. He has never had a losing season on the field as a head coach and has lost only one season opener in 14 years.

Oxford had its way with Munford, whose head coach, former Saks assistant Michael Easley, was making his head coaching debut.

The first quarter began with the Jackets punching in two touchdowns on a 51-yard reverse by wide receiver Rock Taylor and quarterback Trey Higgins zipping a 24-yard touchdown pass to Zay Britt on a beautiful diving catch in the corner of the end zone.The quarter ended with Oxford having 162 yards of offense and Munford being held to minus-5.

"I've been asked about it several times the last couple days and I just really hadn't cared about it being my first game and all; I was worried about my kids," Easley said. "I knew going in we were playing a really, really good ball team and we were going to be outmatched at a lot of spots. We couldn't make any mistakes. We had to be really smart with the ball. We couldn't afford any drive killers and we had a lot.

"We played hard the whole game; I told them in the locker room we'd take that every game. Defensively, I think we were in the right spot every possession they scored, except for the touchdown pass in the corner. We were in the spot, and we just didn't make the play. At the end of the day, that's my job. We got beat tonight, and that's my fault."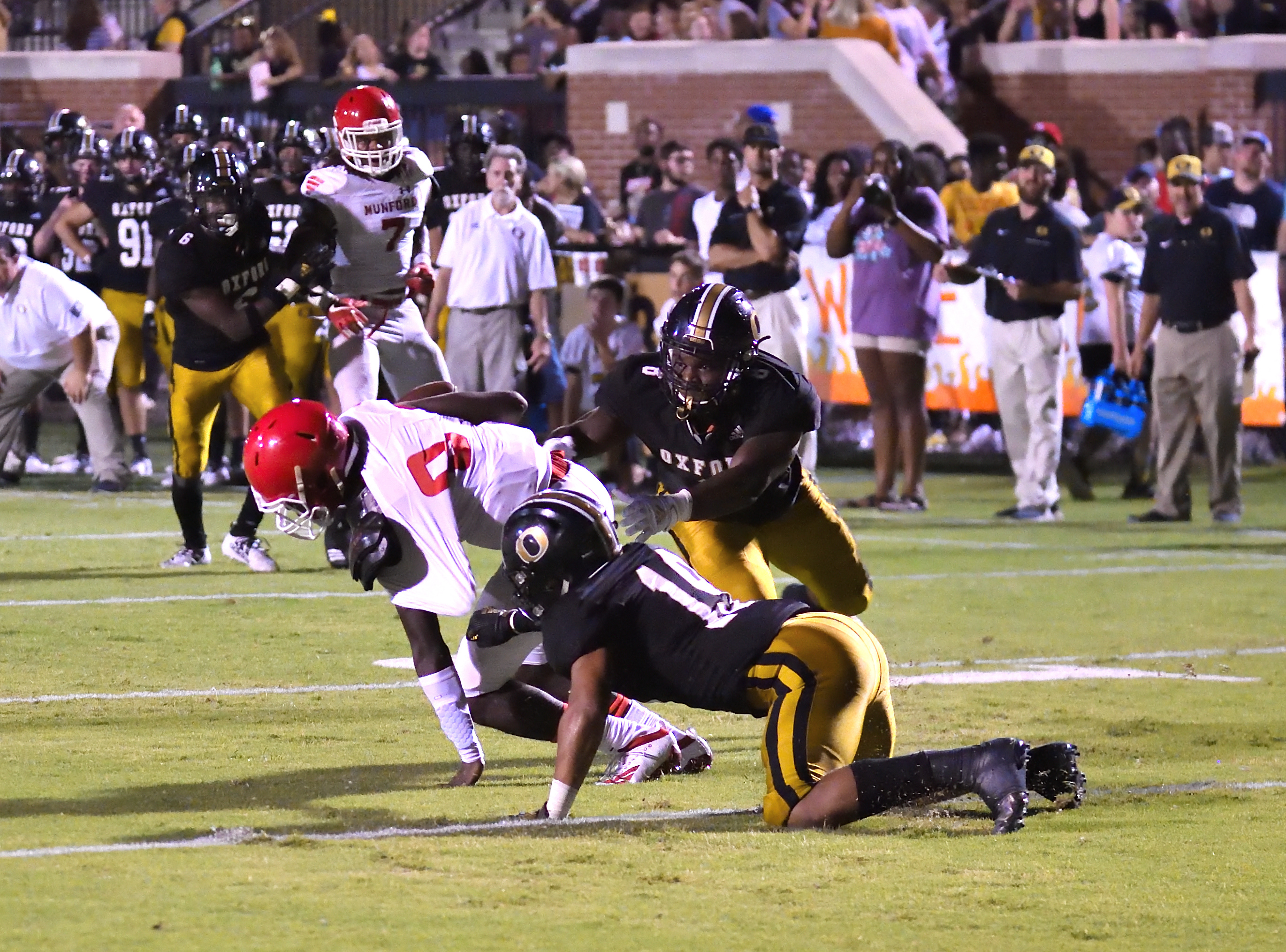 The Jackets exploded for three quick scores in the second quarter. Higgins bolted 23 yards for one, J.B. Carlisle scored from 33 yards out on another and the Oxford defense scored when Xyon Satcher knocked the ball loose from Munford quarterback Jai Tuck and recovered it in the end zone.

Tuck suffered a hip injury that left his status for next week's game against Talladega doubtful. The Lions put together a late drive in the second quarter and scored on a fourth-down Hail Mary from ninth-grade quarterback Kam Sandlin to Justin Sistrunk from 21 yards out with seven seconds left in the half.

Oxford's defense got another score in the second half when Jordan Dobbins recovered a punt blocked by Antwon Fegans in the end zone. Taylor added a score on another end around, this time from 4 yards out.

Carlisle finished the night with 129 yards on 17 carries. Taylor had 55 yards on two rushes and Higgins added 50 yards on nine carries. Higgins was 8 of 10 for 87 yards passing.

It was the second straight year the teams have opened the season; Oxford won 28-0 last year.The Yellow Jackets will play Gadsden City next week.

To see more photos from the game click on this link: www.bjfranklin.smugmug.com
| | | |
| --- | --- | --- |
| Munford | | Oxford |
| 4 | First downs | 16 |
| 26-(-24) | Rushes-yds | 44-283 |
| 3-9-1 | Passing | 10-12-0 |
| 48 | Passing yds | 97 |
| 5-3 | Fumbles-lost | 0-0 |
| 3-31.3 | Punts-avg | 5-35.5 |
| 12-115 | Penalties-yds | 11-74 |

Oxford 48, Munford 6
Munford 0 6 0 0 – 6
Oxford 13 21 14 0 – 48
O – Rock Taylor 51 run (Andrew Warhurst kick) 9:28 1Q
O – Zay Britt 24 pass from Trey Higgins (kick failed), 2:34 1Q
O – Trey Higgins 23 run (Kick missed), 11:52 2Q
O – J.B. Carlisle 33 run (J.B. Carlisle run), 10:00 2Q
O – Xyon Satcher fumble recovered in end zone (Andrew Warhurst kick), 5:23 2Q
M – Justin Sistrunk 21 pass from Ja'Isiam Tuck (run failed), 0:07 2Q
O – Jordan Dobbins recovered block punt in end zone (Andrew Warhurst kick), 9:46 3Q
O – Rock Taylor 4 run (Andrew Warhurst kick), 1:00 3Q