World Series walk-off
Bostick circles bases leading off home eighth to give Piedmont DYB Machine-Pitch title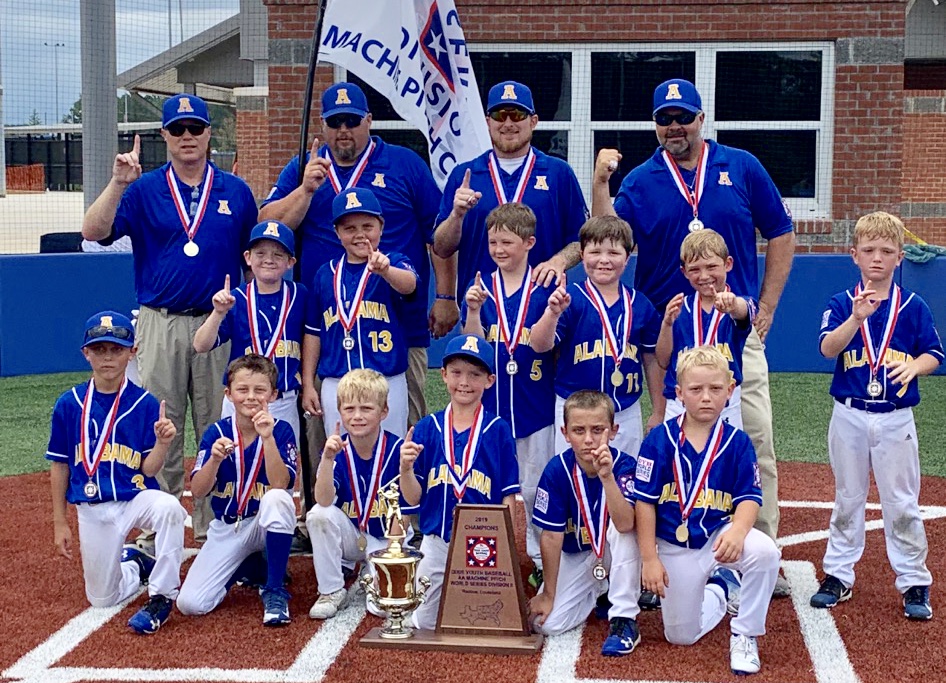 By Al Muskewitz
East Alabama Sports Today

RUSTON, La. – This team doesn't really have a nickname, but you can call them the Comeback Kids.

And maybe high school state champions in about 10 years?

Brody Bostick hit a leadoff double in the bottom of the eighth and came all the around to score on the play, giving Piedmont a 5-4 win over White Wright, Texas, for the Dixie Youth Division II Machine Pitch World Series championship.

The winners – Team Alabama for tournament purposes – wore the traditional Piedmont blue and gold. They trailed 4-0 in the first inning of the game. It also was down 8-7 in the fifth inning to this same Texas team Monday before putting up 10 in the sixth inning and turning a record three double-plays in the comeback. 

"I've never seen a group of kids who endured so much and persevered when things got ugly," Piedmont manager Nate Bragg said. "The main thing is they just stayed focused. It's a great group of kids, great athletes, some of the best athletes I've ever seen at this age in our area."

"I've kind of compared them to the team that's getting ready to go into the high school now, when I carried them to the (9-10) World Series in '13," coach Chris Hanson added. "This team has a chance to be just like that group when it comes to competing."
 
And it has a chance to be together for a while. The roster has five 8-year-olds, six 7-year-olds and a 6-year-old.

Piedmont went 5-0 in the tournament. On Sunday, it beat Central (Pollok) Texas 12-2 and Avon Park, Florida 11-7 (in a game that ended near midnight), and on Monday it beat White Wright with its big inning 17-12 and Honea Path, S.C., 17-11.
 
It missed chances to walk it off Tuesday in the sixth and seventh innings. It had runners in scoring position in both innings, but couldn't get them home.
 
Bostick came to the plate in the eighth inning just looking to get something started. He hit a ball to left field that he stretched into a double and the relay throw sailed into right field allowing him to come all the way around. He was mobbed by his teammates after crossing the plate, just like he'd seen it done in the big leagues on TV.
 
"When I saw them (rushing out) I was like, 'Oh boy," Bostick said.

Trevin Brannon was the leading hitter in the tournament (.700) and won the Home Run Derby. Piedmont also won the seven-man around-the-horn competition.

The rest of the team included Sawyer Howard, Mitch Hanson, Braxton Sadler, Briley Murray, Grant Maddox, Shawn Carnes, Bryant Bragg, Noah Carnes, Keegan Mobley and Sawyer Yakely. The other coaches were Robert Sadler and Greg Maddox.
 
"We were having a lot of errors early on and when we first started playing together we had a lot of things we had to work on and grow," Bragg said. "But we saw potential. We knew if we kept working hard things would come together.
 
"We had faith in them. We believed. That was one of our mottos for this whole series, we believe. Even if we gave up a run we thought it would happen. We believed we'd get the outs we needed and get the bats going like we needed.
 
"We learned to battle back and that's what they did at the end. They kept working and fighting and battling."
 
And now they have a lifetime memory and a World Series ring for their effort.