Key to success
Brett Key looks to keep Sunny King Classic momentum rolling; event expected to surpass $3 million in all-time giving this year; also ACC Parent-Child, State Women's Stroke Play pairings

By Al Muskewitz
East Alabama Sports Today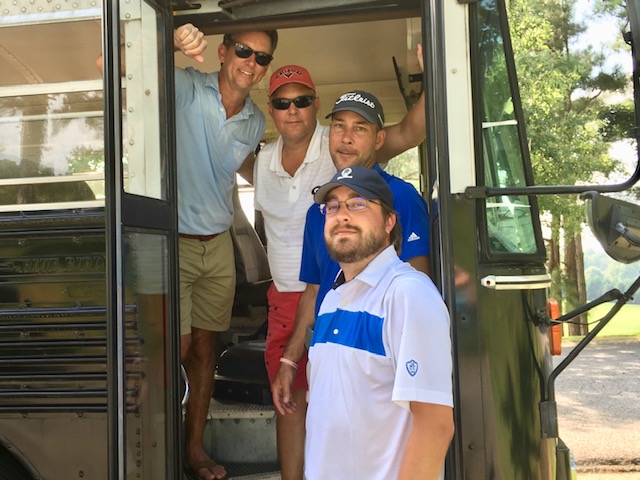 Brett Key hadn't been the chairman of the Sunny King Charity Classic very long, but he quickly embraced the key to success of many who had gone before him.

Don't change what works.

"I'm taking the approach if it's not broke don't fix it," said the Anniston accountant who's overseeing the direction of this year's 41st Classic. "My goal is really to just maintain and deliver on the reputation that's been built of this tournament and continue that vision those guys put together 40 years ago.

"It's 41 years of delivering the same product. I think people know what this is about and that's more of a testament of the people who came before us and the way they've run a top-notch tournament for 41 years."

The good thing for Key is most of the heavy lifting was done last year and keeping to his approach the policies implemented last year will return for this year's Classic that gets underway July 12 at Silver Lakes, Cider Ridge and Anniston Country Club.

That means the 204-team field, which is nearly full at this writing, can expect to be re-flighted after every round and have the opportunity to buy into a short second shot that was introduced at Cider Ridge two years ago at every course. The re-flight rule was introduced to reduce the prospect of sandbagging and while the change did produce some criticism tournament organizers – Key included – "thought it went well."

One addition that will return that should make the entire field happy was the popular Ted's Abbey Carpet hit-the-green promotion on the 16thtee at Anniston Country Club. The game is no-risk, all-reward: Hit the green win $25 on the spot; be closest to the pin in your group, get the $25 and a quality golf shirt. Last year, the company gave out nearly $4,400 in cash awards over the three days. Alexandria doctor Mike Herndon made a hole-in-one there for even more tournament goodies.

Tournament organizers also are bringing back the Titleist shopping experience as the players' tee gift.

Ty Cole and Gary Wigington will be looking for an unprecedented fourth consecutive Classic crown, which would be win No. 9 for Wigington all-time. Think about that for a minute: Twenty percent of all SKCC titles has Wigington's name on them.

While the field has not been finalized it has been said several new teams are coming in this year to challenge the dynasty.

Of course, the big winners in the event are local charities. Last year, the tournament raised a record $140,000, breaking the record of $135,000 set in 2008. It is expected to surpass $3 million in all-time charitable giving this year, even if it doesn't match the record mark.

The goal every year is to raise $100,000.

"We expected things to slide back a little bit this year on the sponsorship side because so many people stepped up (last year) because of the 40th year, but we have been pleasantly surprised," Key said. "All the major sponsors are back on board and we've had some new additions. We also had a few that had sat out for a few years that are back on the table.

"My fingers are crossed. I don't expect we will be able to hit the number we did last year, but I do think it will be a respectable number we can be proud of."

NOTES: Practice rounds for the tournament start Monday at Cider Ridge and Silver Lakes, Tuesday at Anniston Country Club. Call the courses to make tee times … There are fewer than 20 team spots left. Interestingly, 172 players who played last year have not yet registered; that's 86 potential teams for 25 percent as many spots. There will be a waiting list.

ACC Parent-Child
ACC PARENT-CHILD TOURNAMENT
Gross Division
Flight 1
Randy Reaves-Will Reaves 64
Ty Cole-Gary Cole 64
Greg Shultz-Ted Shultz 65
Gary Wigington-Bob Wigington 65
Graham Morrow-Taylor Morrow 66
Mike Hughston-Harrison Hughston 67
Rob Svensen-Jack Svensen 68
 
Flight 2
Scott Shultz-Ted Shultz 69
David Sanders-Adam Sanders 69
Gary Wigington-Peyton Wigington 69
Kevin Daugherty-Landon Daugherty 69
Michael Downey-Hayden Downey 69
Jeremy McGatha-T.J. McGatha 69
Don Whitlow-Rusty Whitlow 69
Ken Howell-Natalie Howell 70
Matt Rogers-Isabel Rogers 70
Brennan Clay-Scott Clay 70
Rusty Whitlow-Gantt Whitlow 70
 
Flight 3
Chase Hollingsworth-Jett Hollingsworth 71
Rob Svensen-Ross Svensen 72
Joseph Lambert-Cal Lambert 72
Norris Ray-Eric Ray 73
Ken Howell-Keith Howell 73
Caleb Morrow-Jim Morrow 73
Randy Brown-Ryan Brown 74
Norris Ray-Steven Ray 74
 
Flight 4
Glenn Hurd-Adam Hurd 76
Don Whitlow-Gantt Whitlow 78
Don Whitlow-Mike Whitlow 79
Don Whitlow-Jonathan Whitlow 79
Mike Whitlow-Jonathan Whitlow 81
Keith Howell-Natalie Howell 82
Warren Askew-Manning Askew 86
David Gattis-Abby Gattis 87

Net Division
Ken Howell-Natalie Howell 44
Keith Howell-Natalie Howell 49
Greg Shultz-Ted Shultz 56
Graham Morrow-Taylor Morrow 56
Ken Howell-Keith Howell 56
Matt Rogers-Isabel Rogers 57
Randy Reaves-Will Reaves 58
Michael Downey-Hayden Downey 59
Brennan Clay-Scott Clay 59
Joseph Lambert-Cal Lambert 59
Gary Wigington-Bob Wigington 60
Don Whitlow-Rusty Whitlow 60
Randy Brown-Ryan Brown 60
Mike Hughston-Harrison Hughston 61
Rob Svensen-Jack Svensen 61
Rusty Whitlow-Gantt Whitlow 61
Caleb Morrow-Jim Morrow 61
Ty Cole-Gary Cole 62
Scott Shultz-Ted Schultz 62
Kevin Daugherty-Landon Daugherty 62
Don Whitlow-Gantt Whitlow 62
Jeremy McGatha-T.J. McGatha 63
Chase Hollingsworth-Jett Hollingsworth 63
Rob Svensen-Ross Svensen 63
Glenn Hurd-Adam Hurd 63
Gary Wigington-Peyton Wigington 64
Norris Ray-Eric Ray 65
Don Whitlow-Mike Whitlow 65
Don Whitlow-Jonathan Whitlow 65
Mike Whitlow-Jonathan Whitlow 65
David Sanders-Adam Sanders 66
Norris Ray-Steven Ray 68
David Gattis-Abby Gattis 70
Warren Askew-Manning Askew 75
 
Sunday pairings
10 a.m. shotgun
1: Randy Reaves-Will Reaves, Ty Cole-Gary Cole
2: Gary Wigington-Bob Wigington, Graham Morrow-Taylor Morrow, Gary Wigington-Peyton Wigington
3: Mike Hughston-Harrison Hughston, Rob Svensen-Jack Svensen, Rob Svensen-Ross Svensen
4: David Sanders-Adam Sanders, Kevin Daugherty-Landon Daugherty
5: Brennan Clay-Scott Clay, Jeremy McGatha-T.J. McGatha
7: Ken Howell-Natalie Howell, Keith Howell-Ken Howell, Natalie Howell-Keith Howell
8: Matt Rogers-Isabel Rogers, Glenn Hurd-Adam Hurd
9: Greg Shultz-Ted Shultz, Ted Shultz-Scott Shultz, Chase Hollingsworth-Jett Hollingsworth
13: Don Whitlow-Rusty Whitlow, Gantt Whitlow-Rusty Whitlow, Mike Whitlow-Don Whitlow, Don Whitlow-Jonathan Whitlow, Mike Whitlow-Jonathan Whitlow, Don Whitlow-Gantt Whitlow
16: David Gattis-Abby Gattis, Warren Askew-Manning Askew
17: Joseph Lambert-Cal Lambert, Norris Ray-Eric Ray, Norris Ray-Steven Ray
18: Jim Morrow-Caleb Morrow, Randy Brown-Ryan Brown
State tournament in town
The 29thAlabama Women's Stroke Play Championship runs Tuesday through Thursday at Cider Ridge Golf Club. Here are the first-round pairings:
 
7:30 a.m. – Mary Trammell, Mountain Brook; Stephanie Fowler, Vestavia Hills
7:40 – Sophie Burks, Tallassee; Ally Williams, Athens; Maria Donado, Homewood
7:50 – Carson McKie, Hoover; Julie Baker, Hoover; Hanna Dyar, Anniston
8:00 – Chloe Borders, Jacksonville; Layne Dyar, Anniston; Madilyn Turner, Jacksonville
8:10 – Stacy Quilling, Birmingham; Theresa Mahlik, Madison; Susan West, Tuscaloosa
8:20 – Anna Claire Little, Auburn; Lindsey Oxley, Helena; Lindsey Gordon, Sylacauga
8:30 – x-Linda Jeffery, Prattville; x-Chris Spivey, Pell City
8:40 – x-Baylie Webb, Anniston; x-Abby Gattis, Jacksonville
8:50 – x-Keri Rutledge, Birmingham; x-Kyung-Hwa Theodoss, Hampton Cove; x-Isabel Rogers, Anniston
x-Tournament division, all others Championship division