Easley in at Munford
UPDATED: Longtime Saks assistant, the son of a coach, takes over Lions for his first head coaching job

By Al Muskewitz
East Alabama Sports Today 

TALLADEGA — Michael Easley has been a fixture on the Saks sidelines these last 14 years, but come this fall he'll be wearing a different shade of red.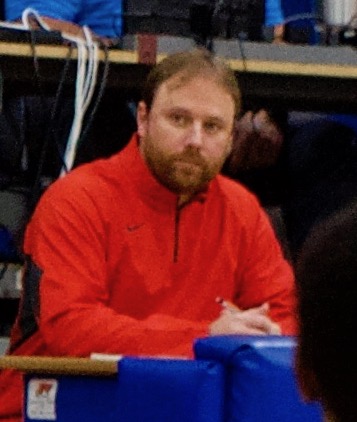 Monday night, the Talladega County board approved the longtime Saks assistant as the new head football and athletics director at Munford.
 
East Alabama Sports Today first reported the expected hiring late last week.
 
Easley, 38, becomes the Lions' 17th head football coach and succeeds Bill Smith, who left to become head coach at Fayette County. It is his first head coaching job.

"I'm extremely thankful (superintendent) Dr. (Suzanne) Lacey and (Munford principal) Mr. (Seth) Taylor had enough faith in me to choose me to lead their program," Easley said. "I know head football jobs are not easy to get, and I feel very blessed to have this opportunity."
  
Once word of Easley's hiring began circulating his phone started blowing up with messages from well-wishers.
 
"It's been non-stop since about 5:30," he said. "Coaching buddies, old high school teammates, former Saks players. It's humbling, but it's nice. Hearing from former players, that was probably the best part. One told me it's gonna suck seeing you in a different red."
 
Munford was 3-7 last season in its first year in Class 5A, but has won two region titles and made two state semifinals appearances in the past six years. 
 
"Munford was very appealing," Easley said. "Hearing the vision Mr. Taylor has for not only the football program but the entire athletic program made this job even more attractive. It's a small town, much like where I grew up (Heflin), that has good people that come out and support on Friday nights."
 
Easley has spent the last seven seasons as Saks head coach Jonathan Miller's offensive coordinator. During that time the Wildcats have enjoyed the most prolific offense in their school's history. They put up at least 450 points in five seasons, more than 500 twice.
 
They've gone to the playoffs 11 of the last 12 years Easley has been on staff.
 
While it's a bittersweet feeling leaving a program with which he'd been associated for so long, he's looking forward for this new chapter in his coaching career.
 
"Being the son of a coach, being a head coach one day is something you think about," said Easley, whose father David coached at Banks, TCC, Lineville and Ashville and was a frequent visitor on the Saks sideline during his son's tenure there. "The biggest thing for me is whenever I had the opportunity to become a head coach, I wanted it to be the right situation, the right fit. I think Munford was a perfect fit for me. 
 
"I'm very proud of what we have accomplished (at Saks). The Saks program means a lot to me. I'm blessed to have been a part of it for so long with some really good players and coaches."
 
Easley plans to meet with his new players and current Munford coaches Wednesday. His plan is to finish out the year teaching at Saks, but anticipates the schedule working out for him to start setting things up at Munford after the school day. He said the Lions will have spring practice, but not play a spring game.
 
"I just felt like it would be a little unfair to the kids, as much as we've got to install," he said. "I'm a fast-paced practice guy, run a fast-paced offense, but I want to slow things down this spring so they have the ability to learn. The summer is going to be big for us. Our 7-on-7 used to be to have competition, but I want to have it just to install stuff. I'm going to do the best I can with spring."
 
Anticipated retirements will open some slots on the coaching staff and Easley has "a couple feelers" out to fill those spots. He's particularly in the market for a defensive coordinator. He said current Munford assistant Blake Snider will be his offensive line coach and run-game coordinator, but Easley will call plays because "that's what I'm used to doing."
 
"Going in as a head coach you'd better have an offensive line coach and a coordinator for the other side of the ball (from your specialty)," he said. "I guess I'm going to have to pay attention when we're on defense now.

"For the last seven years I could sit over there and think a little bit. I missed a lot of really big defensive plays over the last several years because I wasn't paying attention. I was on the iPad or writing something down or talking to somebody, then I'd hear this big roar and I'd have to ask what happened and be told somebody made a big pick or something."
 
The Munford hire leaves two head coaching vacancies in the Calhoun County area, Oxford and Cleburne County. In other coaching news, former Alexandria head coach Frank Tucker is retiring from the Calhoun County school system and will be taking a coordinator's position at Westbrook Christian, East Alabama Sports Today has learned.