Big-bat Bulldogs
Piedmont sweeps Lamar County in Class 3A playoff opener, face familiar Lauderdale County next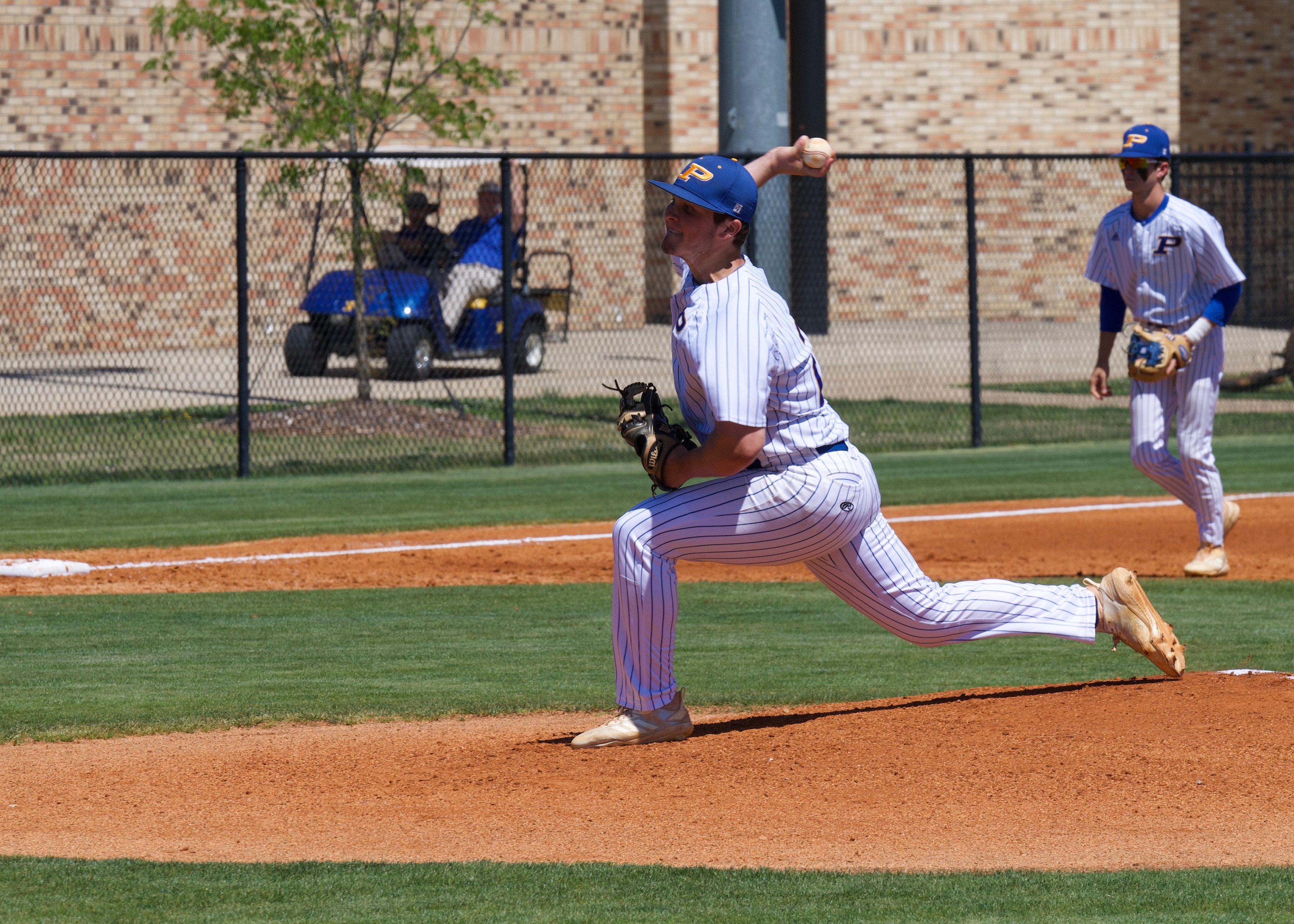 AHSAA Playoffs
First-round series
Hokes Bluff 12-6, Cleburne County 4-0
Piedmont 16-11, Lamar County 6-1
Westbrook Christian 19-13, Vincent 0-0 
Second-round series
Athens Bible at Donoho, Friday, 1 p.m.
Piedmont at Lauderdale County, Friday, 4:30 p.m.
 
By Al Muskewitz
East Alabama Sports Today

PIEDMONT — Logan Pruitt may not have had his best stuff on the mound Monday — it was good enough — but there was no doubt about his delivery at the plate.
 
The senior right-hander got off to a rough start on the mound — but nothing a visit from the coach couldn't fix — and settled in, but he yielded a big bat, delivering a two-run single in the first inning and a game-ending three-run double in the fifth to seal Piedmont's 16-6 win over Lamar County in their rain-delayed Class 3A playoff opener.
 
The Bulldogs' big bats continued in the second game as they completed the series sweep 11-1 in Game 2. They will face a familiar foe in the next round, Lauderdale County, the team that eliminated them last year and one they've gone to three games with in the third round each of the last two years.
 
Piedmont coach Matt Deerman admitted he lost sleep over the weekend worrying about the weather that pushed the series to Monday, but the way the Bulldogs hit the ball against the Tigers he could rest easy.
 
It wasn't their best day on the mound, but the Bulldogs were right on at the plate. They pounded 12 hits in five innings in the first game, nine hits in six innings in the nightcap, and were 5-for-7 with 14 RBIs with the bases loaded.
 
"Offensively I thought we did a really good job," Deerman said. "We hit the ball well, we made their pitchers get deep in counts. (Pruitt) wasn't the sharpest he's been on the mound today, but he definitely had a great day at the plate. He struggled a little bit throughout the year, but he stroked it today."
 
Pruitt gave up a walk and two singles to the first three batters of the game, prompting a visit from Deerman. The Tigers eventually scored two runs, but Pruitt struck out the next three batters after the visit.
 
"I guess it was first-round playoffs," Pruitt said. "You're all hyped up for it and you've got all that energy going and you get up there and you're a little bit wild."
 
Not to worry. The Bulldogs gave him six in the bottom of the inning and Pruitt played a big part in it. He delivered a two-run single to put the Bulldogs ahead and T.J. Fairs followed with a two-run single to make it 6-2.
 
The Tigers reached Pruitt for three more in the second, but that was as close as they got.
 
The Bulldogs walked it off in the fifth with six runs. Pruitt put an end to it when he ripped a bases-loaded double into the left-centerfield gap
 
"I tried to get back every (run) I had (given up) on the mound at the plate," Pruitt said. "That's what I always try to do. It might not always work out, but that's what I try to do."
 
Piedmont third-baseman Bryce Walter had one of the neatest at-bats in the game. The umps called him back to the plate after ruling his sky-high pop along the left field line was foul. After getting back in the box he launched a solo homer to right center to make it 10-6.
 
"When they called it foul I was glad I got another chance; I wasn't proud of that hit," Walter said. "I just wanted to capitalize on it."
 
The second game was more of the same. They loaded the bases in the first and took a 1-0 lead on Jack Hayes' sacrifice fly. Sean Smith highlighted a four-run second with a two-run triple. They added three in the third and Fairs capped a three-run sixth with a two-run bases-loaded single.
 
Moving the series to Monday gave Fairs a few more days to rest the left wrist he fractured between his thumb and forefinger in a non-baseball activity. Doctors told him he'd be out three weeks, but he was back in two and was seeing live pitching for the first time in three.
 
Batting ninth to reduce the pressure of his usual leadoff spot, he drove in two runs in the first game and went 3-for-4 with two RBIs in the nightcap.
 
"There's a little bit of pain, but for my teammates and my coaches I've got to get through it," Fairs said. "I feel like this is my last go-round at it because I'm a senior I've got to give it everything I've got, hurt or not."

Game 1
Lamar Co.          230 10 – 6 8 3
Piedmont           612 16 – 16 12 0
WP: Logan Pruitt. LP: Dalton Avent. 2B: Bo Spencer (L), Logan Pruitt (P), Mason Mohon (P). HR: Bryce Walter (P).
Game 2
Piedmont           143 003 – 11 9 2
Lamar Co.          000 001 – 1 6 2
WP: Bryce Walter. LP: C.J. Wise. 2B: Bryce Walter (P), Mason Mohon (P). 3B: Sean Smith (P).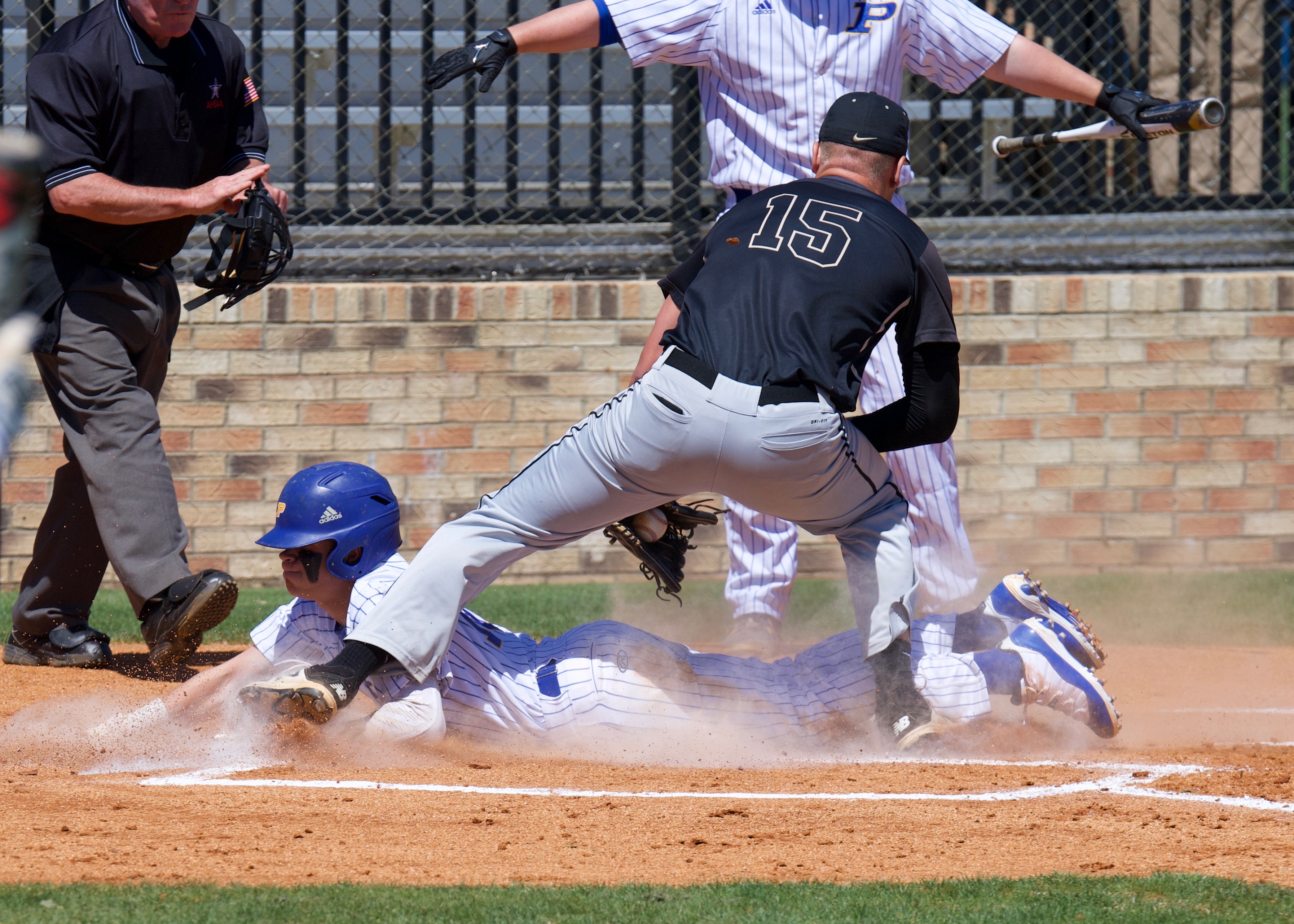 Cover photo: Piedmont's bench empties to greet Bryce Walter at the plate after the third baseman hit a second-chance homer in the fourth inning of the opener. To see more B.J. Franklin photos visit www.bjfranklin.smugmug.com