Selfie-motivation
White Plains clicks off another selfie after sweeping the Calhoun County Tournament; boys claim title by 66, girls by 119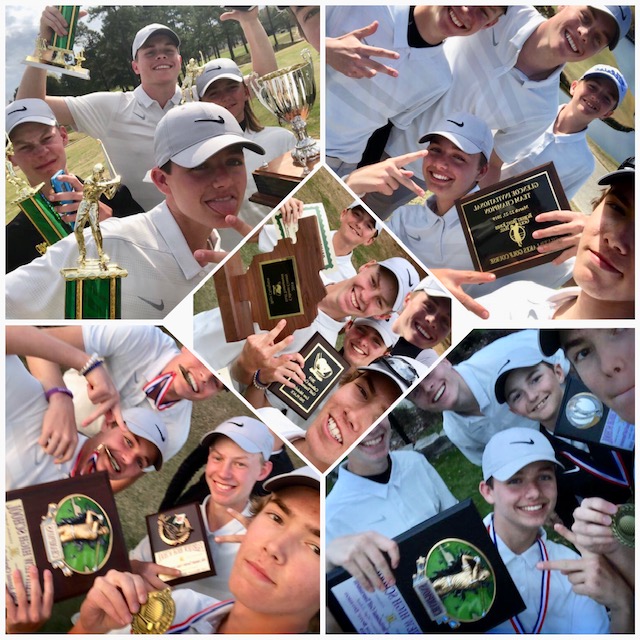 By Al Muskewitz
East Alabama Sports Today

Before doing anything else, the White Plains boys golf team had one very important piece of business to handle Saturday after collecting the hardware for running away with the Calhoun County Tournament.

After every tournament win this season, the Wildcats find a quiet place and strike a pose with the trophy to capture in a selfie for all posterity. It started as a piece of harmless fun, but it's a tradition now.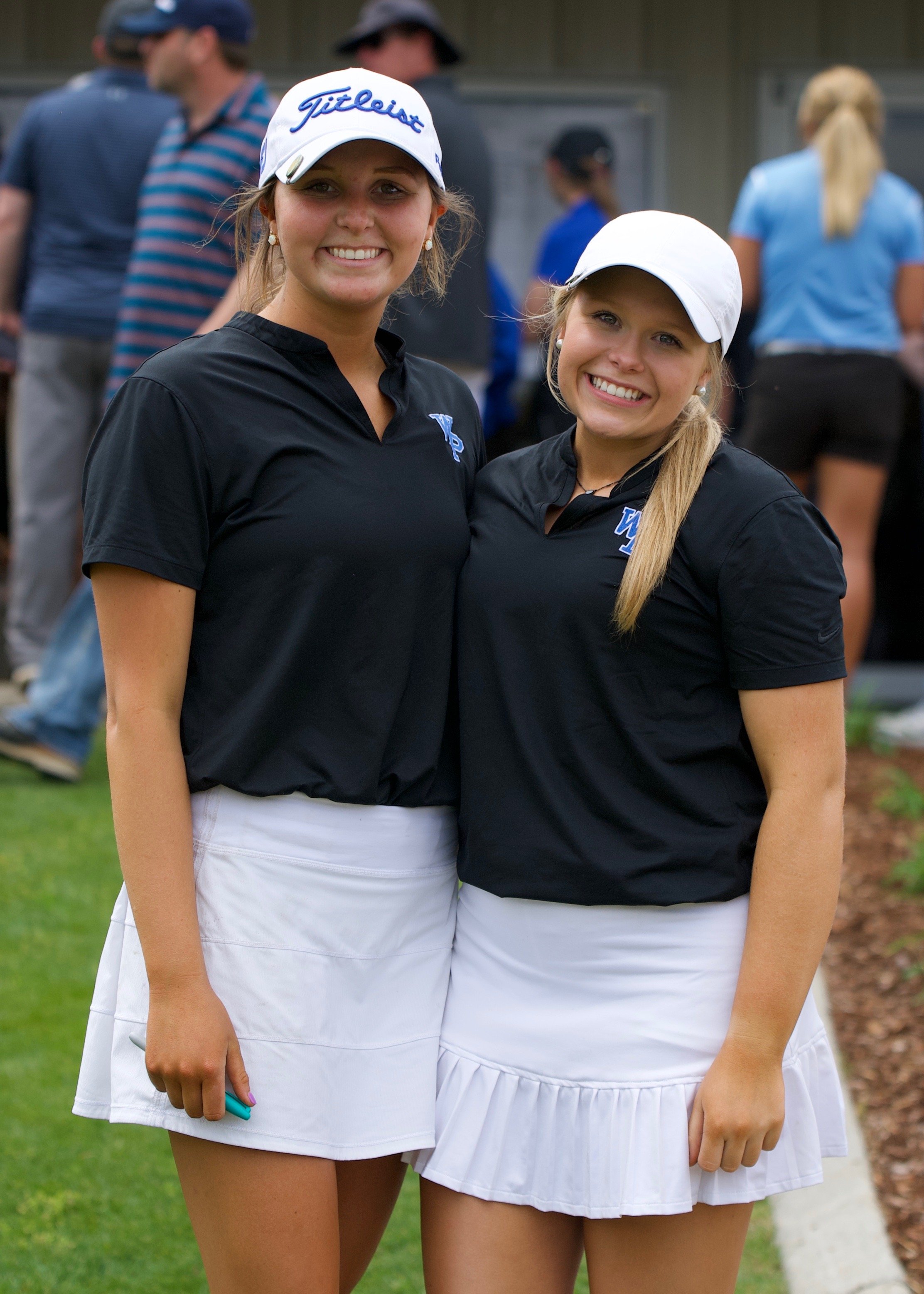 The Wildcats posted a 5-over-par 293 in the final round at Pine Hill for a two-day total 582 to win their second county title in three years and for the fifth time overall this season.

Before the formal celebration started, the team walked out onto the 18thgreen, lifted the trophy, flashed a couple signs and snapped away. They've been winning so often this year they just might run out of selfie poses.

"When we won at the Blue-Gray I was like, 'Hey guys, let's get in to post something on Snapchat,'" said Andrew Miller, the Wildcats' sophomore No. 1 who came up with the idea. "We have to show it off somehow because a lot of people don't even know what we do. They hear about it at school sometimes, but they don't really know what we do.

"It's just kind of a fun thing we do. It makes golf look a little cooler, I guess. We're having a lot of fun because we're winning. We just took a picture real quick and posted it on line and it kind of blew up. Getting a good picture every time, that's just fun."

In addition to the Blue-Gray in Montgomery, the Wildcats have grabbed winning snaps from Cross Creek in Cullman, Chesley Oaks in Cullman, Glencoe's tournament at Silver Lakes and, now, the County Tournament at Pine Hill.

Everybody gets in it. Gavin Burrage, the lineup's only senior, had to rush off after his round Saturday to get ready for the White Plains prom, but his teammates didn't leave him out. They got former Wildcat golfer Josh Davis to stand in and Miller photoshopped Burrage's likeness into that space.

Wildcats head coach Chris Randall is a fan.

"Anything that gets those guys excited and keeps them motivated," he said. "I just love watching them enjoy their time together and the memories.

"That was a great idea and it's always something different, always crazy poses. Anything that can be a tradition they can talk about and cut up about I'm for. It takes a little bit of the pressure off and makes things fun."

So far, Randall hasn't taken part in the pictures. He leaves all that to the players and enjoys seeing them when they turn up. But there is one selfie-opp he already has designs on photobombing.

"There a big one coming up, I'd like to get in it in the middle of May," Randall said, referring, of course, to the state tournament at RTJ Capitol Hill in Prattville. "I told them I'd get in that one. That's the one I'm thinking about."

The boys won their tournament by 66 shots. They were led by Wesley Jenkins, who took second place overall by winning a playoff from first-round leader Jacob LeCroy of Donoho with a 15-foot par on the fifth extra hole after missing the green.

Jenkins shot a final-round 69. He birdied three of his last six holes to catch LeCroy, who was overtaken by teammate Harrison Hughston for low medalist with a brilliant back-nine charge, and had eight birdies total if you count his two in the playoff.

The Wildcats also counted a 73 from fourth-place Kenny Okins, a 77 from Gage Miller and a 76 from Burrage in the final round. All five of their players placed in the top eight individually and nine golfers in the program made the 15-player all-county team.

The girls team shot 239 in the final round and won by 119 shots. It was their fourth straight county crown.

The Lady Wildcats had the top five finishers and six of the top seven. Junior Hanna Dyar joined her sister Layne as county medalist. She shot 77-75 and won by 10 shots. They also counted 82s from runner-up Caitlin Lewis and Baylie Webb.

"It's been somebody different seems like every tournament for us on the boys side and today it was Wesley who really played well and really just showed off with the 69," Randall said. "Hats off to him. Kenny (Okins) was steady all day and finished at 1-under; that meant a lot as well. Andrew had a rough finish, but he's still our No. 1. He's our horse and he's going to lead us to some big wins we feel l like before the season's over.

"On the girls side, so happy for Hanna to get that one. Her sister won it; to carry that tradition on and win another one and keep it in that family, that's a big deal for her. But you just have to be thrilled for Caitlin to shoot 80-82. She's just improved so much."

Boys medalist Hughston put together an unforgettable back nine to win the individual title for the second year in a row. He birdied six of his last eight holes, three of his last four, chipped in from 30 yards for birdie at the last to shoot 30 on the back. The 7-under 65 was his career best. The chip-in on 18 came after he hit his second shot over near the ninth green and smartly deciding to punch his third shot down to the front of the green.

The Montevallo signee birdied 11, 12 and 13 to get the back going. He two-putted from 20 feet for par on the par-3 14th, birdied the par-5 15th, saved par on the par-3 16th after sending his tee shot over the green and then birdied the drivable 17th before the drama at 18. He had nine birdies in the entire round.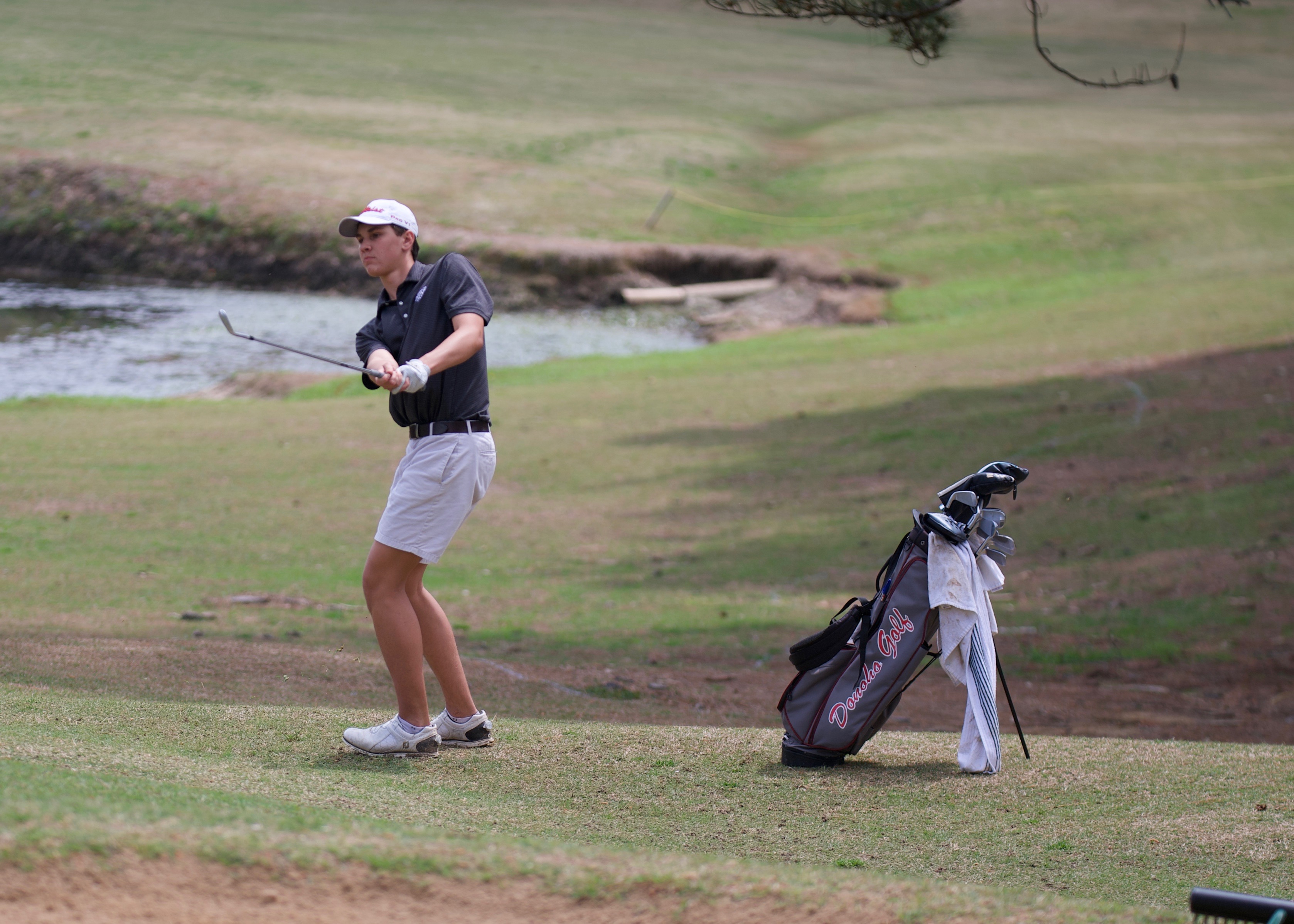 To see photos from the tournament visit www.bjfranklin.smugmug.com

CALHOUN COUNTY TOURNAMENT
At Pine Hill CC
BOYS
Team scores
White Plains 289-293—582
Donoho 314-334—648
Oxford 350-343—693
Alexandria 365-330—695
Ohatchee 387-397—784
Weaver 454-435—889
Piedmont 444-448—892
Jacksonville 464-NA

Individuals (Top 15 – All-County)
Harrison Hughston, Donoho 71-65—136
y-Wesley Jenkins, White Plains 71-69—140
Jacob LeCroy, Donoho 67-73—140
Kenny Okins, White Plains 72-71—143
Andrew Miller, White Plains 72-78—150
Gage Miller, White Plains 74-77—151
x-Peyton Bradley, Sacred Heart 79-73—152
Gavin Burrage, White Plains 78-76—154
Jake Munroe, Oxford 79-77—156
Sage Snow, Alexandria 91-79—170
Logan Gable, Alexandria 91-79—170
x-Austin Roberts, White Plains 87-84—171
x-Riley Boyd, White Plains 87-84—171
x-Porter Stokes, White Plains 86-87—173
x-Malachi Gilbert, White Plains 83-91—174
y-won place on fifth playoff hole
Others
Zach Nichols, Alexandria 90-85—175
Ethan Floyd, Piedmont 89-87—176
Trenton Lott, Oxford 90-87—177
Nick Boyd, Oxford 89-89—178
Ethan Turner, Alexandria 93-87—180
Eddie Ferguson, Ohatchee 94-86—180
x-Daniel Norred, White Plains 93-91—184
x-Taylor Harris, Oxford 96-90—186
Jack Wert, Oxford 96-90—186
Landen Souder, Oxford 92-95—187
Jackson Tucker, Ohatchee 90-99—189
x-Dalton Faulkner, White Plains 97-95—192
Chandler Armstrong, Donoho 96-100—196
x-Brady Goodson, Donoho 105-96—201
Nick Silvy, Ohatchee 103-100—203
Caleb Cargel, Alexandria 109-94—203
x-Brody Smith, Wellborn 101-104—205
Brock Murphy, Weaver 105-102—207
Mason Lee, Weaver 111-98—209
Parker Alexander, Ohatchee 100-114—214
Jacob McCurdy, Piedmont 107-108—215
x-Damon Parr, Pleasant Valley 101-116—217
Jud Grass, Jacksonville 101-108—219
Jackson Burrell, Jacksonville 108-111—219
x-Samuel Duncan, Pleasant Valley 112-111—223
x-Braxton Tucker, Alexandria 115-108—223
Chris Ferguson, Ohatchee 113-112—225
Cody Souder, Weaver 114-114—228
Coley Birchfield, Jacksonville 119-113—232
Hayden Young, Piedmont 120-118—238
x-Tyrome Brock, Anniston 123-115—238
x-Braxton Kiker, Alexandria 115-126—241
x-Tanner Smith, Wellborn 117-125—242
Sam Payne, Donoho 128-115—243
Chandler Webb, Weaver 124-121—245
x-Luke Bridges, Pleasant Valley 128-123—251
Payton Smith, Piedmont 128-135—263
x-Tyler Little, Anniston 143-143—286
Holden Abernathy, Donoho 80-WD
Erin Gaddis, Jacksonville 126-WD
x-Kaleb Holley, Wellborn 131-WD
x-Individual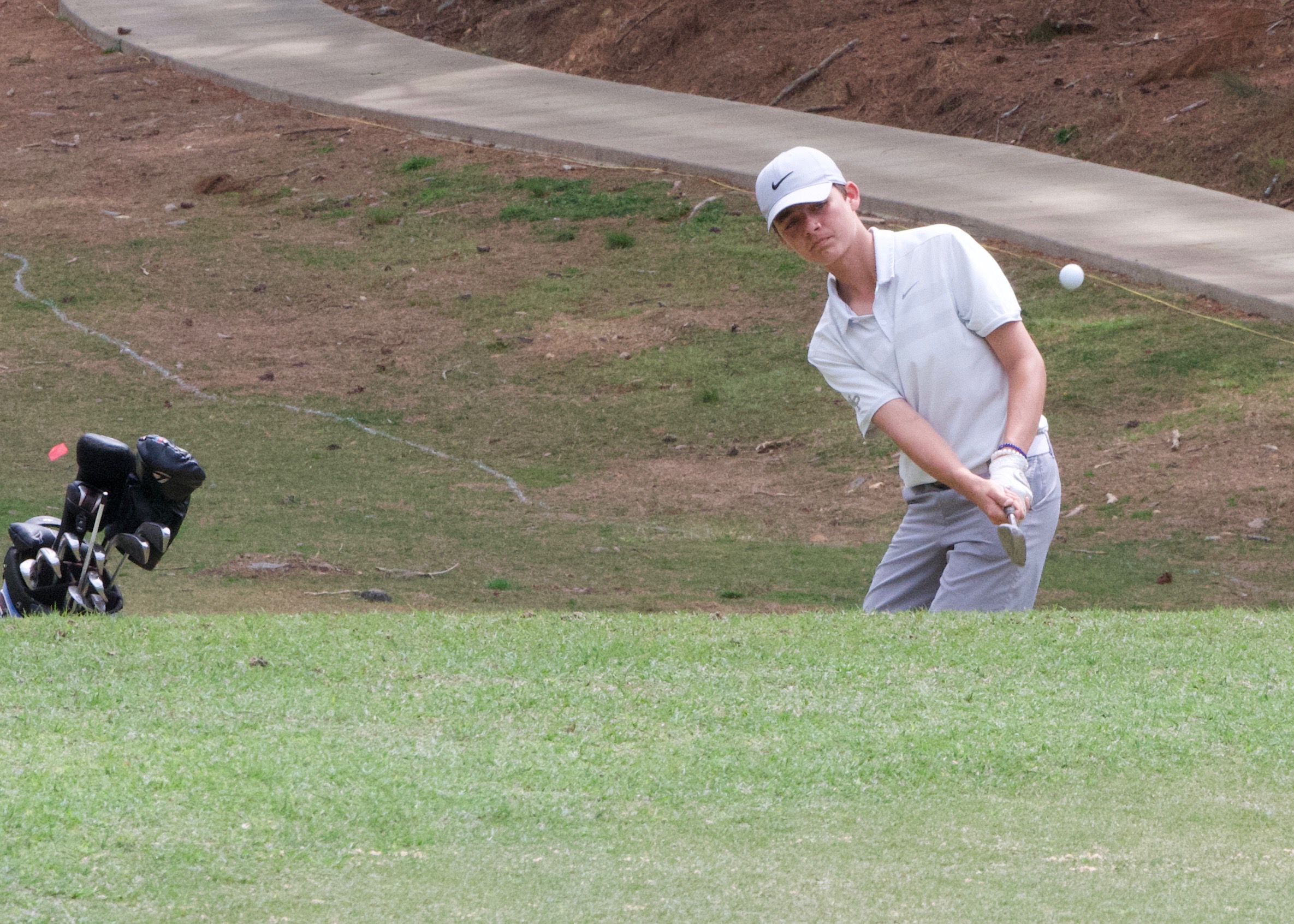 GIRLS
Team scores
White Plains 238-239—477
Alexandria 301-295—596
Pleasant Valley 321-315—636
Weaver 328-331—659
Jacksonville 347-319—666
Piedmont 350-343—693
Oxford 327-NA
Donoho 344-NA

Individuals (Top 15 – All-County)
Hanna Dyar, White Plains 77-75—152
Caitlyn Lewis, White Plains 80-82—162
Baylie Webb, White Plains 82-82—164
Abby Gattis, White Plains 81-85—166
x-Allison Arenth, White Plains 88-87—175
Ashley Parker, Alexandria 98-93—191
x-Isabel Rogers, White Plains 101-94—195
Emille Brown, Alexandria 101-100—201
x-Reagan Findley, Alexandria 102-100—202
Caitlin Roland, Jacksonville 102-100—202
Lauren Sechrest, Alexandria 102-102—204
Gabby Fagan, Pleasant Valley 102-103—205
Carmella Reese, Weaver 104-102—206
Gracie Davis, Pleasant Valley 107-100—207
Ella Floyd, Piedmont 104-105—209
Others
x-Abby Whisenant, Pleasant Valley 111-107—218
Haley Bostick, Piedmont 113-107—220
Cara Burgess, Weaver 107-114—221
Emma Ray, Alexandria 119-102—221
Katie Knight, Pleasant Valley 112-112—224
Marlie Wright, Pleasant Valley 112-113—225
x-Morgan Irwin, Alexandria 121-107—228
Shelby Salmon, Jacksonville 122-107—229
Autumn Ray, Weaver 117-115—232
Riley Bass, Oxford 118-115—233
MacKenzie Oliver, Jacksonville 123-112—235
x-Mandy Hedgepeth, Alexandria 124-122—246
Daisy McElroy, Jacksonville 130-119—249
Demari Grant, Weaver 133-119—252
Kallie Callan, Donoho 125-132—257
Emma Kim, Donoho 136-123—259
x-Pressley Parris, Pleasant Valley 131-129—260
Natalie Howell, Oxford 129-133—262
Mayce Chandler, Piedmont 133-131—264
x-Individual