Perfect timing
Turner's squeeze bunt in sixth inning lifts Oxford over Hickman (Mo.), but Jackets run-ruled in second game against Vestavia Hills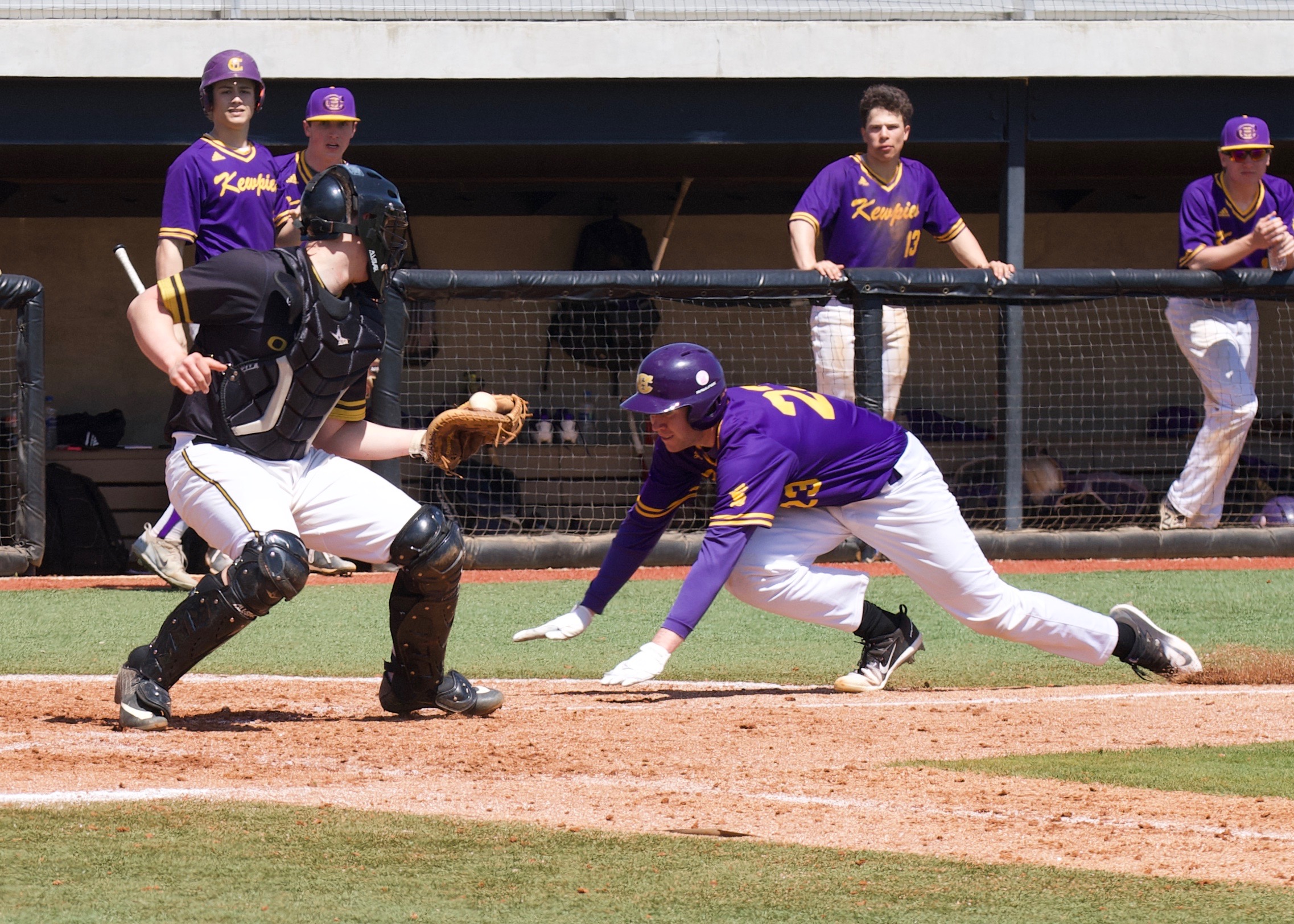 Thursday's scores
Cleburne County 17-21, Anniston 3-3
Faith Academy 4, Alexandria 2
Gadsden City 5, Lauderdale County 3
Lauderdale County 6, Ohatchee 1
Mountain Brook 7, Piedmont 2
Mountain Brook 13, Gadsden City 3
Oxford 4, Hickman (Mo.) 3
Piedmont 6, Munford 0
Vestavia Hills 16, Oxford 3

By Al Muskewitz
East Alabama Sports Today

OXFORD —A year later, given the chance to call for the squeeze in a game-changing situation, Wes Brooks pulled the trigger and this time Jarin Turner got it down.

Turner squeezed home Wesley Sparks in the sixth inning Thursday to push across the go-ahead/winning run in Oxford's 4-3 win over Hickman (Mo.) that took some of the sting out of the previous night's run-rule loss.

Last season Turner came up in a similar situation in a tied Game 2 of the Jackets' opening round Class 6A playoffs series against Hazel Green. Brooks didn't call for the squeeze that time and Turner popped out to first. Hazel Green went on to win the game and, next day, the series.
 
This time there was no doubt he was going to drop one down.

"We talked about that all year," Brooks said. "We talked about if we squeezed and got that run in — and even Trey Higgins said it — we win the state championship.

"We've talked about that, how we're going to have to get a squeeze down to win a championship. And he (Turner) is really one of our best bunters."

Wesley Sparks, who entered the game in the fifth when Cole Hapach relieved Turner on the mound after 100 pitches, led off the home sixth with a double. Hot-hitting Jake Spivey then moved him to third with a hot shot to the right side of the infield, bringing Turner to the plate.
 
Brooks called for it as soon as Turner got in the box and the West Georgia signee delivered with the effect as dramatic and desired as if it were a long home run. The high-fives back in the dugout were just as enthusiastic.

"I don't think I've bunted in an actual game this year, so it kind of surprised me," Turner said. "I've done it a hundred times in practice and we do it basically every day, so it was kind of like a natural thing. Plus, it was a fastball down the middle, so it was kind of hard to screw that up."

After the Jackets got the run across Hapach retired the Kewpies in order in the seventh to lock down the win.

The second game of the day didn't go nearly as well.

The Jackets lost to Vestavia Hills 16-3.

Instead of stewing over being run-ruled by a Class 7A opponent for the second day in a row, Brooks talked more about winning pitches and the philosophy of process than individual game results. 

Still, Oxford starter Sparks had trouble finding the zone. He walked four in the first inning and Vestavia scored three runs with the benefit of only one hit.

Altogether four Oxford pitchers walked 13 and hit five.

The Rebels batted around in three innings. They scored three in the first with nine batters, seven in the third with 13 batters and two hits, and five in the fifth with 11 batters and one time. One of the hits in the third was a three-run triple by Mason Maners.
 
"Some days are tough, some days you don't have your best and obviously today was one of those days," Brooks said. "We try to stay process over outcome and not be outcome oriented, don't change who we are.
 
"I hope that none of our guys are walking out of here feeling any different than the way they did walking in here … and not letting the score on the scoreboard dictate who they are as a person, a man, a baseball player."

On the cover, Oxford coach Wes Brooks goes over strategy with Jarin Turner (20) and Wesley Sparks (9) in the crucial sixth inning Thursday against Hickman. To see more photos visit www.bjfranklin.smugmug.com

Hickman        000 020 0 – 3 7 1
Oxford            300 001 x – 4 5 2
WP: Cole Hapach. LP: Ray Schroeder. 2B: Wesley Sparks (O). 3B: Jake Spivey (O).
 
Vestavia Hills  307 15 – 16 7 0
Oxford              002 10 – 3 7 2
WP: Garrison Cherry. LP: Wesley Sparks. 2B: Trey Mooney (O). 3B: Mason Maners (V).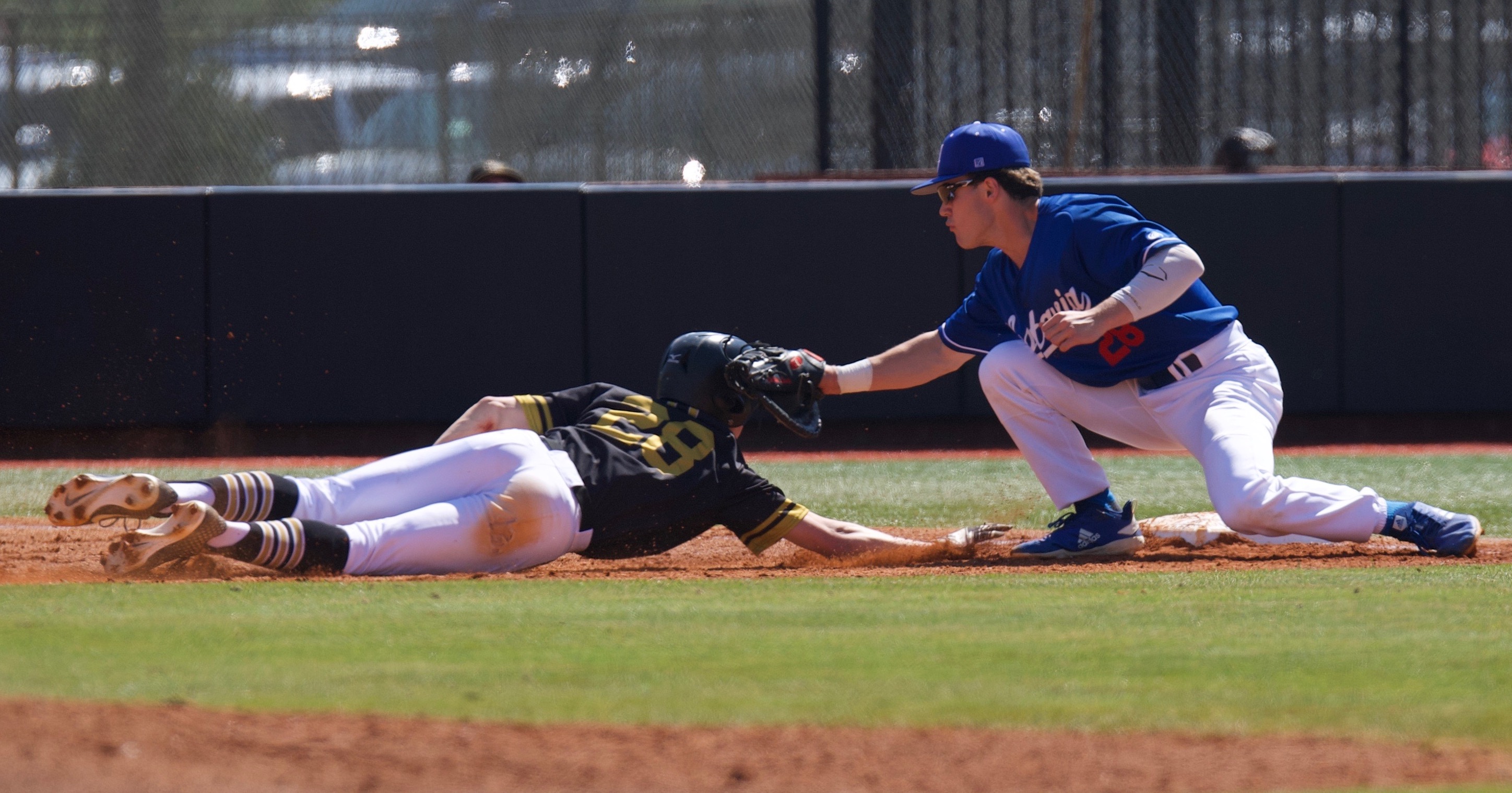 Piedmont 6, Munford 0:Mason Mohon pitched a complete-game two-hit shutout with six strikeouts and the Bulldogs gave him a cushion with a five-run fifth inning. 
 
Both of Munford's hits came with two outs in the third inning. Mohon never allowed a runner past second base. He threw 81 pitches.
 
"I like where we're at with our pitching staff," Piedmont coach Matt Deerman said.
 
Bruce Walter's two-run single highlighted the Bulldogs' big inning. Walter drove in three runs in the game. Sean Smith and Nick Johnson each had two hits.
 
Piedmont       000 050 1 – 6 9 2
Munford        000 000 0 – 0 2 1
WP: Mason Mohon. LP: Dawson Strickland.
 
Mountain Brook 7, Piedmont 2:Colton Yeager hit a 1-2 hanging curve off the left centerfield fence for a game-tying double with two outs in the sixth inning and scored the go-ahead run later in the inning on a bases-loaded walk.
 
The Bulldogs grabbed a 2-0 lead in the second when they pushed across runs on an infield error and Austin Estes' RBI single. Logan Pruitt was doing his best to make the runs stand until he went to the well once too often in the sixth against Yeager.
 
Brant Deerman and Estes each had two hits for the Bulldogs in the game.
 
Mountain Brook       000 012 4 – 7 6 1
Piedmont                    020 000 0 – 2 7 3
WP: Edward Berry. LP:  Logan Pruitt. 2B: Will Yarbro (M), Davis White (M), Colton Yeager (M), Sean Smith (P), Jack Hayes (P). 3B: Will Yarbro (M).

Lauderdale County 6, Ohatchee 1: Nathan Grisham faced five batters above the minimum through six innings before running out gas in the seventh, but the Tigers had built enough of a cushion to hold off the Indians' last-inning challenge.
 
Ohatchee scored its only run in the seventh after two outs in the seventh when Baylee Graham drew a bases-loaded walk. It was the third straight walk Grisham issued in the inning, forcing him out of the game and leaving him one-third of an inning shy of a complete game.
 
Lauderdale County  011 202 0 – 6 4 0
Ohatchee                    000 000 1 – 1 5 4
WP: Nathan Grisham. LP: Larry Noah. 2B: Alex Newton (L), Derrek Urban (L)
 
Faith Academy 4, Alexandria 2: Faith scored an insurance run in the fifth inning after the Valley Cubs closed to within 3-2 on Noah Primm's RBI triple in the top of the inning. The Cubs put the go-ahead runners in scoring position with one out in the seventh, but the Rams turned a game-ending double play.
 
Faith Academy 4, Alexandria 2
Alexandria    100 010 0 – 2 3 2
Faith Acad.    012 010 x – 4 6 3
WP: James Flynn. LP: Landon Comer. 2B: Alex McWhorter (F), P. Bell (F), Alex McWhorter (F). 3B: Noah Primm (A).