Jackets humbled
Mountain Brook hands it to Oxford at the start of the Jackets' gauntlet of highly ranked teams; includes scores, highlights from Wednesday's games involving teams in and around Calhoun County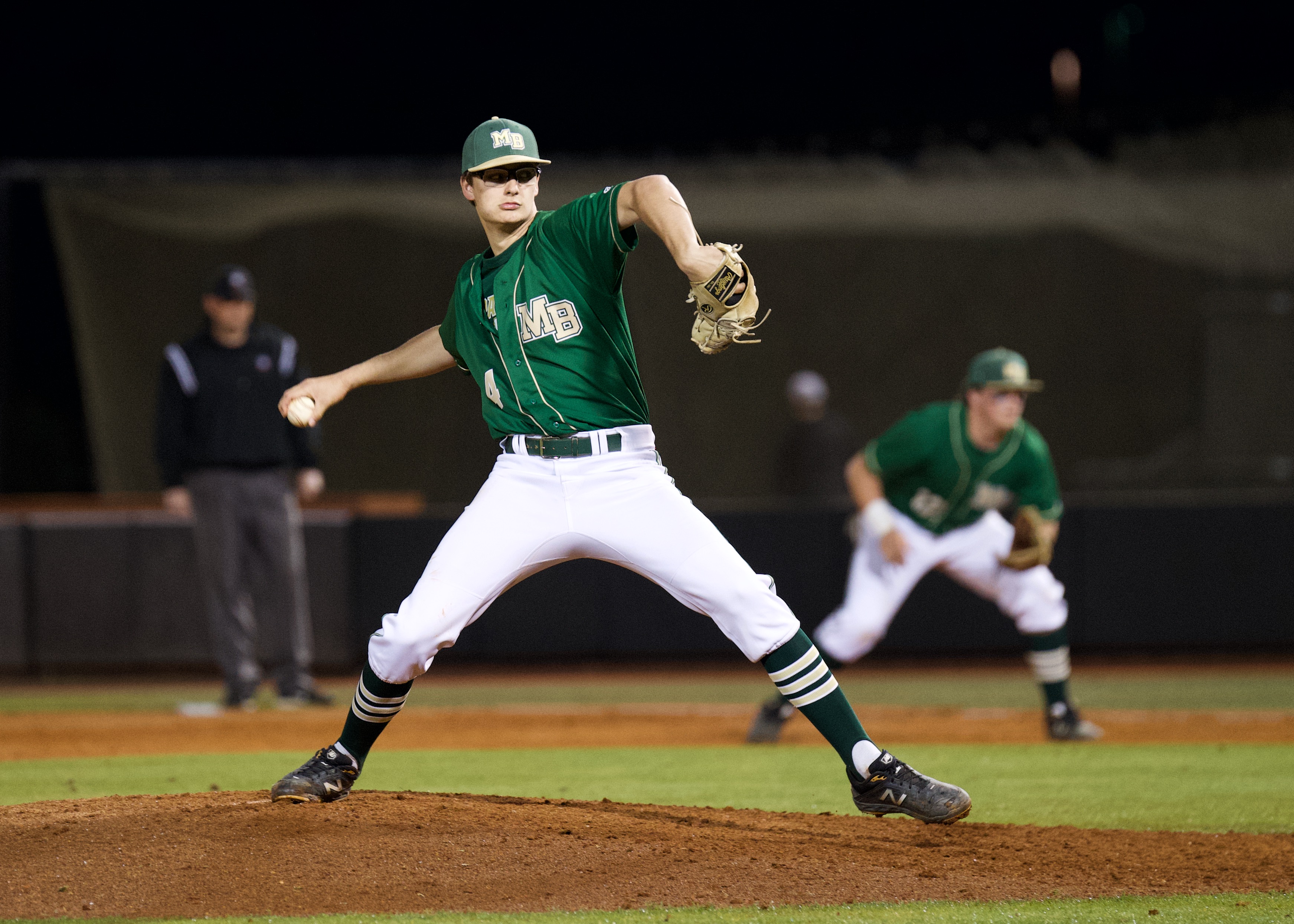 Wednesday's results
Cleburne County 3, Ranburne 2
Pleasant Valley 9, Foley 2
St. Paul 3, Alexandria 1
 
Choccolocco Experience
Donoho 15, Vincent 3
Hickman (Mo.) 5, Mountain Brook 3
Holtville 13, Ohatchee 3
Jacksonville 6, Wellborn 5
Lawrence County 9, Wellborn 0
Mountain Brook 13, Oxford 3
Munford 9, Ohatchee 3
Munford 13, Jacksonville 1
Muscle Shoals 15, White Plains 1
Piedmont 11, Holtville 6
Vestavia Hills 11, Westbrook Christian 4
Vestavia Hills 17, Gadsden City 7
West Blocton 10,  Donoho 7

To see a gallery of photos from the Oxford-Mountain Brook and Jacksonville-Munford games, visit www.bjfranklin.smugmug.com

By Al Muskewitz
East Alabama Sports Today

OXFORD — Wes Brooks tries to schedule the strongest teams he can find to harden his Oxford baseball team for the most important stretch of the season.

Fortunately, the Yellow Jackets coach can find a lot of them in this part of the state and has a stadium to play in that makes it easy to draw them, and spring break affords the perfect time to make it work.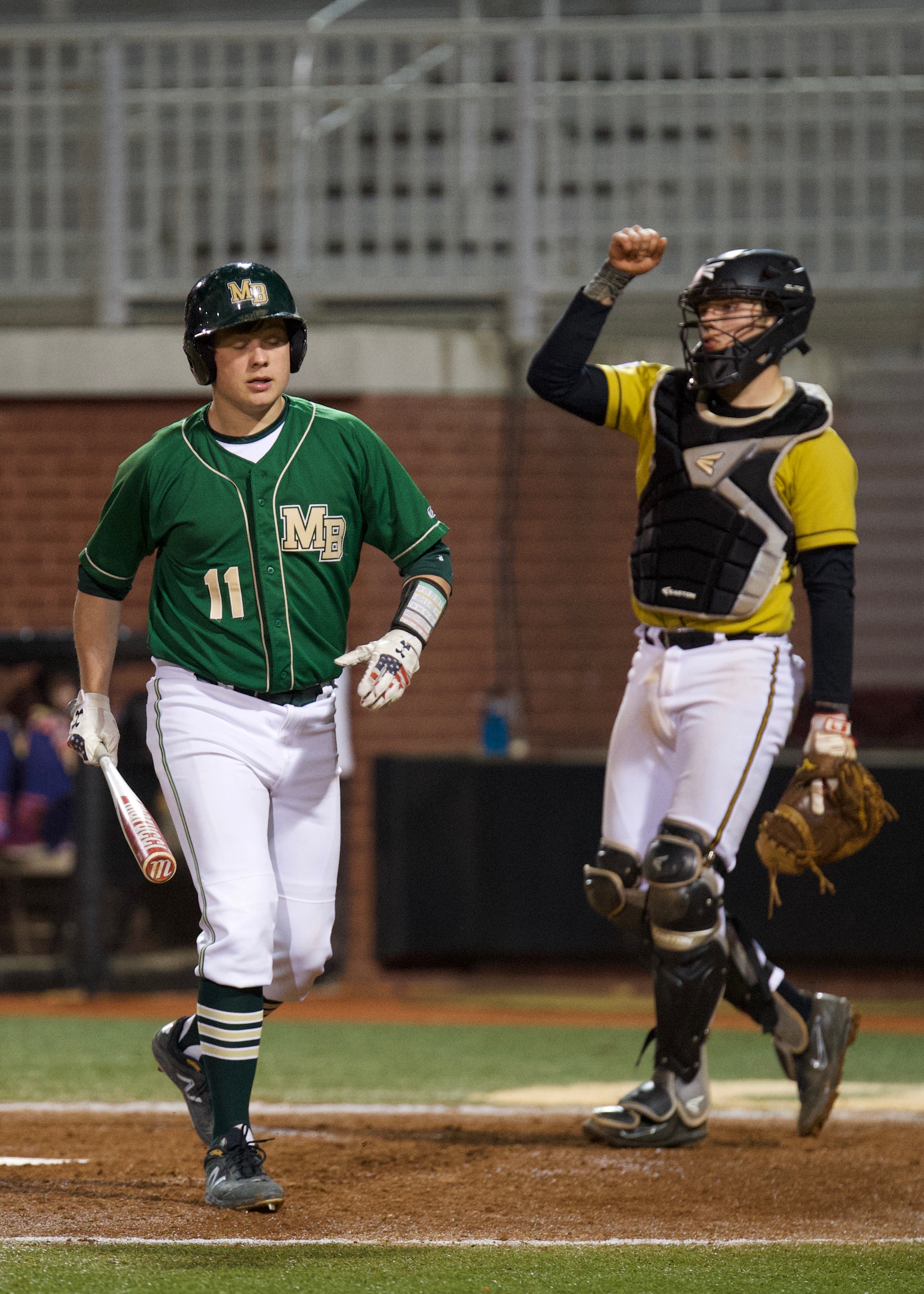 The fifth-ranked Jackets are in the midst of perhaps their most challenging stretch of the season through Saturday, playing four top 10 in-state 2A, 6A and 7A teams and a top five out-of-state 5A team.

They didn't start the stretch well as No. 6 7A Mountain Brook run-ruled them 13-3 Wednesday night at Choccolocco Park.

"We weren't on the winning end of a lot of pitches tonight, but they can't stop us from our ultimate goal at the end of the year," Brooks said. "They were seeing it good, they hit it good. They whipped our tails.

"Nothing I'm mad about or anything. They hit it about as good as we did against Grove City (Ohio) the other night. That's baseball. Once you think you've got it figured out it humbles you real quick. I tell our guys you're either humbled or about to be and we were quickly humbled tonight."

The Spartans (17-7) pounded 11 hits in the five-inning game, five going for extra bases. None were bigger than Joe Saia's three-run triple in the second that made it an 8-1 game.

The gauntlet doesn't get any easier for the Jackets (15-4) going forward. They play hard-hitting No. 5 Missouri 5A Hickman Thursday at 11 a.m. and 7A No. 9 Vestavia Hills at 2 p.m. and 6A No. 1 Hillcrest-Tuscaloosa Saturday at 11 a.m. and No. 2 2A Ariton at 2 p.m.

Hillcrest is No. 3 overall in the PBR state power rankings. Mountain Brook is 12, the Yellow Jackets 13 and Vestavia 17.

(UPDATE: The Jackets moved to No. 3 in the state media ratings released late Wednesday night. Mountain Brook fell to No. 7, Hillcrest to No. 2, Ariton to No. 6 and Vestavia fell out.)

"I like playing good competition because it just helps you get better and gets you more prepared," Jackets catcher Jake Spivey said."Today shows us things we've got to get better at. Just know every day we're not going to come out and get 15 hits like we did Saturday."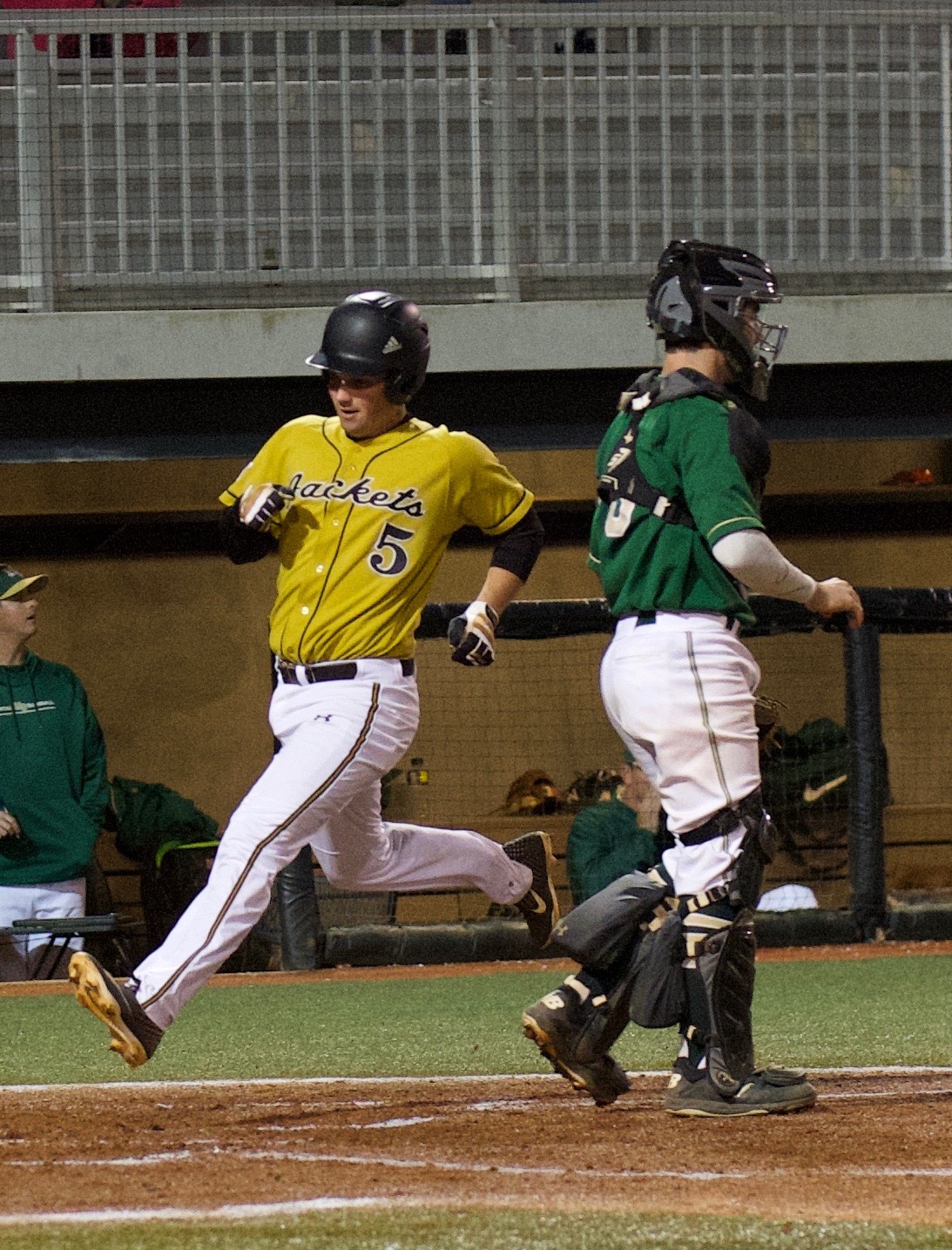 The Spartans roughed up Oxford starter Trey Mooney for 10 runs over the first three innings. Mooney could only throw his fastball of strikes and the Spartans caught up to it for three runs in the first, five in the second and two in the third.

Spivey drove in Oxford's first run with a first-inning double down the left field line. Trey Higgins drove in the Jackets' other two on a third-inning double and a fourth-inning single.

In nine games since winning MVP of the Calhoun County Tournament, Spivey is hitting .423 with 17 RBIs. In his current four-game hitting streak he is 8-for-14 with 15 RBIs, two homers and three doubles.

The loss snapped a six-game Oxford winning streak and showed the Jackets they still have room for improvement.

"This shows us we've got to compete and we've got to limit the errors because that's what separates the close games," Higgins said. "If anything it'll make us come out more hungry and ready to play because we don't want this to happen again."

Mountain Brook 352 03 – 13 11 1
Oxford 101 10 – 3 8 4
WP: Hayden Bruno. LP: Trey Mooney. 2B: Joe Saia (MB), Will Yarbro (MB), Harrison Ware (MB), Trey Higgins (O), Jake Spivey (O). 3B: Will Yarbro (MB), Colton Yeager (MB).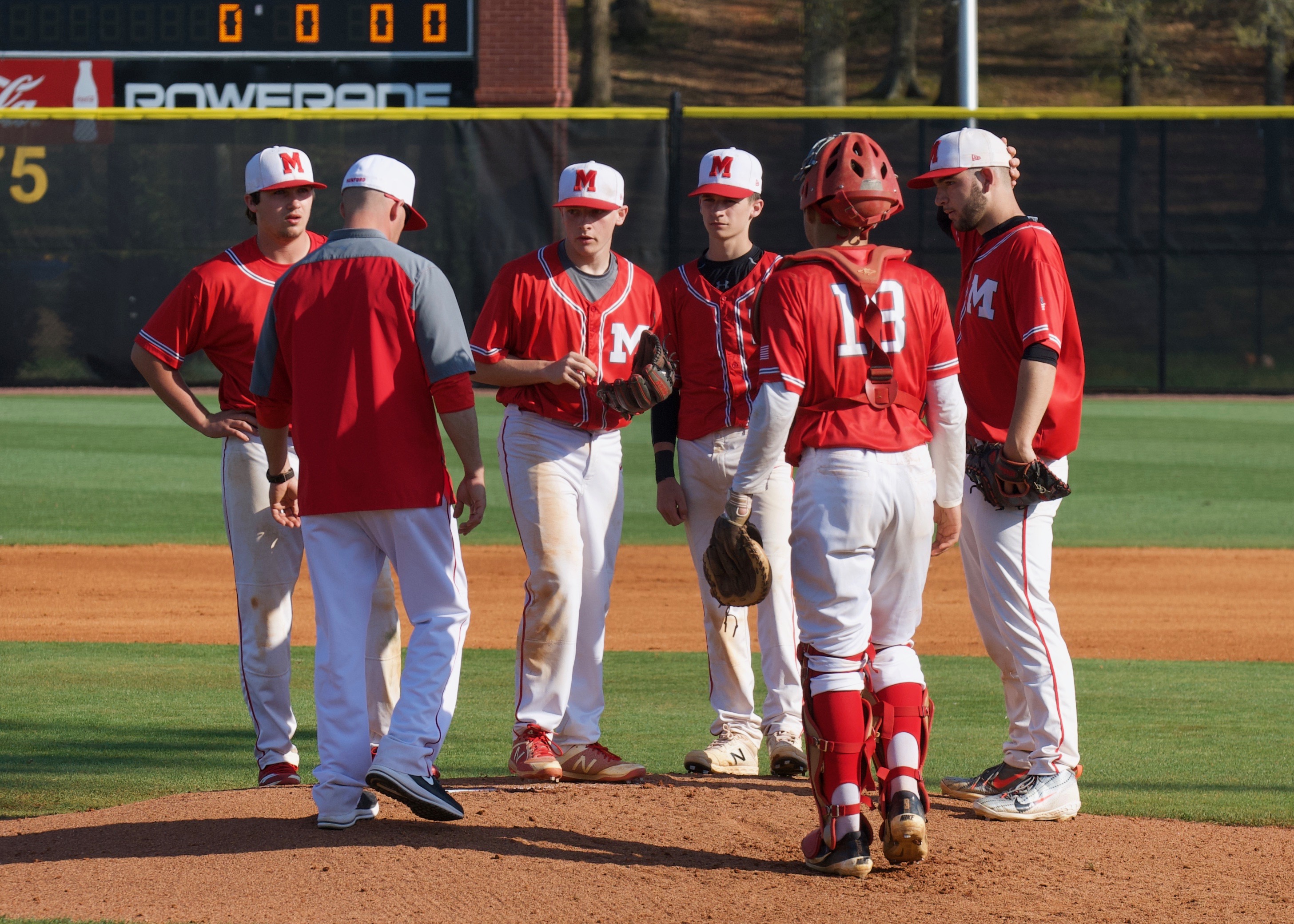 Munford 13, Jacksonville 1: Jamie Burgess returned to the Signature Field at Choccolocco Park for the first time since taking the Munford job last year and guided the Lions to a pair of victories over Calhoun County opponents in the Choccolocco Park Spring Break Challenge.

The Lions beat Jacksonville 13-1 and Ohatchee 9-3.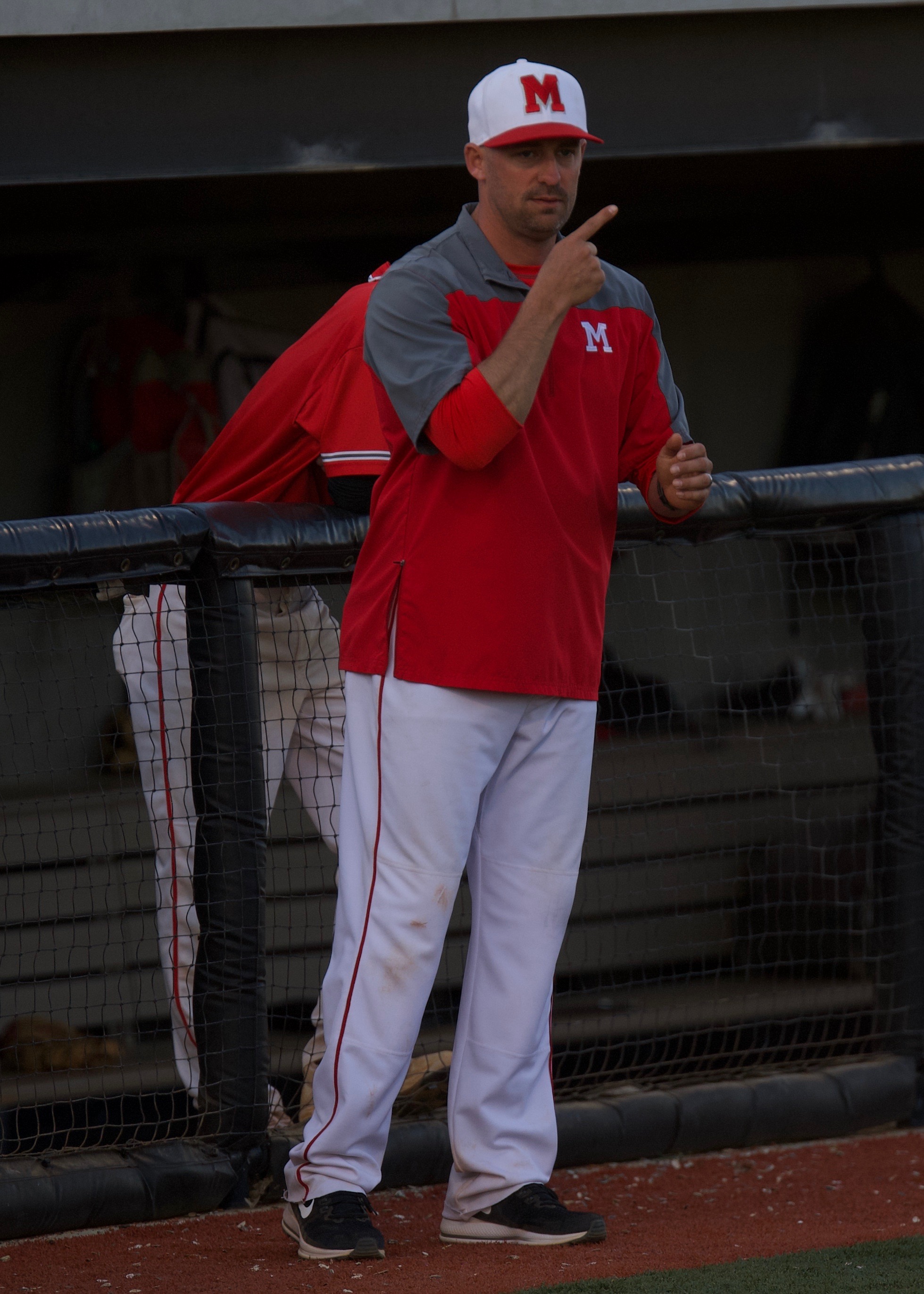 The Signature Field was Burgess' home park for the last three of his 12-year run as an Oxford assistant. The Lions played two games at Choccolocco Park on Wednesday, but they were on the pod fields.

"It's fun coming home to where we've played so many years," Burgess said. "It brought back a lot of memories, for sure. This park has a lot of memories. We had a lot of good years and good teams and good players come through."

The memory of the game against the Golden Eagles at least was the start. The first three pitches Lawson Molden threw in the game hit three Jacksonville batters, but the senior right-hander who hadn't pitched since ninth grade miraculously escaped with no runs scoring by getting a force out at the plate, a soft fly to center and a grounder back to the mound.

His teammates came in and got him two runs on second and five in the third. Later, the infield turned two double plays for him.

"I started off the game throwing the four-seam and (Burgess) said swap it for the two-seam," Molden said. "I just couldn't control it right then, but I finally got control of it and it tailed good bit … and they couldn't touch it."

The Golden Eagles only got four hits off him. Meanwhile, the Lions had 11 hits. Drew Harkins and Jakobe Threat each had three.

Earlier in the day, Munford dumped Ohatchee 9-3. Dakota Green scattered eight hits and struck out 10 on the mound and delivered two hits and three RBIs at the plate for the Lions.

Green got off to a shaky start similar to Molden's, loading the bases on two singles and a hit batsman from Ohatchee's first three hitters. The Indians got a run out of it on Devin Howell's RBI single, but Green managed to stay out of much trouble the rest of the game.

Strickland and Payton Graben both had two hits and two RBIs for Munford. Baylee Graham had two hits for Ohatchee.

Jacksonville bounced back later in the day and edged Wellborn 6-5. Luke Jackson broke a 5-5 tie in the fifth inning when he raced home from second on Jae-Taj Morris' one-out pop single to right field. Coleman Oliver pitched 4 2/3 innings of two-hit shutout relief to get the win.

Munford 025 002 4 – 13 11 0
Jacksonville 010 000 0 – 1 4 4
WP: Lawson Molden. LP: Brandon Charping. 2B: Jakobe Threat (M), Cannon Brasher (M), Drew Harkins 2 (M).

Ohatchee 100 011 0 – 3 8 2
Munford 111 303 x – 9 9 1
WP: Dakota Green. LP: Grayson Alward. 2B: Todd Dover. (O). 3B: Payton Graben (M).

Wellborn 302 000 0 – 5 7 3
Jacksonville 302 010 x – 6 7 4
WP: Coleman Oliver. LP: Evan Beadles. 2B: Bailey Neely (W), Will Waldrop (W). 3B: Tito Canales (J).

Pleasant Valley 9, Foley 2: Triston Salster had two hits and three RBIs and winning pitcher Colby Nelson drove in four runs with two hits while throwing a complete game in the Raiders' getaway game from the beach.

Salster hit a two-run double in the first inning and Nelson hit a three-run double in the third as the Raiders opened a 6-1 lead. On the mound, Nelson scattered six hits and gave up one earned run.

"We've been trying to put together a complete game and it happened tonight," PV coach Chris Youngman said. "Colby did a great job on the mound, our defense played lights out and we hit the ball well. It was a great way to end our trip and it gives us some momentum heading into a big area series (with Weaver) next week.

"This trip is about us coming together as a team and we feel like we've done that. We are proud of our guys and we are excited to see what we can do the rest of the season. We are going to do our best to see how long we can keep playing baseball."

Two years ago the Raiders made a similar trip to the beach and it, along with Moose the Minion, inspired them to an historic run in the playoffs.

They didn't catch a Moose this year, but the team went on a deep-sea fishing excursion and caught "a good bit" of fish.

Pleasant Valley 303 001 2 – 9 10 0
Foley 101 000 0 – 2 6 0
WP: Colby Nelson. LP: Kade Jordan. 2B: Colby Nelson (PV), Triston Salster (PV), Skyler Mcleod (PV), Romman Duplesis (F), Job Golden (F). 3B: Skyler Mcleod (PV)

Piedmont 11, Holtville 6: Brant Deerman and Bryce Walter both had two hits and two RBIs and Piedmont erupted for 10 runs over the first three innings to set up the victory. T.J. Fairs also had a pair of hits for the Bulldogs (18-4) and Logan Pruitt drove in a pair of runs.

It was the Bulldogs' seventh win in a row and 12thin 13 games since their walk-off loss to Alexandria in the Calhoun County Tournament semifinals. They have scored 10 runs or more in nine of those victories.

Holtville 001 023 0 – 6 8 3
Piedmont 316 100 x – 11 11 5
WP: Jack Hayes. LP: Todd Wilson. 2B: Mike Forney 2 (H), Hunter Martin (H), Silas Thompson (P), Bryce Walter (P), Brant Deerman (P), Logan Pruitt (P), Jack Hayes (P).

Holtville 13, Ohatchee 3: Drew Nobles hit a three-run homer and drove in four runs to help send Ohatchee down to defeat. Grayson Alward singled home Ohatchee's first run in the first inning with the first of his two hits. Lipham singled home the Indians' other two runs in the fifth.

Ohatchee 100 020 – 3 6 1
Holtville 204 331 – 13 11 1
WP: Owen Chandlee. LP: Blake Hollis. 2B: Hunter Martin (H), Braxton Buck (H). HR: Drew Nobles (H).

Donoho 15, Vincent 3: Hall Billings went 4-for-5 and Reid Willamon hit a three-run homer for the Falcons. Tyler Allen and Blake Willingham (two RBIs) both had two hits and Jase Alderman drove in a pair of runs.

In their other game of the day, the Falcons gave up a pair of five-run innings and lost to West Blocton 10-7. The second outburst, in the sixth, allowed the Tigers to break away from a 5-5 tie and was highlighted by Aaron Pearson's three-run homer. Hall Billings and Seth Ford both had two hits and two RBIs for the Falcons. Losing pitcher Charlie Willamon also had two hits.

Donoho 213 405 – 15 12 2
Vincent 101 010 – 3 6 0
WP: Blake Willingham. LP: Stephen Davis. 2B: Tyler Allen (D), Robbie Albright (V). 3B: Hall Billings 2 (D). HR: Reid Willamon (D).

West Blocton 005 005 – 10 4 1
Donoho 103 012 – 7 9 5
WP: Tyler Colton. LP: Charlie Willamon. 2B: Seth Ford 2 (D), Hall Billings (D), Rod Elston (D). HR: Aaron Pearson (WB).

Muscle Shoals 15, White Plains 1: The Trojans used an eight-run second inning to get control of the game and junior Carson Knight was brilliant, holding the Wildcats to three singles and striking out 13.

Knight threw only 85 pitches in seven innings (60 for strikes) and didn't walk a batter. He gave up only one hit after Brendan Roper and Tyler Daniel had back-to-back singles in the second inning, and none after Coleman Messer's two-out single in the third. He retired the last 13 batters he faced.

Muscle Shoals 080 000 7 – 15 17 1
White Plains 010 000 0 – 1 3 4
WP: Carson Knight. LP: Tyler Daniel. 2B: Cooper Vincent (M), Jackson McCreless (M), Jackson Bratton (M), Greyson Thornton (M). 3B: Caleb McDougle (M).

Lawrence County 9, Wellborn 0: Three pitchers combined to shut out the Panthers on five hits. The Red Devils took control of the game early. Jacob Shelton's two-run double – the last of five straight hits to open the game – highlighted a five-run first inning.

Lawrence County 510 300 0 – 9 14 2
Wellborn 000 000 0 – 0 5 2
WP: Kaden Edwards. LP: Will Waldrop. 2B: Hunter White (L), Micah McElyea (L), Caleb Wilson (L), Jacob Shelton (L), Brayden Proctor (L).

Cleburne County 3, Ranburne 2: Porter Embry doubled home the go-ahead run in the sixth inning and later in the inning scored the go-ahead run on a ball that got away. Heflin's Reese Morrison checked Ranburne on five hits and struck out 15, while the Bulldogs' Brock Young allowed only three hits and struck out 12.

Cleburne County 010 002 0 – 3 3 5
Ranburne 000 101 0 – 2 5 1
WP: Reese Morrison. LP: Brock Young. 2B: Porter Embry (CC), Caleb Hill (R).