First-night survivors
Jacksonville, Weaver, White Plains, Saks all advance to quarterfinals of Calhoun County Tournament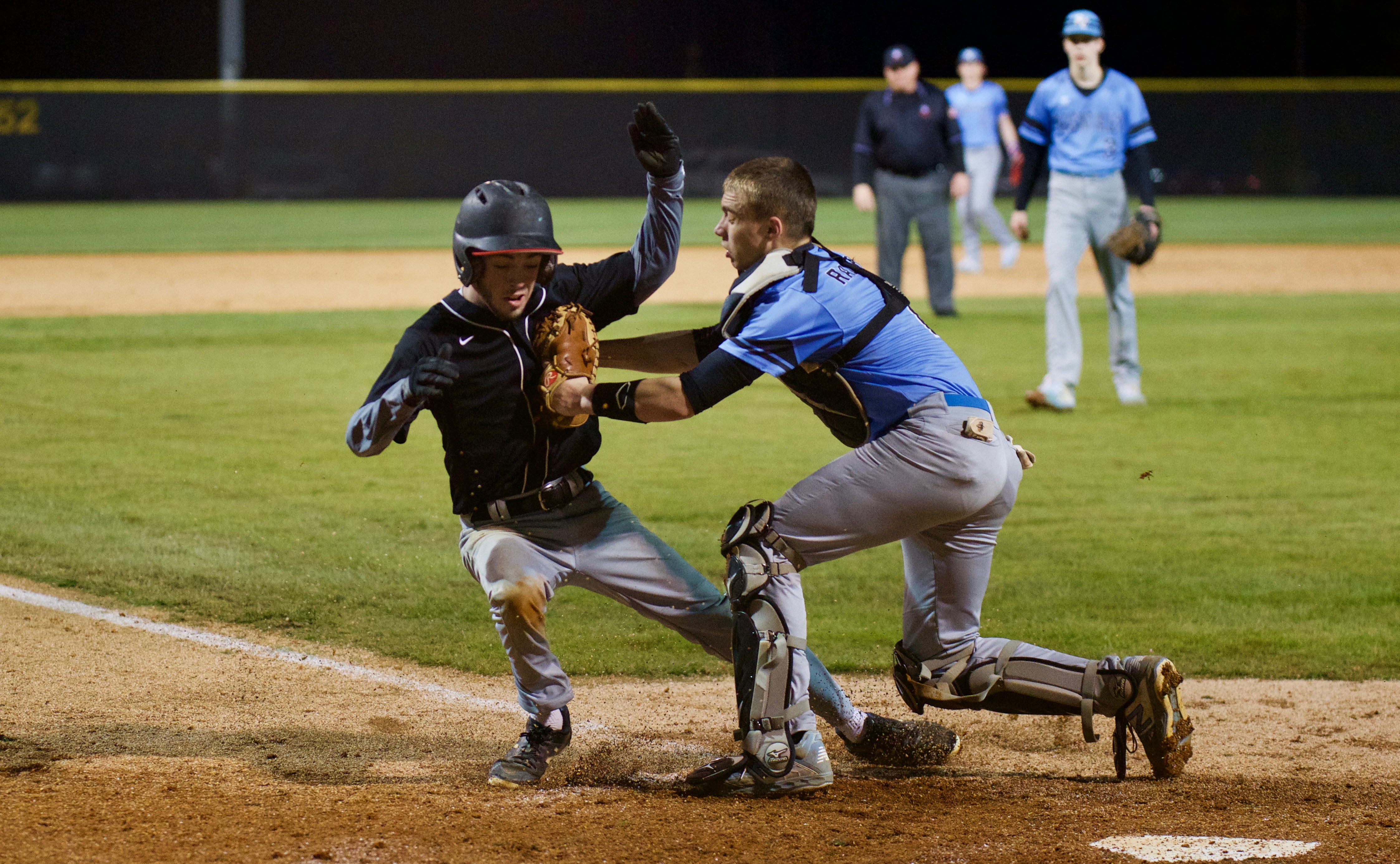 CALHOUN COUNTY TOURNAMENT
Friday's scores
Jacksonville Christian 22, Anniston 12
Wellborn 14, Faith Christian 4
Jacksonville 5, Donoho 0
Weaver 6, Pleasant Valley 2
Saks 15, Jacksonville Christian 5
White Plains 18, Wellborn 0
Saturday's games
Ohatchee vs. Saks, 9 a.m. (BB1)
Alexandria vs. Jacksonville, 9 a.m. (SF)
Oxford vs. Weaver, 11:30 a.m. (SF)
Piedmont vs. White Plains, 11:30 a.m. (BB1)
 
By Al Muskewitz
East Alabama Sports Today

OXFORD — Dylan Murphy knew on Tuesday he was going to pitch in Jacksonville's Calhoun County Tournament opener Friday. The Golden Eagles had two games to play in between against a rather formidable opponent, but the senior right-hander was going on the biggest stage in town and he had four days to wrap his head around it.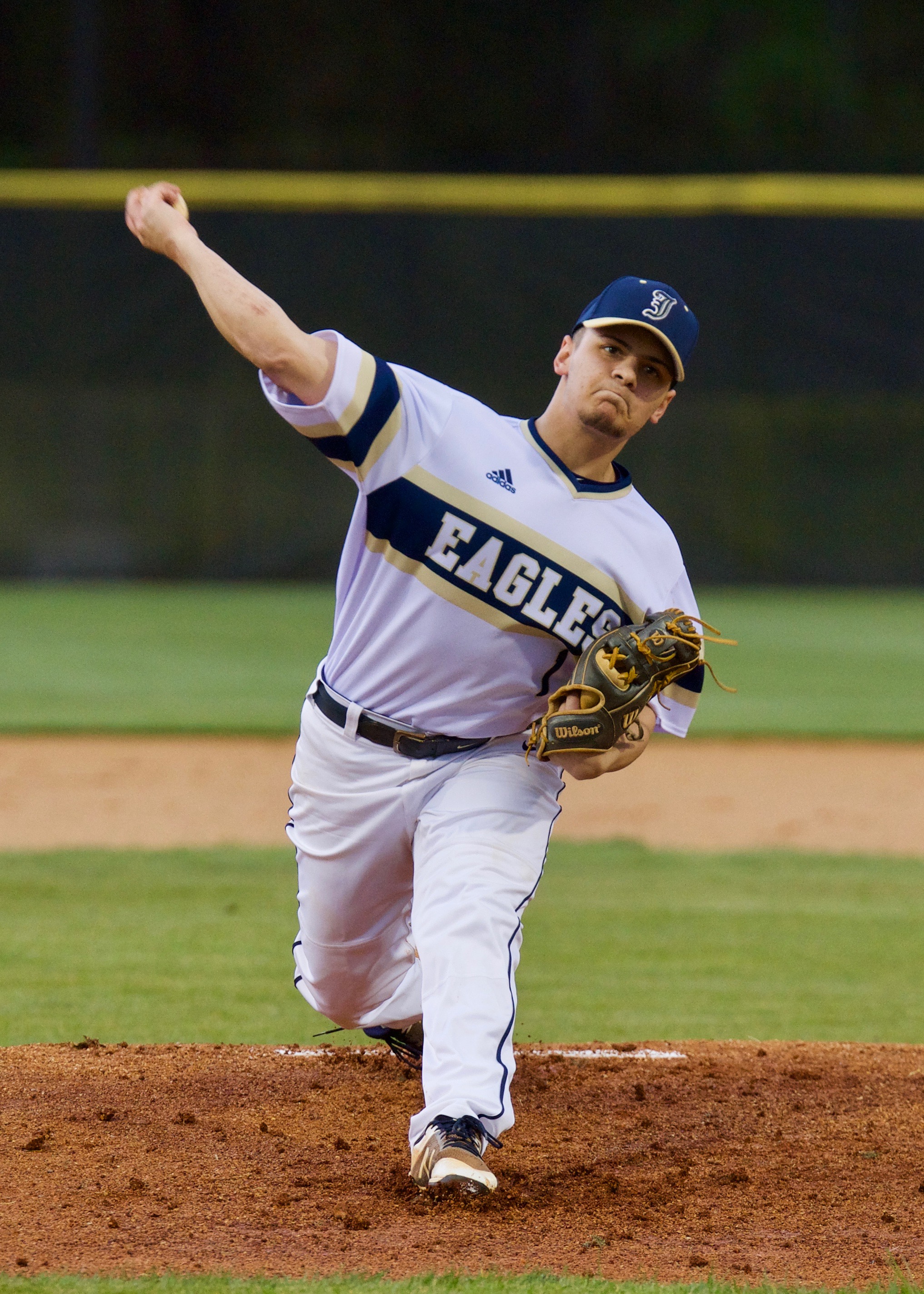 That's four days to prepare, four days to figure out what he was facing in a team that hadn't played a game when the coaches seeded the field, four days to think of everything that could go wrong. 
 
None of that mattered. Murphy handled it just as he would have if coach Jamison Edwards handed him the ball in the parking lot moments before the game.
 
Murphy held Donoho to six hits and threw a complete-game shutout in a 5-0 victory. The Golden Eagles now play No. 2 seed Alexandria Saturday at 9 a.m. on the Signature Field at Choccolocco Park.
 
"Dylan's a ballplayer," Edwards said. "He's one of our leaders. He shows up to work every day. He's constantly trying to get not only himself better but everybody who comes around him.
 
"You can give him four days, you can give him 40 days, you can give him four seconds to think about it and that guy's going to be prepared and ready to go."
 
The Golden Eagles had the ability to go to him for some short relief work in their two games against Piedmont before the tournament, but the situation never presented itself. So Murphy just continued tracking towards Friday.
 
"I kind of figured out in the beginning of this week I'd be throwing so I was just trying to get my mind focused on that," Murphy said. "Those (Piedmont) games obviously came first but that was in the back of my mind I've got to be ready to go Friday. It's the county tournament, the biggest thing outside the state playoffs for us. I was going to give what I could for my team."
 
He threw 111 pitches, 67 for strikes and got the first strike on 16 of the 31 batters he faced. He walked only two and struck out five.
 
Murphy also was a hit at the plate. He scored the first run of the game, moving around the bases on a walk, stolen base, wild pitch and Taye Loud's grounder to the right side of the infield. He also drove home the Golden Eagles' second run with a third-inning double he said might have been the farthest ball he's hit in his life. It was one of the few clean hits Jacksonville registered in the game as the Falcons struggled in the field.
 
The Falcons got real loose in the fourth inning and it led Jacksonville's three insurance runs. Brandon Heard hit a ball that got over left-fielder Edwin Connell's head for a triple, Josh Joiner reached on flare in the infield that was dropped for an error, Heard scored on a bad pickoff attempt at first, another run scored when right-fielder Charlie Willamon dropped Draylan Fomby's fly ball and Fomby scored on a wild pitch.
 
"We've not had a lot of great breaks early," Edwards said. "A lot of times you worry when bad keeps happening over and over about your guys kind of folding up and getting frustrated and these guys have battled the whole way through it."
 
Jacksonville 5, Donoho 0
Donoho                 000 000 0 – 0 6 6
Jacksonville        101 300 x – 5 3 0
WP: Dylan Murphy. LP: Hall Billings. 2B: Dylan Murphy (J). 3B: Brandon Heard (J).

Cover illustration by John Bryan O'Connor. To see a gallery of photos from Friday's tournament games, visit www.bjfranklin.smugmug.com
Fortune favors the Bearcats
The hardest thing about Weaver's county tournament opener was playing an area rival. No one else had to do it in the opening rounds, and Pleasant Valley even pitched to avoid it at the seeding meeting, but the 8-9 matchup stood as drawn.

If nothing else, it gave both teams a chance to sock away some details for when they play for bigger stakes in April.

On this night, fortune favored the Bearcats, who scored five runs early in the game and held on to a 6-2 victory. The Bearcats will play top-seeded and four-time reigning tournament champion Oxford Saturday at 11:30 a.m.

"It is what it is." Weaver coach Jamie Harper said. "We're second round so we're excited to be here. We'll just go from here. We're going to do what we can do with the guys we have left."

Seniors Colby Thompson and Drake Monroe combined to hold the Raiders to five singles and struck out seven. The two runs PV scored came on a pair of ground outs to short in the fifth inning.

Dylan Deloach, Monroe and Austin Bryant all went 2-for-3 for the Bearcats.

"We're fortunate enough to play an area foe in a non-counter game to kind of work out some kinks," Harper said. "We're going to make some mental notes from this one, things that we've learned good and bad, and we'll take that in to when we play them again."

Weaver 6, Pleasant Valley 2
Pleasant Valley 000 020 0 – 2 5 0
Weaver 023 001 x – 6 10 1
WP: Colby Thompson. LP: Garrett Cranmer. 2B: Austin Bryant (P)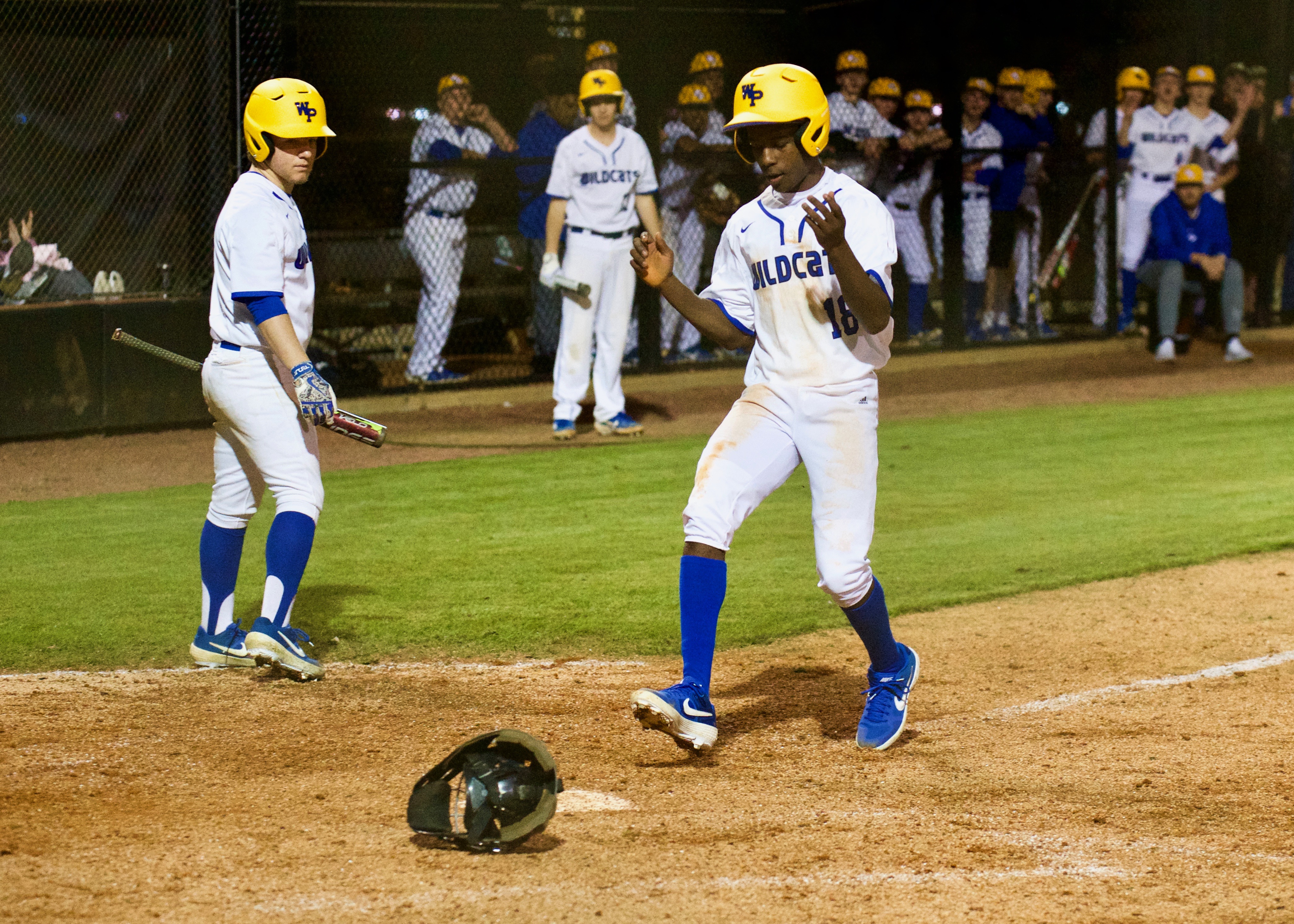 White Plains erupts early
White Plains jumped on Wellborn for 13 runs in the first inning and never looked back in an eventual 18-0 rout.

It was the second time in three games the Panthers had given up 13 in the opening inning; Weaver did it in the second game of their area doubleheader Thursday night.

In Wellborn's defense, the Panthers were playing their fifth game in 52 hours going back to Wednesday's area opener with Weaver.

After setting the Panthers down in order in the first, the Wildcats sent 17 batters to the plate with the first seven reaching safely either by walk or hit batsman. Logan Knight delivered their first hit, a two-run double that gave them a 6-0 lead. Coleman Messer had a two-run double later in the inning.

"We knew they were going to be a little short on arms and we tried to be as disciplined as we could at the plate … and it worked out," White Plains coach Wes Henderson said. "We just really tried to maintain focus after that."

The last three pitchers the Wildcats used behind starter Ethan Gobel – Hayden Williams, Quin Wilson and Walker O'Steen – had never pitched a varsity inning before Friday and they held Wellborn to three hits and struck out three. They "absolutely" will get a chance to pitch again, Henderson said.

"We're struggling to find relief pitching right now, we're looking for guys who can throw strikes," he said. "I was as happy with that than the score."

The Wildcats played the game in the bright yellow ball caps they're using as a fundraiser for Childhood Cancer Awareness in recognition of former White Plains athlete Bradey Munroe, who lost his battle with cancer in 2008. They won't wear them in Saturday's 11:30 a.m. quarterfinals game against third-seeded Piedmont – also yellow – while breaking yet another uniform combination, but plan to bring them out several times during the season.

"The community at first didn't understand what it was about; Piedmont is right down the road," Henderson said. "Once they understood what it was about we had to put a second order in. It's been a big deal."

Before being routed by White Plains, the Panthers did a little punishing of their own. They run-ruled Faith Christian 14-4 in five innings.

Junior right-hander Logan Grubbs, pitching in a varsity game for the first time – on his 17thbirthday, no less – worked until the final out. He gave up three hits and struck out four. He also went 3-for-3 with three RBIs at the plate.

"It definitely was nerve wracking," he said. "It's a whole different experience. B-team you play after the varsity and a bunch people have done left, but now, especially in the county tournament, you have all the fans on you and all your teammates are rooting for you. When you mess up you have to be able to bounce back."

Wellborn coach Nick Burns told his four available pitchers Thursday night to be ready to pitch Friday, but he didn't tell Grubbs he was starting until a little before the game. He didn't give Grubbs the ball just because it was his birthday.

"We tried to find some guys to throw some strikes," Burns said. "He came in this morning and said I can throw strikes. He came out when school got out, threw well, put him on the mound with the start and he did well."

Freshman Brayden Dempsey was the Panthers' big hitter, going 3-for-4 with a single, double, walk-off homer and six RBIs.

White Plains 18, Wellborn 0
Wellborn 000 00 – 0 5 4
White Plains (13)50 00 – 18 9 1
WP: Ethan Gobel. LP: Tanner McQueen. 2B: Bailey Neely (W), Logan Knight (WP), Coleman Messer 2 (WP). 3B: Conner Coffey (WP).

Wellborn 14, Faith Christian 4
Faith 020 11 – 4 3 2
Wellborn 435 02 – 14 14 1
WP: Logan Grubbs. LP: Andrew Huie. 2B: Brayden Dempsey (W). HR: Brayden Dempsey (W).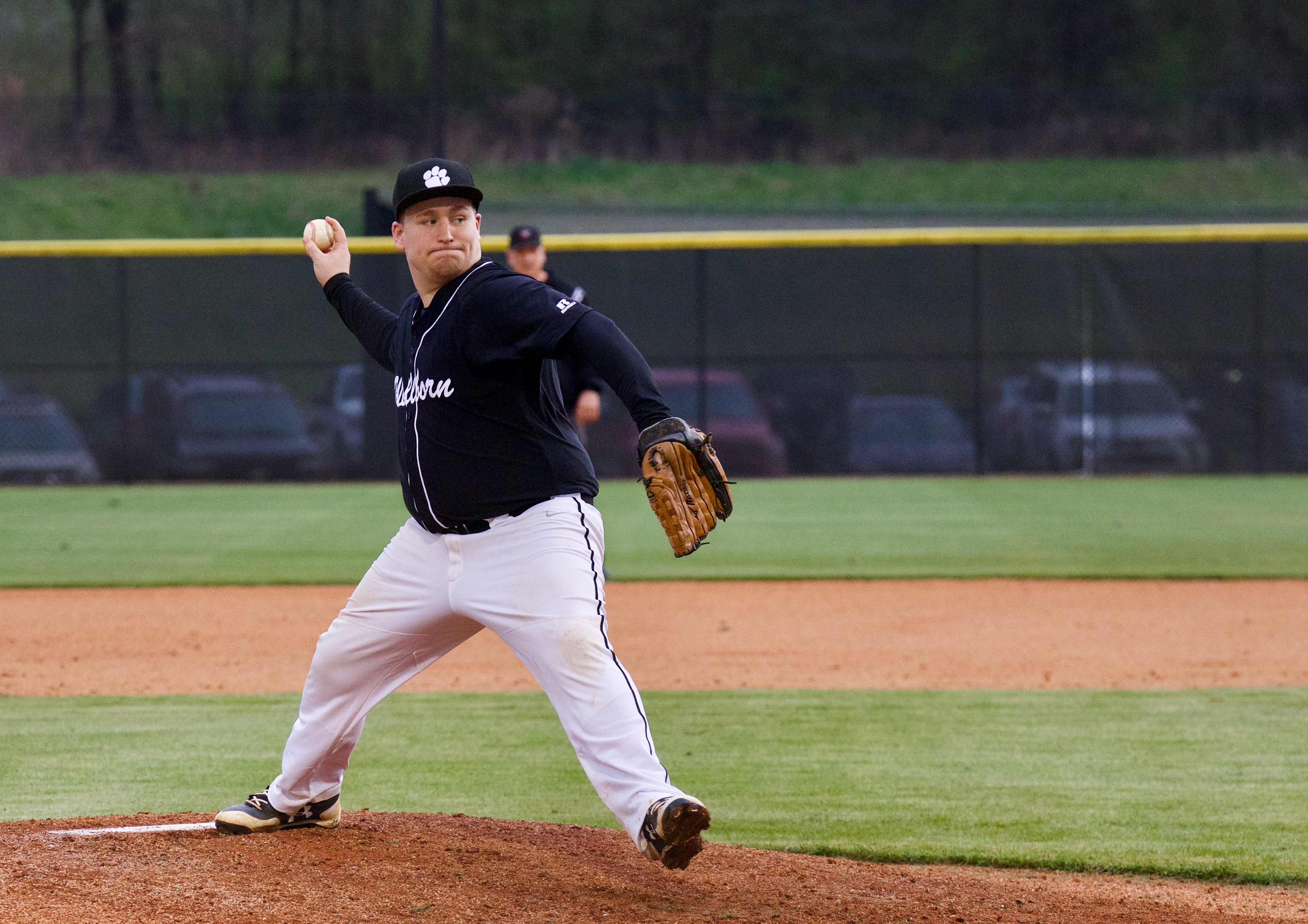 And an 8th grader shall lead them
Mason Jairrels admitted he heard the chants from the dugout when he stepped to the plate at the Signature Field in fifth inning with a chance to end the game he so masterfully controlled.

"MVP, MVP," his Saks teammates chanted as Jairrels walked to the batter's box. The eighth-grader didn't get the hit that would have given the Wildcats a run-rule win over Jacksonville Christian at that point, but he had done plenty before then to warrant that praise.

The run rule was instituted an inning later when the fifth-seeded Wildcats pushed across two runs to finish off a 15-5 victory in six innings. They will play fourth-seeded Ohatchee on Field BB1 Saturday at 9 a.m., where they are expected to start senior Troy football signee Jaylen Childs.

All Jairrels did was go 3-for-4 at the plate with two doubles and four RBIs and, pitching for the first time in a varsity game, the right-hander went five innings, giving up three earned runs and eight hits, while walking only one. He retired the first six batters he faced.

"Yeah, I heard them," Jairrels said. "It made me feel great. At first I was pretty nervous about it, but I got on the mound and I just started going off. I felt really good. I've been feeling good all day. It was a lot better than I thought it would be."

Jairrels was one of about dozen eighth- and ninth-graders on the varsity roster and seven players in tenth grade or lower in Friday's lineup. He was elevated to a position in the field when an eighth-grader DH left the team and now coach Wes Ginn can't get him out of the lineup.

"Mason's a natural athlete, he's a three-sport guy," Ginn said. "He was easy to insert, knows how to play the game and can play just about anywhere.

Hunter Mcleod also went 3-for-4 with four RBIs for the Wildcats and Childs was 4-for-5 with two RBIs. Taylor Fields had two extra-base hits and two RBIs. The Wildcats pounded 16 hits in the game.

"We've hit the ball in the first six games now better than any team I've coached at Saks," Ginn said. "We've got an eighth-grader (Jairrels) and a tenth-grader (Fields) probably batting as good as anybody average-wise. (Fields) is hitting lights out. He's hit some balls in a couple of fields that if he had been hitting the same one at our place they'd have been out."

Earlier in the day, JCA outscored Anniston 22-12. The Thunder scored nine runs in the second inning to seemingly take control, but Anniston scored 10 in the fifth to make it a 14-12 game. JCA then scored eight in the bottom of the fifth to retake control.

Jaylen Parker went 4-for-4 for Anniston. Nash Messer went 3-for-5 with three RBIs and an inside-the-park home run leading off the JCA fifth. Jonathan Carter went 2-for-4 with two RBIs for the Thunder.

Saks 15, Jacksonville Christian 5
JCA 001 121 – 5 8 0
Saks 414 132 – 15 16 3
WP: Mason Jairrels. LP: Cameron Moses. 2B: Jarrett Kilgore (J), Jaylen Childs (S), Taylor Fields (S), Mason McLeod (S), Mason Jairrells 2 (S). 3B: Taylor Fields (S)

Jacksonville Christian 22, Anniston 12
Anniston 002 0(10)0 – 12 7 7
JCA 093 181 – 22 8 4
WP: Kobe Messer. LP: Jimmy Felton. 2B: Jaylen Parker (A), Brody Shaddix (J), Jonathon Carter (J). 3B: Jaquain Thomas (A). HR: Nash Messer.