Making it go
Beck, Walker are the movers and shakers, past and present, who make the Red Wilder Invitational, Calhoun County tennis go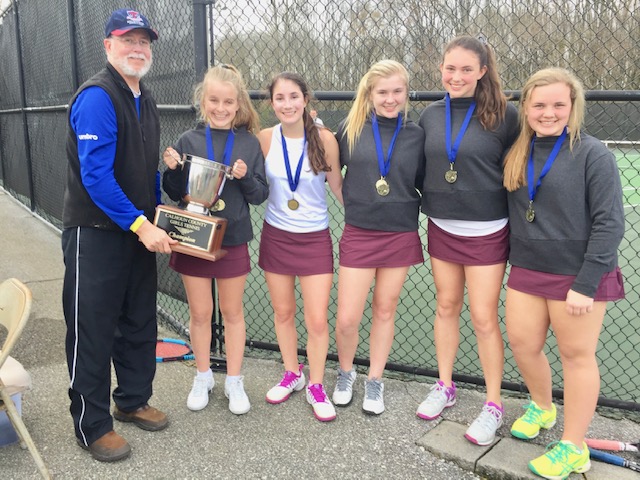 By Brant Locklier
East Alabama Sports Today
 
OXFORD – All the brackets have been completed, the winners crowned, the tennis balls packed up and all the county tennis players have gone home. The 2019 Red Wilder Invitational was successfully in the books again as Oxford took home its third straight boys' title and Donoho's girls won their fourth straight county title.
 
The tournament is always a gathering of local tennis people who love the game and midway through Saturday's singles play 86-year-old Bill Beck showed up to renew friendships and reflect on memories.
 
Beck was significant in the early days of the county tourney, getting it organized and off the ground. He was a volunteer assistant tennis coach to current Oxford athletics director Larry Davidson.
 
"Yeah, I was the head basketball and tennis coach from 1980 to 2006 and Beck was our assistant," Davidson said. "Beck was responsible for getting these eight courts built here at Oxford Lake."
 
At the time, there were five courts at Oxford where the baseball field currently exists and three courts that still exist right next to Oxford Lake. The tournament was held at the two locations.
 
"I would talk with Dr. Moody and Mayor Leon Smith and told them we needed more courts," Beck said. "The courts at Oxford had basketball goals on them and water from an underground lake would leak up and cause problems.
 
"We talked to Leon and the land where the current Oxford tennis complex sits was obtained from Monsanto. They built the eight courts soon afterwards and we were able to hold the tournament in one place."
 
Beck became a certified tennis instructor and has spent years working with tennis players. He is also proud of his service in the Korean War and will talk in length about that.
 
Jay Walker came on the scene to take over at the tournament and has been directing the tournament for quite a few years. He has a system and keeps everything running smoothly in a professional atmosphere.
 
He was faced with rain issues this year and made the decision to go to six-point sets instead of usual 10 after rain backed up the start of Saturday's singles three hours to an 11 a.m. start.
 
"I was first involved as a participant a long time ago," Walker said. "Tennis has been very good to me and I am trying to pay it back. Tennis is a life sport and the goal is to try and get more kids involved."
 
It was a long couple of days, but there were a lot of smiles and a lot of good tennis. Most likely, Walker is already working on the 2020 tournament.

Cover photo by B.J. Franklin. Top photo by Brant Locklier.