County baseball seeds
Oxford installed as Calhoun County Baseball Tournament top seed as coaches try to define field after limited games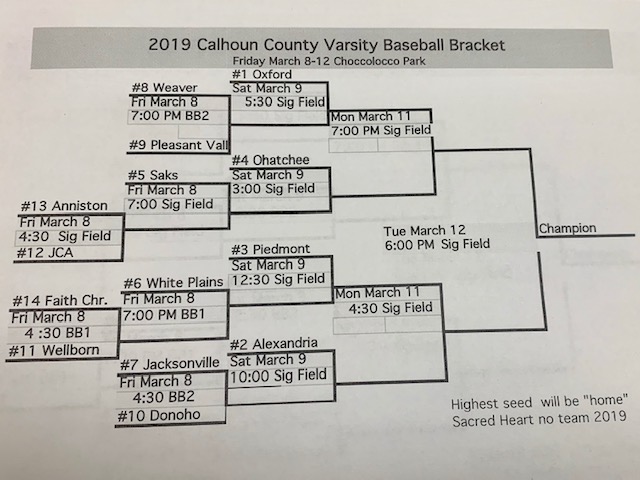 By Al Muskewitz
East Alabama Sports Today

PIEDMONT — Of course it was raining like the inside of a car wash when the coaches were coming together to seed this year's Calhoun County Baseball Tournament Sunday. That's been the story of the season.

It's never real easy to seed the field effectively this early in the season even when games have been played.

But the rainy weather has wrecked everybody's early-season schedule to the degree eight teams in the tournament field have played two games or fewer and one has yet to play at all.

It's been so wet this season it seemed only fitting that when one of the officials in the meeting had to take a call his phone's ringtone was a duck quack.

Still, the calendar called for the seeding meeting the first Sunday in March — five days out from the tournament start — and that's what they did.

The seeding itself took all of about 15 minutes with what little debate there was coming for teams seeded 4 through 6 and 6 through 8. The biggest discussion was how to handle weather contingencies during the tournament week.

Under the circumstances, call it a seeding by reputation.

Oxford (5-2) was installed as the No. 1 seed for the fifth year in a row, gaining traction as the nominee even before the teams' records were presented to the coaches. Alexandria (5-1), the last team not named Oxford to win the tournament (2014), was seeded No. 2 and Piedmont (3-2) was third. They are the three teams that have played the most games.

"The legacy that carried on from teams past I'm sure has a lot to do with Oxford (being) the No. 1 seed," Yellow Jackets coach Wes Brooks said. "If we were to have gone 10-30 last year and didn't make the playoffs I think there'd have been some other names said, but because traditionally how our teams have finished, had a strong showing in the county tournament, it just carries over."

The rest of the 2019 seeds are Ohatchee (1-1), Saks (2-0), White Plains (1-1), Jacksonville (1-2), Weaver (1-1), Pleasant Valley (2-2), Donoho (0-0), Wellborn (1-2), JCA (0-1), Anniston (0-2), Faith Christian (0-1).

Given the uncertainty of teams so early in the season even if there hadn't been any rain, Brooks has recommended the reigning tournament champion be installed as the No. 1 the following year or the previous year's semifinalists be the following year's top four, largely for scheduling considerations.

"Your first couple seeds are pretty easy and once you get going, say fourth through 14th, it's tough because no one's played a lot of games at any point, really," said Donoho coach Steve Gendron, whose team has played exactly none. "It's just a challenge. There's a lot of guessing involving with it."

"If we wouldn't have had so much rain it'd be a lot easier," said Ohatchee coach Blake Jennings, noting he's canceled seven games due to weather so far. "It just makes it tough with the rain we've had. In reality it all comes down to past history to me when you go to seeding; what happened this year and last year. It's just hard to do it right now."

Because of that uncertainty there could be more early upsets than ever, but even with all the unknowns the coaches believe they've gotten it right.

"It's tough to seed a county tournament at the first of the year because you've got people playing different levels of ball and you really don't get a chance to evaluate your team," Saks' Wes Ginn said. "But the county tournament is always fun to have. It's been around for a long time, everybody wants to watch it, everybody wants to be a part of it. There are two or three teams that are always going to be close to the top, then everybody else we're all pretty much jumbled up, even. You just hope you get the right matchup and have an opportunity to play well and move on."

The coaches went for swapping Anniston and Faith Christian in the final four seeds to avoid area foes Faith and JCA from meeting in the play-in games, but they didn't go for the same thing when Weaver and Pleasant Valley fell in at 8 and 9. In another concession, the coaches went for swapping the originally scheduled game times of the No. 4 and No. 2 seed games on Saturday to help teams participating in their proms.

The tournament is scheduled for March 8-12 at Choccolocco Park, with a potential extension for weather issues March 13. Considering the forecast all season, they may just have to use it.

Tickets for the tournament are priced at $6. There will be no park parking fee.

CALHOUN COUNTY TOURNAMENT
At Choccolocco Park
(All games on the Signature Field unless noted)
Friday's games
No. 13 Anniston vs. No. 12 JCA, 4:30 p.m.
No. 14 Faith Christian vs. No. 11 Wellborn, 4:30 p.m. (BB1)
No. 7 Jacksonville vs. No. 10 Donoho, 4:30 p.m. (BB2)
No. 5 Saks vs. Anniston-JCA winner, 7 p.m.
No. 6 White Plains vs. Faith-Wellborn winner, 7 p.m. (BB1)
No. 8 Weaver vs. No. 9 Pleasant Valley, 7 p.m. (BB2)
Saturday's games
No. 2 Alexandria vs. Jacksonville-Donoho winner, 10 a.m.
No. 3 Piedmont vs. Faith/Wellborn/White Plains winner, 12:30 p.m.
No. 4 Ohatchee vs. Anniston/JCA/Saks winner, 3 p.m.
No. 1 Oxford vs. Weaver-PV winner, 5:30 p.m.
March 11 games
Semifinal No. 1, 4:30 p.m.
Semifinal No. 2, 7 p.m.
March 12 game
Championship, 6 p.m.